Google Reverse Image API allows to get results for image search https://images.google.com. The API is accessed through the following endpoint: /search?engine=google_reverse_image.

A user may query the following: https://serpapi.com/search?engine=google_reverse_image utilizing a GET request. Head to the playground for a live and interactive demo. If you are interested in ordinary image search - head to images section.
API Parameters
API Results
JSON Results
JSON output includes structured data for image_results - actual search results, inline_images containing inline images displayed and might contain knowledge_graph - having data from knowledge graph.

A search status is accessible through search_metadata.status. It flows this way: Processing -> Success || Error. If a search has failed, error will contain an error message. search_metadata.id is the search ID inside SerpApi.
HTML Results
HTML output is useful to debug JSON results or support features not supported yet by SerpApi.
HTML output gives you the raw HTML results from Google.
API Examples
Example with
image_url

: https://i.imgur.com/5bGzZi7.jpg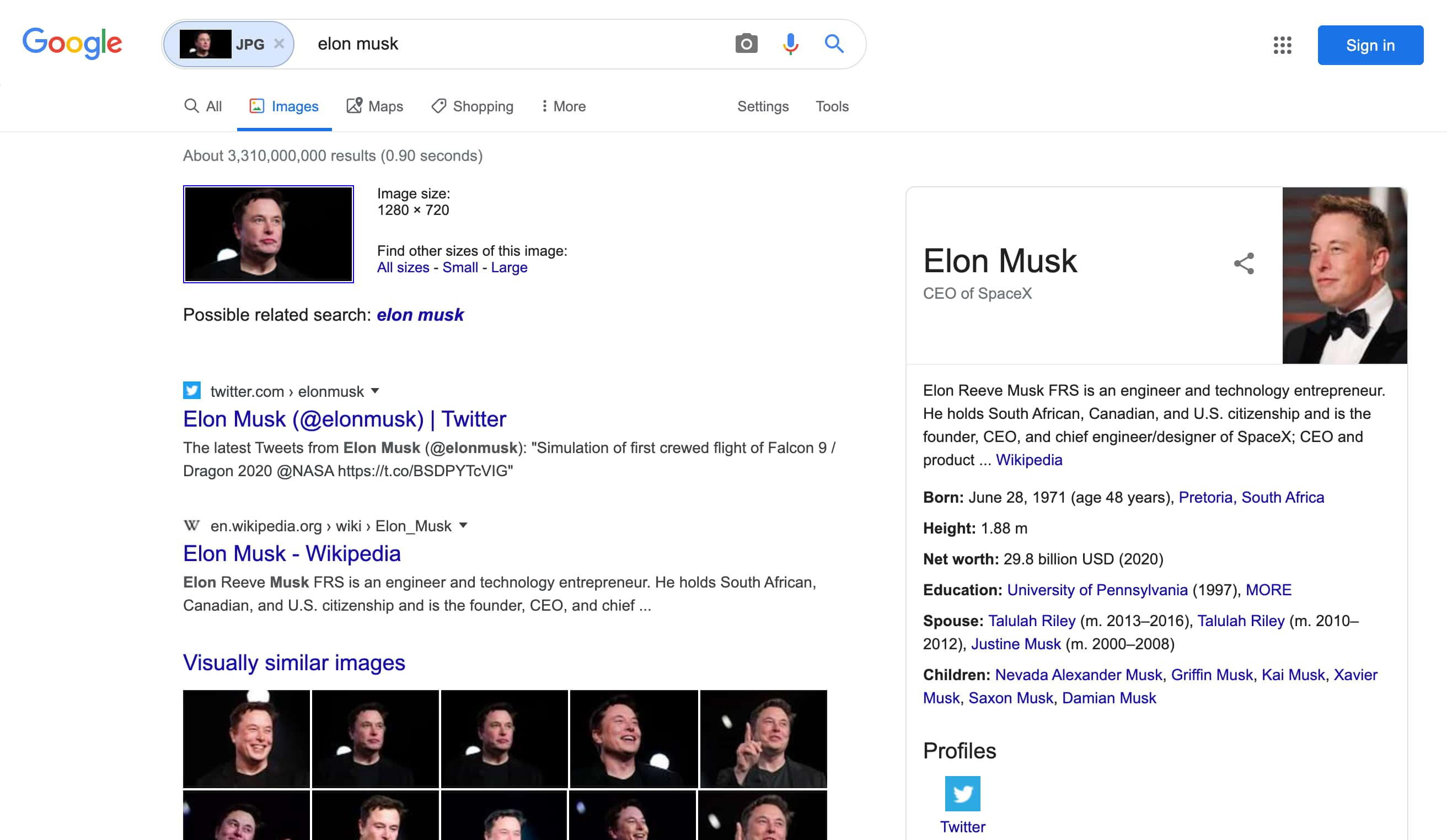 {
  "image_sizes": [
    {
      "title": "All sizes",
      "link": "https://www.google.com/search?tbs=simg:CAQSbAnG5yuDXzfhihphCxCo1NgEGgIIQgwLELCMpwgaOgo4CAQSFIsypCStLIo7iy_1EB78J7hrtG4UxGhq-RBfFE6HAee0UirMEq_1TJiYJsm0KOr377EiAFMAQMCxCOrv4IGgoKCAgBEgSEmJxlDA&tbm=isch&sa=X&ved=2ahUKEwij2MmwkLb2AhXKl2oFHQptDNcQ2A4oAXoECAEQNA",
      "serpapi_link": "http://serpapi.com/search.json?device=desktop&engine=google_images&google_domain=google.com&tbs=simg%3ACAQSbAnG5yuDXzfhihphCxCo1NgEGgIIQgwLELCMpwgaOgo4CAQSFIsypCStLIo7iy_1EB78J7hrtG4UxGhq-RBfFE6HAee0UirMEq_1TJiYJsm0KOr377EiAFMAQMCxCOrv4IGgoKCAgBEgSEmJxlDA"
    },
    {
      "title": "Small",
      "link": "https://www.google.com/search?tbs=simg:CAQSbAnG5yuDXzfhihphCxCo1NgEGgIIQgwLELCMpwgaOgo4CAQSFIsypCStLIo7iy_1EB78J7hrtG4UxGhq-RBfFE6HAee0UirMEq_1TJiYJsm0KOr377EiAFMAQMCxCOrv4IGgoKCAgBEgSEmJxlDA,isz:s&tbm=isch&sa=X&ved=2ahUKEwij2MmwkLb2AhXKl2oFHQptDNcQ2A4oAnoECAEQNQ",
      "serpapi_link": "http://serpapi.com/search.json?device=desktop&engine=google_images&google_domain=google.com&tbs=simg%3ACAQSbAnG5yuDXzfhihphCxCo1NgEGgIIQgwLELCMpwgaOgo4CAQSFIsypCStLIo7iy_1EB78J7hrtG4UxGhq-RBfFE6HAee0UirMEq_1TJiYJsm0KOr377EiAFMAQMCxCOrv4IGgoKCAgBEgSEmJxlDA%2Cisz%3As"
    },
    {
      "title": "Medium",
      "link": "https://www.google.com/search?tbs=simg:CAQSbAnG5yuDXzfhihphCxCo1NgEGgIIQgwLELCMpwgaOgo4CAQSFIsypCStLIo7iy_1EB78J7hrtG4UxGhq-RBfFE6HAee0UirMEq_1TJiYJsm0KOr377EiAFMAQMCxCOrv4IGgoKCAgBEgSEmJxlDA,isz:m&tbm=isch&sa=X&ved=2ahUKEwij2MmwkLb2AhXKl2oFHQptDNcQ2A4oA3oECAEQNg",
      "serpapi_link": "http://serpapi.com/search.json?device=desktop&engine=google_images&google_domain=google.com&tbs=simg%3ACAQSbAnG5yuDXzfhihphCxCo1NgEGgIIQgwLELCMpwgaOgo4CAQSFIsypCStLIo7iy_1EB78J7hrtG4UxGhq-RBfFE6HAee0UirMEq_1TJiYJsm0KOr377EiAFMAQMCxCOrv4IGgoKCAgBEgSEmJxlDA%2Cisz%3Am"
    },
    ...
  ],
  "inline_images": [
    {
      "link": "https://www.google.com/search?tbs=simg:CAESbAnG5yuDXzfhihphCxCo1NgEGgIIQgwLELCMpwgaOgo4CAQSFIsypCStLIo7iy_1EB78J7hrtG4UxGhq-RBfFE6HAee0UirMEq_1TJiYJsm0KOr377EiAFMAQMCxCOrv4IGgoKCAgBEgSEmJxlDA&q=elon+musk+&tbm=isch&source=iu&ictx=1&vet=1&fir=CwhZnfDrCaGq3M%252CpQ8CiBj7EMCuvM%252C_%253BvEqnJBqHUctRIM%252CoMUpyI-ZeRd-gM%252C_%253BAJuAbVc44M02AM%252CBz8QIIiY6_V1cM%252C_%253BlH_3ebyJ-6MlLM%252Cpe_xDXIe-__cAM%252C_%253B2IaZF8xqoJssYM%252CdGMKKoCgxL07VM%252C_%253BrRwtU5qRYKN7fM%252CSdlIQkKejjjMPM%252C_%253Bwb8vdHzrs9Ug9M%252CCGJdHrib_cQRIM%252C_%253B3zXyTtWAF1furM%252C0fZr_NLvm8byIM%252C_%253BO09Ej_IqKb6lVM%252CUiGIJK5_gM_1tM%252C_%253BwZpCUrWvV_JglM%252CedYq47OXRNeldM%252C_%253BBBgebJtC_Vl9bM%252CQokyu1qJc9NYaM%252C_%253BipdRYUyrgqMU_M%252CEnCGj_EqjYbpUM%252C_%253B7jxhk24ZYlaC4M%252CmpmcKcsjhk1K3M%252C_%253B0xCj52CM2-PKmM%252CKC_njVjWW0vNPM%252C_%253Bd7ypz2C2vFYDkM%252CGu20SGcxyeEBdM%252C_%253BKsbsN5fuCGFYfM%252CNPSKSqZwF0YOiM%252C_%253BLQQ1KmxpxXywOM%252Cfhucvbrvbdk0kM%252C_%253BX3iL5iBxFNzhMM%252Co812OY6x0QWLQM%252C_%253BJkiKSJWujCi0hM%252C6pYdtNNMKugPhM%252C_%253B2GucjFoPKr01VM%252CU8Ck88w_-9bB2M%252C_%253BxZIhoqd5Lh1sVM%252CSvicoCADoQJWWM%252C_%253BYDSzrvbBYdFFiM%252CyQ9zhLXOEjocfM%252C_&usg=AI4_-kSlHsIUz1e9KT5cycv6NQBqUyx78A&sa=X&ved=2ahUKEwiX09qe0Lj2AhWFRzABHXLCDtgQ9QF6BAgIEAE#imgrc=CwhZnfDrCaGq3M",
      "source": "https://nypost.com/2022/04/04/elon-musk-buys-9-stake-in-twitter-days-after-criticizing-it/",
      "thumbnail": "https://serpapi.com/searches/630e1f0b6066d937c327f955/images/fda37291375b9b601faf0f3927ab9dc42acb3f196cad54153aa132eae7bae086.jpeg",
      "original": "https://nypost.com/wp-content/uploads/sites/2/2022/04/elon-musk-76.jpg",
      "title": "Elon Musk buys 9% stake in Twitter — days after criticizing it"
    },
    {
      "link": "https://www.google.com/search?tbs=simg:CAESbAnG5yuDXzfhihphCxCo1NgEGgIIQgwLELCMpwgaOgo4CAQSFIsypCStLIo7iy_1EB78J7hrtG4UxGhq-RBfFE6HAee0UirMEq_1TJiYJsm0KOr377EiAFMAQMCxCOrv4IGgoKCAgBEgSEmJxlDA&q=elon+musk+&tbm=isch&source=iu&ictx=1&vet=1&fir=CwhZnfDrCaGq3M%252CpQ8CiBj7EMCuvM%252C_%253BvEqnJBqHUctRIM%252CoMUpyI-ZeRd-gM%252C_%253BAJuAbVc44M02AM%252CBz8QIIiY6_V1cM%252C_%253BlH_3ebyJ-6MlLM%252Cpe_xDXIe-__cAM%252C_%253B2IaZF8xqoJssYM%252CdGMKKoCgxL07VM%252C_%253BrRwtU5qRYKN7fM%252CSdlIQkKejjjMPM%252C_%253Bwb8vdHzrs9Ug9M%252CCGJdHrib_cQRIM%252C_%253B3zXyTtWAF1furM%252C0fZr_NLvm8byIM%252C_%253BO09Ej_IqKb6lVM%252CUiGIJK5_gM_1tM%252C_%253BwZpCUrWvV_JglM%252CedYq47OXRNeldM%252C_%253BBBgebJtC_Vl9bM%252CQokyu1qJc9NYaM%252C_%253BipdRYUyrgqMU_M%252CEnCGj_EqjYbpUM%252C_%253B7jxhk24ZYlaC4M%252CmpmcKcsjhk1K3M%252C_%253B0xCj52CM2-PKmM%252CKC_njVjWW0vNPM%252C_%253Bd7ypz2C2vFYDkM%252CGu20SGcxyeEBdM%252C_%253BKsbsN5fuCGFYfM%252CNPSKSqZwF0YOiM%252C_%253BLQQ1KmxpxXywOM%252Cfhucvbrvbdk0kM%252C_%253BX3iL5iBxFNzhMM%252Co812OY6x0QWLQM%252C_%253BJkiKSJWujCi0hM%252C6pYdtNNMKugPhM%252C_%253B2GucjFoPKr01VM%252CU8Ck88w_-9bB2M%252C_%253BxZIhoqd5Lh1sVM%252CSvicoCADoQJWWM%252C_%253BYDSzrvbBYdFFiM%252CyQ9zhLXOEjocfM%252C_&usg=AI4_-kSlHsIUz1e9KT5cycv6NQBqUyx78A&sa=X&ved=2ahUKEwiX09qe0Lj2AhWFRzABHXLCDtgQ9QF6BAgfEAE#imgrc=vEqnJBqHUctRIM",
      "source": "https://www.bloomberg.com/news/newsletters/2022-04-12/an-elon-musk-twitter-takeover-would-follow-these-steps",
      "thumbnail": "https://serpapi.com/searches/630e1f0b6066d937c327f955/images/fda37291375b9b608cf3228280d17073f414474446c2cdc15aefeba9cae05ed6.jpeg",
      "original": "https://assets.bwbx.io/images/users/iqjWHBFdfxIU/iWqMrh7UfZ50/v1/1200x-1.jpg",
      "title": "An Elon Musk Twitter Takeover Would Follow These Steps ..."
    },
    {
      "link": "https://www.google.com/search?tbs=simg:CAESbAnG5yuDXzfhihphCxCo1NgEGgIIQgwLELCMpwgaOgo4CAQSFIsypCStLIo7iy_1EB78J7hrtG4UxGhq-RBfFE6HAee0UirMEq_1TJiYJsm0KOr377EiAFMAQMCxCOrv4IGgoKCAgBEgSEmJxlDA&q=elon+musk+&tbm=isch&source=iu&ictx=1&vet=1&fir=CwhZnfDrCaGq3M%252CpQ8CiBj7EMCuvM%252C_%253BvEqnJBqHUctRIM%252CoMUpyI-ZeRd-gM%252C_%253BAJuAbVc44M02AM%252CBz8QIIiY6_V1cM%252C_%253BlH_3ebyJ-6MlLM%252Cpe_xDXIe-__cAM%252C_%253B2IaZF8xqoJssYM%252CdGMKKoCgxL07VM%252C_%253BrRwtU5qRYKN7fM%252CSdlIQkKejjjMPM%252C_%253Bwb8vdHzrs9Ug9M%252CCGJdHrib_cQRIM%252C_%253B3zXyTtWAF1furM%252C0fZr_NLvm8byIM%252C_%253BO09Ej_IqKb6lVM%252CUiGIJK5_gM_1tM%252C_%253BwZpCUrWvV_JglM%252CedYq47OXRNeldM%252C_%253BBBgebJtC_Vl9bM%252CQokyu1qJc9NYaM%252C_%253BipdRYUyrgqMU_M%252CEnCGj_EqjYbpUM%252C_%253B7jxhk24ZYlaC4M%252CmpmcKcsjhk1K3M%252C_%253B0xCj52CM2-PKmM%252CKC_njVjWW0vNPM%252C_%253Bd7ypz2C2vFYDkM%252CGu20SGcxyeEBdM%252C_%253BKsbsN5fuCGFYfM%252CNPSKSqZwF0YOiM%252C_%253BLQQ1KmxpxXywOM%252Cfhucvbrvbdk0kM%252C_%253BX3iL5iBxFNzhMM%252Co812OY6x0QWLQM%252C_%253BJkiKSJWujCi0hM%252C6pYdtNNMKugPhM%252C_%253B2GucjFoPKr01VM%252CU8Ck88w_-9bB2M%252C_%253BxZIhoqd5Lh1sVM%252CSvicoCADoQJWWM%252C_%253BYDSzrvbBYdFFiM%252CyQ9zhLXOEjocfM%252C_&usg=AI4_-kSlHsIUz1e9KT5cycv6NQBqUyx78A&sa=X&ved=2ahUKEwiX09qe0Lj2AhWFRzABHXLCDtgQ9QF6BAgKEAE#imgrc=AJuAbVc44M02AM",
      "source": "https://www.washingtonpost.com/technology/2022/04/25/twitter-elon-musk-deal/",
      "thumbnail": "https://serpapi.com/searches/630e1f0b6066d937c327f955/images/fda37291375b9b6045a1dd41ef10e6fecd013afc3982cac6b787b72ed50b906b.jpeg",
      "original": "https://arc-anglerfish-washpost-prod-washpost.s3.amazonaws.com/public/FULLSSGBUEI6ZNO7D65GDJTMOU.jpg",
      "title": "Elon Musk reaches deal to buy Twitter - The Washington Post"
    },
    ...
  ],
  "knowledge_graph": {
    "title": "Elon Musk",
    "type": "CEO of SpaceX",
    "image": "<URL to image>",
    "description": "Elon Reeve Musk FRS is an engineer and technology entrepreneur. He holds South African, Canadian, and U.S. citizenship and is the founder, CEO, and chief engineer/designer of SpaceX; CEO and product ...",
    "source": {
      "name": "Wikipedia",
      "link": "https://en.wikipedia.org/wiki/Elon_Musk"
    },
    "born": "June 28, 1971 (age 48 years), Pretoria, South Africa",
    "height": "6′ 2″",
    "net_worth": "29.8 billion USD (2020)",
    "spouse": "Talulah Riley (m. 2013–2016), Talulah Riley (m. 2010–2012), Justine Musk (m. 2000–2008)",
    "spouse_links": [
      {
        "text": "Talulah Riley",
        "link": "https://www.google.com/search?gl=us&hl=en&q=Talulah+Riley&stick=H4sIAAAAAAAAAOPgE-LUz9U3MM6rSjNUAjOTKoqzK7QkspOt9AtS8wtyUoFUUXF-nlVxQX5pceoiVt6QxJzSnMQMhaDMnNTKHayMAA7RwlNFAAAA&sa=X&ved=2ahUKEwi57__N76TzAhVpHTQIHdhBC2UQmxMoAHoECHIQAg"
      },
      {
        "text": "Talulah Riley",
        "link": "https://www.google.com/search?gl=us&hl=en&q=Talulah+Riley&stick=H4sIAAAAAAAAAOPgE-LUz9U3MM6rSjNUAjOTKoqzK7QkspOt9AtS8wtyUoFUUXF-nlVxQX5pceoiVt6QxJzSnMQMhaDMnNTKHayMAA7RwlNFAAAA&sa=X&ved=2ahUKEwi57__N76TzAhVpHTQIHdhBC2UQmxMoAXoECHIQAw"
      },
      {
        "text": "Justine Musk",
        "link": "https://www.google.com/search?gl=us&hl=en&q=Justine+Musk&stick=H4sIAAAAAAAAAOPgE-LUz9U3MM6rSjNU4gIxjcwKcivNtSSyk630C1LzC3JSgVRRcX6eVXFBfmlx6iJWHq_S4pLMvFQF39Li7B2sjACSHjuuRQAAAA&sa=X&ved=2ahUKEwi57__N76TzAhVpHTQIHdhBC2UQmxMoAnoECHIQBA"
      }
    ],
    "children": "Nevada Alexander Musk, Griffin Musk, Kai Musk, Xavier Musk, Saxon Musk, Damian Musk",
    "children_links": [
      {
        "text": "Nevada Alexander Musk",
        "link": "https://www.google.com/search?gl=us&hl=en&q=Nevada+Alexander+Musk&stick=H4sIAAAAAAAAAOPgE-LUz9U3MM6rSjNU4tVP1zc0TDIrT8spKszTkspOttIvSM0vyEkFUkXF-XlWyRmZOSlFqXmLWEX9UssSUxIVHHNSKxLzUlKLFHxLi7N3sDICAH1jGGJTAAAA&sa=X&ved=2ahUKEwi57__N76TzAhVpHTQIHdhBC2UQmxMoAXoECH8QAw"
      },
      {
        "text": "Griffin Musk",
        "link": "https://www.google.com/search?gl=us&hl=en&q=Griffin+Musk&stick=H4sIAAAAAAAAAOPgE-LUz9U3MM6rSjNU4gIx8yxTjHMrtKSyk630C1LzC3JSgVRRcX6eVXJGZk5KUWreIlYe96LMtLTMPAXf0uLsHayMAJUcj_5HAAAA&sa=X&ved=2ahUKEwi57__N76TzAhVpHTQIHdhBC2UQmxMoAnoECH8QBA"
      },
      {
        "text": "Damian Musk",
        "link": "https://www.google.com/search?gl=us&hl=en&q=Damian+Musk&stick=H4sIAAAAAAAAAOPgE-LUz9U3MM6rSjNU4gIx8yxTjAtMtaSyk630C1LzC3JSgVRRcX6eVXJGZk5KUWreIlZul8TczMQ8Bd_S4uwdrIwAlNDOoUYAAAA&sa=X&ved=2ahUKEwi57__N76TzAhVpHTQIHdhBC2UQmxMoA3oECH8QBQ"
      },
      {
        "text": "Xavier Musk",
        "link": "https://www.google.com/search?gl=us&hl=en&q=Xavier+Musk&stick=H4sIAAAAAAAAAOPgE-LUz9U3MM6rSjNU4gIx8yxTjPPStKSyk630C1LzC3JSgVRRcX6eVXJGZk5KUWreIlbuiMSyzNQiBd_S4uwdrIwACmCWmkYAAAA&sa=X&ved=2ahUKEwi57__N76TzAhVpHTQIHdhBC2UQmxMoBHoECH8QBg"
      },
      {
        "text": "Kai Musk",
        "link": "https://www.google.com/search?gl=us&hl=en&q=Kai+Musk&stick=H4sIAAAAAAAAAOPgE-LUz9U3MM6rSjNU4gIx8yxTjPMKtKSyk630C1LzC3JSgVRRcX6eVXJGZk5KUWreIlYO78RMBd_S4uwdrIwA5r2OmUMAAAA&sa=X&ved=2ahUKEwi57__N76TzAhVpHTQIHdhBC2UQmxMoBXoECH8QBw"
      },
      {
        "text": "Saxon Musk",
        "link": "https://www.google.com/search?gl=us&hl=en&q=Saxon+Musk&stick=H4sIAAAAAAAAAOPgE-LUz9U3MM6rSjNU4gIx8yxTjPPKtaSyk630C1LzC3JSgVRRcX6eVXJGZk5KUWreIlau4MSK_DwF39Li7B2sjADmlXfNRQAAAA&sa=X&ved=2ahUKEwi57__N76TzAhVpHTQIHdhBC2UQmxMoBnoECH8QCA"
      }
    ],
    "education": "University of Pennsylvania (1997), MORE",
    "education_links": [
      {
        "text": "University of Pennsylvania",
        "link": "https://www.google.com/search?gl=us&hl=en&q=University+of+Pennsylvania&stick=H4sIAAAAAAAAAOPgE-LUz9U3MM6rSjNU4gAxzUtSirWks5Ot9AtS8wtyUoFUUXF-nlVqSmlyYklmft4iVqnQvMwyoGhmSaVCfppCQGpeXnFlTlliXmbiDlZGALAC3NNUAAAA&sa=X&ved=2ahUKEwi57__N76TzAhVpHTQIHdhBC2UQmxMoAHoECGsQAg"
      },
    ],
    "profiles": [
      {
        "name": "Twitter",
        "link": "http://www.twitter.com/elonmusk",
        "source": "commontopic",
        "image": "<URL to image>"
      }
    ],
    "people_also_search_for": [
      {
        "name": "Talulah Riley",
        "extensions": [
          "Former spouse"
        ],
        "link": "https://www.google.com/search?hl=en&gl=us&q=Talulah+Riley&stick=H4sIAAAAAAAAAONgFuLUz9U3MM6rSjNUAjOTKoqzK7T4AlKLivPzgjNTUssTK4sXsfKGJOaU5iRmKARl5qRW7mBlBAAa7eLBOwAAAA&sa=X&ved=2ahUKEwjvp_iTvZfnAhVDA6wKHaVsCcIQxA0wJnoECAQQBQ",
        "source": "peopleperson",
        "image": "<URL to image>"
      },
      {
        "name": "Jeff Bezos",
        "link": "https://www.google.com/search?hl=en&gl=us&q=Jeff+Bezos&stick=H4sIAAAAAAAAAONgFuLUz9U3MM6rSjNUAjMNDavMLLX4AlKLivPzgjNTUssTK4sXsXJ5paalKTilVuUX72BlBACQAPJGOAAAAA&sa=X&ved=2ahUKEwjvp_iTvZfnAhVDA6wKHaVsCcIQxA0wJnoECAQQBw",
        "source": "peopleperson",
        "image": "<URL to image>"
      },
      {
        "name": "Justine Musk",
        "extensions": [
          "Former spouse"
        ],
        "link": "https://www.google.com/search?hl=en&gl=us&q=Justine+Musk&stick=H4sIAAAAAAAAAONgFuLUz9U3MM6rSjNU4gIxjcwKcivNtfgCUouK8_OCM1NSyxMrixex8niVFpdk5qUq-JYWZ-9gZQQASXxdWjsAAAA&sa=X&ved=2ahUKEwjvp_iTvZfnAhVDA6wKHaVsCcIQxA0wJnoECAQQCQ",
        "source": "peopleperson",
        "image": "<URL to image>"
      },
      ...
    ],
    "people_also_search_for_link": "https://www.google.com/search?hl=en&gl=us&q=Elon+Musk&stick=H4sIAAAAAAAAAONgFuLUz9U3MM6rSjNUQjC1pLKTrfQLUvMLclKBVFFxfp5VcWZKanliZfEiVk7XnPw8Bd_S4uwdrIwAxSwB60MAAAA&sa=X&ved=2ahUKEwjvp_iTvZfnAhVDA6wKHaVsCcIQMSgAMCZ6BAgEEAE",
    "people_also_search_for_stick": "H4sIAAAAAAAAAONgFuLUz9U3MM6rSjNUQjC1pLKTrfQLUvMLclKBVFFxfp5VcWZKanliZfEiVk7XnPw8Bd_S4uwdrIwAxSwB60MAAAA"
  },
  "image_results": [
    {
      "position": 1,
      "title": "Elon Musk (@elonmusk) | Twitter",
      "link": "https://twitter.com/elonmusk?lang=en",
      "displayed_link": "twitter.com › elonmusk",
      "snippet": "The latest Tweets from Elon Musk (@elonmusk): "Simulation of first crewed flight of Falcon 9 / Dragon 2020 @NASA https://t.co/BSDPYTcVIG"",
      "cached_page_link": "https://webcache.googleusercontent.com/search?q=cache:QjQEmo2sFzcJ:https://twitter.com/elonmusk%3Flang%3Den+&cd=1&hl=en&ct=clnk&gl=us",
      "related_pages_link": "https://www.google.com/search?hl=en&gl=us&q=related:https://twitter.com/elonmusk%3Flang%3Den&tbo=1&sa=X&ved=2ahUKEwjvp_iTvZfnAhVDA6wKHaVsCcIQHzAAegQIDhAJ"
    },
    {
      "position": 2,
      "title": "Elon Musk - Wikipedia",
      "link": "https://en.wikipedia.org/wiki/Elon_Musk",
      "displayed_link": "en.wikipedia.org › wiki › Elon_Musk",
      "snippet": "Elon Reeve Musk FRS is an engineer and technology entrepreneur. He holds South African, Canadian, and U.S. citizenship and is the founder, CEO, and chief ...",
      "cached_page_link": "https://webcache.googleusercontent.com/search?q=cache:cElLiMk8T9MJ:https://en.wikipedia.org/wiki/Elon_Musk+&cd=2&hl=en&ct=clnk&gl=us",
      "related_pages_link": "https://www.google.com/search?hl=en&gl=us&q=related:https://en.wikipedia.org/wiki/Elon_Musk&tbo=1&sa=X&ved=2ahUKEwjvp_iTvZfnAhVDA6wKHaVsCcIQHzABegQIChAJ"
    },
    {
      "position": 3,
      "title": "Elon Musk | Category | Fox Business",
      "link": "https://www.foxbusiness.com/category/elon-musk",
      "displayed_link": "www.foxbusiness.com › category › elon-musk",
      "thumbnail": "<URL to image>",
      "date": "192 × 108",
      "snippet": "Elon Musk."
    },
    ...
  ],
  ...
}