Google Patents API allows you to scrape patent and scholar results from Google Patents. The API is accessed through the following endpoint: /search?engine=google_patents. A user may query the following: https://serpapi.com/search?engine=google_patents utilizing a GET request. Head to the playground for a live and interactive demo.
API Parameters
API Results
JSON Results
JSON output includes structured data for Organic Results and Summary.

A search status is accessible through search_metadata.status. It flows this way: Processing -> Success || Error. If a search has failed, error will contain an error message. search_metadata.id is the search ID inside SerpApi.
HTML Results
This API does not have html response, just a text. search_metadata.prettify_html_file contains prettified version of result. It is displayed in playground.
API Examples
JSON structure overview
{
  ...
  "organic_results": [
    {
      "position": "Integer - Position of the organic result",
      "rank": "Integer - Rank of the organic result - It may be different from `position` when the results are grouped",
      "cpc": "String - Cooperative Patent Classification (CPC) to the patent",
      "cpc_descrition": "String - The description of the CPC",
      "title": "String - The title of the patent / scholar",
      "snippet": "String - The snippet of the patent / scholar",
      "publication_date": "String - The publication date of the patent / scholar",
      "is_scholar": "Boolean - True if it's a scholar (Google Scholar) result",
      "patent_id": "String - ID of the patent",
      "scholar_id": "String - ID of the scholar",
      // following fields are patent results only
      "priority_date": "String - The priority date",
      "filing_date": "String - The filed date",
      "grant_date": "String - The granted date",
      "inventor": "String - Name of the inventor",
      "assignee": "String - Name of the assignee",
      "publication_number": "String - Publication number of the patent",
      "language": "String - Language of the patent",
      "thumbnail": "String - URL to the thumbnail of the patent",
      "pdf": "String - URL to the PDF document of the patent",
      "figures": "Array - URLs to more images of the patent, normally includes a `thumnail` and a `full` sized image",
      "country_status": "Hash - Statuses of the patent in each country. The key is the country code, the value is one of `ACTIVE`, `NOT_ACTIVE`, `UNKNOWN`",
      // following fields are scholar results only
      "url_hostname": "String - Hostname of the scholar's URL",
      "author": "String - Name of the author",
      "author_etal": "Boolean - Whether this scholar has three or more authors",
      "publication_venue": "String - Venue of publication",
    }
  ],
  "summary": {
    "assignee": [
      "key": "String - Name of the assignee",
      "percentage": "String - Percentage of the assignee",
      "frequency": [
        {
          "year_range": "String - Year range of the item",
          "percentage": "String - Percentage of the year range",
        }
      ]
    ],
    "inventor": "Array - Summary of the inventors, the structure is the same as `assignee`",
    "cpc": "Array - Summary of the CPCs, the structure is the same as `assignee`",
  },
  ...
}

Example with
q

: (Coffee) parameter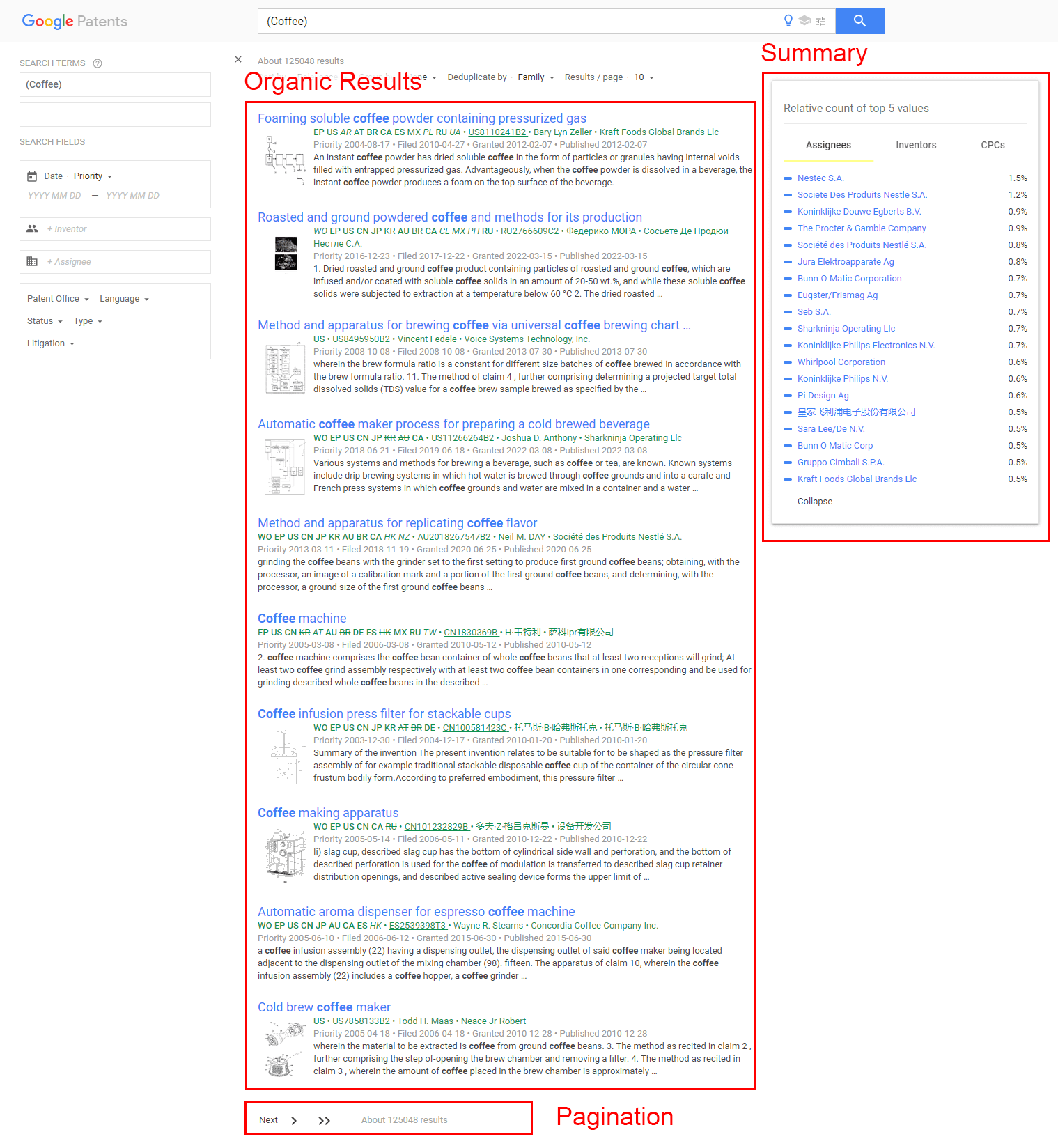 {
  "search_metadata": {
    "id": "64afe2d915afff17e18d922f",
    "status": "Success",
    "json_endpoint": "https://serpapi.com/searches/dadfa7408bfa2d66/64afe2d915afff17e18d922f.json",
    "created_at": "2023-07-13 11:41:13 UTC",
    "processed_at": "2023-07-13 11:41:13 UTC",
    "google_patents_url": "https://patents.google.com/xhr/query?url=q%3D%2528Coffee%2529",
    "raw_html_file": "https://serpapi.com/searches/dadfa7408bfa2d66/64afe2d915afff17e18d922f.html",
    "prettify_html_file": "https://serpapi.com/searches/dadfa7408bfa2d66/64afe2d915afff17e18d922f.prettify",
    "total_time_taken": 1.09
  },
  "search_parameters": {
    "engine": "google_patents",
    "q": "(Coffee)"
  },
  "search_information": {
    "total_results": 125048,
    "total_pages": 100,
    "page_number": 0
  },
  "organic_results": [
    {
      "position": 1,
      "rank": 0,
      "patent_id": "patent/US8110241B2/en",
      "title": "Foaming soluble coffee powder containing pressurized gas",
      "snippet": "An instant coffee powder has dried soluble coffee in the form of particles or granules having internal voids filled with entrapped pressurized gas. Advantageously, when the coffee powder is dissolved in a beverage, the instant coffee powder produces a foam on the top surface of the beverage.",
      "priority_date": "2004-08-17",
      "filing_date": "2010-04-27",
      "grant_date": "2012-02-07",
      "publication_date": "2012-02-07",
      "inventor": "Bary Lyn Zeller",
      "assignee": "Kraft Foods Global Brands Llc",
      "publication_number": "US8110241B2",
      "language": "en",
      "thumbnail": "https://patentimages.storage.googleapis.com/25/a4/3c/08a69758ca974c/US08110241-20120207-D00000.png",
      "pdf": "https://patentimages.storage.googleapis.com/86/1c/bd/89a41d9faca215/US8110241.pdf",
      "figures": [
        {
          "thumbnail": "https://patentimages.storage.googleapis.com/bc/43/8a/befe307de64c7c/US08110241-20120207-D00000.png",
          "full": "https://patentimages.storage.googleapis.com/e0/9e/10/d0a025032833eb/US08110241-20120207-D00000.png"
        },
        {
          "thumbnail": "https://patentimages.storage.googleapis.com/c1/91/68/a0fc2ab8594671/US08110241-20120207-D00001.png",
          "full": "https://patentimages.storage.googleapis.com/5d/b3/37/ccdcbe58cbac2e/US08110241-20120207-D00001.png"
        }
      ],
      "country_status": {
        "EP": "ACTIVE",
        "US": "ACTIVE",
        "AR": "UNKNOWN",
        "AT": "NOT_ACTIVE",
        ...
      }
    },
    {
      "position": 2,
      "rank": 1,
      "patent_id": "patent/RU2766609C2/en",
      "title": "Roasted and ground powdered coffee and methods for its production",
      "snippet": "1. Dried roasted and ground coffee product containing particles of roasted and ground coffee, which are infused and/or coated with soluble coffee solids in an amount of 20-50 wt.%, and while these soluble coffee solids were subjected to extraction at a temperature below 60 °C 2. The dried roasted …",
      "priority_date": "2016-12-23",
      "filing_date": "2017-12-22",
      "grant_date": "2022-03-15",
      "publication_date": "2022-03-15",
      "inventor": "Федерико МОРА",
      "assignee": "Сосьете Де Продюи Нестле С.А.",
      "publication_number": "RU2766609C2",
      "language": "en",
      "thumbnail": "https://patentimages.storage.googleapis.com/23/fc/61/43bb57210f8b7f/00000001.png",
      "pdf": "https://patentimages.storage.googleapis.com/ab/3c/bb/d5d4b21616f08c/RU2766609C2.pdf",
      "figures": [
        {
          "thumbnail": "https://patentimages.storage.googleapis.com/e1/a2/76/38d9b190f71e04/00000001.png",
          "full": "https://patentimages.storage.googleapis.com/d1/86/b8/556e6f1e4d609b/00000001.png"
        }
      ],
      "country_status": {
        "WO": "UNKNOWN",
        "EP": "ACTIVE",
        "US": "ACTIVE",
        ...
      }
    },
    {
      "position": 3,
      "rank": 2,
      "patent_id": "patent/US8495950B2/en",
      "title": "Method and apparatus for brewing coffee via universal coffee brewing chart …",
      "snippet": "wherein the brew formula ratio is a constant for different size batches of coffee brewed in accordance with the brew formula ratio. 11. The method of claim 4 , further comprising determining a projected target total dissolved solids (TDS) value for a coffee brew sample brewed as specified by the …",
      "priority_date": "2008-10-08",
      "filing_date": "2008-10-08",
      "grant_date": "2013-07-30",
      "publication_date": "2013-07-30",
      "inventor": "Vincent Fedele",
      "assignee": "Voice Systems Technology, Inc.",
      "publication_number": "US8495950B2",
      "language": "en",
      "thumbnail": "https://patentimages.storage.googleapis.com/f9/c6/73/311cd476a738f9/US08495950-20130730-D00000.png",
      "pdf": "https://patentimages.storage.googleapis.com/9b/13/3b/04ede26a15302b/US8495950.pdf",
      "figures": [
        {
          "thumbnail": "https://patentimages.storage.googleapis.com/48/2a/2c/66f95a4e79938c/US08495950-20130730-D00000.png",
          "full": "https://patentimages.storage.googleapis.com/68/0e/7b/399c0396b895eb/US08495950-20130730-D00000.png"
        },
        {
          "thumbnail": "https://patentimages.storage.googleapis.com/f8/75/c2/66c2c1a7fce878/US08495950-20130730-D00001.png",
          "full": "https://patentimages.storage.googleapis.com/97/31/80/9115dc57135085/US08495950-20130730-D00001.png"
        },
        {
          "thumbnail": "https://patentimages.storage.googleapis.com/38/05/98/b4b5eb0dfbeefb/US08495950-20130730-D00002.png",
          "full": "https://patentimages.storage.googleapis.com/69/f8/87/e7c19a808be041/US08495950-20130730-D00002.png"
        },
        ...
      ],
      "country_status": {
        "US": "ACTIVE"
      }
    },
    ...
  ],
  "summary": {
    "assignee": [
      {
        "key": "Total",
        "percentage": 100.0,
        "frequency": [
          {
            "year_range": "2022-2025",
            "percentage": 0.1
          },
          {
            "year_range": "2019-2022",
            "percentage": 2.7
          },
          ...
        ]
      },
       {
        "key": "Nestec S.A.",
        "percentage": 1.5,
        "frequency": [
          {
            "year_range": "2013-2016",
            "percentage": 0.1
          },
          {
            "year_range": "2010-2013",
            "percentage": 0.4
          },
          ...
        ]
      },
      {
        "key": "Societe Des Produits Nestle S.A.",
        "percentage": 1.2,
        "frequency": [
          {
            "year_range": "2019-2022",
            "percentage": 0.1
          },
          {
            "year_range": "2013-2016",
            "percentage": 0.2
          },
          ...
        ]
      },
      ...
    ],
    "inventor": [
      {
        "key": "Total",
        "percentage": 100.0,
        "frequency": [
          {
            "year_range": "2022-2025",
            "percentage": 0.1
          },
          {
            "year_range": "2019-2022",
            "percentage": 2.7
          },
          ...
        ]
      },
      {
        "key": "Ernesto Illy",
        "percentage": 0.6,
        "frequency": [
          {
            "year_range": "1989-1992",
            "percentage": 0.1
          },
          {
            "year_range": "1983-1986",
            "percentage": 0.1
          },
          ...
        ]
      },
      {
        "key": "Daniel Fischer",
        "percentage": 0.6,
        "frequency": [
          {
            "year_range": "2007-2010",
            "percentage": 0.1
          },
          {
            "year_range": "2004-2007",
            "percentage": 0.1
          },
          ...
        ]
      },
      ...
    ],
    "cpc": [
      {
        "key": "Total",
        "percentage": 100.0,
        "frequency": [
          {
            "year_range": "2022-2025",
            "percentage": 0.1
          },
          {
            "year_range": "2019-2022",
            "percentage": 2.7
          },
          ...
        ]
      },
      {
        "key": "A47J",
        "percentage": 66.7,
        "frequency": [
          {
            "year_range": "2022-2025",
            "percentage": 0.1
          },
          {
            "year_range": "2019-2022",
            "percentage": 1.7
          },
          ...
        ]
      },
      {
        "key": "A23F",
        "percentage": 19.5,
        "frequency": [
          {
            "year_range": "2022-2025",
            "percentage": 0.1
          },
          {
            "year_range": "2019-2022",
            "percentage": 0.8
          },
          ...
        ]
      },
      ...
    ]
  },
  "pagination": {
    "current": 0,
    "next": "https://patents.google.com/xhr/query?url=q%3D%2528Coffee%2529%26page%3D1"
  },
  "serpapi_pagination": {
    "current": 0,
    "next": "https://serpapi.com/search.json?engine=google_patents&page=1&q=%28Coffee%29"
  }
}