Google Finance Markets API
Our Google Finance Markets API allows you to scrape results from the Google Finance Markets page. The API is accessed through the following endpoint: /search?engine=google_finance_markets. A user may query the following: https://serpapi.com/search?engine=google_finance_markets utilizing a GET request. Head to the playground for a live and interactive demo.
API Parameters
API Results
JSON Results
JSON output includes structured data for "Markets", "Market Trends", "News Results", and "Discover More".

A search status is accessible through search_metadata.status. It flows this way: Processing -> Success || Error. If a search has failed, error will contain an error message. search_metadata.id is the search ID inside SerpApi.
HTML Results
HTML output is useful to debug JSON results or support features not supported yet by SerpApi. HTML output gives you the raw HTML results from Google.
API Examples
JSON structure overview
{
  "markets": {
    "us": [
      {
        "stock": "String - Short name of the stock or index",
        "link": "String - Link to the stock or index page",
        "serpapi_link": "String - Link to the SerpApi search",
        "name": "String - Name of the stock or index",
        "price": "Float - Price value",
        "currency": "String - Type of currency",
        "price_movement": {
          "percentage": "Float - Price movement in percentages",
          "value": "Float - Price movement",
          "movement": "String - Can be 'Up' or 'Down'",
        }
      },
      ...
    ],
    "top_news": {
      "link": "String - Link to the article",
      "snippet": "String - Short description of the article",
      "source": "String - Article source",
      "date": "String - Article date"
    },
    ...
  },
  "market_trends": [
    {
      "title": "String - Market trends section title",
      "subtitle": "String - Market trends section subtitle",
      "link": "String - Market trends link",
      "serpapi_link": "String - SerpApi link to expanded section results",
      "results": [
        {
          "stock": "String - Short name of the stock or index",
          "link": "String - Link to the stock or index page",
          "serpapi_link": "String - Link to the SerpApi search",
          "name": "String - Name of the stock or index",
          "price": "String - Price value",
          "extracted_price": "Float - Extracted price value",
          "currency": "String - Type of currency",
          "price_movement": {
            "percentage": "Float - Price movement in percentages",
            "value": "Float - Price movement",
            "movement": "String - Can be 'Up' or 'Down'"
          }
        },
        ...
      ],
    },
    ...
  ],
  "news_results": [
    {
      "source": "String - Article source",
      "link": "String - Link to the article",
      "date": "String - Article date",
      "snippet": "String - Short description of the article",
      "thumbnail": "String - Article thumbnail",
      "stocks": [
        {
          "name": "String - Name of the stock or index",
          "link": "String - Google Finance link",
          "serpapi_link": "String - Link to the SerpApi search",
          "stock": "String - Short name of the stock or index",
          "price_movement": {
            "percentage": "Float - Price movement in percentages",
            "movement": "String - Can be 'Up' or 'Down'"
          }
        },
        ...
      ]
    },
    ...
  ],
  "discover_more": [
    {
      "title": "String - Section title",
      "items": [
        {
          "stock": "String - Short name of the stock or index",
          "link": "String - Link to the stock or index page",
          "serpapi_link": "String - Link to the SerpApi search",
          "name": "String - Name of the stock or index",
          "price": "String - Price value",
          "extracted_price": "Float - Extracted price value",
          "currency": "String - Type of currency",
          "price_movement": {
            "percentage": "Float - Price movement in percentages",
            "movement": "String - Can be 'Up' or 'Down'"
          }
        },
        ...
      ]
    },
    ...
  ]
}

Example with
trend

: indexes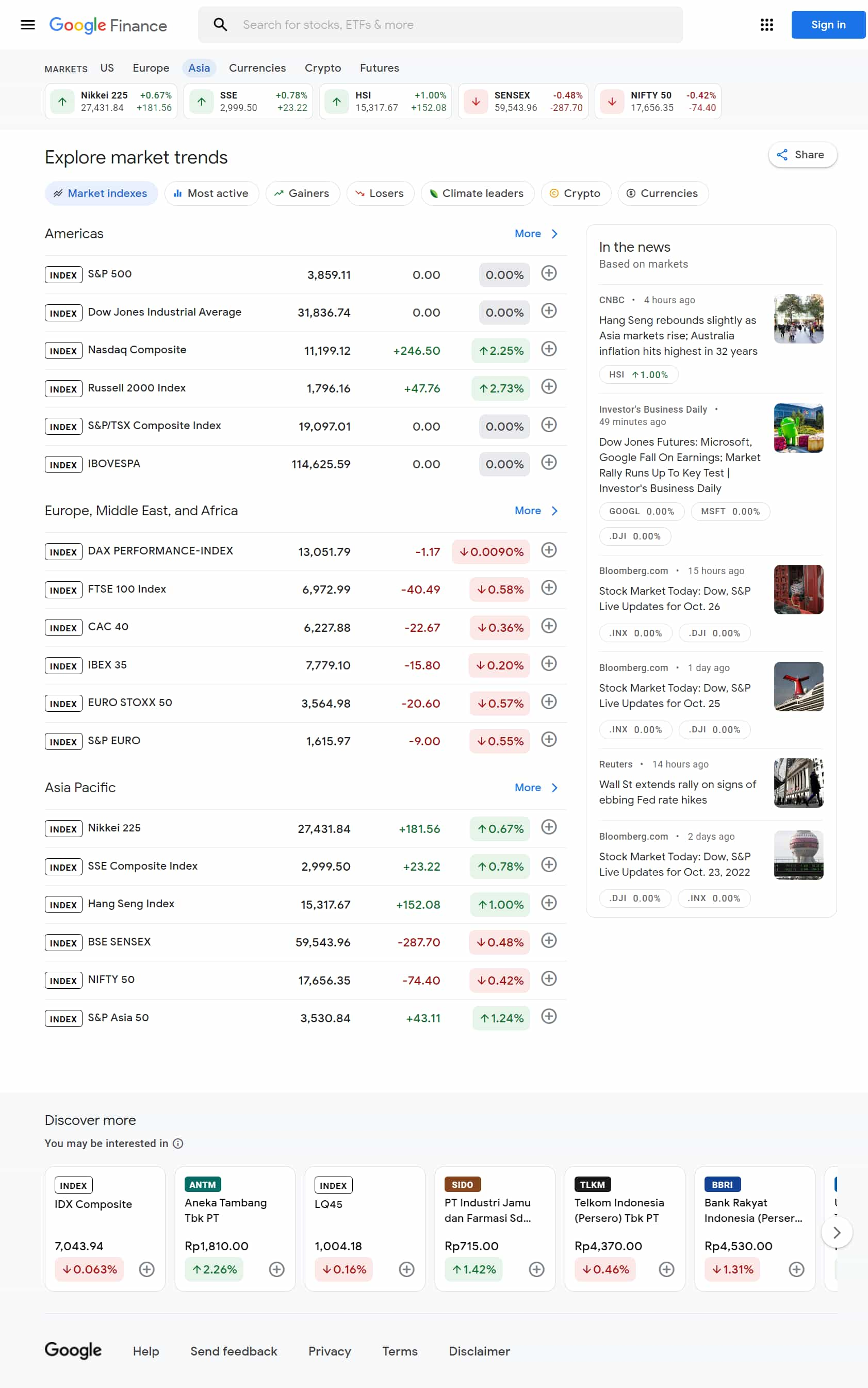 {
  "search_metadata": {
    "id": "63592f11de983400ab4e1971",
    "status": "Success",
    "json_endpoint": "https://serpapi.com/searches/4f8de8fa23e13899/63592f11de983400ab4e1971.json",
    "created_at": "2022-10-26 12:58:57 UTC",
    "processed_at": "2022-10-26 12:58:58 UTC",
    "google_finance_markets_url": "https://www.google.com/finance/markets/indexes?hl=en",
    "raw_html_file": "https://serpapi.com/searches/4f8de8fa23e13899/63592f11de983400ab4e1971.html",
    "total_time_taken": 1.80
  },
  "search_parameters": {
    "engine": "google_finance_markets",
    "trend": "indexes",
    "hl": "en"
  },
  "markets": {
    "us": [
      {
        "stock": ".DJI:INDEXDJX",
        "link": "https://www.google.com/finance/quote/.DJI:INDEXDJX",
        "serpapi_link": "https://serpapi.com/search.json?engine=google_finance&hl=en&q=.DJI%3AINDEXDJX",
        "name": "Dow Jones",
        "price": 31836.74,
        "price_movement": {
          "percentage": 0,
          "value": 0
        }
      },
      ...
    ],
    "europe": [
      {
        "stock": "DAX:INDEXDB",
        "link": "https://www.google.com/finance/quote/DAX:INDEXDB",
        "serpapi_link": "https://serpapi.com/search.json?engine=google_finance&hl=en&q=DAX:INDEXDB",
        "name": "DAX",
        "price": 13051.79,
        "price_movement": {
          "percentage": 0.0089628855,
          "value": 1.1699219,
          "movement": "Down"
        }
      },
      ...
    ],
    "asia": [
      {
        "stock": "NI225:INDEXNIKKEI",
        "link": "https://www.google.com/finance/quote/NI225:INDEXNIKKEI",
        "serpapi_link": "https://serpapi.com/search.json?engine=google_finance&hl=en&q=NI225:INDEXNIKKEI",
        "name": "Nikkei 225",
        "price": 27431.84,
        "price_movement": {
          "percentage": 0.66627043,
          "value": 181.56055,
          "movement": "Up"
        }
      },
      ...
    ],
    "currencies": [
      {
        "stock": "USD-IDR",
        "link": "https://www.google.com/finance/quote/USD-IDR",
        "serpapi_link": "https://serpapi.com/search.json?engine=google_finance&hl=en&q=USD-IDR",
        "name": "USD / IDR",
        "price": 15574.800000000001,
        "price_movement": {
          "percentage": 0.11441794690493726,
          "value": 17.80000000000109,
          "movement": "Up"
        }
      },
      ...
    ],
    "crypto": [
      {
        "stock": "BTC-IDR",
        "link": "https://www.google.com/finance/quote/BTC-IDR",
        "serpapi_link": "https://serpapi.com/search.json?engine=google_finance&hl=en&q=BTC-IDR",
        "name": "Bitcoin (BTC / IDR)",
        "price": 320035662.8,
        "price_movement": {
          "percentage": 2.4176346965213646,
          "value": 7554649.399999976,
          "movement": "Up"
        }
      },
      ...
    ],
    "futures": [
      {
        "stock": "YMW00:CBOT",
        "link": "https://www.google.com/finance/quote/YMW00:CBOT",
        "serpapi_link": "https://serpapi.com/search.json?engine=google_finance&hl=en&q=YMW00:CBOT",
        "name": "E-mini Dow ($5)",
        "price": 31773,
        "currency": "USD",
        "price_movement": {
          "percentage": 0.32625404,
          "value": 104,
          "movement": "Down"
        }
      },
      ...
    ]
  },
  "market_trends": [
    {
      "title": "Americas",
      "link": "https://www.google.com/finance/markets/indexes/americas",
      "serpapi_link": "https://serpapi.com/search.json?engine=google_finance_markets&hl=en&index_market=americas&trend=indexes",
      "results": [
        {
          "stock": ".INX:INDEXSP",
          "serpapi_link": "https://serpapi.com/search.json?engine=google_finance&hl=en&q=.INX:INDEXSP",
          "link": "https://www.google.com/finance/quote/.INX:INDEXSP",
          "name": "S&P 500",
          "price": "3,859.11",
          "extracted_price": 3859.11,
          "price_movement": {
            "percentage": 0,
            "value": 0
          }
        },
        ...
      ]
    },
    {
      "title": "Europe, Middle East, and Africa",
      "link": "https://www.google.com/finance/markets/indexes/europe-middle-east-africa",
      "serpapi_link": "https://serpapi.com/search.json?engine=google_finance_markets&hl=en&index_market=europe-middle-east-africa&trend=indexes",
      "results": [
        {
          "stock": "DAX:INDEXDB",
          "serpapi_link": "https://serpapi.com/search.json?engine=google_finance&hl=en&q=DAX:INDEXDB",
          "link": "https://www.google.com/finance/quote/DAX:INDEXDB",
          "name": "DAX PERFORMANCE-INDEX",
          "price": "13,051.79",
          "extracted_price": 13051.79,
          "price_movement": {
            "percentage": 0.009,
            "value": 1.17,
            "movement": "Down"
          }
        },
        ...
      ]
    },
    {
      "title": "Asia Pacific",
      "link": "https://www.google.com/finance/markets/indexes/asia-pacific",
      "serpapi_link": "https://serpapi.com/search.json?engine=google_finance_markets&hl=en&index_market=asia-pacific&trend=indexes",
      "results": [
        {
          "stock": "NI225:INDEXNIKKEI",
          "serpapi_link": "https://serpapi.com/search.json?engine=google_finance&hl=en&q=NI225:INDEXNIKKEI",
          "link": "https://www.google.com/finance/quote/NI225:INDEXNIKKEI",
          "name": "Nikkei 225",
          "price": "27,431.84",
          "extracted_price": 27431.84,
          "price_movement": {
            "percentage": 0.67,
            "value": 181.56,
            "movement": "Up"
          }
        },
        ...
      ]
    }
  ],
  "news_results": [
    {
      "source": "CNBC",
      "link": "https://www.cnbc.com/2022/10/26/asia-markets-australia-cpi-inflation-stocks-currencies-yields.html",
      "date": "4 hours ago",
      "snippet": "Hang Seng rebounds slightly as Asia markets rise; Australia inflation hits highest in 32 years",
      "thumbnail": "https://encrypted-tbn3.gstatic.com/images?q=tbn:ANd9GcS4ys9RazQvLoJzUCECc0qZwh_NVIArhZPzQgaw9qhQTrVE_j1zbvGEGVXlbu8",
      "stocks": [
        {
          "name": "Hang Seng Index",
          "link": "https://www.google.com./quote/HSI:INDEXHANGSENG",
          "stock": "HSI:INDEXHANGSENG",
          "serpapi_link": "https://serpapi.com/search.json?engine=google_finance&hl=en&q=HSI:INDEXHANGSENG",
          "price_movement": {
            "percentage": 1,
            "movement": "Up"
          }
        }
      ]
    },
    {
      "source": "Investor's Business Daily",
      "link": "https://www.investors.com/market-trend/stock-market-today/dow-jones-futures-microsoft-google-fall-on-earnings-market-rally-runs-to-key-test/",
      "date": "37 minutes ago",
      "snippet": "Dow Jones Futures: Microsoft, Google Fall On Earnings; Market Rally Runs Up To Key Test | Investor's Business Daily",
      "thumbnail": "https://encrypted-tbn2.gstatic.com/images?q=tbn:ANd9GcTRZGwl4fqWNgZv7oDoxMRSLK7y99-6kCcVuIMqwTP60Z6yuxbYdKMIqJfFQG4",
      "stocks": [
        {
          "name": "Alphabet Inc Class A",
          "link": "https://www.google.com./quote/GOOGL:NASDAQ",
          "stock": "GOOGL:NASDAQ",
          "serpapi_link": "https://serpapi.com/search.json?engine=google_finance&hl=en&q=GOOGL:NASDAQ",
          "price_movement": {
            "percentage": 0
          }
        },
        {
          "name": "Microsoft Corporation",
          "link": "https://www.google.com./quote/MSFT:NASDAQ",
          "stock": "MSFT:NASDAQ",
          "serpapi_link": "https://serpapi.com/search.json?engine=google_finance&hl=en&q=MSFT:NASDAQ",
          "price_movement": {
            "percentage": 0
          }
        },
        {
          "name": "Dow Jones Industrial Average",
          "link": "https://www.google.com./quote/.DJI:INDEXDJX",
          "stock": ".DJI:INDEXDJX",
          "serpapi_link": "https://serpapi.com/search.json?engine=google_finance&hl=en&q=.DJI:INDEXDJX",
          "price_movement": {
            "percentage": 0
          }
        }
      ]
    },
    {
      "source": "Bloomberg.com",
      "link": "https://www.bloomberg.com/news/articles/2022-10-25/asia-stocks-set-to-rise-on-us-rally-dip-in-yields-markets-wrap",
      "date": "14 hours ago",
      "snippet": "Stock Market Today: Dow, S&P Live Updates for Oct. 26",
      "thumbnail": "https://encrypted-tbn2.gstatic.com/images?q=tbn:ANd9GcShz9w3auaW8TJiOtzxZ3DRX6I27Nt6vzEI8cRs5S6wzWHjnqo74XFG9Db_3aI",
      "stocks": [
        {
          "name": "S&P 500",
          "link": "https://www.google.com./quote/.INX:INDEXSP",
          "stock": ".INX:INDEXSP",
          "serpapi_link": "https://serpapi.com/search.json?engine=google_finance&hl=en&q=.INX:INDEXSP",
          "price_movement": {
            "percentage": 0
          }
        },
        {
          "name": "Dow Jones Industrial Average",
          "link": "https://www.google.com./quote/.DJI:INDEXDJX",
          "stock": ".DJI:INDEXDJX",
          "serpapi_link": "https://serpapi.com/search.json?engine=google_finance&hl=en&q=.DJI:INDEXDJX",
          "price_movement": {
            "percentage": 0
          }
        }
      ]
    },
    ...
  ],
  "discover_more": [
    {
      "title": "You may be interested in",
      "items": [
        {
          "stock": "COMPOSITE:IDX",
          "link": "https://www.google.com/finance/quote/COMPOSITE:IDX",
          "serpapi_link": "https://serpapi.com/search.json?engine=google_finance&hl=en&q=COMPOSITE:IDX",
          "name": "IDX Composite",
          "price": "7,043.94",
          "extracted_price": 7043.94,
          "price_movement": {
            "percentage": 0.063,
            "movement": "Down"
          }
        },
        {
          "stock": "ANTM:IDX",
          "link": "https://www.google.com/finance/quote/ANTM:IDX",
          "serpapi_link": "https://serpapi.com/search.json?engine=google_finance&hl=en&q=COMPOSITE:IDX",
          "name": "Aneka Tambang Tbk PT",
          "price": "Rp 1,810.00",
          "extracted_price": 1810,
          "currency": "Rp ",
          "price_movement": {
            "percentage": 2.26,
            "movement": "Up"
          }
        },
        {
          "stock": "LQ45:IDX",
          "link": "https://www.google.com/finance/quote/LQ45:IDX",
          "serpapi_link": "https://serpapi.com/search.json?engine=google_finance&hl=en&q=COMPOSITE:IDX",
          "name": "LQ45",
          "price": "1,004.18",
          "extracted_price": 1004.18,
          "price_movement": {
            "percentage": 0.16,
            "movement": "Down"
          }
        },
        ...
      ]
    },
    ...
  ]
}