Google Related Questions API
Google Related Questions API allows you to retrieve more results from Google's "People also ask" search block. The API is accessed through the following endpoint: /search?engine=google_related_questions. A user may query the following: https://serpapi.com/search?engine=google_related_questions utilizing a GET request. Head to the playground for a live and interactive demo.
API Parameters
Search Query
Parameter defines the token needed to show more Q&A pairs that Google generates when a question gets clicked. Token is generated by SerpApi using our Google Related Questions API.
API Results
JSON Results
JSON output includes structured data similar to related questions.

A search status is accessible through search_metadata.status. It flows this way: Processing -> Success || Error. If a search has failed, error will contain an error message. search_metadata.id is the search ID inside SerpApi.
HTML Results
This API does not have html response, just a text. search_metadata.prettify_html_file contains prettified version of result. It is displayed in playground.
API Examples
Example with
next_page_token

: eyJvbnMiOiI2MjAiLCJ... parameter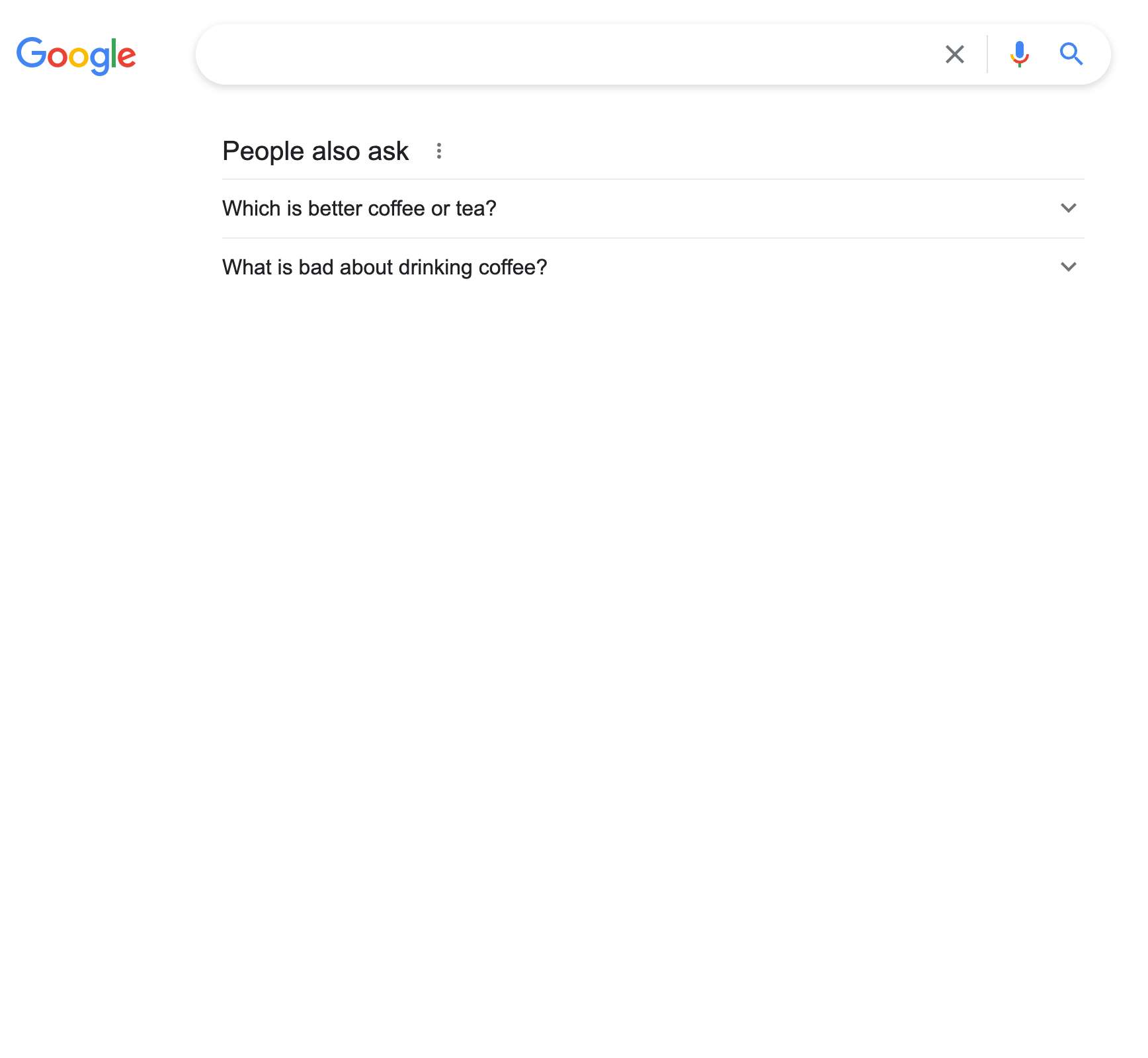 {
  ...
  "related_questions": [
    {
      "question": "Which is better coffee or tea?",
      "snippet": "Coffee has its advantages, but tea wins in the war of the antioxidants. While green tea is most commonly associated with antioxidants, white tea actually contains more. Coffee also contains antioxidants, but in a much lower concentration than white tea.",
      "title": "Tea vs. Coffee - Teatulia Organic Teas",
      "link": "https://www.teatulia.com/caffeine-in-tea/tea-vs-coffee.html",
      "displayed_link": "https://www.teatulia.com › caffeine-in-tea › tea-vs-coffee",
      "next_page_token": "eyJvbnMiOiI2MjAiLCJmYyI6IkVxRUJDbUpCUVhSV2JHSkNYMHBVWWxScWFubHlYemRYY2paUmQzQmZUbkE0WWxSTE9VWkxaMmcyYW10elZHSkJSRkp0V0Zsa1dWQjBlbEpZTkdOQmFFTXdNVVpCVjB0UE5rWTNVMGhXTkdaQmFVazBjVmgzT0hjdExXVTRaVW94TTJaUVNtOVBaeElYWTNoVFpsbHlYMFZGUzIxeWNYUnpVSFZQUzJKblFYTWFJa0ZFVlhsRlIyTlVWams0WkZOMFgyMVpaemM0ZVRkVlVqRlhVMDUwYkRGa1lrRSIsImZjdiI6IjMiLCJlaSI6ImN4U2ZZcl9FRUttcnF0c1B1T0tiZ0FzIiwicWMiOiJDZ1pqYjJabVpXVVFBSDBNVlVRXyIsInF1ZXN0aW9uIjoiV2hpY2ggaXMgYmV0dGVyIGNvZmZlZSBvciB0ZWE/IiwibGsiOiJHaDEzYUdsamFDQnBjeUJpWlhSMFpYSWdZMjltWm1WbElHOXlJSFJsWVEiLCJicyI6ImMyMk9QUXJDUUJCR1NUdVZZTE5wZERDaUtmVUVXM3VDMUp0a05ydW9HZG1kSUJhQ1pfQVluc2xMZUFEQlA2S041UWVQOXoyWXdYZ1ZzV0pyaWJCaHJ0Rnl3QU4zQVIyWmpUaXRyb3M4Z1J5eXdobEJIMUVjWVVrdFdTOFIyYjczUjZEVi1RalR2OFk5LWNZSmJqaEdyUzVER0VINm83YW1KclNCdDdoajNtbDFFc2hnVkRoZnVkZGhTU0lVZXZncEV6SmEzVktZdzZTUEtrMk5wdVJPc0E2LVhmdTItVGJkbDRQa0FRIn0=",
      "serpapi_link": "https://serpapi.com/search.json?device=desktop&engine=google_related_questions&google_domain=google.com&next_page_token=eyJvbnMiOiI2MjAiLCJmYyI6IkVxRUJDbUpCUVhSV2JHSkNYMHBVWWxScWFubHlYemRYY2paUmQzQmZUbkE0WWxSTE9VWkxaMmcyYW10elZHSkJSRkp0V0Zsa1dWQjBlbEpZTkdOQmFFTXdNVVpCVjB0UE5rWTNVMGhXTkdaQmFVazBjVmgzT0hjdExXVTRaVW94TTJaUVNtOVBaeElYWTNoVFpsbHlYMFZGUzIxeWNYUnpVSFZQUzJKblFYTWFJa0ZFVlhsRlIyTlVWams0WkZOMFgyMVpaemM0ZVRkVlVqRlhVMDUwYkRGa1lrRSIsImZjdiI6IjMiLCJlaSI6ImN4U2ZZcl9FRUttcnF0c1B1T0tiZ0FzIiwicWMiOiJDZ1pqYjJabVpXVVFBSDBNVlVRXyIsInF1ZXN0aW9uIjoiV2hpY2ggaXMgYmV0dGVyIGNvZmZlZSBvciB0ZWE%2FIiwibGsiOiJHaDEzYUdsamFDQnBjeUJpWlhSMFpYSWdZMjltWm1WbElHOXlJSFJsWVEiLCJicyI6ImMyMk9QUXJDUUJCR1NUdVZZTE5wZERDaUtmVUVXM3VDMUp0a05ydW9HZG1kSUJhQ1pfQVluc2xMZUFEQlA2S041UWVQOXoyWXdYZ1ZzV0pyaWJCaHJ0Rnl3QU4zQVIyWmpUaXRyb3M4Z1J5eXdobEJIMUVjWVVrdFdTOFIyYjczUjZEVi1RalR2OFk5LWNZSmJqaEdyUzVER0VINm83YW1KclNCdDdoajNtbDFFc2hnVkRoZnVkZGhTU0lVZXZncEV6SmEzVktZdzZTUEtrMk5wdVJPc0E2LVhmdTItVGJkbDRQa0FRIn0%3D"
    },
    {
      "question": "What is bad about drinking coffee?",
      "snippet": "Coffee containing caffeine can cause insomnia, nervousness and restlessness, stomach upset, nausea and vomiting, increased heart and breathing rate, and other side effects. Caffeinated coffee is POSSIBLY UNSAFE when taken by mouth for a long time or in high doses (more than 4 cups per day).",
      "title": "COFFEE: Overview, Uses, Side Effects, Precautions, Interactions, Dosing ...",
      "link": "https://www.webmd.com/vitamins/ai/ingredientmono-980/coffee",
      "displayed_link": "https://www.webmd.com › vitamins › ingredientmono-980",
      "next_page_token": "eyJvbnMiOiI2MjAiLCJmYyI6IkVxRUJDbUpCUVhSV2JHSkNYMHBVWWxScWFubHlYemRYY2paUmQzQmZUbkE0WWxSTE9VWkxaMmcyYW10elZHSkJSRkp0V0Zsa1dWQjBlbEpZTkdOQmFFTXdNVVpCVjB0UE5rWTNVMGhXTkdaQmFVazBjVmgzT0hjdExXVTRaVW94TTJaUVNtOVBaeElYWTNoVFpsbHlYMFZGUzIxeWNYUnpVSFZQUzJKblFYTWFJa0ZFVlhsRlIyTlVWams0WkZOMFgyMVpaemM0ZVRkVlVqRlhVMDUwYkRGa1lrRSIsImZjdiI6IjMiLCJlaSI6ImN4U2ZZcl9FRUttcnF0c1B1T0tiZ0FzIiwicWMiOiJDZ1pqYjJabVpXVVFBSDBNVlVRXyIsInF1ZXN0aW9uIjoiV2hhdCBpcyBiYWQgYWJvdXQgZHJpbmtpbmcgY29mZmVlPyIsImxrIjoiR2lGM2FHRjBJR2x6SUdKaFpDQmhZbTkxZENCa2NtbHVhMmx1WnlCamIyWm1aV1UiLCJicyI6ImMyMk9QUXJDUUJCR1NUdVZZTE5wZERDaUtmVUVXM3VDMUp0a05ydW9HZG1kSUJhQ1pfQVluc2xMZUFEQlA2S041UWVQOXoyWXdYZ1ZzV0pyaWJCaHJ0Rnl3QU4zQVIyWmpUaXRyb3M4Z1J5eXdobEJIMUVjWVVrdFdTOFIyYjczUjZEVi1RalR2OFk5LWNZSmJqaEdyUzVER0VINm83YW1KclNCdDdoajNtbDFFc2hnVkRoZnVkZGhTU0lVZXZncEV6SmEzVktZdzZTUEtrMk5wdVJPc0E2LVhmdTItVGJkbDRQa0FRIn0=",
      "serpapi_link": "https://serpapi.com/search.json?device=desktop&engine=google_related_questions&google_domain=google.com&next_page_token=eyJvbnMiOiI2MjAiLCJmYyI6IkVxRUJDbUpCUVhSV2JHSkNYMHBVWWxScWFubHlYemRYY2paUmQzQmZUbkE0WWxSTE9VWkxaMmcyYW10elZHSkJSRkp0V0Zsa1dWQjBlbEpZTkdOQmFFTXdNVVpCVjB0UE5rWTNVMGhXTkdaQmFVazBjVmgzT0hjdExXVTRaVW94TTJaUVNtOVBaeElYWTNoVFpsbHlYMFZGUzIxeWNYUnpVSFZQUzJKblFYTWFJa0ZFVlhsRlIyTlVWams0WkZOMFgyMVpaemM0ZVRkVlVqRlhVMDUwYkRGa1lrRSIsImZjdiI6IjMiLCJlaSI6ImN4U2ZZcl9FRUttcnF0c1B1T0tiZ0FzIiwicWMiOiJDZ1pqYjJabVpXVVFBSDBNVlVRXyIsInF1ZXN0aW9uIjoiV2hhdCBpcyBiYWQgYWJvdXQgZHJpbmtpbmcgY29mZmVlPyIsImxrIjoiR2lGM2FHRjBJR2x6SUdKaFpDQmhZbTkxZENCa2NtbHVhMmx1WnlCamIyWm1aV1UiLCJicyI6ImMyMk9QUXJDUUJCR1NUdVZZTE5wZERDaUtmVUVXM3VDMUp0a05ydW9HZG1kSUJhQ1pfQVluc2xMZUFEQlA2S041UWVQOXoyWXdYZ1ZzV0pyaWJCaHJ0Rnl3QU4zQVIyWmpUaXRyb3M4Z1J5eXdobEJIMUVjWVVrdFdTOFIyYjczUjZEVi1RalR2OFk5LWNZSmJqaEdyUzVER0VINm83YW1KclNCdDdoajNtbDFFc2hnVkRoZnVkZGhTU0lVZXZncEV6SmEzVktZdzZTUEtrMk5wdVJPc0E2LVhmdTItVGJkbDRQa0FRIn0%3D"
    }
  ],
  ...
}