Google Trends Related Queries API
When a Google Trends search contains related queries, they are parsed and exist within the related_queries object in the JSON output. Related queries can contain rising and top array results. From these results, we can extract query, value, extracted_value, and link.

Related queries chart accepts only single query per search.
API Examples
Example with
q

: coffee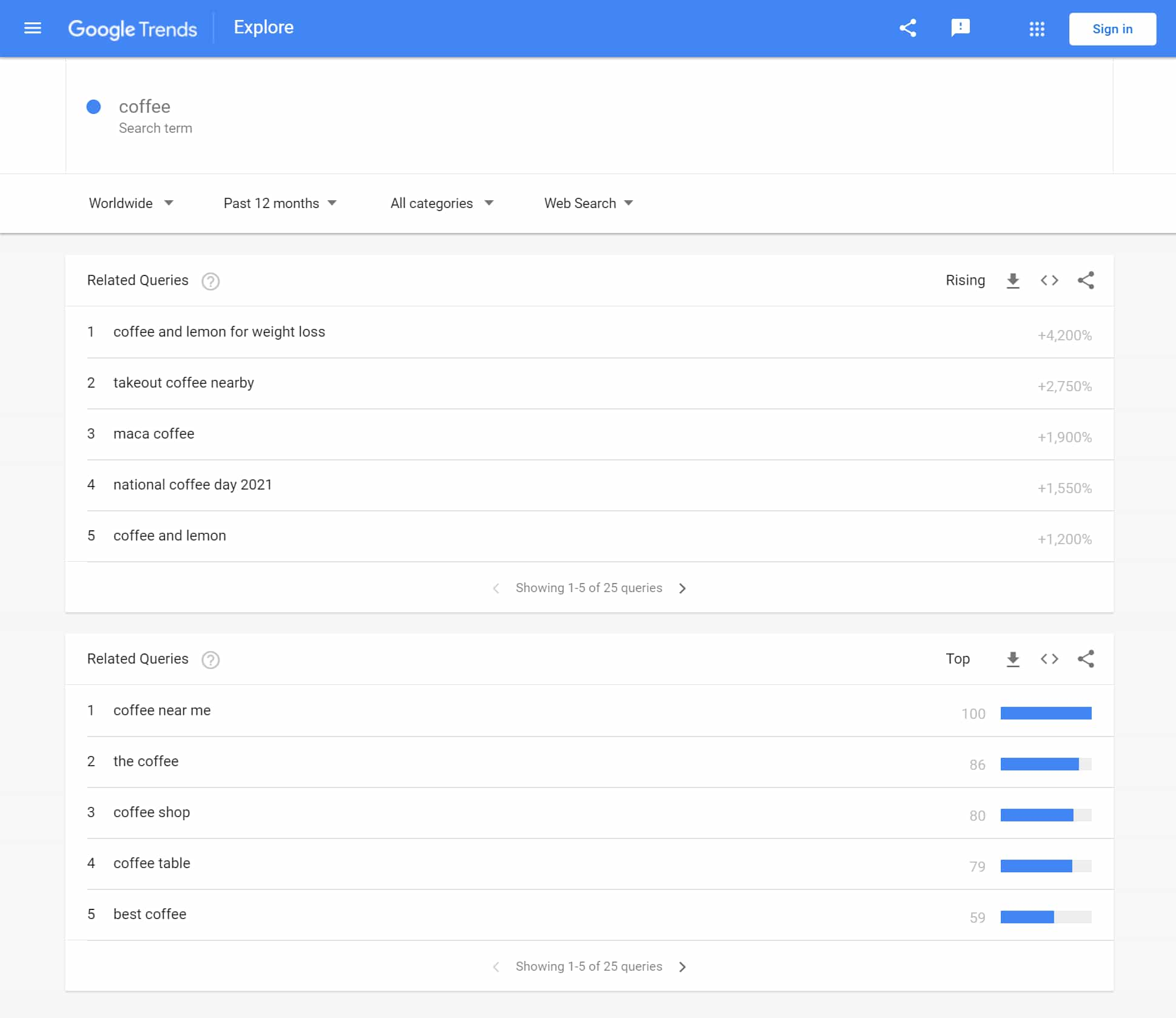 {
  "related_queries": {
    "rising": [
      {
        "query": "coffee and lemon for weight loss",
        "value": "+4,200%",
        "extracted_value": 4200,
        "link": "https://trends.google.com/trends/explore?q=coffee+and+lemon+for+weight+loss&date=today+12-m",
        "serpapi_link": "https://serpapi.com/search.json?data_type=RELATED_QUERIES&date=today+12-m&engine=google_trends&q=coffee+and+lemon+for+weight+loss&tz=420"
      },
      {
        "query": "takeout coffee nearby",
        "value": "+2,750%",
        "extracted_value": 2750,
        "link": "https://trends.google.com/trends/explore?q=takeout+coffee+nearby&date=today+12-m",
        "serpapi_link": "https://serpapi.com/search.json?data_type=RELATED_QUERIES&date=today+12-m&engine=google_trends&q=takeout+coffee+nearby&tz=420"
      },
      {
        "query": "maca coffee",
        "value": "+1,900%",
        "extracted_value": 1900,
        "link": "https://trends.google.com/trends/explore?q=maca+coffee&date=today+12-m",
        "serpapi_link": "https://serpapi.com/search.json?data_type=RELATED_QUERIES&date=today+12-m&engine=google_trends&q=maca+coffee&tz=420"
      },
      ...
    ],
    "top": [
      {
        "query": "coffee near me",
        "value": "100",
        "extracted_value": 100,
        "link": "https://trends.google.com/trends/explore?q=coffee+near+me&date=today+12-m",
        "serpapi_link": "https://serpapi.com/search.json?data_type=RELATED_QUERIES&date=today+12-m&engine=google_trends&q=coffee+near+me&tz=420"
      },
      {
        "query": "the coffee",
        "value": "86",
        "extracted_value": 86,
        "link": "https://trends.google.com/trends/explore?q=the+coffee&date=today+12-m",
        "serpapi_link": "https://serpapi.com/search.json?data_type=RELATED_QUERIES&date=today+12-m&engine=google_trends&q=the+coffee&tz=420"
      },
      {
        "query": "coffee shop",
        "value": "80",
        "extracted_value": 80,
        "link": "https://trends.google.com/trends/explore?q=coffee+shop&date=today+12-m",
        "serpapi_link": "https://serpapi.com/search.json?data_type=RELATED_QUERIES&date=today+12-m&engine=google_trends&q=coffee+shop&tz=420"
      },
      ...
    ]
  }
}