Google Maps Autocomplete API
Google Maps Autocomplete API allows you to get suggestions for a keyword. The API is accessed through the following endpoint: /search?engine=google_maps_autocomplete.

A user may query the following: https://serpapi.com/search?engine=google_maps_autocomplete utilizing a GET request. Head to the playground for a live and interactive demo.
API Parameters
API Results
JSON Results
JSON output includes structured data for suggestions - list of completions for provided keyword. Some of the results are places, which additionally include latitude, longitude and subtext (typically their addresses).
HTML Results
This API does not have html response, just a text. search_metadata.prettify_html_file contains prettified version of result. It is displayed in playground.
API Examples
JSON structure overview
{
  ...
  "suggestions": {
    "value": "String - The suggested keyword",
    "serpapi_link": "String - URL to SerpApi Google Maps Autocomplete API",
    "maps_serpapi_link": "String - URL to SerpApi Google Maps API",
    "subtext": "String - Subtext of the suggested keyword, it's typically the address of the place when type is `place`",
    "type": "String - The type of the result, one of `keyword` and `place`",
    "latitude": "Float - Latitude of the place",
    "longitude": "Float - Longitude of the place",
    "data_id": "String - Data ID to the place, can be used in Google Maps API, Google Maps Photos API and Google Maps Reviews API",
    "reviews_serpapi_link": "String - URL to Google Maps Reviews API",
    "photos_serpapi_link": "String - URL to Google Maps Photos API"
  },
  ...
}

Example with
q

: cafe parameter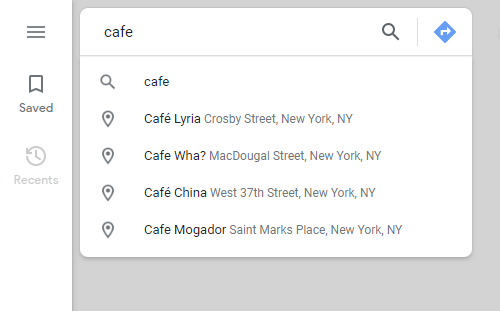 {
  "search_metadata": {
    "id": "647fe65215afff0e8865e016",
    "status": "Success",
    "json_endpoint": "https://serpapi.com/searches/dadbc290840cdd30/647fe65215afff0e8865e016.json",
    "created_at": "2023-06-07 02:07:14 UTC",
    "processed_at": "2023-06-07 02:07:14 UTC",
    "google_maps_autocomplete_url": "https://www.google.com/s?q=cafe&tbm=map&gs_ri=maps&suggest=p&gl=us&pb=<pb_parameter>",
    "raw_html_file": "https://serpapi.com/searches/57faa0cf77de0682/647fe65215afff0e8865e016.html",
    "prettify_html_file": "https://serpapi.com/searches/fba917b8f26fd68e/647fe65215afff0e8865e016.prettify",
    "total_time_taken": 0.28
  },
  "search_parameters": {
    "engine": "google_maps_autocomplete",
    "q": "cafe",
    "gl": "us",
    "ll": "@40.7455096,-74.0083012,14z"
  },
  "search_information": {
    "query_displayed": "cafe"
  },
  "suggestions": [
    {
      "value": "cafe",
      "serpapi_link": "https://serpapi.com/search.json?engine=google_maps_autocomplete&gl=us&ll=%4040.7455096%2C-74.0083012%2C14z&q=cafe",
      "maps_serpapi_link": "https://serpapi.com/search.json?engine=google_maps&google_domain=google.com&hl=en&ll=%4040.7455096%2C-74.0083012%2C14z&q=cafe&type=search",
      "type": "keyword"
    },
    {
      "value": "Café Lyria",
      "serpapi_link": "https://serpapi.com/search.json?engine=google_maps_autocomplete&gl=us&ll=%4040.7455096%2C-74.0083012%2C14z&q=Caf%C3%A9+Lyria",
      "subtext": "Crosby Street, New York, NY",
      "type": "place",
      "latitude": 40.725846,
      "longitude": -73.995426,
      "data_id": "0x89c259f56e035771:0x1a404262f72adc1f",
      "reviews_serpapi_link": "https://serpapi.com/search.json?data_id=0x89c259f56e035771%3A0x1a404262f72adc1f&engine=google_maps_reviews&hl=en",
      "photos_serpapi_link": "https://serpapi.com/search.json?data_id=0x89c259f56e035771%3A0x1a404262f72adc1f&engine=google_maps_photos&hl=en",
      "maps_serpapi_link": "https://serpapi.com/search.json?data=%214m5%213m4%211s0x89c259f56e035771%3A0x1a404262f72adc1f%218m2%213d40.725846%214d-73.995426&engine=google_maps&google_domain=google.com&hl=en&ll=%4040.7455096%2C-74.0083012%2C14z&q=Caf%C3%A9+Lyria&type=place"
    },
    {
      "value": "Cafe Wha?",
      "serpapi_link": "https://serpapi.com/search.json?engine=google_maps_autocomplete&gl=us&ll=%4040.7455096%2C-74.0083012%2C14z&q=Cafe+Wha%3F",
      "subtext": "MacDougal Street, New York, NY",
      "type": "place",
      "latitude": 40.730084,
      "longitude": -74.00055789999999,
      "data_id": "0x89c259922a0f1d41:0x871f2073371fb93e",
      "reviews_serpapi_link": "https://serpapi.com/search.json?data_id=0x89c259922a0f1d41%3A0x871f2073371fb93e&engine=google_maps_reviews&hl=en",
      "photos_serpapi_link": "https://serpapi.com/search.json?data_id=0x89c259922a0f1d41%3A0x871f2073371fb93e&engine=google_maps_photos&hl=en",
      "maps_serpapi_link": "https://serpapi.com/search.json?data=%214m5%213m4%211s0x89c259922a0f1d41%3A0x871f2073371fb93e%218m2%213d40.730084%214d-74.00055789999999&engine=google_maps&google_domain=google.com&hl=en&ll=%4040.7455096%2C-74.0083012%2C14z&q=Cafe+Wha%3F&type=place"
    },
    {
      "value": "Café China",
      "serpapi_link": "https://serpapi.com/search.json?engine=google_maps_autocomplete&gl=us&ll=%4040.7455096%2C-74.0083012%2C14z&q=Caf%C3%A9+China",
      "subtext": "West 37th Street, New York, NY",
      "type": "place",
      "latitude": 40.751571299999995,
      "longitude": -73.9858221,
      "data_id": "0x89c25900adca7485:0x1d4ea398ad50e0c",
      "reviews_serpapi_link": "https://serpapi.com/search.json?data_id=0x89c25900adca7485%3A0x1d4ea398ad50e0c&engine=google_maps_reviews&hl=en",
      "photos_serpapi_link": "https://serpapi.com/search.json?data_id=0x89c25900adca7485%3A0x1d4ea398ad50e0c&engine=google_maps_photos&hl=en",
      "maps_serpapi_link": "https://serpapi.com/search.json?data=%214m5%213m4%211s0x89c25900adca7485%3A0x1d4ea398ad50e0c%218m2%213d40.751571299999995%214d-73.9858221&engine=google_maps&google_domain=google.com&hl=en&ll=%4040.7455096%2C-74.0083012%2C14z&q=Caf%C3%A9+China&type=place"
    },
    {
      "value": "Cafe Mogador",
      "serpapi_link": "https://serpapi.com/search.json?engine=google_maps_autocomplete&gl=us&ll=%4040.7455096%2C-74.0083012%2C14z&q=Cafe+Mogador",
      "subtext": "Saint Marks Place, New York, NY",
      "type": "place",
      "latitude": 40.7274314,
      "longitude": -73.98431149999999,
      "data_id": "0x89c2599d133e8f2b:0x2df7f1a7bf3e00bc",
      "reviews_serpapi_link": "https://serpapi.com/search.json?data_id=0x89c2599d133e8f2b%3A0x2df7f1a7bf3e00bc&engine=google_maps_reviews&hl=en",
      "photos_serpapi_link": "https://serpapi.com/search.json?data_id=0x89c2599d133e8f2b%3A0x2df7f1a7bf3e00bc&engine=google_maps_photos&hl=en",
      "maps_serpapi_link": "https://serpapi.com/search.json?data=%214m5%213m4%211s0x89c2599d133e8f2b%3A0x2df7f1a7bf3e00bc%218m2%213d40.7274314%214d-73.98431149999999&engine=google_maps&google_domain=google.com&hl=en&ll=%4040.7455096%2C-74.0083012%2C14z&q=Cafe+Mogador&type=place"
    }
  ]
}