DuckDuckGo Search Engine Results API
Our DuckDuckGo API allows you to scrape SERP results from DuckDuckGo. The API is accessed through the following endpoint: /search?engine=duckduckgo.

A user may query the following: https://serpapi.com/search?engine=duckduckgo utilizing a GET request. Head to the playground for a live and interactive demo.
API Parameters
API Results
HTML Results
This API does not have html response, just a text. search_metadata.prettify_html_file contains prettified version of result. It is displayed in playground.
API Examples
Example results for
q

: apple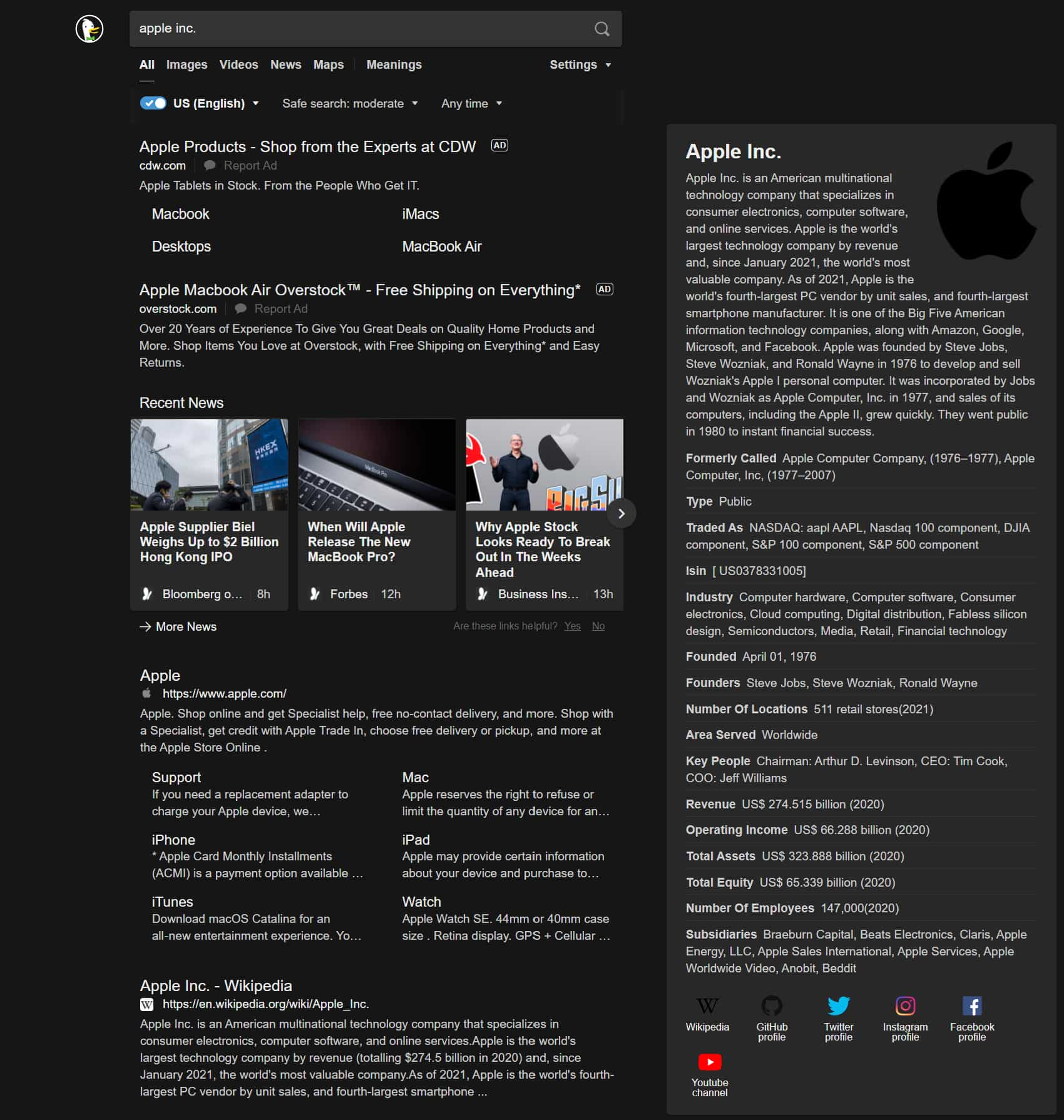 {
  "search_metadata": {
    "id": "60cc8866de9834008ca37cb7",
    "status": "Success",
    "json_endpoint": "https://serpapi.com/searches/42494655f019bca9/60cc8866de9834008ca37cb7.json",
    "created_at": "2021-06-18 11:49:58 UTC",
    "processed_at": "2021-06-18 11:49:58 UTC",
    "duckduckgo_url": "https://duckduckgo.com/?q=apple+inc.&kl=us-en",
    "raw_html_file": "https://serpapi.com/searches/42494655f019bca9/60cc8866de9834008ca37cb7.html",
    "prettify_html_file": "https://serpapi.com/searches/42494655f019bca9/60cc8866de9834008ca37cb7.prettify",
    "total_time_taken": 1.93
  },
  "search_parameters": {
    "engine": "duckduckgo",
    "q": "apple inc.",
    "kl": "us-en"
  },
  "search_information": {
    "organic_results_state": "Results for exact spelling"
  },
  "ads": [
    {
      "position": 1,
      "title": "Apple Products - Shop from the Experts at CDW",
      "link": "https://duckduckgo.com/y.js?ad_provider=bingv7aa&eddgt=NRy2AmQk5ChhjWTO1JLeqw%3D%3D&rut=077067ea9b71fd19c486bee5c1cf46f54110ccf49ec86c614c170749bbf58001&u3=https%3A%2F%2Fwww.bing.com%2Faclick%3Fld%3De86FpQlwlbOEBVxnzU4%2D19LjVUCUzostic6nMWnWMj2UKtE7POVS6ObZdwMV_bBYtaMED_BFZB1vRfAQAzq5Q1YVcS4%2D7Y1wk67vUSnob3uYbkh4%2DYJpE8PHa56WNw_bN%2D0LEyIj6iW4er_YMVAmCV30r65_V6rJ7TL6ndHSM%2D3FiVNgFDwm7gEsRRmclEVhPbQZcDHg%26u%3DaHR0cHMlM2ElMmYlMmZwaXhlbC5ldmVyZXN0dGVjaC5uZXQlMmY0MjIzJTJmY3ElM2Zldl9zaWQlM2QxMCUyNmV2X2xuJTNkQXBwbGUlMjUyMGlQYWQlMjUyMG1pbmklMjUyMDUlMjUyMFdpLUZpJTI1MjA1dGglMjUyMGdlbmVyYXRpb24lMjUyMHRhYmxldCUyNTIwNjQlMjUyMEdCJTI2ZXZfbHR4JTNkJTI2ZXZfbHglM2Rrd2QtNzQwNzk3NzQ3ODQ4NzklM2Fsb2MtMzIlMjZldl9jcnglM2Q3NDA3OTcyNDg5NjAxNiUyNmV2X210JTNkYiUyNmV2X2R2YyUzZGMlMjZldl9waHklM2Q1MjQ0JTI2ZXZfbG9jJTNkJTI2ZXZfY3glM2Q1MjU2ODkyMCUyNmV2X2F4JTNkMTE4NTI3NDA5MzA3ODQyOCUyNmV2X2V4JTNkJTI2ZXZfZWZpZCUzZDM5NDgwYjhmMTg0YzE0YWVhMjFkNmI0MzkwMjZlYmUwJTNhRyUzYXMlMjZ1cmwlM2QhaHR0cHMlM2ElMmYlMmZhZC5kb3VibGVjbGljay5uZXQlMmZkZG0lMmZ0cmFja2NsayUyZk4xMjYwLjI3OTZDRFcuQ09NJTJmQjI1MTMyMDM3LjI5MTMwNTczNSUzYmRjX3Rya19haWQlM2Q0ODQ3NTM5OTglM2JkY190cmtfY2lkJTNkNjU4Mzk0MTAlM2JkY19sYXQlM2QlM2JkY19yZGlkJTNkJTNidGFnX2Zvcl9jaGlsZF9kaXJlY3RlZF90cmVhdG1lbnQlM2QlM2J0ZnVhJTNkaHR0cCUzYSUyZiUyZnd3dy5jZHcuY29tJTJmc2hvcCUyZnByb2R1Y3RzJTJmZGVmYXVsdC5hc3B4JTNmZWRjJTNkNTQ5NzAwNSUyNmNtX3ZlbiUzZGFjcXVpcmd5JTI2Y21fY2F0JTNkYmluZyUyNmNtX3BsYSUzZE5BLU5BLUFwcGxlX1JEJTI2Y21faXRlJTNkNTQ5NzAwNSUyNnNfa3djaWQlM2RBTCE0MjIzITEwITc0MDc5NzI0ODk2MDE2ITc0MDc5Nzc0Nzg0ODc5JTI2ZWZfaWQlM2QzOTQ4MGI4ZjE4NGMxNGFlYTIxZDZiNDM5MDI2ZWJlMCUzYUclM2FzJTI2bXNjbGtpZCUzZDM5NDgwYjhmMTg0YzE0YWVhMjFkNmI0MzkwMjZlYmUwJTI2dXRtX3NvdXJjZSUzZGJpbmclMjZ1dG1fbWVkaXVtJTNkY3BjJTI2dXRtX2NhbXBhaWduJTNkQXBwbGUlMjUyME5vdGVib29rcyUyNTJGRGVza3RvcHMlMjUyMEVQTiUyNnV0bV90ZXJtJTNkQXBwbGUlMjUyMGlQYWQlMjUyMG1pbmklMjUyMDUlMjUyMFdpLUZpJTI1MjA1dGglMjUyMGdlbmVyYXRpb24lMjUyMHRhYmxldCUyNTIwNjQlMjUyMEdCJTI2dXRtX2NvbnRlbnQlM2RBcHBsZSUyNTIwVGFibGV0cw%26rlid%3D39480b8f184c14aea21d6b439026ebe0&vqd=3-166061562382093520072291462683820894222-283150986689285183769544183719738836436&iurl=%7B1%7DIG%3DF8F7ADC57A174B3897E185D54DE8FFC2%26CID%3D048A00CC8BA26C162FF410968A446D12%26ID%3DDevEx%2C5737.1",
      "source": "cdw.com",
      "snippet": "Apple Tablets in Stock. From the People Who Get IT.",
      "sitelinks": [
        {
          "title": "Macbook",
          "link": "https://duckduckgo.com/y.js?ad_provider=bingv7aa&eddgt=NRy2AmQk5ChhjWTO1JLeqw%3D%3D&rut=8bb9a3f6db742366df05412ef63a9b155f945ff71a77c8d8a7b09f959bbaaace&u3=https%3A%2F%2Fwww.bing.com%2Faclick%3Fld%3De8vOJacsjeU5cpJ2d0Odt1qjVUCUzuG7PLsLvSp5sRU%2Dia_XBEbs4atDQtIwyZTitqRlcvyAHt0Z6jibNV8XKHslo0SMtRAXfdrqsti9q410St4Ds7WXd88ZxSA%2DNvAvAPeILqZz8TEljo6mbQFFX6bW15Ie0lOvQDXVjlORcAtYFiVrWV0YhUZl0bBM7ib1VcNlGT2Q%26u%3DaHR0cHMlM2ElMmYlMmZwaXhlbC5ldmVyZXN0dGVjaC5uZXQlMmY0MjIzJTJmY3ElM2Zldl9zaWQlM2QxMCUyNmV2X2xuJTNkQXBwbGUlMjUyMGlQYWQlMjUyMG1pbmklMjUyMDUlMjUyMFdpLUZpJTI1MjA1dGglMjUyMGdlbmVyYXRpb24lMjUyMHRhYmxldCUyNTIwNjQlMjUyMEdCJTI2ZXZfbHR4JTNkc2wlM2FNYWNib29rJTI2ZXZfbHglM2Rrd2QtNzQwNzk3NzQ3ODQ4NzklM2Fsb2MtMzIlMjZldl9jcnglM2Q3NDA3OTcyNDg5NjAxNiUyNmV2X210JTNkYiUyNmV2X2R2YyUzZGMlMjZldl9waHklM2Q1MjQ0JTI2ZXZfbG9jJTNkJTI2ZXZfY3glM2Q1MjU2ODkyMCUyNmV2X2F4JTNkMTE4NTI3NDA5MzA3ODQyOCUyNmV2X2V4JTNkJTI2ZXZfZWZpZCUzZGRjZTNlMTgxZjM3MDE1Y2Y1YWI4ODE0ZDdiMWE5ZDIwJTNhRyUzYXMlMjZ1cmwlM2QhaHR0cHMlM2ElMmYlMmZhZC5kb3VibGVjbGljay5uZXQlMmZkZG0lMmZ0cmFja2NsayUyZk4xMjYwLjI3OTZDRFcuQ09NJTJmQjI1MTMyMDM3LjI5MTMwNTczNSUzYmRjX3Rya19haWQlM2Q0ODQ3NTM5OTglM2JkY190cmtfY2lkJTNkNjU4Mzk0MTAlM2JkY19sYXQlM2QlM2JkY19yZGlkJTNkJTNidGFnX2Zvcl9jaGlsZF9kaXJlY3RlZF90cmVhdG1lbnQlM2QlM2J0ZnVhJTNkaHR0cCUzYSUyZiUyZnd3dy5jZHcuY29tJTJmc2hvcCUyZnNlYXJjaCUyZkNvbXB1dGVycyUyZk5vdGVib29rLUNvbXB1dGVycyUyZnJlc3VsdC5hc3B4JTNmdyUzZEMzJTI2cEN1cnJlbnQlM2QxJTI2YiUzZEFQTCUyNmxuJTNkMSUyNmNtX3ZlbiUzZGFjcXVpcmd5JTI2Y21fY2F0JTNkYmluZyUyNmNtX3BsYSUzZEFwcGxlJTJiJTI2Y21faXRlJTNkTWFjYm9vayUyNnNfa3djaWQlM2RBTCE0MjIzITEwITc0MDc5NzI0ODk2MDE2ITc0MDc5Nzc0Nzg0ODc5JTI2c19rd2NpZCUzZEFMITQyMjMhMTAhNzQwNzk3MjQ4OTYwMTYhNzQwNzk3NzQ3ODQ4NzklMjZlZl9pZCUzZGRjZTNlMTgxZjM3MDE1Y2Y1YWI4ODE0ZDdiMWE5ZDIwJTNhRyUzYXMlMjZtc2Nsa2lkJTNkZGNlM2UxODFmMzcwMTVjZjVhYjg4MTRkN2IxYTlkMjAlMjZ1dG1fc291cmNlJTNkYmluZyUyNnV0bV9tZWRpdW0lM2RjcGMlMjZ1dG1fY2FtcGFpZ24lM2RBcHBsZSUyNTIwTm90ZWJvb2tzJTI1MkZEZXNrdG9wcyUyNTIwRVBOJTI2dXRtX3Rlcm0lM2RBcHBsZSUyNTIwaVBhZCUyNTIwbWluaSUyNTIwNSUyNTIwV2ktRmklMjUyMDV0aCUyNTIwZ2VuZXJhdGlvbiUyNTIwdGFibGV0JTI1MjA2NCUyNTIwR0IlMjZ1dG1fY29udGVudCUzZEFwcGxlJTI1MjBUYWJsZXRz%26rlid%3Ddce3e181f37015cf5ab8814d7b1a9d20&vqd=3-54128778947485703375926033354337232345-283150986689285183769544183719738836436&iurl=%7B1%7DIG%3DF8F7ADC57A174B3897E185D54DE8FFC2%26CID%3D048A00CC8BA26C162FF410968A446D12%26ID%3DDevEx%2C5741.1"
        },
        {
          "title": "iMacs",
          "link": "https://duckduckgo.com/y.js?ad_provider=bingv7aa&eddgt=NRy2AmQk5ChhjWTO1JLeqw%3D%3D&rut=09d9adbf7efa01180d3021c70b9c1608aab0f538e189cc2023b8c73297a40c26&u3=https%3A%2F%2Fwww.bing.com%2Faclick%3Fld%3De8BerEP08un8L4CU5wywxFWDVUCUwRXPDwLIWq6HdzCwNZgEgXzfx2E5m2cq5QGPYG3qSO8OcKYpGQYZUe2vS0MnHEVbNp93GKu173fzBrddcqQdkoGPflARoYrewrFuGGnHr7Ic8SqxCirJxzM_MPQTebzVlhd19Q4y4cMnRr4ko%2DDkCzb0N3ZRdFYoPODgPGsEO1cg%26u%3DaHR0cHMlM2ElMmYlMmZwaXhlbC5ldmVyZXN0dGVjaC5uZXQlMmY0MjIzJTJmY3ElM2Zldl9zaWQlM2QxMCUyNmV2X2xuJTNkQXBwbGUlMjUyMGlQYWQlMjUyMG1pbmklMjUyMDUlMjUyMFdpLUZpJTI1MjA1dGglMjUyMGdlbmVyYXRpb24lMjUyMHRhYmxldCUyNTIwNjQlMjUyMEdCJTI2ZXZfbHR4JTNkc2wlM2FpTWFjcyUyNmV2X2x4JTNka3dkLTc0MDc5Nzc0Nzg0ODc5JTNhbG9jLTMyJTI2ZXZfY3J4JTNkNzQwNzk3MjQ4OTYwMTYlMjZldl9tdCUzZGIlMjZldl9kdmMlM2RjJTI2ZXZfcGh5JTNkNTI0NCUyNmV2X2xvYyUzZCUyNmV2X2N4JTNkNTI1Njg5MjAlMjZldl9heCUzZDExODUyNzQwOTMwNzg0MjglMjZldl9leCUzZCUyNmV2X2VmaWQlM2Q2NjI2NzQzNzYwYTUxZGU5Y2ZiMDE0ZmJlOGNmYmNhOSUzYUclM2FzJTI2dXJsJTNkIWh0dHBzJTNhJTJmJTJmYWQuZG91YmxlY2xpY2submV0JTJmZGRtJTJmdHJhY2tjbGslMmZOMTI2MC4yNzk2Q0RXLkNPTSUyZkIyNTEzMjAzNy4yOTEzMDU3MzUlM2JkY190cmtfYWlkJTNkNDg0NzUzOTk4JTNiZGNfdHJrX2NpZCUzZDY1ODM5NDEwJTNiZGNfbGF0JTNkJTNiZGNfcmRpZCUzZCUzYnRhZ19mb3JfY2hpbGRfZGlyZWN0ZWRfdHJlYXRtZW50JTNkJTNidGZ1YSUzZGh0dHAlM2ElMmYlMmZ3d3cuY2R3LmNvbSUyZnNob3AlMmZzZWFyY2glMmZyZXN1bHRzLmFzcHglM2ZsbiUzZDIlMjZ3Y2xzcyUzZEMyJTI2QnJhbmQlM2RBUEwlMjZrZXklM2RpTWFjJTI2Y21fdmVuJTNkYWNxdWlyZ3klMjZjbV9jYXQlM2RiaW5nJTI2Y21fcGxhJTNkQXBwbGUlMmIlMjZjbV9pdGUlM2RpTWFjcyUyNnNfa3djaWQlM2RBTCE0MjIzITEwITc0MDc5NzI0ODk2MDE2ITc0MDc5Nzc0Nzg0ODc5JTI2c19rd2NpZCUzZEFMITQyMjMhMTAhNzQwNzk3MjQ4OTYwMTYhNzQwNzk3NzQ3ODQ4NzklMjZlZl9pZCUzZDY2MjY3NDM3NjBhNTFkZTljZmIwMTRmYmU4Y2ZiY2E5JTNhRyUzYXMlMjZtc2Nsa2lkJTNkNjYyNjc0Mzc2MGE1MWRlOWNmYjAxNGZiZThjZmJjYTklMjZ1dG1fc291cmNlJTNkYmluZyUyNnV0bV9tZWRpdW0lM2RjcGMlMjZ1dG1fY2FtcGFpZ24lM2RBcHBsZSUyNTIwTm90ZWJvb2tzJTI1MkZEZXNrdG9wcyUyNTIwRVBOJTI2dXRtX3Rlcm0lM2RBcHBsZSUyNTIwaVBhZCUyNTIwbWluaSUyNTIwNSUyNTIwV2ktRmklMjUyMDV0aCUyNTIwZ2VuZXJhdGlvbiUyNTIwdGFibGV0JTI1MjA2NCUyNTIwR0IlMjZ1dG1fY29udGVudCUzZEFwcGxlJTI1MjBUYWJsZXRz%26rlid%3D6626743760a51de9cfb014fbe8cfbca9&vqd=3-187835162650500504359138865596566844417-283150986689285183769544183719738836436&iurl=%7B1%7DIG%3DF8F7ADC57A174B3897E185D54DE8FFC2%26CID%3D048A00CC8BA26C162FF410968A446D12%26ID%3DDevEx%2C5743.1"
        },
        {
          "title": "Desktops",
          "link": "https://duckduckgo.com/y.js?ad_provider=bingv7aa&eddgt=NRy2AmQk5ChhjWTO1JLeqw%3D%3D&rut=a8036b65941d62a7256e06747d5429ec8075bd0b096c2fa96326dc561f9d0d1c&u3=https%3A%2F%2Fwww.bing.com%2Faclick%3Fld%3De8MDQ6g2r8E0YnTcjj0TZ29zVUCUxYMj12jqgX6hCVabt%2D9tbqn6rNJ6QALyLTqAEkIqsd%2DSGAyH8nYEEPxFwXyL3DovJA%2DYwZBxpXTlGl2w6%2D4Sv_fwWQY53nbeWriQDwyLFbe2gqRqj2V3q4Cwp3Kkm10ryqmLIlw8mQXm0XJOgyJ6e88XIEeOro9z_TrjZk43CmwQ%26u%3DaHR0cHMlM2ElMmYlMmZwaXhlbC5ldmVyZXN0dGVjaC5uZXQlMmY0MjIzJTJmY3ElM2Zldl9zaWQlM2QxMCUyNmV2X2xuJTNkQXBwbGUlMjUyMGlQYWQlMjUyMG1pbmklMjUyMDUlMjUyMFdpLUZpJTI1MjA1dGglMjUyMGdlbmVyYXRpb24lMjUyMHRhYmxldCUyNTIwNjQlMjUyMEdCJTI2ZXZfbHR4JTNkc2wlM2FEZXNrdG9wcyUyNmV2X2x4JTNka3dkLTc0MDc5Nzc0Nzg0ODc5JTNhbG9jLTMyJTI2ZXZfY3J4JTNkNzQwNzk3MjQ4OTYwMTYlMjZldl9tdCUzZGIlMjZldl9kdmMlM2RjJTI2ZXZfcGh5JTNkNTI0NCUyNmV2X2xvYyUzZCUyNmV2X2N4JTNkNTI1Njg5MjAlMjZldl9heCUzZDExODUyNzQwOTMwNzg0MjglMjZldl9leCUzZCUyNmV2X2VmaWQlM2RlZDU3NzFlZmU4NTgxYzYzNmQyMjExMjM2MDMyOTY2MyUzYUclM2FzJTI2dXJsJTNkIWh0dHBzJTNhJTJmJTJmYWQuZG91YmxlY2xpY2submV0JTJmZGRtJTJmdHJhY2tjbGslMmZOMTI2MC4yNzk2Q0RXLkNPTSUyZkIyNTEzMjAzNy4yOTEzMDU3MzUlM2JkY190cmtfYWlkJTNkNDg0NzUzOTk4JTNiZGNfdHJrX2NpZCUzZDY1ODM5NDEwJTNiZGNfbGF0JTNkJTNiZGNfcmRpZCUzZCUzYnRhZ19mb3JfY2hpbGRfZGlyZWN0ZWRfdHJlYXRtZW50JTNkJTNidGZ1YSUzZGh0dHAlM2ElMmYlMmZ3d3cuY2R3LmNvbSUyZnNob3AlMmZzZWFyY2glMmZDb21wdXRlcnMlMmZEZXNrdG9wLUNvbXB1dGVycyUyZnJlc3VsdC5hc3B4JTNmdyUzZEMyJTI2cEN1cnJlbnQlM2QxJTI2YiUzZEFQTCUyNmxuJTNkMSUyNmNtX3ZlbiUzZGFjcXVpcmd5JTI2Y21fY2F0JTNkYmluZyUyNmNtX3BsYSUzZEFwcGxlJTJiJTI2Y21faXRlJTNkRGVza3RvcHMlMjZzX2t3Y2lkJTNkQUwhNDIyMyExMCE3NDA3OTcyNDg5NjAxNiE3NDA3OTc3NDc4NDg3OSUyNnNfa3djaWQlM2RBTCE0MjIzITEwITc0MDc5NzI0ODk2MDE2ITc0MDc5Nzc0Nzg0ODc5JTI2ZWZfaWQlM2RlZDU3NzFlZmU4NTgxYzYzNmQyMjExMjM2MDMyOTY2MyUzYUclM2FzJTI2bXNjbGtpZCUzZGVkNTc3MWVmZTg1ODFjNjM2ZDIyMTEyMzYwMzI5NjYzJTI2dXRtX3NvdXJjZSUzZGJpbmclMjZ1dG1fbWVkaXVtJTNkY3BjJTI2dXRtX2NhbXBhaWduJTNkQXBwbGUlMjUyME5vdGVib29rcyUyNTJGRGVza3RvcHMlMjUyMEVQTiUyNnV0bV90ZXJtJTNkQXBwbGUlMjUyMGlQYWQlMjUyMG1pbmklMjUyMDUlMjUyMFdpLUZpJTI1MjA1dGglMjUyMGdlbmVyYXRpb24lMjUyMHRhYmxldCUyNTIwNjQlMjUyMEdCJTI2dXRtX2NvbnRlbnQlM2RBcHBsZSUyNTIwVGFibGV0cw%26rlid%3Ded5771efe8581c636d22112360329663&vqd=3-315715772352437320900303735082742048723-283150986689285183769544183719738836436&iurl=%7B1%7DIG%3DF8F7ADC57A174B3897E185D54DE8FFC2%26CID%3D048A00CC8BA26C162FF410968A446D12%26ID%3DDevEx%2C5745.1"
        },
        {
          "title": "MacBook Air",
          "link": "https://duckduckgo.com/y.js?ad_provider=bingv7aa&eddgt=NRy2AmQk5ChhjWTO1JLeqw%3D%3D&rut=3c09457d1c86b32c5d8bb9aac825156efe38fde6769abc9150a54c57a97ed1b7&u3=https%3A%2F%2Fwww.bing.com%2Faclick%3Fld%3De8a0AyfgYkDj38EG28JidF9jVUCUxFnVMbFQJujkT7lvHyXacj%2D08w13W4v0u6maZro88aA_KDskncZjIxZ9iCPK5paYycYO0R3MGULJxdIjKDoZ0qC_XPmvIpqLX9LM34Yx1oDgS3QYZOuidE7kn9WGuqmwL6yt0S8u2ULd6Ibbb46NqdulSvKeKFHQfXml4lgvtt3Q%26u%3DaHR0cHMlM2ElMmYlMmZwaXhlbC5ldmVyZXN0dGVjaC5uZXQlMmY0MjIzJTJmY3ElM2Zldl9zaWQlM2QxMCUyNmV2X2xuJTNkQXBwbGUlMjUyMGlQYWQlMjUyMG1pbmklMjUyMDUlMjUyMFdpLUZpJTI1MjA1dGglMjUyMGdlbmVyYXRpb24lMjUyMHRhYmxldCUyNTIwNjQlMjUyMEdCJTI2ZXZfbHR4JTNkc2wlM2FNYWNCb29rJTI1MjBBaXIlMjZldl9seCUzZGt3ZC03NDA3OTc3NDc4NDg3OSUzYWxvYy0zMiUyNmV2X2NyeCUzZDc0MDc5NzI0ODk2MDE2JTI2ZXZfbXQlM2RiJTI2ZXZfZHZjJTNkYyUyNmV2X3BoeSUzZDUyNDQlMjZldl9sb2MlM2QlMjZldl9jeCUzZDUyNTY4OTIwJTI2ZXZfYXglM2QxMTg1Mjc0MDkzMDc4NDI4JTI2ZXZfZXglM2QlMjZldl9lZmlkJTNkYzFiYTI0ZjQ0MWRhMWUzOTQ4OWQ0NDM4YzliMGRlYWElM2FHJTNhcyUyNnVybCUzZCFodHRwcyUzYSUyZiUyZmFkLmRvdWJsZWNsaWNrLm5ldCUyZmRkbSUyZnRyYWNrY2xrJTJmTjEyNjAuMjc5NkNEVy5DT00lMmZCMjUxMzIwMzcuMjkxMzA1NzM1JTNiZGNfdHJrX2FpZCUzZDQ4NDc1Mzk5OCUzYmRjX3Rya19jaWQlM2Q2NTgzOTQxMCUzYmRjX2xhdCUzZCUzYmRjX3JkaWQlM2QlM2J0YWdfZm9yX2NoaWxkX2RpcmVjdGVkX3RyZWF0bWVudCUzZCUzYnRmdWElM2RodHRwJTNhJTJmJTJmd3d3LmNkdy5jb20lMmZzaG9wJTJmc2VhcmNoJTJmcmVzdWx0cy5hc3B4JTNmbG4lM2QyJTI2d2Nsc3MlM2RDMyUyNkJyYW5kJTNkQVBMJTI2a2V5JTNkTWFjQm9vayUyNTIwYWlyJTI2Y21fdmVuJTNkYWNxdWlyZ3klMjZjbV9jYXQlM2RiaW5nJTI2Y21fcGxhJTNkQXBwbGUlMmIlMjZjbV9pdGUlM2RNYWNCb29rJTJiQWlyJTI2c19rd2NpZCUzZEFMITQyMjMhMTAhNzQwNzk3MjQ4OTYwMTYhNzQwNzk3NzQ3ODQ4NzklMjZzX2t3Y2lkJTNkQUwhNDIyMyExMCE3NDA3OTcyNDg5NjAxNiE3NDA3OTc3NDc4NDg3OSUyNmVmX2lkJTNkYzFiYTI0ZjQ0MWRhMWUzOTQ4OWQ0NDM4YzliMGRlYWElM2FHJTNhcyUyNm1zY2xraWQlM2RjMWJhMjRmNDQxZGExZTM5NDg5ZDQ0MzhjOWIwZGVhYSUyNnV0bV9zb3VyY2UlM2RiaW5nJTI2dXRtX21lZGl1bSUzZGNwYyUyNnV0bV9jYW1wYWlnbiUzZEFwcGxlJTI1MjBOb3RlYm9va3MlMjUyRkRlc2t0b3BzJTI1MjBFUE4lMjZ1dG1fdGVybSUzZEFwcGxlJTI1MjBpUGFkJTI1MjBtaW5pJTI1MjA1JTI1MjBXaS1GaSUyNTIwNXRoJTI1MjBnZW5lcmF0aW9uJTI1MjB0YWJsZXQlMjUyMDY0JTI1MjBHQiUyNnV0bV9jb250ZW50JTNkQXBwbGUlMjUyMFRhYmxldHM%26rlid%3Dc1ba24f441da1e39489d4438c9b0deaa&vqd=3-225489738277111721978353918001980689388-283150986689285183769544183719738836436&iurl=%7B1%7DIG%3DF8F7ADC57A174B3897E185D54DE8FFC2%26CID%3D048A00CC8BA26C162FF410968A446D12%26ID%3DDevEx%2C5747.1"
        }
      ]
    },
    {
      "position": 2,
      "title": "Apple Macbook Air Overstock™ - Free Shipping on Everything*",
      "link": "https://duckduckgo.com/y.js?ad_provider=bingv7aa&eddgt=NRy2AmQk5ChhjWTO1JLeqw%3D%3D&rut=27bba96555fb02c88880878bbe3a7986d3a212708239cd5b3157cd2fa1f3234a&u3=https%3A%2F%2Fwww.bing.com%2Faclick%3Fld%3De8IpkwXaGjbvsPQGOX6fg%2DfjVUCUwKFGPJ4JRm6QV012Z%2DZ6RHK6t7UzjTSo3H8MKXSfvRlZyK04jMi8e%2Dyor8oCBkR2L3cDf5Gt5Sl%2DQTKqTqsNsK6nnne4MP98u_m8fQCG7hwJjpwWPabEV0tV9nWaCPMcTDmleb0b5eLLGtqcEHe3j2rNg_MC7IZE_j4IrZpiVzrA%26u%3DaHR0cHMlM2ElMmYlMmZ3d3cub3ZlcnN0b2NrLmNvbSUyZkVsZWN0cm9uaWNzJTJmQ29tcHV0ZXJzLVRhYmxldHMlMmZBcHBsZSUyYyUyZmJyYW5kJTJjJTJmNDczJTJmZGVwdC5odG1sJTNmY2lkJTNkMjk1NDM4JTI2a2lkJTNkZHN0cmFja2VyaWQlMjZ0cmFjayUzZHBzbXNuJTI2cG9zJTNkJTI2dGFyZ2V0aWQlM2Rrd2QtNzM5NDIzMzQ0MzEzMzIlM2Fsb2MtMzIlMjZnY2xzcmMlM2Rhdy5kcyUyNiUyNm5ldHdvcmslM2RzJTI2bXNjbGtpZCUzZDFlNTA1ZGU4YjRlODE0MmRhNWI1M2QyNDNjODJjOTA2JTI2dXRtX3NvdXJjZSUzZGJpbmclMjZ1dG1fbWVkaXVtJTNkY3BjJTI2dXRtX2NhbXBhaWduJTNkR2VuZXJpY19TdGFuZGFyZF9FbGVjdHJvbmljcyUyNnV0bV90ZXJtJTNkQXBwbGUlMjUyME1hY2Jvb2slMjUyMEFpciUyNnV0bV9jb250ZW50JTNkQXBwbGUlMjUyMCUyNTdDJTI1MjBNYWNib29rJTI1MjAlMjU3QyUyNTIwQWly%26rlid%3D1e505de8b4e8142da5b53d243c82c906&vqd=3-37430560230694636391628222942010942437-283150986689285183769544183719738836436&iurl=%7B1%7DIG%3DF8F7ADC57A174B3897E185D54DE8FFC2%26CID%3D048A00CC8BA26C162FF410968A446D12%26ID%3DDevEx%2C5749.1",
      "source": "overstock.com",
      "snippet": "Over 20 Years of Experience To Give You Great Deals on Quality Home Products and More. Shop Items You Love at Overstock, with Free Shipping on Everything* and Easy Returns."
    }
  ],
  "organic_results": [
    {
      "position": 1,
      "title": "Apple",
      "link": "https://www.apple.com/",
      "snippet": "Apple. Shop online and get Specialist help, free no-contact delivery, and more. Shop with a Specialist, get credit with Apple Trade In, choose free delivery or pickup, and more at the Apple Store Online .",
      "favicon": "https://external-content.duckduckgo.com/ip3/www.apple.com.ico",
      "sitelinks": [
        {
          "title": "Support",
          "link": "https://support.apple.com/",
          "snippet": "If you need a replacement adapter to charge your Apple device, we recommend getting an Apple power adapter. Also non-genuine replacement displays may have compromised visual quality and may fail to work correctly. Apple-certified screen repairs are performed by trusted experts who use genuine Apple parts."
        },
        {
          "title": "Mac",
          "link": "https://www.apple.com/mac/",
          "snippet": "Apple reserves the right to refuse or limit the quantity of any device for any reason. In the Apple Store: Offer only available on presentation of a valid, government-issued photo ID (local law may require saving this information). Value of your current device may be applied toward purchase of a new Apple device."
        },
        {
          "title": "iPhone",
          "link": "https://www.apple.com/iphone/",
          "snippet": "* Apple Card Monthly Installments (ACMI) is a payment option available to select at checkout for certain Apple products purchased at Apple Store locations, apple.com, the Apple Store app, or by calling 1-800-MY-APPLE, and is subject to credit approval and credit limit."
        },
        ...
      ]
    },
    {
      "position": 2,
      "title": "Apple Inc. - Wikipedia",
      "link": "https://en.wikipedia.org/wiki/Apple_Inc.",
      "snippet": "Apple Inc. is an American multinational technology company that specializes in consumer electronics, computer software, and online services.Apple is the world's largest technology company by revenue (totalling $274.5 billion in 2020) and, since January 2021, the world's most valuable company.As of 2021, Apple is the world's fourth-largest PC vendor by unit sales, and fourth-largest smartphone ...",
      "favicon": "https://external-content.duckduckgo.com/ip3/en.wikipedia.org.ico"
    },
    {
      "position": 3,
      "title": "Apple Inc. | History, Products, Headquarters, & Facts ...",
      "link": "https://www.britannica.com/topic/Apple-Inc",
      "snippet": "Apple Inc., formerly Apple Computer, Inc., American manufacturer of personal computers, smartphones, tablet computers, computer peripherals, and computer software. It was the first successful personal computer company and the popularizer of the graphical user interface. Headquarters are located in Cupertino, California. Computers host websites ...",
      "favicon": "https://external-content.duckduckgo.com/ip3/www.britannica.com.ico"
    },
    ...
  ],
  "knowledge_graph": {
    "title": "Apple Inc.",
    "description": "Apple Inc. is an American multinational technology company that specializes in consumer electronics, computer software, and online services. Apple is the world's largest technology company by revenue and, since January 2021, the world's most valuable company. As of 2021, Apple is the world's fourth-largest PC vendor by unit sales, and fourth-largest smartphone manufacturer. It is one of the Big Five American information technology companies, along with Amazon, Google, Microsoft, and Facebook. Apple was founded by Steve Jobs, Steve Wozniak, and Ronald Wayne in 1976 to develop and sell Wozniak's Apple I personal computer. It was incorporated by Jobs and Wozniak as Apple Computer, Inc. in 1977, and sales of its computers, including the Apple II, grew quickly. They went public in 1980 to instant financial success.",
    "thumbnail": "https://duckduckgo.com/i/b2e38b1b.png",
    "facts": {
      "formerly_called": "Apple Computer Company, (1976–1977), Apple Computer, Inc, (1977–2007)",
      "type": "Public",
      "traded_as": "NASDAQ: aapl AAPL, Nasdaq 100 component, DJIA component, S&P 100 component, S&P 500 component",
      "isin": "[ US0378331005]",
      "industry": "Computer hardware, Computer software, Consumer electronics, Cloud computing, Digital distribution, Fabless silicon design, Semiconductors, Media, Retail, Financial technology",
      "founded": "April 01, 1976",
      "founders": "Steve Jobs, Steve Wozniak, Ronald Wayne",
      "number_of_locations": "511 retail stores(2021)",
      "area_served": "Worldwide",
      "key_people": "Chairman: Arthur D. Levinson, CEO: Tim Cook, COO: Jeff Williams",
      "revenue": "US$ 274.515 billion (2020)",
      "operating_income": "US$ 66.288 billion (2020)",
      "total_assets": "US$ 323.888 billion (2020)",
      "total_equity": "US$ 65.339 billion (2020)",
      "number_of_employees": "147,000(2020)",
      "subsidiaries": "Braeburn Capital, Beats Electronics, Claris, Apple Energy, LLC, Apple Sales International, Apple Services, Apple Worldwide Video, Anobit, Beddit"
    },
    "profiles": [
      {
        "name": "Wikipedia",
        "link": "https://en.wikipedia.org/wiki/Apple_Inc.",
        "thumbnail": "https://duckduckgo.com/assets/icons/thirdparty/wikipedia.svg"
      },
      {
        "name": "GitHub profile",
        "link": "https://github.com/apple",
        "thumbnail": "https://duckduckgo.com/assets/icons/thirdparty/github.svg"
      },
      {
        "name": "Twitter profile",
        "link": "https://twitter.com/Apple",
        "thumbnail": "https://duckduckgo.com/assets/icons/thirdparty/twitter.svg"
      },
      ...
    ],
    "related_topics": [
      {
        "query": "Apple Inc. Category",
        "link": "https://duckduckgo.com/c/Apple_Inc."
      },
      {
        "query": "Pixar - Pixar Animation Studios is an American computer animation studio known for its critically and commercially successful computer animated feature films. It is based in Emeryville, California, and is a subsidiary of Walt Disney Studios owned by The Walt Disney Company.",
        "link": "https://duckduckgo.com/Pixar"
      },
      {
        "query": "Companies based in Cupertino, California",
        "link": "https://duckduckgo.com/c/Companies_based_in_Cupertino%2C_California"
      },
      ...
    ]
  },
  "news_results": [
    {
      "position": 1,
      "title": "Apple Supplier Biel Weighs Up to $2 Billion Hong Kong IPO",
      "link": "https://www.msn.com/en-us/money/other/apple-supplier-biel-weighs-up-to-dollar2-billion-hong-kong-ipo/ar-AALau6B",
      "snippet": "Biel Crystal Manufactory Ltd., a supplier of cover glass to Apple Inc., is planning a Hong Kong initial public offering that could raise as much as $2 billion, according to people with knowledge of the matter.",
      "source": "Bloomberg on MSN.com",
      "date": "8 hours ago",
      "thumbnail": "https://img-s-msn-com.akamaized.net/tenant/amp/entityid/AALaDnW.img?h=630&w=1200&m=6&q=60&o=t&l=f&f=jpg"
    },
    {
      "position": 2,
      "title": "When Will Apple Release The New MacBook Pro?",
      "link": "https://www.forbes.com/sites/ewanspence/2021/06/17/apple-macbook-pro-14-inch-release-date-specs-availability/",
      "snippet": "So, how long will we have to wait for the new MacBooks? The biggest issue looks to be the new mini-LED displays. The general silicon shortage has impacted some of the components used in the display, and the knock-on effects have seen delays in production not just of the unreleased Macs,",
      "source": "Forbes",
      "date": "12 hours ago",
      "thumbnail": "https://thumbor.forbes.com/thumbor/fit-in/1200x0/filters%3Aformat%28jpg%29/https%3A%2F%2Fspecials-images.forbesimg.com%2Fimageserve%2F60cbd97632b9d98aac133343%2F0x0.jpg"
    },
    {
      "position": 3,
      "title": "Why Apple Stock Looks Ready To Break Out In The Weeks Ahead",
      "link": "https://markets.businessinsider.com/news/etf/why-apple-stock-looks-ready-to-break-out-in-the-weeks-ahead-1030533790",
      "snippet": "Apple Inc. (NASDAQ: AAPL) shares were trading higher Thursday after the Federal Reserve held its rates constant but raised its inflation expectations for the years 2021-2023. Seven Fed officials expect increases in rates in 2022,",
      "source": "Business Insider",
      "date": "13 hours ago",
      "thumbnail": "https://cdn.benzinga.com/files/imagecache/1024x768xUP/images/story/2012/apple_wwdc20-keynote-tim-cook_06222020_14.jpg"
    },
    ...
  ],
  "related_searches": [
    {
      "query": "apple inc company overview",
      "link": "https://duckduckgo.com/?q=apple%20inc%20company%20overview"
    },
    {
      "query": "apple inc website",
      "link": "https://duckduckgo.com/?q=apple%20inc%20website"
    },
    {
      "query": "apple inc news today",
      "link": "https://duckduckgo.com/?q=apple%20inc%20news%20today"
    },
    ...
  ],
  "serpapi_pagination": {
    "next": "https://serpapi.com/search.json?engine=duckduckgo&kl=us-en&q=apple&start=27"
  }
}