Our Google Maps Photos API allows you to scrape photos from Google Maps. The API is accessed through the following endpoint: /search?engine=google_maps_photos.

A user may query the following: https://serpapi.com/search?engine=google_maps_photos utilizing a GET request. Head to the playground for a live and interactive demo.
API Parameters
API Results
JSON Results
JSON output includes structured data for place information, topics, and reviews results.

A search status is accessible through search_metadata.status. It flows this way: Processing -> Success || Error. If a search has failed, the error will contain an error message. search_metadata.id is the search ID inside SerpApi.
HTML Results
This API does not have the HTML response, just a text. search_metadata.prettify_html_file contains prettified version of the result. It is displayed in the playground.
API Examples
JSON structure overview
{
  ...
  "categories": [
    {
      "title": "String - Title of the category",
      "id": "String - ID of the category"
    },
  ],
  "photos": [
    {
      "thumbnail": "String - Thumbnail URL",
      "image": "String - Orginal image URL",
      "user": { // @Deprecated - use `photo_meta_serpapi_link` instead, it provides more info to the photo, for example, user info, date and location
        "link": "String - Link to reviewer's Google profile",
        "user_id": "String - Google's user id of the reviewer",
        "name": "String - Reviewer name"
      }
      "photo_meta_serpapi_link": "String - SerpAPI Google Maps Photo Meta API link to get more info about the photo. https://serpapi.com/google-maps-photo-meta-api"
    },
  ],
  "serpapi_pagination": {
    "next": "String - SerpAPI link to get next page data",
    "next_page_token": "String - page token"
  }
  ...
}

Results for: Peet's Coffee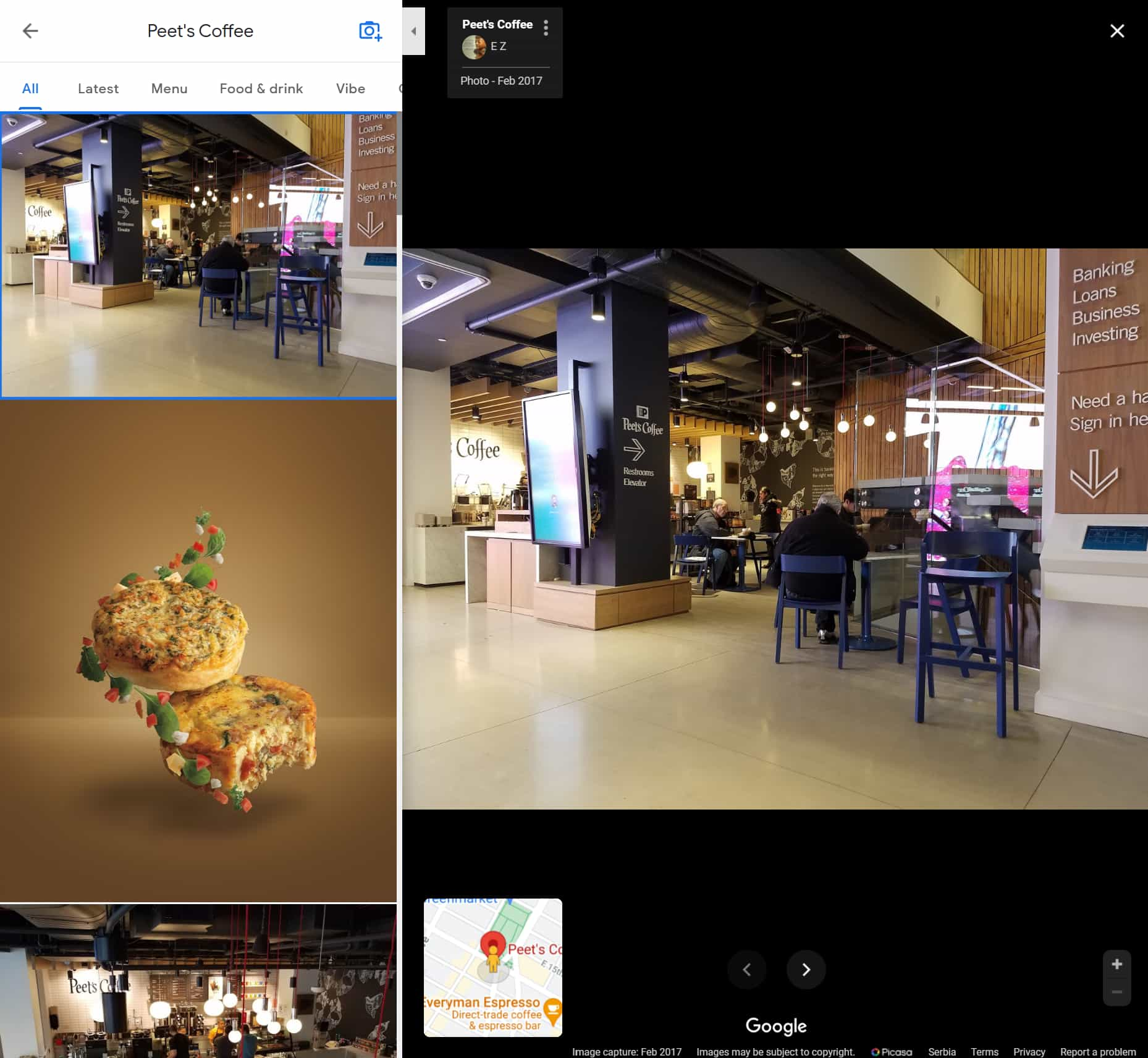 {
  "search_metadata": {
    "id": "60ddc169de98340dd89a84b8",
    "status": "Success",
    "json_endpoint": "https://serpapi.com/searches/9f1fce5b2cacc7bc/60ddc169de98340dd89a84b8.json",
    "created_at": "2021-07-01 13:21:45 UTC",
    "processed_at": "2021-07-01 13:21:45 UTC",
    "google_maps_photos_url": "https://www.google.com/maps/preview/photo?hl=en&pb=!1e2!3m3!1s0x89c25998e556791b:0xbdcd67f46e37b16d!9e0!11s!5m58!2m2!1i203!2i100!3m2!2i20!5b1!7m50!1m3!1e1!2b0!3e3!1m3!1e2!2b1!3e2!1m3!1e2!2b0!3e3!1m3!1e3!2b0!3e3!1m3!1e8!2b0!3e3!1m3!1e3!2b1!3e2!1m3!1e10!2b0!3e3!1m3!1e10!2b1!3e2!1m3!1e9!2b1!3e2!1m3!1e10!2b0!3e3!1m3!1e10!2b1!3e2!1m3!1e10!2b0!3e4!2b1!4b1!9b0!6m3!1s!2z!7e81!16m4!1m1!1BCgIgAQ!2b1!4e1",
    "raw_html_file": "https://serpapi.com/searches/9f1fce5b2cacc7bc/60ddc169de98340dd89a84b8.html",
    "prettify_html_file": "https://serpapi.com/searches/9f1fce5b2cacc7bc/60ddc169de98340dd89a84b8.prettify",
    "total_time_taken": 2.1
  },
  "search_parameters": {
    "engine": "google_maps_photos",
    "data_id": "0x89c25998e556791b:0xbdcd67f46e37b16d",
    "hl": "en"
  },
  "categories": [
    {
      "title": "All",
      "id": "CgIgAQ"
    },
    {
      "title": "Latest",
      "id": "CgIgARICGAI"
    },
    {
      "title": "Menu",
      "id": "CgIYIQ"
    },
    {
      "title": "Food & drink",
      "id": "CgIYIA"
    },
    {
      "title": "Vibe",
      "id": "CgIYIg"
    },
    {
      "title": "By owner",
      "id": "CgIgARICEAE"
    },
    {
      "title": "Street View & 360°",
      "id": "CgIgARICCAI"
    },
    {
      "title": "Videos",
      "id": "CgIgARICCAQ"
    }
  ],
  "photos": [
    {
      "thumbnail": "https://lh5.googleusercontent.com/p/AF1QipO-x7F8bvkQYKoJalEfrJ2c-C4yYf5EC5ISXYlQ=w203-h152-k-no",
      "image": "https://lh5.googleusercontent.com/p/AF1QipO-x7F8bvkQYKoJalEfrJ2c-C4yYf5EC5ISXYlQ=w4032-h3024-k-no",
      "user": { // @Deprecated
        "link": "https://maps.google.com/maps/contrib/106706723945968683827",
        "user_id": "106706723945968683827",
        "name": "ervin mile"
      },
      "photo_meta_serpapi_link": "<SerpAPI Link>"
    },
    {
      "thumbnail": "https://lh5.googleusercontent.com/p/AF1QipNgF_nJ9tHvGMhfeEU95SCTaqwcGPovnwJuIuIj=w203-h203-k-no",
      "image": "https://lh5.googleusercontent.com/p/AF1QipNgF_nJ9tHvGMhfeEU95SCTaqwcGPovnwJuIuIj=w2000-h2000-k-no",
      "user": { // @Deprecated
        "link": "https://maps.google.com/maps/contrib/108726483640304832662",
        "user_id": "108726483640304832662"
      },
      "photo_meta_serpapi_link": "<SerpAPI Link>"
    },
    {
      "thumbnail": "https://lh5.googleusercontent.com/p/AF1QipPgif1oyAOtWXXGsjxeLln2FSo1_oCHjEvy8Tmk=w203-h152-k-no",
      "image": "https://lh5.googleusercontent.com/p/AF1QipPgif1oyAOtWXXGsjxeLln2FSo1_oCHjEvy8Tmk=w4032-h3024-k-no",
      "user": { // @Deprecated
        "link": "https://maps.google.com/maps/contrib/103630351319564047960",
        "user_id": "103630351319564047960"
      },
      "photo_meta_serpapi_link": "<SerpAPI Link>"
    },
    ...
  ],
  "serpapi_pagination": {
    "next": "https://serpapi.com/search.json?data_id=0x89c25998e556791b%3A0xbdcd67f46e37b16d&engine=google_maps_photos&hl=en&next_page_token=EvgDKYQi49-NlUMIDwAAAAEAAAMAAAAQAAAAAAAAAAAAAAAAAAIgAAAAAAAAAQAAAAAAAAAAAAAAAAAAAAAAAAAAAAAAAAAAAAAAgAAAQAAAAAAAAAAAAAAAAAAAAAAAAAAEAAAAAAAAAAAAAAAAAAAAAAAAAAAAAAAAAAAAAAAAAAAQBAAAAAAAgAAAAAAAQAAAAIgAAAAAAAAAABAAAAAAAAAAEAQAAAAAAAAQAAAAAAIAAAAAAAAABAAAAAAAAAACAAAAAAAAAAAAAAAAABAAAAAAAAAAAAAAAIAAAAAABAAAAAAAAAAAAAAAAAAAAAAAAAAAAAEAAAAAABAQAAAAAAAAAAAACAAAAAIAAAAAAAAAAgAEEAAAAAAAAAAAAAAAAAAAAAAAAAAAAFAAAAAAAAEAAAAAAAAAAAAAAAAAAAAACAAAAAAAAASQAABAAAAAAAAAAAAAAAAAAAAAAAAAAAAAAAAAAAAAAAAAAAAAAAAAAAAACAAAAIAAAAAAAAAACAAAAACAgAAIAAABAAACAAAAAACAAIAAADAAAAAAAAAAAAAAAAAAAAAAAIAAAAgAAAAAAAAAAAACAAIAAAAAIAAAAACAAAAABAAAAAAAAAAQAAAAAAAAAAAAAAAAAAAAACAAAAAAAAAAAAAAAAAAAAAAAAAAAAAAGBRCVCmEIuPfjZVD6AEAACAAAAADAAAACQAQBCgCFAAAAAARAAKQAAAAAAAAALCGCACAQAgARBAECkAClCCAABAAAAAIgAGAEIBSBAAABQASIACSEAAAAA",
    "next_page_token": "EvgDKYQi49-NlUMIDwAAAAEAAAMAAAAQAAAAAAAAAAAAAAAAAAIgAAAAAAAAAQAAAAAAAAAAAAAAAAAAAAAAAAAAAAAAAAAAAAAAgAAAQAAAAAAAAAAAAAAAAAAAAAAAAAAEAAAAAAAAAAAAAAAAAAAAAAAAAAAAAAAAAAAAAAAAAAAQBAAAAAAAgAAAAAAAQAAAAIgAAAAAAAAAABAAAAAAAAAAEAQAAAAAAAAQAAAAAAIAAAAAAAAABAAAAAAAAAACAAAAAAAAAAAAAAAAABAAAAAAAAAAAAAAAIAAAAAABAAAAAAAAAAAAAAAAAAAAAAAAAAAAAEAAAAAABAQAAAAAAAAAAAACAAAAAIAAAAAAAAAAgAEEAAAAAAAAAAAAAAAAAAAAAAAAAAAAFAAAAAAAAEAAAAAAAAAAAAAAAAAAAAACAAAAAAAAASQAABAAAAAAAAAAAAAAAAAAAAAAAAAAAAAAAAAAAAAAAAAAAAAAAAAAAAACAAAAIAAAAAAAAAACAAAAACAgAAIAAABAAACAAAAAACAAIAAADAAAAAAAAAAAAAAAAAAAAAAAIAAAAgAAAAAAAAAAAACAAIAAAAAIAAAAACAAAAABAAAAAAAAAAQAAAAAAAAAAAAAAAAAAAAACAAAAAAAAAAAAAAAAAAAAAAAAAAAAAAGBRCVCmEIuPfjZVD6AEAACAAAAADAAAACQAQBCgCFAAAAAARAAKQAAAAAAAAALCGCACAQAgARBAECkAClCCAABAAAAAIgAGAEIBSBAAABQASIACSEAAAAA"
  }
}