Yelp Search Engine Results API
Our Yelp API allows you to scrape results from the Yelp search page. The API is accessed through the following endpoint: /search?engine=yelp. A user may query the following: https://serpapi.com/search?engine=yelp utilizing a GET request. Head to the playground for a live and interactive demo.
API Parameters
API Results
JSON Results
JSON output includes structured data for Organic Results, Ads Results and Filters.

A search status is accessible through search_metadata.status. It flows this way: Processing -> Success || Error. If a search has failed, error will contain an error message. search_metadata.id is the search ID inside SerpApi.
HTML Results
HTML output is useful to debug JSON results or support features not supported yet by SerpApi. HTML output gives you the raw HTML results from Yelp.
API Examples
Example with
find_desc

: Coffee and

find_loc

: New York, NY, USA as a location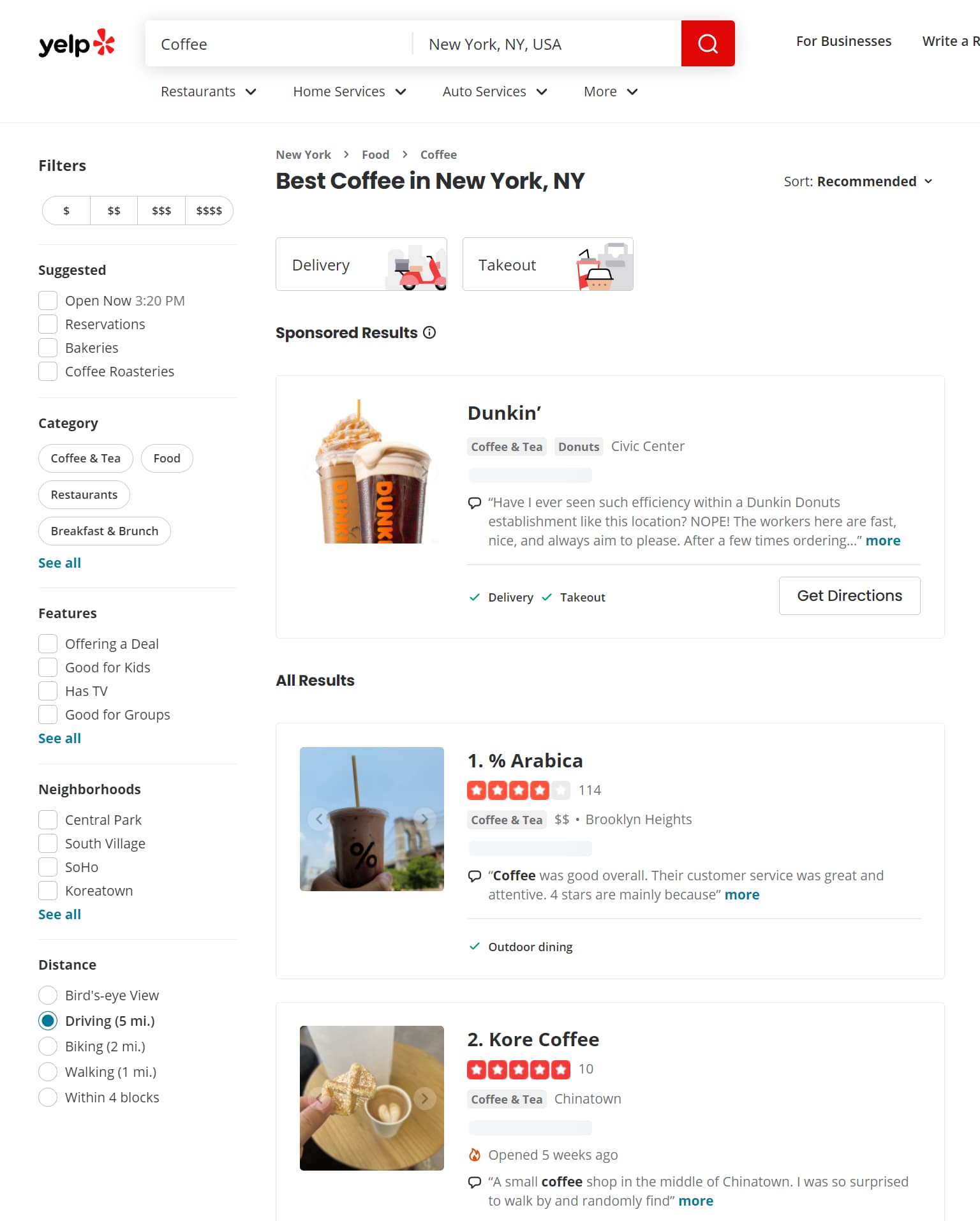 {
  "search_metadata": {
    "id": "62430771de983400a4038f8d",
    "status": "Success",
    "json_endpoint": "https://serpapi.com/searches/84258a6c70981a89/62430771de983400a4038f8d.json",
    "created_at": "2022-03-29 13:19:45 UTC",
    "processed_at": "2022-03-29 13:19:45 UTC",
    "yelp_url": "https://www.yelp.com/search?find_desc=Coffee&find_loc=New+York%2C+NY%2C+USA",
    "raw_html_file": "https://serpapi.com/searches/84258a6c70981a89/62430771de983400a4038f8d.html",
    "total_time_taken": 2.71
  },
  "search_parameters": {
    "engine": "yelp",
    "find_desc": "Coffee",
    "find_loc": "New York, NY, USA",
  },
  "filters": {
    "distance": [
      {
        "text": "Bird's-eye View",
        "value": "g:-74.09660339355469,40.62750334315296,-73.89198303222656,40.783660996197945"
      },
      {
        "text": "Driving (5 mi.)",
        "value": "g:-74.04544830322266,40.666316664620794,-73.9431381225586,40.744395800976775"
      },
      {
        "text": "Biking (2 mi.)",
        "value": "g:-74.01987075805664,40.685975199914836,-73.96871566772461,40.72501469240076"
      },
      ...
    ],
    "price": [
      {
        "text": "$",
        "value": "RestaurantsPriceRange2.1"
      },
      {
        "text": "$$",
        "value": "RestaurantsPriceRange2.2"
      },
      {
        "text": "$$$",
        "value": "RestaurantsPriceRange2.3"
      },
      ...
    ],
    "category": [
      {
        "text": "Food Trucks",
        "value": "foodtrucks"
      },
      {
        "text": "Pizza",
        "value": "pizza"
      },
      {
        "text": "Food Delivery Services",
        "value": "fooddeliveryservices"
      },
      ...
    ],
    "features": [
      {
        "text": "All staff fully vaccinated",
        "value": "staff_fully_vaccinated"
      },
      {
        "text": "Outdoor Seating",
        "value": "OutdoorSeating"
      },
      {
        "text": "Music: Live",
        "value": "Music.live"
      },
      ...
    ]
  },
  "ads_results": [
    {
      "block_position": "top",
      "place_ids": [
        "tXWkZsgqEnAGhMJNquO7jQ",
        "dunkin-new-york-131"
      ],
      "title": "Dunkin'",
      "link": "https://www.yelp.com/adredir?ad_business_id=tXWkZsgqEnAGhMJNquO7jQ&campaign_id=d3pLjUZg8X8mvCkOpi8aSw&click_origin=search_results&placement=above_search&placement_slot=0&redirect_url=https%3A%2F%2Fwww.yelp.com%2Fbiz%2Fdunkin-new-york-131&request_id=08a0728430d8807f&signature=e53a4aa0e14ce0cfb9c92fd06e15866470d50e6085c59cf3b00283843e33d279&slot=0",
      "reviews_link": "https://serpapi.com/search.json?engine=yelp_reviews&place_id=tXWkZsgqEnAGhMJNquO7jQ",
      "categories": [
        {
          "title": "Coffee & Tea",
          "link": "https://www.yelp.com/search?cflt=coffee&find_loc=New+York%2C+NY%2C+USA"
        },
        {
          "title": "Donuts",
          "link": "https://www.yelp.com/search?cflt=donuts&find_loc=New+York%2C+NY%2C+USA"
        }
      ],
      "reviews": 22,
      "neighborhoods": "Civic Center",
      "phone": "(212) 732-0406",
      "snippet": "Have I ever seen such efficiency within a Dunkin Donuts establishment like this location? NOPE! The workers here are fast, nice, and always aim to please. After a few times ordering…",
      "service_options": {
        "delivery": true,
        "takeout": true
      },
      "button": {
        "text": "Get Directions",
        "link": "https://www.yelp.com/adredir?ad_business_id=tXWkZsgqEnAGhMJNquO7jQ&click_origin=search_results_direction&placement=above_search&placement_slot=0&redirect_url=https%3A%2F%2Fwww.yelp.com%2Fmap%2Fdunkin-new-york-131&request_id=08a0728430d8807f&signature=513aec0038b820ed1e8baeb38a68c927226b00fc4489c32248acbdc9a1e74252&slot=0"
      },
      "thumbnail": "https://s3-media0.fl.yelpcdn.com/bphoto/BiRZEqS3rs5l7Xn8yDTsCA/348s.jpg"
    },
    ...
  ],
  "organic_results": [
    {
      "position": 1,
      "place_ids": [
        "ED7A7vDdg8yLNKJTSVHHmg",
        "arabica-brooklyn"
      ],
      "title": "% Arabica",
      "link": "https://www.yelp.com/biz/arabica-brooklyn?osq=Coffee",
      "reviews_link": "https://serpapi.com/search.json?engine=yelp_reviews&place_id=ED7A7vDdg8yLNKJTSVHHmg",
      "categories": [
        {
          "title": "Coffee & Tea",
          "link": "https://www.yelp.com/search?cflt=coffee&find_loc=New+York%2C+NY%2C+USA"
        }
      ],
      "price": "$$",
      "rating": 4,
      "reviews": 114,
      "neighborhoods": "Brooklyn Heights",
      "snippet": "Coffee was good overall. Their customer service was great and attentive. 4 stars are mainly because",
      "service_options": {
        "outdoor_dining": true
      },
      "thumbnail": "https://s3-media0.fl.yelpcdn.com/bphoto/_3VSEFG3iUT-M66JYc7U4w/348s.jpg"
    },
    {
      "position": 2,
      "place_ids": [
        "K6fkejf2ZBUdlsVrm5RbrA",
        "kore-coffee-new-york-2"
      ],
      "title": "Kore Coffee",
      "link": "https://www.yelp.com/biz/kore-coffee-new-york-2?osq=Coffee",
      "reviews_link": "https://serpapi.com/search.json?engine=yelp_reviews&place_id=K6fkejf2ZBUdlsVrm5RbrA",
      "categories": [
        {
          "title": "Coffee & Tea",
          "link": "https://www.yelp.com/search?cflt=coffee&find_loc=New+York%2C+NY%2C+USA"
        }
      ],
      "rating": 5,
      "reviews": 10,
      "neighborhoods": "Chinatown",
      "highlights": [
        "Opened 5 weeks ago"
      ],
      "snippet": "A small coffee shop in the middle of Chinatown. I was so surprised to walk by and randomly find",
      "thumbnail": "https://s3-media0.fl.yelpcdn.com/bphoto/Nfc-QcUS71NWWjdlDx8JBw/348s.jpg"
    },
    {
      "position": 3,
      "place_ids": [
        "pimuUR-TEHIjUla3S3jemQ",
        "coffee-project-new-york-east-village-new-york"
      ],
      "title": "Coffee Project New York | East Village",
      "link": "https://www.yelp.com/biz/coffee-project-new-york-east-village-new-york?osq=Coffee",
      "reviews_link": "https://serpapi.com/search.json?engine=yelp_reviews&place_id=pimuUR-TEHIjUla3S3jemQ",
      "categories": [
        {
          "title": "Coffee & Tea",
          "link": "https://www.yelp.com/search?cflt=coffee&find_loc=New+York%2C+NY%2C+USA"
        },
        {
          "title": "Sandwiches",
          "link": "https://www.yelp.com/search?cflt=sandwiches&find_loc=New+York%2C+NY%2C+USA"
        }
      ],
      "price": "$",
      "rating": 4.5,
      "reviews": 716,
      "neighborhoods": "East Village",
      "phone": "(347) 815-6690",
      "snippet": "I really enjoyed the place. The coffee itself was really good. The service was one of the best I",
      "service_options": {
        "outdoor_dining": true,
        "delivery": true,
        "takeout": true
      },
      "thumbnail": "https://s3-media0.fl.yelpcdn.com/bphoto/oTalWA2QqsoRD4RprV0tOg/348s.jpg"
    },
    ...
  ]
}