Google Maps Directions API
Our Google Maps Directions API allows you to scrape directions results from Google Maps. The API is accessed through the following endpoint: /search?engine=google_maps_directions.

A user may query the following: https://serpapi.com/search?engine=google_maps_directions utilizing a GET request. Head to the playground for a live and interactive demo.
API Parameters
API Results
JSON Results
JSON output includes structured data for directions results.

A search status is accessible through search_metadata.status. It flows this way: Processing -> Success || Error. If a search has failed, error will contain an error message. search_metadata.id is the search ID inside SerpApi.
HTML Results
This API does not have html response, just a text. search_metadata.prettify_html_file contains prettified version of result. It is displayed in playground.
API Examples
JSON structure overview
{
  ...
  "places_info": [
    {
      "address": "String - Address of the place",
      "data_id": "String - The Google Maps data ID of the place, can be used in other SerpApi's Google Maps engines",
      "gps_coordinates": {
        "latitude": "Numeric - Place latitude",
        "longitude": "Numeric - Place longitude"
      },
    }
  ],
  "directions": [
    {
      "travel_mode": "String - Travel mode of the direction",
      "via": "String - Title of the direction",
      "start_time": "String - Start time of the transit",
      "end_time": "String - End time of the transit",
      "distance": "Integer - Distance of the direction, in meters",
      "duration": "Integer - Duration of the direction, in seconds",
      "arrive_around": "Integer - Estimated timestamp of arrival",
      "leave_around": "Integer - Estimated timestamp of leaving",
      "typical_duration_range": "String - Estimated duration range of the direction",
      "formatted_distance": "String - Formatted string of the distance",
      "formatted_duration": "String - Formatted string of the duration",
      "formatted_arrive_around": "String - Formatted string of the estimated arrival time",
      "formatted_leave_around": "String - Formatted string of the estimated leaving time",
      "cost": "Integer - Cost of the transit",
      "currency": "String - Currency of the cost",
      "extensions": "Array - A list of extra information of the direction",
      // only available for `Walking` travel mode
      "elevation_profile": {
        "ascent": "Integer - Amount of ascent of the walking in meters",
        "descent": "Integer - Amount of descent of the walking, in meters",
        "max_altitude": "Integer - Maximum altitude of the walking, in meters",
        "min_altitude": "Integer - Minimum altitude of the walking, in meters",
        "formatted_ascent": "String - Formatted string of the ascent",
        "formatted_descent": "String - Formatted string of the descent",
        "formatted_max_altitude": "String - Formatted string of the maximum altitude",
        "formatted_min_altitude": "String - Formatted string of the minimum altitude",
      },
      // only available for `Flight` travel mode
      "flight": {
        "departure": "String - Name of the departing place",
        "arrival": "String - Name of the arriving place",
        "date": "String - Date of the travel",
        "round_trip_price": "Integer - Price of the round trip flight",
        "currency": "String - Currency of the price",
        "airlines": "Array - A list of airline names",
        "nonstop_duration": "String - Duration of the nonstop flight, in seconds",
        "formatted_nonstop_duration": "String - Formatted string of the nonstop duration",
        "connecting_duration": "String - Duration of the connecting flight, in seconds",
        "formatted_connecting_duration": "String - Formatted string of the connecting duration",
        "google_flights_link": "String - URL to Google Flights search",
      },
      "trips": [
        {
          "travel_mode": "String - Travel mode of the trip",
          "title": "String - Title of the trip",
          "distance": "Integer - Distance of the trip, in meters",
          "duration": "Integer - Duration of the trip, in seconds",
          "formatted_distance": "String - Formatted string of the distance",
          "formatted_duration": "String - Formatted string of the duration",
          "start_stop": "Hash - Info about the starting stop",
          "end_stop": "Hash - Info about the ending stop",
          "stops": "Array - Intermidiate stops between the starting and ending stops",
          "service_run_by": {
            "name": "String - Name of the service runner",
            "link": "String - URL to the service runner",
            "route_information": "String - URL to the route information",
          },
          "details": [
            {
              "title": "String - Title of the detail",
              "action": "String - Action name of the detail",
              "distance": "Integer - Distance of the detail, in meters",
              "duration": "Integer - Duration of the detail, in seconds",
              "formatted_distance": "String - Formatted string of the distance",
              "formatted_duration": "String - Formatted string of the duration",
              "geo_photo": "String - URL to the GEO photo of the detail",
              "gps_coordinates": {
                "latitude": "Numeric - Latitude of the detail",
                "longitude": "Numeric - Longitude of the detail"
              },
              "extensions": "Array - A list of extra information of the detail"
            }
          ],
        }
      ]
    }
  ],
  "durations": [
    {
      "travel_mode": "String - Name of the travel mode",
      "duration": "Integer - Duration of the travel mode, in seconds",
      "formatted_duration": "String - Formatted string of the duration",
    }
  ],
  ...
}

Example with typical directions and transit directions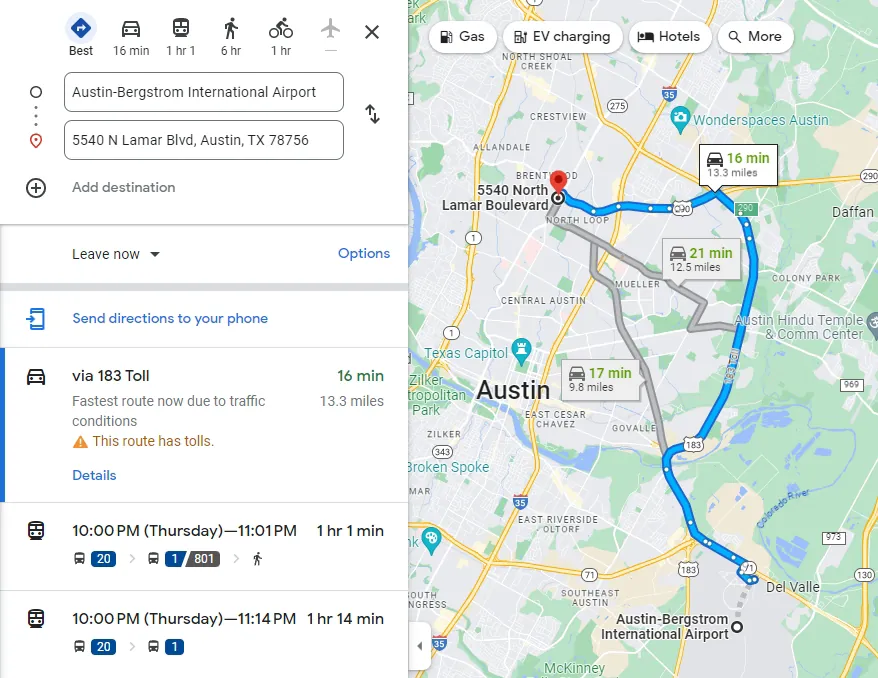 {
  "search_metadata": {
    "id": "653b24de15afff3a862b65b3",
    "status": "Success",
    "json_endpoint": "https://serpapi.com/searches/6bbeb04e383ea965/653b24de15afff3a862b65b3.json",
    "created_at": "2023-10-27 02:47:58 UTC",
    "processed_at": "2023-10-27 02:47:58 UTC",
    "google_maps_directions_url": "https://www.google.com/maps/dir/Austin-Bergstrom+International+Airport/5540+N+Lamar+Blvd%2C+Austin%2C+TX+78756/data=!3m1!4b1!4m14!4m13!1m5!1m1!1s0x8644b13b8b4aff45:0x1ca7fca8c9dc2768!2m2!1d-97.66635289999999!2d30.197471099999998!1m5!1m1!1s0x8644ca4259a4bacf:0x5782c78a0ae2d9a3!2m2!1d-97.7278869!2d30.3246388!3e6?hl=en",
    "raw_html_file": "https://serpapi.com/searches/6bbeb04e383ea965/653b24de15afff3a862b65b3.html",
    "prettify_html_file": "https://serpapi.com/searches/6bbeb04e383ea965/653b24de15afff3a862b65b3.prettify",
    "total_time_taken": 1.05
  },
  "search_parameters": {
    "engine": "google_maps_directions",
    "hl": "en",
    "start_addr": "Austin-Bergstrom International Airport",
    "end_addr": "5540 N Lamar Blvd, Austin, TX 78756, USA"
  },
  "places_info": [
    {
      "address": "Austin-Bergstrom International Airport",
      "data_id": "0x8644b13b8b4aff45:0x1ca7fca8c9dc2768",
      "gps_coordinates": {
        "latitude": 30.197471099999998,
        "longitude": -97.66635289999999
      }
    },
    {
      "address": "5540 N Lamar Blvd, Austin, TX 78756",
      "data_id": "0x8644ca4259a4bacf:0x5782c78a0ae2d9a3",
      "gps_coordinates": {
        "latitude": 30.3246388,
        "longitude": -97.7278869
      }
    }
  ],
  "directions": [
    {
      "travel_mode": "Driving",
      "via": "183 Toll",
      "distance": 21397,
      "duration": 970,
      "formatted_distance": "13.3 miles",
      "formatted_duration": "16 min",
      "extensions": [
        "Fastest route now due to traffic conditions",
        "This route has tolls."
      ],
      "trips": [
        {
          "travel_mode": "Driving",
          "title": "Get on  State Hwy 71 W  in  Del Valle  from  Hotel Dr  and  Spirit of Texas Dr",
          "distance": 1351,
          "duration": 139,
          "formatted_distance": "0.8 mi",
          "formatted_duration": "2 min",
          "details": [
            {
              "title": "Head  southwest  on  Presidential Blvd  toward  Service Dr",
              "action": "straight",
              "distance": 3,
              "duration": 0,
              "formatted_distance": "10 ft",
              "formatted_duration": "0 sec"
            },
            {
              "title": "Slight  right  onto  Service Dr",
              "action": "turn-slight-right",
              "distance": 147,
              "duration": 14,
              "formatted_distance": "482 ft",
              "formatted_duration": "14 sec"
            },
            ...
            {
              "title": "Turn  left  to merge onto  State Hwy 71 W",
              "action": "merge",
              "distance": 489,
              "duration": 41,
              "formatted_distance": "0.3 mi",
              "formatted_duration": "41 sec",
              "geo_photo": "https://geo0.ggpht.com/cbk?cb_client=unknown_client.gws&output=thumbnail&thumb=2&panoid=5VuJaV4okpHOIlrk6vjVzA&w=203&h=100&yaw=35&pitch=0&thumbfov=114&ll=30.215779,-97.663537",
              "gps_coordinates": {
                "latitude": 30.215778597115996,
                "longitude": -97.66353692926126
              }
            }
          ]
        },
        {
          "travel_mode": "Driving",
          "title": "Take  S Hwy 183  and  183 Toll  to  Ed Bluestein Blvd . Take exit  290  from  US-183 Hwy N",
          "distance": 13352,
          "duration": 452,
          "formatted_distance": "8.3 mi",
          "formatted_duration": "8 min",
          "details": [
            {
              "title": "Merge onto  State Hwy 71 W",
              "action": "merge",
              "distance": 883,
              "duration": 33,
              "formatted_distance": "0.5 mi",
              "formatted_duration": "33 sec",
              "geo_photo": "https://geo0.ggpht.com/cbk?cb_client=unknown_client.gws&output=thumbnail&thumb=2&panoid=6W9RImNO1oAtGmrY-BxRyA&w=203&h=100&yaw=271&pitch=0&thumbfov=114&ll=30.218076,-97.667626",
              "gps_coordinates": {
                "latitude": 30.218075561429668,
                "longitude": -97.66762618600264
              }
            },
            {
              "title": "Keep  left  to stay on  State Hwy 71 W",
              "action": "turn-left",
              "distance": 155,
              "duration": 6,
              "formatted_distance": "0.1 mi",
              "formatted_duration": "6 sec",
              "geo_photo": "https://geo0.ggpht.com/cbk?cb_client=unknown_client.gws&output=thumbnail&thumb=2&panoid=taShVzROLv_24piCVDKjVw&w=203&h=100&yaw=294&pitch=0&thumbfov=114&ll=30.221939,-97.675603",
              "gps_coordinates": {
                "latitude": 30.22193947835618,
                "longitude": -97.67560270002575
              }
            },
            ...
            {
              "title": "Take exit  290  to merge onto  Ed Bluestein Blvd",
              "action": "ramp-right",
              "distance": 396,
              "duration": 16,
              "formatted_distance": "0.2 mi",
              "formatted_duration": "16 sec",
              "geo_photo": "https://geo0.ggpht.com/cbk?cb_client=unknown_client.gws&output=thumbnail&thumb=2&panoid=-Kw5hYYw0gH0Ztaz83SYCQ&w=203&h=100&yaw=335&pitch=0&thumbfov=114&ll=30.316653,-97.663226",
              "gps_coordinates": {
                "latitude": 30.316653039874772,
                "longitude": -97.66322628500936
              }
            }
          ]
        },
        ...
      ]
    },
    {
      "travel_mode": "Transit",
      "via": "every 30 min",
      "start_time": "10:00 PM",
      "end_time": "11:01 PM",
      "distance": 20741,
      "duration": 3696,
      "formatted_distance": "12.9 miles",
      "formatted_duration": "1 hr 1 min",
      "cost": 2.5,
      "currency": "USD",
      "trips": [
        {
          "travel_mode": "Transit",
          "title": "20 Springdale NB",
          "duration": 1519,
          "formatted_duration": "25 min",
          "start_stop": {
            "name": "ABIA Lower Level",
            "stop_id": "4326",
            "time": "10:00 PM",
            "data_id": "0x8644b12fd58ade63:0xe4f74504ec3e0789"
          },
          "end_stop": {
            "name": "Vic Mathias/Auditorium Shores (NB)",
            "stop_id": "2767",
            "time": "10:25 PM",
            "data_id": "0x8644b50468dc089b:0xe538290c1b432609"
          },
          "stops": [
            {
              "name": "New Airport/Employee",
              "stop_id": "5099",
              "time": "10:02 PM",
              "data_id": "0x8644b6d2c44dff0d:0xb675564586691762"
            },
            {
              "name": "1766 71/Thornberry",
              "stop_id": "6241",
              "time": "10:03 PM",
              "data_id": "0x8644b6ceda7d81cd:0x8efd97972d53024d"
            },
            ...
            {
              "name": "150 Riverside/Newning",
              "stop_id": "1249",
              "time": "10:23 PM",
              "data_id": "0x8644b5010bcef057:0x6907542b89870119"
            }
          ],
          "service_run_by": {
            "name": "Capital Metro",
            "link": "http://www.capmetro.org/",
            "route_information": "http://www.capmetro.org/current_schedules/pdf/020.pdf"
          }
        },
        {
          "travel_mode": "Transit",
          "title": "801 Tech Ridge Park & Ride NB",
          "duration": 1440,
          "formatted_duration": "24 min",
          "start_stop": {
            "name": "Vic Mathias/Auditorium Shores (NB)",
            "stop_id": "2767",
            "time": "10:33 PM",
            "data_id": "0x8644b50468dc089b:0xe538290c1b432609"
          },
          "end_stop": {
            "name": "Brentwood Station (NB)",
            "stop_id": "5862",
            "time": "10:57 PM",
            "data_id": "0x8644ca43d075faeb:0x31501d1696f6b5c"
          },
          "stops": [
            {
              "name": "Republic Square Station (NB)",
              "stop_id": "5868",
              "time": "10:35 PM",
              "data_id": "0x8644b508c37bdb85:0xc78e875dbe69f8d8"
            },
            {
              "name": "Austin History Center",
              "stop_id": "2606",
              "time": "10:38 PM",
              "data_id": "0x8644b50bd358ff1d:0x1795bcf1bd51e0ca"
            },
            ...
            {
              "name": "North Loop East Station (NB)",
              "stop_id": "612",
              "time": "10:55 PM",
              "data_id": "0x8644ca68392c5cfd:0x502891f41f80d1cd"
            }
          ],
          "service_run_by": {
            "name": "Capital Metro",
            "link": "http://www.capmetro.org/",
            "route_information": "http://www.capmetro.org/current_schedules/pdf/801.pdf"
          }
        },
        {
          "travel_mode": "Walking",
          "title": "Walk",
          "distance": 307,
          "duration": 276,
          "formatted_distance": "0.2 mi",
          "formatted_duration": "4 min",
          "details": [
            {
              "title": "Head  southwest  on  N Lamar Blvd  toward  W Koenig Ln",
              "action": "straight",
              "distance": 244,
              "duration": 220,
              "formatted_distance": "0.2 mi",
              "formatted_duration": "4 min",
              "geo_photo": "https://geo0.ggpht.com/cbk?cb_client=unknown_client.gws&output=thumbnail&thumb=2&panoid=oWMCxXtS-0dz8QtPGrkW6Q&w=203&h=100&yaw=127&pitch=0&thumbfov=114&ll=30.326378,-97.726041",
              "gps_coordinates": {
                "latitude": 30.326378276258698,
                "longitude": -97.72604068429148
              },
              "extensions": [
                "Pass by KFC (on the left in 0.1 mi)"
              ]
            },
            {
              "title": "Turn  right",
              "action": "turn-right",
              "distance": 63,
              "duration": 56,
              "formatted_distance": "207 ft",
              "formatted_duration": "56 sec",
              "geo_photo": "https://geo0.ggpht.com/cbk?cb_client=unknown_client.gws&output=thumbnail&thumb=2&panoid=pww4A9lWzzbMyXgnHRaw_w&w=203&h=100&yaw=223&pitch=0&thumbfov=114&ll=30.324585,-97.727192",
              "gps_coordinates": {
                "latitude": 30.32458534013088,
                "longitude": -97.72719247999947
              },
              "extensions": [
                "Restricted usage road",
                "Destination will be on the left"
              ]
            }
          ]
        }
      ]
    },
    ...
  ],
  "durations": [
    {
      "travel_mode": "Driving",
      "duration": 970,
      "formatted_duration": "16 min"
    },
    {
      "travel_mode": "Transit",
      "duration": 3660,
      "formatted_duration": "1 hr 1"
    },
    {
      "travel_mode": "Walking",
      "duration": 21457,
      "formatted_duration": "6 hr"
    },
    {
      "travel_mode": "Cycling",
      "duration": 3615,
      "formatted_duration": "1 hr"
    }
  ]
}

Example with elevation_profile (Walking)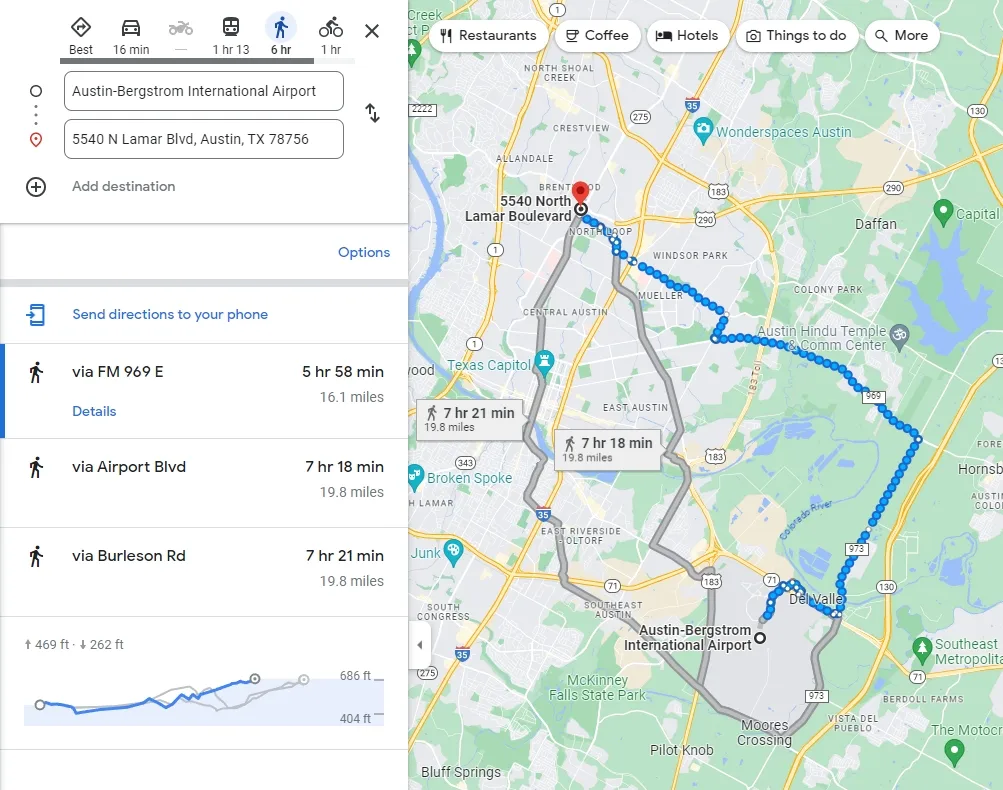 {
  ...
  "directions": [
    {
      "travel_mode": "Walking",
      "via": "FM 969 E",
      "distance": 25946,
      "duration": 21457,
      "formatted_distance": "16.1 miles",
      "formatted_duration": "5 hr 58 min",
      "elevation_profile": {
        "ascent": 143,
        "descent": 80,
        "max_altitude": 209,
        "min_altitude": 123,
        "formatted_ascent": "469 ft",
        "formatted_descent": "262 ft",
        "formatted_max_altitude": "686 ft",
        "formatted_min_altitude": "404 ft"
      },
      "trips": [
        ...
      ],
    },
    {
      "travel_mode": "Walking",
      "via": "Airport Blvd",
      "distance": 31839,
      "duration": 26275,
      "formatted_distance": "19.8 miles",
      "formatted_duration": "7 hr 18 min",
      "elevation_profile": {
        "ascent": 131,
        "descent": 68,
        "max_altitude": 209,
        "min_altitude": 130,
        "formatted_ascent": "430 ft",
        "formatted_descent": "223 ft",
        "formatted_max_altitude": "686 ft",
        "formatted_min_altitude": "427 ft"
      },
      "trips": [
        ...
      ],
    },
    ...
  ],
  ...
}

Example with flight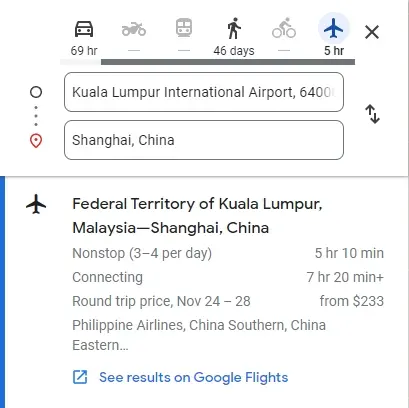 {
  ...
  "directions": [
    {
      "travel_mode": "Flight",
      "flight": {
        "departure": "Federal Territory of Kuala Lumpur, Malaysia",
        "arrival": "Shanghai, China",
        "date": "Nov 24 – 28",
        "round_trip_price": 232.98,
        "currency": "USD",
        "airlines": [
          "Philippine Airlines",
          "China Southern",
          "China Eastern"
        ],
        "nonstop_duration": 18600,
        "formatted_nonstop_duration": "5 hr 10 min",
        "connecting_duration": 26400,
        "formatted_connecting_duration": "7 hr 20 min",
        "google_flights_link": "https://www.google.com/travel/flights?tfs=CAcQAhooEgoyMDIzLTExLTI0agwIAhIIL20vMDQ5ZDFyDAgCEggvbS8wNndqZhooEgoyMDIzLTExLTI4agwIAhIIL20vMDZ3amZyDAgCEggvbS8wNDlkMQ&source=maps&hl=en&authuser=0"
      }
    }
  ],
  ...
}

Example with arrive_around and typical_duration_range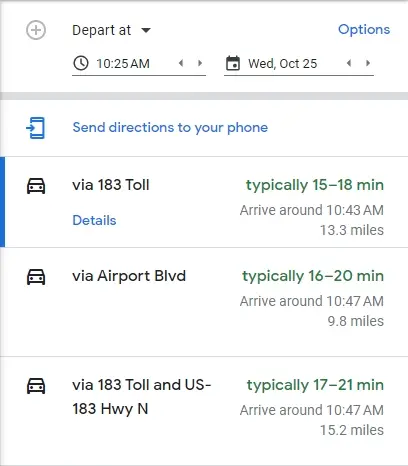 {
  ...
  "directions": [
    {
      "travel_mode": "Driving",
      "via": "183 Toll",
      "distance": 21397,
      "duration": 993,
      "arrive_around": 1698248619,
      "typical_duration_range": "15–18 min",
      "formatted_distance": "13.3 miles",
      "formatted_duration": "17 min",
      "formatted_arrive_around": "10:43 AM",
      "extensions": [
        "Fastest route now due to traffic conditions",
        "This route has tolls."
      ],
      "trips": [
        ...
      ]
    },
    {
      "travel_mode": "Driving",
      "via": "Airport Blvd",
      "distance": 15793,
      "duration": 1077,
      "arrive_around": 1698248851,
      "typical_duration_range": "16–20 min",
      "formatted_distance": "9.8 miles",
      "formatted_duration": "18 min",
      "formatted_arrive_around": "10:47 AM",
      "extensions": [
        "This route has tolls."
      ],
      "trips": [
        ...
      ]
    },
    ...
  ],
  ...
}