Our Baidu News API allows you to scrape SERP results from a Baidu News. The API is accessed through the following endpoint: /search?engine=baidu_news.

A user may query the following: https://serpapi.com/search?engine=baidu_news utilizing a GET request. Head to the playground for a live and interactive demo.
API Parameters
API Results
JSON Results
JSON output includes structured data for Organic Results, Brand Ad, Top Searches, and Related Searches.

A search status is accessible through search_metadata.status. It flows this way: Processing -> Success || Error. If a search has failed, error will contain an error message. search_metadata.id is the search ID inside SerpApi.
HTML Results
HTML output is useful to debug JSON results or support features not supported yet by SerpApi.
HTML output gives you the raw HTML results from Baidu News.
API Examples
Example results for
q

: xiaomi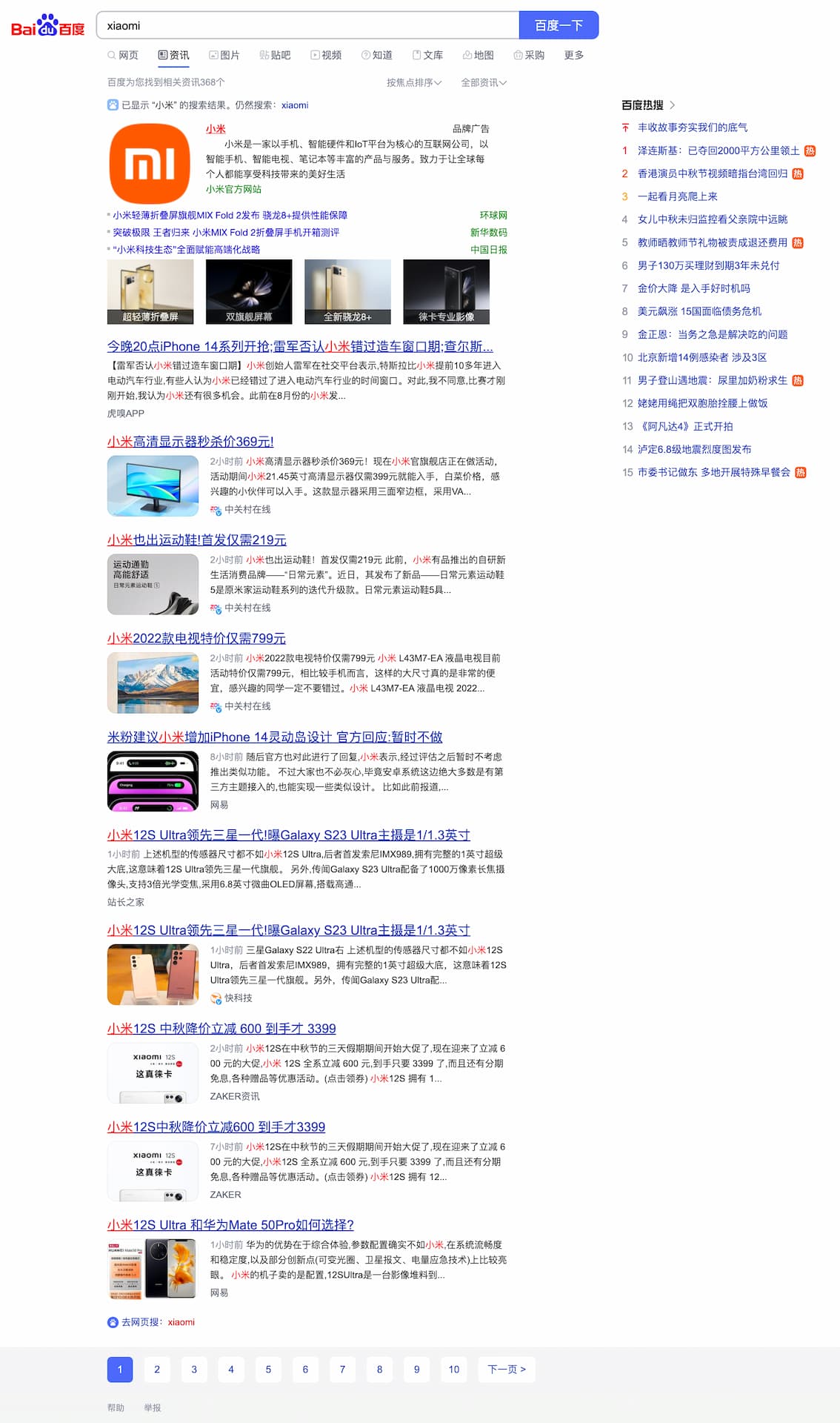 {
  "search_metadata": {
    "id": "631eaa9480dfdb2f7f2bd999",
    "status": "Success",
    "json_endpoint": "http://localhost:3000/searches/ea54979c23b2ca31/631eaa9480dfdb2f7f2bd999.json",
    "created_at": "2022-09-12 03:42:12 UTC",
    "processed_at": "2022-09-12 03:42:12 UTC",
    "baidu_news_url": "https://www.baidu.com/s?wd=xiaomi&tn=news&bsst=1&cl=2&rtt=1",
    "raw_html_file": "http://localhost:3000/searches/ea54979c23b2ca31/631eaa9480dfdb2f7f2bd999.html",
    "total_time_taken": 0.98
  },
  "search_parameters": {
    "q": "xiaomi",
    "rtt": "1",
    "device": "desktop",
    "engine": "baidu_news"
  },
  "search_information": {
    "total_results": 368,
    "spelling_fix": "小米",
    "showing_results_for": "小米",
    "organic_results_state": "Showing results for fixed spelling"
  },
  "brand_ad": {
    "thumbnail": "https://dss0.bdstatic.com/-0U0bnSm1A5BphGlnYG/tam-ogel/926a4a268d234e583575fdf85a048cc6_121_121.png",
    "title": "小米",
    "link": "https://www.baidu.com/other.php?url=K000000VKZ2RoxPs62UBlbNFiGnK6eehmoj6zL0N8h_wjI9qlF6XxUM6Gr7vRtajJMhWaolyDodM7Y_8syXIGbz0RrmHZSY9rk-NzrPl9sYasqwUaK4ROdl10TJNef_Nx8JAVeef79lZxemq45BTLE9KgbT-JnSRf1z8tdq1Gtv71ZrMST6GFz0WettXY0_vVcVz2wYlZ2GExY2_pEVa7M0Iw4Kk.7D_NR2Ar5Od66HzXy-eQ8AGnicFCrdWFbvIrOkvITUA1GSWSFt8orVWIuuuvXr1klLIjZQzOxtLzO3ZQzquJjAHolycSVaUckztESE1O5O_Sx3OCxx4urg-lYF8QAHko3SN-heGlYF8kW-4xqxMSxOutOkOfSOzerg-l8mJCRnTxOoKKsTZK4pgC6WJIWelymtHAHko3SN-heGRojPakkLq5Zk0.TLFWgv-b5HD4n6K1ThPGujYkrHc0THY0IAYqY2ZjdsKdTvNzgLw4TARqn0K9u7qYXgK-5Hn0IvqzujLfCT5g0ZFWIWYk0ZNzU7qGujYkPHn4rH0znH6z0Addgv-b5HDYrH6LnjDk0AdxpyfqnHDLrHT4nWD0UgwsU7qGujYknH64nfKsI-qGujYs0A-bm1dribGH0ZKGujYkrfKWpyfqPHb0mLFW5Hc3PWTY&dt=1662954129&wd=%E5%B0%8F%E7%B1%B3&tpl=tpl_11891_25538_21759&l=1539902182",
    "snippet": "小米是一家以手机、智能硬件和IoT平台为核心的互联网公司,以智能手机、智能电视、笔记本等丰富的产品与服务。致力于让全球每个人都能享受科技带来的美好生活",
    "news": [
      {
        "position": 1,
        "link": "https://www.baidu.com/other.php?url=K000000VKZ2RoxPs6Q6FMxqbrABlvt9Sz_cAxjWX27XmdGgE83ZWWwpbMlP5pGuQr_Nd5XY3x2uXzguhd8unEU3Mz1E-n_OIyan6gidGyquBGuZ0fOuwuhGJ30_kNBebSLWhi71RCqP6AHDC7yFfb4vJa3USeWg7B186zk3CPJMDfI3SxbrDTXAXufGpROwC4irthNJ8wI6rkdgVflKhWS5SYlJO.7b_NR2Ar5Od66HzXy-eQ8AGnicFCrdWFbvIrOkvITUA1GSWSFt8orVWIuuuvXr1ud8lArg-SO4E-Osrg-l1RAnMgY_wqpDvwW-4xqxMSxOutOkOfSOzzTEQdCHTynMWgktoQPLWdCHIWZQzOlO5tOS14OWS9qO-vTEQdTkNfCm3OOyaa6hAozJsnkXkSKDjndKtP7nZuESZZtVMHPYSLOgLY_k3hnMWgktoQPLBGyAp7B8EFEe0.TLFWgv-b5HD4n6K1ThPGujYkrHc0THY0IAYqY2ZjdsKdTvNzgLw4TARqn0K9u7qYXgK-5Hn0IvqzujLfCT5g0ZFWIWYk0ZNzU7qGujYkPHn4rH0znH610Addgv-b5HDYrH6LnjDk0AdxpyfqnHDLrHT4nWD0UgwsU7qGujYknH64nfKsI-qGujYs0A-bm1dribGH0ZKGujYkrfKWpyfqPHb0mLFW5Hcsn1Rs&dt=1662954129&wd=%E5%B0%8F%E7%B1%B3&tpl=tpl_11891_25538_21759&l=1539902183",
        "title": "小米轻薄折叠屏旗舰MIX Fold 2发布 骁龙8+提供性能保障",
        "source": "环球网"
      },
      {
        "position": 2,
        "link": "https://www.baidu.com/other.php?url=K000000VKZ2RoxPs65PvDZ1ddyuLpCVatxan5-52CFF-2xhmqCMtL6Sd-uXLAdhTjdZxX-Q62xC__ebHUp1lOtYW8gWLN-7AqhYluCiSrnicFurGQdO6hq014pj8q3Lqfx7d-ehvZfT7l_XA28v3Jy9AVrUuXw4B4HiyUQ0qDt5xNZhNWJuEcjTsyyTR-uip1jB3QeGoNAHn9pcsTS471nafgD68.7b_NR2Ar5Od66HzXy-eQ8AGnicFCrdWFbvIrOkvITUA1GSWSFt8orVWIuuuvXr1xd8lArg-SO4E-Osrg-l1RAnMgY_wqpDvwW-4xqxMSxOutOkOfSOzzTEQdCHTynMWgktoQPv1ofheArg-OdSx4OqM1OZqjeOQ_4XgJ4BJ9fkkOS_DAMwMJLwF3cOFMZWt89tNyKhFPKDZwNNMkssn1RZsYRsItHZZGvIb5ZIuMLlSrH5vIMW34eqxuxMenWP-SlOG3GHjdC5YGWCnlTUAOuktIOgi1ZBmzXPxZz__LU72s1f_I-hHFk0.TLFWgv-b5HD4n6K1ThPGujYkrHc0THY0IAYqY2ZjdsKdTvNzgLw4TARqn0K9u7qYXgK-5Hn0IvqzujLfCT5g0ZFWIWYk0ZNzU7qGujYkPHn4rH0znH6Y0Addgv-b5HDYrH6LnjDk0AdxpyfqnHDLrHT4nWD0UgwsU7qGujYknH64nfKsI-qGujYs0A-bm1dribGH0ZKGujYkrfKWpyfqPHb0mLFW5HD3P1b1&dt=1662954129&wd=%E5%B0%8F%E7%B1%B3&tpl=tpl_11891_25538_21759&l=1539902184",
        "title": "突破极限 王者归来 小米MIX Fold 2折叠屏手机开箱测评",
        "source": "新华数码"
      },
      {
        "position": 3,
        "link": "https://www.baidu.com/other.php?url=K000000VKZ2RoxPs6cOk3V-xpcevTHvncqg45wUExN7H4fM8Ym8seHv1rkEBTkxK0Ae2PbMo3Wpcp_nmL8PQW4xA1pJJRKG-E2xCSQlwkJuXhZ8nGcMQ_NRo1hWJs4DWVU2YTRNQG7kmvRIgIla5aoAEZrC8gRvBBHLAiGEleqJ_eRU7Zylvug-3u3U__eGvyrERzStBAr-bVOlXaSxcIS2-DOZw.DD_NR2Ar5Od66HzXy-eQ8AGnicFCrdWFbvIrOkvITUA1GSWSFt8orVWIuuuvXrS1oIYnTEQqO1xQO6TEQdhCnurEGmWlYF_WZQzOlO5tOS14OWS9qO-b4Xgofh3_u5AEW4yyUVOy9PvnTEQOotO1Oe5MS5lZLSguztEN17Na9WWOqmc2ampEQsgnECl2mAmn-hHFu_6ozfxVOWY4PX45uuku3dvNstRGtyRtxZWo4qqQnXFWF3dtx2z1IERojPakYd4Q2s.TLFWgv-b5HD4n6K1ThPGujYkrHc0THY0IAYqY2ZjdsKdTvNzgLw4TARqn0K9u7qYXgK-5Hn0IvqzujLfCT5g0ZFWIWYk0ZNzU7qGujYkPHn4rH0znH6d0Addgv-b5HDYrH6LnjDk0AdxpyfqnHDLrHT4nWD0UgwsU7qGujYknH64nfKsI-qGujYs0A-bm1dribGH0ZKGujYkrfKWpyfqPHb0mLFW5HnsnWc4&dt=1662954129&wd=%E5%B0%8F%E7%B1%B3&tpl=tpl_11891_25538_21759&l=1539902185",
        "title": ""小米科技生态"全面赋能高端化战略",
        "source": "中国日报"
      }
    ],
    "images": [
      {
        "position": 1,
        "link": "https://www.baidu.com/other.php?url=K000000VKZ2RoxPs6AkUSN__3W2U-vZy0ejkNsZsl7WkNrHh2DqHcVXb0T3RqiEXcj9S5f5i4J75l4RM9t1jPawnSg6GQ0t0PE2I_BzDHs94hFLSyM_8v0uQw01E9yD9VkoKyCclsGQQdZvcAzGVlpkKP8dRnHoU8c68nK3Gbc_eeg97_7gV9TyEXCyxhRCX98pj70KIK1IRltMnC4vQe-SurECe.DR_NR2Ar5Od66HzXy-eQ8AGnicFCrdWFbvIrOkvITUA1GSWSFt8orVWIb3etMuvUrVLfkztELOPtESKztEyp6kblS-B5ofhznTEQOotO1Oe5MS5lZLSyH-4XVaUBkbtpS5-uuE3qpDLmkztESE1O5O_Sx3OCxx4IMQzqgnNR2Ar5Od663rj6tVQYfIjvgpglgqAVdAeFLY_k3hnMWgktoQPO7i_nYQ7xZkvN60.TLFWgv-b5HD4n6K1ThPGujYkrHc0THY0IAYqY2ZjdsKdTvNzgLw4TARqn0K9u7qYXgK-5Hn0IvqzujLfCT5g0ZFWIWYk0ZNzU7qGujYkPHn4rH0znH6v0Addgv-b5HDYrH6LnjDk0AdxpyfqnHDLrHT4nWD0UgwsU7qGujYknH64nfKsI-qGujYs0A-bm1dribGH0ZKGujYkrfKWpyfqPHb0mLFW5HmsnjmY&dt=1662954129&wd=%E5%B0%8F%E7%B1%B3&tpl=tpl_11891_25538_21759&l=1539902186",
        "image": "https://dss0.bdstatic.com/-0U0bnSm1A5BphGlnYG/tam-ogel/-1431868806_1183302362_121_91.jpg",
        "title": "超轻薄折叠屏"
      },
      {
        "position": 2,
        "link": "https://www.baidu.com/other.php?url=K000000VKZ2RoxPs67JqLj4PDADuYRx3X0k4ZFNilWHsljZy1jQAfS1Qb_ois6Q-Zos6I_e2ABLTrgQMFeGyq5TmVvpuAc2Sbm9QWTM7QhZGin7n78dYWZaqADyOSFI5fsKcsu3NxsfEA3OKB9Hvq4lPNDNJdWzR-JZPPJEUq_gheSRzgkxrM2Kh7pAv13iK_WdBpQ1rfYE04HLgbbIID4Ov8BWe.7D_NR2Ar5Od66HzXy-eQ8AGnicFCrdWFbvIrOkvITUA1GSWSFt8orVWIb3etMuvUSVLfkztELOPtESKztEyp6kblS-B5ofhznTEQOotO1Oe5MS5lZLSyH-4XVaUBkbtpS5-uuEerVaU_m4XgOg4OMOvx5txY5Et81-4Xoh2J7jZZOlsfTZKsXy-lcr9eQVQqQSWylWIbelymtHAHko3SN-hO_RojPakgbtTht0.TLFWgv-b5HD4n6K1ThPGujYkrHc0THY0IAYqY2ZjdsKdTvNzgLw4TARqn0K9u7qYXgK-5Hn0IvqzujLfCT5g0ZFWIWYk0ZNzU7qGujYkPHn4rH0znH6L0Addgv-b5HDYrH6LnjDk0AdxpyfqnHDLrHT4nWD0UgwsU7qGujYknH64nfKsI-qGujYs0A-bm1dribGH0ZKGujYkrfKWpyfqPHb0mLFW5HRYP1f3&dt=1662954129&wd=%E5%B0%8F%E7%B1%B3&tpl=tpl_11891_25538_21759&l=1539902187",
        "image": "https://dss0.bdstatic.com/-0U0bnSm1A5BphGlnYG/tam-ogel/-855613483_-1621598411_121_91.jpg",
        "title": "双旗舰屏幕"
      },
      {
        "position": 3,
        "link": "https://www.baidu.com/other.php?url=K000000VKZ2RoxPs6akPu7BHYAjqJ4m-nWkaot5LaCinRYSoHdIuP0JSYF5hlC3ZOC8OYEdgvdYi0Hs8OLWqx9h40vNMUlD15necpnJZNLF2hjFSEnUgYcd6CVW_nUM72bL0LEzYYamYQhv52Y34QrOg2HJOUm9DjNBOshM5jX26q-68AgN3Vk5fkpKKdD7ENhsRWmVXUW1ciorZwHG3PU-PXd4y.7Y_NR2Ar5Od66HzXy-eQ8AGnicFCrdWFbvIrOkvITUA1GSWSFt8orVWIb3etMu8_lLIjZQzOxtLzO3ZQzquJjAHolycSVaUckztESE1O5O_Sx3OCxx4urg-lYF8QAHko3SN-hOIdCHIWZQzOlO5tOS14OWS9qO-vTEQdTkNfCm3OOyaj63rjzYEwKY5uIGxGxYpLRU_Mxi1ZBmzXPxZz__Le-2s1f_UJt-xm.TLFWgv-b5HD4n6K1ThPGujYkrHc0THY0IAYqY2ZjdsKdTvNzgLw4TARqn0K9u7qYXgK-5Hn0IvqzujLfCT5g0ZFWIWYk0ZNzU7qGujYkPHn4rH0znH630Addgv-b5HDYrH6LnjDk0AdxpyfqnHDLrHT4nWD0UgwsU7qGujYknH64nfKsI-qGujYs0A-bm1dribGH0ZKGujYkrfKWpyfqPHb0mLFW5HR4njcz&dt=1662954129&wd=%E5%B0%8F%E7%B1%B3&tpl=tpl_11891_25538_21759&l=1539902188",
        "image": "https://dss0.bdstatic.com/-0U0bnSm1A5BphGlnYG/tam-ogel/-325222701_132132223_121_91.jpg",
        "title": "全新骁龙8+"
      },
      {
        "position": 4,
        "link": "https://www.baidu.com/other.php?url=K000000VKZ2RoxPs6jMzijSfZBoZJ2z7vtf8v-1FOgkrQmbVlVExz_55fIiGKCgV8RSVTd42btVbYFTkjQsOkuFOp0FbCZN6Jc0dydpUG1_R52ZQgef_JpIVUWUV-drMC9P2lgwphUNQCcseSQaLMgSKBsatqr17XdsCOSvgYMxpQpSDA6o-jJFHS4aBsfpxHQAnl6ZL1uKQY9NXZUOTbnltjxCS.DY_NR2Ar5Od66HzXy-eQ8AGnicFCrdWFbvIrOkvITUA1GSWSFt8orVWIb3etMu8olLIjZQzOxtLzO3ZQzquJjAHolycSVaUckztESE1O5O_Sx3OCxx4urg-lYF8QAHko3SN-hOGlYF8kW-4xqxMSxOutOkOfSOzerg-l8mJCRnTxOoKKsTZK4pgC6lZ_8YEYElPUJPvHEGuWknu5AEW4yyUS-i_nYQAeFm0.TLFWgv-b5HD4n6K1ThPGujYkrHc0THY0IAYqY2ZjdsKdTvNzgLw4TARqn0K9u7qYXgK-5Hn0IvqzujLfCT5g0ZFWIWYk0ZNzU7qGujYkPHn4rH0znH640Addgv-b5HDYrH6LnjDk0AdxpyfqnHDLrHT4nWD0UgwsU7qGujYknH64nfKsI-qGujYs0A-bm1dribGH0ZKGujYkrfKWpyfqPHb0mLFW5HRdP1bY&dt=1662954129&wd=%E5%B0%8F%E7%B1%B3&tpl=tpl_11891_25538_21759&l=1539902189",
        "image": "https://dss0.bdstatic.com/-0U0bnSm1A5BphGlnYG/tam-ogel/602567313_-1088522315_121_91.jpg",
        "title": "徕卡专业影像"
      }
    ]
  },
  "organic_results": [
    {
      "position": 1,
      "title": "今晚20点iPhone 14系列开抢;雷军否认小米错过造车窗口期;查尔斯...",
      "link": "https://www.huxiu.com/brief/77",
      "snippet": "【雷军否认小米错过造车窗口期】小米创始人雷军在社交平台表示,特斯拉比小米提前10多年进入电动汽车行业,有些人认为小米已经错过了进入电动汽车行业的时间窗口。对此,我不同意,比赛才刚刚开始,我认为小米还有很多机会。此前在8月份的小米发...",
      "source": "虎嗅APP"
    },
    {
      "position": 2,
      "title": "小米高清显示器秒杀价369元!",
      "link": "https://baijiahao.baidu.com/s?id=1743723731003657473&wfr=spider&for=pc",
      "date": "2小时前",
      "snippet": "小米高清显示器秒杀价369元!现在小米官旗舰店正在做活动,活动期间小米21.45英寸高清显示器仅需399元就能入手,白菜价格,感兴趣的小伙伴可以入手。这款显示器采用三面窄边框,采用VA...",
      "source": "中关村在线",
      "thumbnail": "https://t10.baidu.com/it/u=1646756949,183547453&fm=30&app=106&size=f242,162&n=0&g=0n&f=JPEG?s=B9B3CB1426F3718A340748420300E0EB&sec=1663040530&t=8d4deed0bb1a7d658f4e5e04d45ba8c4"
    },
    {
      "position": 3,
      "title": "小米也出运动鞋!首发仅需219元",
      "link": "https://baijiahao.baidu.com/s?id=1743723719148904350&wfr=spider&for=pc",
      "date": "2小时前",
      "snippet": "小米也出运动鞋!首发仅需219元 此前,小米有品推出的自研新生活消费品牌——"日常元素"。近日,其发布了新品——日常元素运动鞋5是原米家运动鞋系列的迭代升级款。日常元素运动鞋5具...",
      "source": "中关村在线",
      "thumbnail": "https://t11.baidu.com/it/u=699261262,183547406&fm=30&app=106&size=f242,162&n=0&g=0n&f=JPEG?s=BFAA7A2313637D0B58D904DB010080B0&sec=1663040530&t=54577aaa12831408fba37c3ecfb21dbd"
    },
    ...
  ],
  "top_searches": [
    {
      "position": 1,
      "text": "丰收故事夯实我们的底气",
      "link": "//www.baidu.com/s?wd=%E4%B8%B0%E6%94%B6%E6%95%85%E4%BA%8B%E5%A4%AF%E5%AE%9E%E6%88%91%E4%BB%AC%E7%9A%84%E5%BA%95%E6%B0%94&cl=2&tn=SE_hldp03880_xzs5iv7i&ie=utf-8&rsv_pq=80434df700034272&oq=xiaomi&rsv_t=e9a39GcIjuFJoWMD%2FBGgq4OB7flnjtEEYtBWkKPF4omd%2FtZ3RqfW%2BFhf4A&rqid=80434df700034272&rsf=b2c80df8b4cb78a1c203e3cbee714c4b_1_15_1&rsv_dl=fyb_right_zixun_20811&sa=0_right_fyb_pchot_20811",
      "serpapi_link": "http://localhost:3000/search.json?device=desktop&engine=baidu_news&q=%E4%B8%B0%E6%94%B6%E6%95%85%E4%BA%8B%E5%A4%AF%E5%AE%9E%E6%88%91%E4%BB%AC%E7%9A%84%E5%BA%95%E6%B0%94&rtt=1"
    },
    {
      "position": 2,
      "text": "泽连斯基:已夺回2000平方公里领土",
      "link": "//www.baidu.com/s?wd=%E6%B3%BD%E8%BF%9E%E6%96%AF%E5%9F%BA%EF%BC%9A%E5%B7%B2%E5%A4%BA%E5%9B%9E2000%E5%B9%B3%E6%96%B9%E5%85%AC%E9%87%8C%E9%A2%86%E5%9C%9F&cl=2&tn=SE_hldp03880_xzs5iv7i&ie=utf-8&rsv_pq=80434df700034272&oq=xiaomi&rsv_t=b7efmYo5yyfYJT6UyflV7IWXW%2FMFs5W%2FLI%2FSy6MJJDx%2Bw0MFAJzivJKs4g&rqid=80434df700034272&rsf=b2c80df8b4cb78a1c203e3cbee714c4b_1_15_2&rsv_dl=fyb_right_zixun_20811&sa=0_right_fyb_pchot_20811",
      "serpapi_link": "http://localhost:3000/search.json?device=desktop&engine=baidu_news&q=%E6%B3%BD%E8%BF%9E%E6%96%AF%E5%9F%BA%EF%BC%9A%E5%B7%B2%E5%A4%BA%E5%9B%9E2000%E5%B9%B3%E6%96%B9%E5%85%AC%E9%87%8C%E9%A2%86%E5%9C%9F&rtt=1",
      "tag": "热"
    },
    {
      "position": 3,
      "text": "香港演员中秋节视频暗指台湾回归",
      "link": "//www.baidu.com/s?wd=%E9%A6%99%E6%B8%AF%E6%BC%94%E5%91%98%E4%B8%AD%E7%A7%8B%E8%8A%82%E8%A7%86%E9%A2%91%E6%9A%97%E6%8C%87%E5%8F%B0%E6%B9%BE%E5%9B%9E%E5%BD%92&cl=2&tn=SE_hldp03880_xzs5iv7i&ie=utf-8&rsv_pq=80434df700034272&oq=xiaomi&rsv_t=b7efmYo5yyfYJT6UyflV7IWXW%2FMFs5W%2FLI%2FSy6MJJDx%2Bw0MFAJzivJKs4g&rqid=80434df700034272&rsf=b2c80df8b4cb78a1c203e3cbee714c4b_1_15_3&rsv_dl=fyb_right_zixun_20811&sa=0_right_fyb_pchot_20811",
      "serpapi_link": "http://localhost:3000/search.json?device=desktop&engine=baidu_news&q=%E9%A6%99%E6%B8%AF%E6%BC%94%E5%91%98%E4%B8%AD%E7%A7%8B%E8%8A%82%E8%A7%86%E9%A2%91%E6%9A%97%E6%8C%87%E5%8F%B0%E6%B9%BE%E5%9B%9E%E5%BD%92&rtt=1",
      "tag": "热"
    },
    ...
  ],
  "pagination": {
    "current": 1,
    "other_pages": {
      "2": "https://www.baidu.com/s?wd=xiaomi&rtt=1&bsst=1&cl=2&tn=news&x_bfe_rqs=26AC0000000000000004880000001&x_bfe_tjscore=0.990000&tngroupname=organic_news&newVideo=12&goods_entry_switch=1&rsv_dl=news_b_pn&pn=10",
      "3": "https://www.baidu.com/s?wd=xiaomi&rtt=1&bsst=1&cl=2&tn=news&x_bfe_rqs=26AC0000000000000004880000001&x_bfe_tjscore=0.990000&tngroupname=organic_news&newVideo=12&goods_entry_switch=1&rsv_dl=news_b_pn&pn=20",
      "4": "https://www.baidu.com/s?wd=xiaomi&rtt=1&bsst=1&cl=2&tn=news&x_bfe_rqs=26AC0000000000000004880000001&x_bfe_tjscore=0.990000&tngroupname=organic_news&newVideo=12&goods_entry_switch=1&rsv_dl=news_b_pn&pn=30",
      "5": "https://www.baidu.com/s?wd=xiaomi&rtt=1&bsst=1&cl=2&tn=news&x_bfe_rqs=26AC0000000000000004880000001&x_bfe_tjscore=0.990000&tngroupname=organic_news&newVideo=12&goods_entry_switch=1&rsv_dl=news_b_pn&pn=40",
      "6": "https://www.baidu.com/s?wd=xiaomi&rtt=1&bsst=1&cl=2&tn=news&x_bfe_rqs=26AC0000000000000004880000001&x_bfe_tjscore=0.990000&tngroupname=organic_news&newVideo=12&goods_entry_switch=1&rsv_dl=news_b_pn&pn=50",
      "7": "https://www.baidu.com/s?wd=xiaomi&rtt=1&bsst=1&cl=2&tn=news&x_bfe_rqs=26AC0000000000000004880000001&x_bfe_tjscore=0.990000&tngroupname=organic_news&newVideo=12&goods_entry_switch=1&rsv_dl=news_b_pn&pn=60",
      "8": "https://www.baidu.com/s?wd=xiaomi&rtt=1&bsst=1&cl=2&tn=news&x_bfe_rqs=26AC0000000000000004880000001&x_bfe_tjscore=0.990000&tngroupname=organic_news&newVideo=12&goods_entry_switch=1&rsv_dl=news_b_pn&pn=70",
      "9": "https://www.baidu.com/s?wd=xiaomi&rtt=1&bsst=1&cl=2&tn=news&x_bfe_rqs=26AC0000000000000004880000001&x_bfe_tjscore=0.990000&tngroupname=organic_news&newVideo=12&goods_entry_switch=1&rsv_dl=news_b_pn&pn=80",
      "10": "https://www.baidu.com/s?wd=xiaomi&rtt=1&bsst=1&cl=2&tn=news&x_bfe_rqs=26AC0000000000000004880000001&x_bfe_tjscore=0.990000&tngroupname=organic_news&newVideo=12&goods_entry_switch=1&rsv_dl=news_b_pn&pn=90"
    }
  },
  "serpapi_pagination": {
    "current": 1,
    "other_pages": {
      "2": "http://localhost:3000/search.json?device=desktop&engine=baidu_news&pn=10&q=xiaomi&rtt=1",
      "3": "http://localhost:3000/search.json?device=desktop&engine=baidu_news&pn=20&q=xiaomi&rtt=1",
      "4": "http://localhost:3000/search.json?device=desktop&engine=baidu_news&pn=30&q=xiaomi&rtt=1",
      "5": "http://localhost:3000/search.json?device=desktop&engine=baidu_news&pn=40&q=xiaomi&rtt=1",
      "6": "http://localhost:3000/search.json?device=desktop&engine=baidu_news&pn=50&q=xiaomi&rtt=1",
      "7": "http://localhost:3000/search.json?device=desktop&engine=baidu_news&pn=60&q=xiaomi&rtt=1",
      "8": "http://localhost:3000/search.json?device=desktop&engine=baidu_news&pn=70&q=xiaomi&rtt=1",
      "9": "http://localhost:3000/search.json?device=desktop&engine=baidu_news&pn=80&q=xiaomi&rtt=1",
      "10": "http://localhost:3000/search.json?device=desktop&engine=baidu_news&pn=90&q=xiaomi&rtt=1"
    }
  }
}