Google Jobs Listing Results API
Our Google Jobs Listing API allows you to scrape SERP results from a Google Jobs Listing search. The API is accessed through the following endpoint: /search?engine=google_jobs_listing.

A user may query the following: https://serpapi.com/search?engine=google_jobs_listing utilizing a GET request. Head to the playground for a live and interactive demo.
API Parameters
API Results
JSON Results
JSON output includes structured data for salaries, salaries_comparison, apply_options, similar_jobs and ratings, represented as arrays. All of these are optional, but most of the time at least one is present. salaries array element contains job_title, link, source, salary_from, salary_to(optional), salary_currency, salary_period, thumbnail, based_on. salaries_comparison array element contains text, link and value. apply_options array element contains title and link. ratings array element contains link, source, rating and reviews.similar_jobs array element contains title, type, extensions, company_name, logo(optional), date, link, serpapi_link and platform.

A search status is accessible through search_metadata.status. It flows this way: Processing -> Success || Error. If a search has failed, error will contain an error message. search_metadata.id is the search ID inside SerpApi.
HTML Results
This API does not have the HTML response, just a text. search_metadata.prettify_html_file contains prettified version of the result. It is displayed in the playground.
API Examples
Example for: barista in New York
{
  "search_metadata": {
    "id": "63a57739944893e9089b6d41",
    "status": "Success",
    "json_endpoint": "https://serpapi.com/searches/1569a8fabdb0f851/63a57739944893e9089b6d41.json",
    "created_at": "2022-12-23 09:39:05 UTC",
    "processed_at": "2022-12-23 09:39:05 UTC",
    "google_jobs_listing_url": "https://www.google.com/search?q=Barista&ibp=htl;jobs#htidocid=yW-ei_ECv7gAAAAAAAAAAA==",
    "raw_html_file": "https://serpapi.com/searches/1569a8fabdb0f851/63a57739944893e9089b6d41.html",
    "prettify_html_file": "https://serpapi.com/searches/1569a8fabdb0f851/63a57739944893e9089b6d41.prettify",
    "total_time_taken": 2.46
  },
  "search_parameters": {
    "q": "eyJqb2JfdGl0bGUiOiJCYXJpc3RhIiwiaHRpZG9jaWQiOiJ5Vy1laV9FQ3Y3Z0FBQUFBQUFBQUFBPT0iLCJnbCI6InVzIiwiaGwiOiJlbiIsImZjIjoiRXZjQkNyY0JRVUYwVm14aVJETmtXVmxsYm5SNVNqZFVNM3BEVkd0d1drcFdZVXRzTTNOQmFIaHVPVEpXWWsxbGVsRldiMGxYVjBWdUxVdzNYMlF5V0VKTVpEaDRMVkZ6Umtwek5qSklaRkJtVTJReU5FbGxZa0ZDWnpCemVUY3lYemc1UkU5blNIWlpRVnBRU1doMFJHMXljRk50VkhCemJsOUxjbUprYURKNU4ybE5hMmt5Vmpkc2RuUmpORnB3VkcwemEzUmFTV3RZYWxGcmFHRjJkek0yTVcxeGNGbGliM2xCWmtveVl6ZDJRMTlrYTB0alYzQkpjbVZ2RWhkSVNHVnNXVFpFY2toTU1tOXhkSE5RYms1MVIzRkJaeG9pUVVSVmVVVkhaV2xpVmxaaVgxRnRkbXRrVmpaVWQxVnVhbWsxYW5KT2QyaE9adyIsImZjdiI6IjMiLCJmY19pZCI6ImZjXzEiLCJhcHBseV9saW5rIjp7InRpdGxlIjoiLm5GZzJlYntmb250LXdlaWdodDo1MDB9LkJpNkRkY3tmb250LXdlaWdodDo1MDB9QXBwbHkgZGlyZWN0bHkgb24gSW5kZWVkIiwibGluayI6Imh0dHBzOi8vd3d3LmluZGVlZC5jb20vdmlld2pvYj9qaz03ZTA0YWYyNmIyZGE2NjljXHUwMDI2dXRtX2NhbXBhaWduPWdvb2dsZV9qb2JzX2FwcGx5XHUwMDI2dXRtX3NvdXJjZT1nb29nbGVfam9ic19hcHBseVx1MDAyNnV0bV9tZWRpdW09b3JnYW5pYyJ9fQ",
    "engine": "google_jobs_listing"
  },
  "salaries": [
    {
      "job_title": "Barista",
      "link": "https://www.indeed.com/career/barista/salaries/New-York--NY?utm_campaign=google_jobs_salary&utm_source=google_jobs_salary&utm_medium=organic",
      "source": "Indeed",
      "salary_from": 17,
      "salary_currency": "$",
      "salary_period": "hour",
      "thumbnail": "https://serpapi.com/searches/63a57739944893e9089b6d41/images/88febb36730c852f9ca7f319456bd25b4db20faab342524f.png",
      "based_on": "Based on local employers"
    },
    {
      "job_title": "Barista",
      "link": "https://www.glassdoor.com/Salaries/new-york-city-barista-salary-SRCH_IL.0,13_IM615_KO14,21.htm?utm_campaign=google_jobs_salary&utm_source=google_jobs_salary&utm_medium=organic",
      "source": "Glassdoor",
      "salary_from": 25000,
      "salary_to": 50000,
      "salary_currency": "$",
      "salary_period": "year",
      "thumbnail": "https://serpapi.com/searches/63a57739944893e9089b6d41/images/88febb36730c852ff034d2856a911679ee7f84e65f1b31a1.png",
      "based_on": "Based on local employers"
    },
    {
      "job_title": "Barista",
      "link": "https://www.salary.com/research/salary/benchmark/barista-salary/new-york-ny?utm_campaign=google_jobs_salary&utm_source=google_jobs_salary&utm_medium=organic",
      "source": "Salary.com",
      "salary_from": 24000,
      "salary_to": 34000,
      "salary_currency": "$",
      "salary_period": "year",
      "thumbnail": "https://serpapi.com/searches/63a57739944893e9089b6d41/images/88febb36730c852f1546ee6fbee3b6107e92ce1a16a8632f.png",
      "based_on": "Based on local employers"
    }
  ],
  "apply_options": [
    {
      "title": "Apply directly on Indeed",
      "link": "https://www.indeed.com/viewjob?jk=7e04af26b2da669c&utm_campaign=google_jobs_apply&utm_source=google_jobs_apply&utm_medium=organic"
    },
    {
      "title": "Apply on TemPositions",
      "link": "https://www.tempositions.com/job/barista-4/?utm_campaign=google_jobs_apply&utm_source=google_jobs_apply&utm_medium=organic"
    },
    {
      "title": "Apply on Talent.com",
      "link": "https://www.talent.com/view?id=6df6ff95932b&utm_campaign=google_jobs_apply&utm_source=google_jobs_apply&utm_medium=organic"
    },
    ...
  ],
  "similar_jobs": [
    {
      "logo": "https://encrypted-tbn0.gstatic.com/images?q=tbn:ANd9GcSbk2usdztSFYkGUvAvOUyXh5u1bafVg6VCwiqN&s=0",
      "company_name": "Starbucks",
      "title": "barista - Store# 02763, US 127 @ E WEST CONN",
      "type": "Full-time",
      "extensions": [
        "Starbucks"
      ],
      "date": "2 days ago",
      "platform": "via Glassdoor",
      "link": "https://www.google.com/search?q=Barista&gl=us&hl=en&fc=EvcBCrcBQUF0VmxiRDNkWVllbnR5SjdUM3pDVGtwWkpWYUtsM3NBaHhuOTJWYk1lelFWb0lXV0VuLUw3X2QyWEJMZDh4LVFzRkpzNjJIZFBmU2QyNEllYkFCZzBzeTcyXzg5RE9nSHZZQVpQSWh0RG1ycFNtVHBzbl9LcmJkaDJ5N2lNa2kyVjdsdnRjNFpwVG0za3RaSWtYalFraGF2dzM2MW1xcFlib3lBZkoyYzd2Q19ka0tjV3BJcmVvEhdISGVsWTZEckhMMm9xdHNQbk51R3FBZxoiQURVeUVHZWliVlZiX1FtdmtkVjZUd1Vuamk1anJOd2hOZw&fcv=3&ibp=htl;jobs#fpstate=tldetail&htivrt=jobs&htiq=Barista&htidocid=JHnwq-1Pvg8AAAAAAAAAAA%3D%3D",
      "serpapi_link": "https://serpapi.com/search.json?engine=google_jobs_listing&q=eyJqb2JfdGl0bGUiOiJCYXJpc3RhIiwiaHRpZG9jaWQiOiJKSG53cS0xUHZnOEFBQUFBQUFBQUFBPT0iLCJ1dWxlIjpudWxsLCJnbCI6InVzIiwiaGwiOiJlbiIsImZjIjoiRXZjQkNyY0JRVUYwVm14aVJETmtXVmxsYm5SNVNqZFVNM3BEVkd0d1drcFdZVXRzTTNOQmFIaHVPVEpXWWsxbGVsRldiMGxYVjBWdUxVdzNYMlF5V0VKTVpEaDRMVkZ6Umtwek5qSklaRkJtVTJReU5FbGxZa0ZDWnpCemVUY3lYemc1UkU5blNIWlpRVnBRU1doMFJHMXljRk50VkhCemJsOUxjbUprYURKNU4ybE5hMmt5Vmpkc2RuUmpORnB3VkcwemEzUmFTV3RZYWxGcmFHRjJkek0yTVcxeGNGbGliM2xCWmtveVl6ZDJRMTlrYTB0alYzQkpjbVZ2RWhkSVNHVnNXVFpFY2toTU1tOXhkSE5RYms1MVIzRkJaeG9pUVVSVmVVVkhaV2xpVmxaaVgxRnRkbXRrVmpaVWQxVnVhbWsxYW5KT2QyaE9adyIsImZjdiI6IjMifQ%3D%3D"
    },
    {
      "logo": "https://encrypted-tbn0.gstatic.com/images?q=tbn:ANd9GcQgEEwn4LWE8J8R7L2Ca1s5JXWOvw3x48g6sTWA&s=0",
      "company_name": "Aimbridge Hospitality",
      "title": "Cafe' (Bistro) Attendant- PM Shifts",
      "type": "Full-time",
      "extensions": [
        "Aimbridge Hospitality"
      ],
      "date": "4 days ago",
      "platform": "via LinkedIn",
      "link": "https://www.google.com/search?q=Barista&gl=us&hl=en&fc=EvcBCrcBQUF0VmxiRDNkWVllbnR5SjdUM3pDVGtwWkpWYUtsM3NBaHhuOTJWYk1lelFWb0lXV0VuLUw3X2QyWEJMZDh4LVFzRkpzNjJIZFBmU2QyNEllYkFCZzBzeTcyXzg5RE9nSHZZQVpQSWh0RG1ycFNtVHBzbl9LcmJkaDJ5N2lNa2kyVjdsdnRjNFpwVG0za3RaSWtYalFraGF2dzM2MW1xcFlib3lBZkoyYzd2Q19ka0tjV3BJcmVvEhdISGVsWTZEckhMMm9xdHNQbk51R3FBZxoiQURVeUVHZWliVlZiX1FtdmtkVjZUd1Vuamk1anJOd2hOZw&fcv=3&ibp=htl;jobs#fpstate=tldetail&htivrt=jobs&htiq=Barista&htidocid=y_vlMOn8GOQAAAAAAAAAAA%3D%3D",
      "serpapi_link": "https://serpapi.com/search.json?engine=google_jobs_listing&q=eyJqb2JfdGl0bGUiOiJCYXJpc3RhIiwiaHRpZG9jaWQiOiJ5X3ZsTU9uOEdPUUFBQUFBQUFBQUFBPT0iLCJ1dWxlIjpudWxsLCJnbCI6InVzIiwiaGwiOiJlbiIsImZjIjoiRXZjQkNyY0JRVUYwVm14aVJETmtXVmxsYm5SNVNqZFVNM3BEVkd0d1drcFdZVXRzTTNOQmFIaHVPVEpXWWsxbGVsRldiMGxYVjBWdUxVdzNYMlF5V0VKTVpEaDRMVkZ6Umtwek5qSklaRkJtVTJReU5FbGxZa0ZDWnpCemVUY3lYemc1UkU5blNIWlpRVnBRU1doMFJHMXljRk50VkhCemJsOUxjbUprYURKNU4ybE5hMmt5Vmpkc2RuUmpORnB3VkcwemEzUmFTV3RZYWxGcmFHRjJkek0yTVcxeGNGbGliM2xCWmtveVl6ZDJRMTlrYTB0alYzQkpjbVZ2RWhkSVNHVnNXVFpFY2toTU1tOXhkSE5RYms1MVIzRkJaeG9pUVVSVmVVVkhaV2xpVmxaaVgxRnRkbXRrVmpaVWQxVnVhbWsxYW5KT2QyaE9adyIsImZjdiI6IjMifQ%3D%3D"
    },
    {
      "logo": "https://encrypted-tbn0.gstatic.com/images?q=tbn:ANd9GcS5cTcmonPUy_IyWvLuw0S_WhRuSkFPraqic3Ed&s=0",
      "company_name": "Starbucks",
      "title": "Barista part-time",
      "type": "Full-time",
      "extensions": [
        "Starbucks"
      ],
      "date": "1 day ago",
      "platform": "via Learn4Good",
      "link": "https://www.google.com/search?q=Barista&gl=us&hl=en&fc=EvcBCrcBQUF0VmxiRDNkWVllbnR5SjdUM3pDVGtwWkpWYUtsM3NBaHhuOTJWYk1lelFWb0lXV0VuLUw3X2QyWEJMZDh4LVFzRkpzNjJIZFBmU2QyNEllYkFCZzBzeTcyXzg5RE9nSHZZQVpQSWh0RG1ycFNtVHBzbl9LcmJkaDJ5N2lNa2kyVjdsdnRjNFpwVG0za3RaSWtYalFraGF2dzM2MW1xcFlib3lBZkoyYzd2Q19ka0tjV3BJcmVvEhdISGVsWTZEckhMMm9xdHNQbk51R3FBZxoiQURVeUVHZWliVlZiX1FtdmtkVjZUd1Vuamk1anJOd2hOZw&fcv=3&ibp=htl;jobs#fpstate=tldetail&htivrt=jobs&htiq=Barista&htidocid=AgNOn85bI80AAAAAAAAAAA%3D%3D",
      "serpapi_link": "https://serpapi.com/search.json?engine=google_jobs_listing&q=eyJqb2JfdGl0bGUiOiJCYXJpc3RhIiwiaHRpZG9jaWQiOiJBZ05Pbjg1Ykk4MEFBQUFBQUFBQUFBPT0iLCJ1dWxlIjpudWxsLCJnbCI6InVzIiwiaGwiOiJlbiIsImZjIjoiRXZjQkNyY0JRVUYwVm14aVJETmtXVmxsYm5SNVNqZFVNM3BEVkd0d1drcFdZVXRzTTNOQmFIaHVPVEpXWWsxbGVsRldiMGxYVjBWdUxVdzNYMlF5V0VKTVpEaDRMVkZ6Umtwek5qSklaRkJtVTJReU5FbGxZa0ZDWnpCemVUY3lYemc1UkU5blNIWlpRVnBRU1doMFJHMXljRk50VkhCemJsOUxjbUprYURKNU4ybE5hMmt5Vmpkc2RuUmpORnB3VkcwemEzUmFTV3RZYWxGcmFHRjJkek0yTVcxeGNGbGliM2xCWmtveVl6ZDJRMTlrYTB0alYzQkpjbVZ2RWhkSVNHVnNXVFpFY2toTU1tOXhkSE5RYms1MVIzRkJaeG9pUVVSVmVVVkhaV2xpVmxaaVgxRnRkbXRrVmpaVWQxVnVhbWsxYW5KT2QyaE9adyIsImZjdiI6IjMifQ%3D%3D"
    },
    ...
  ]
}

Example for: android developer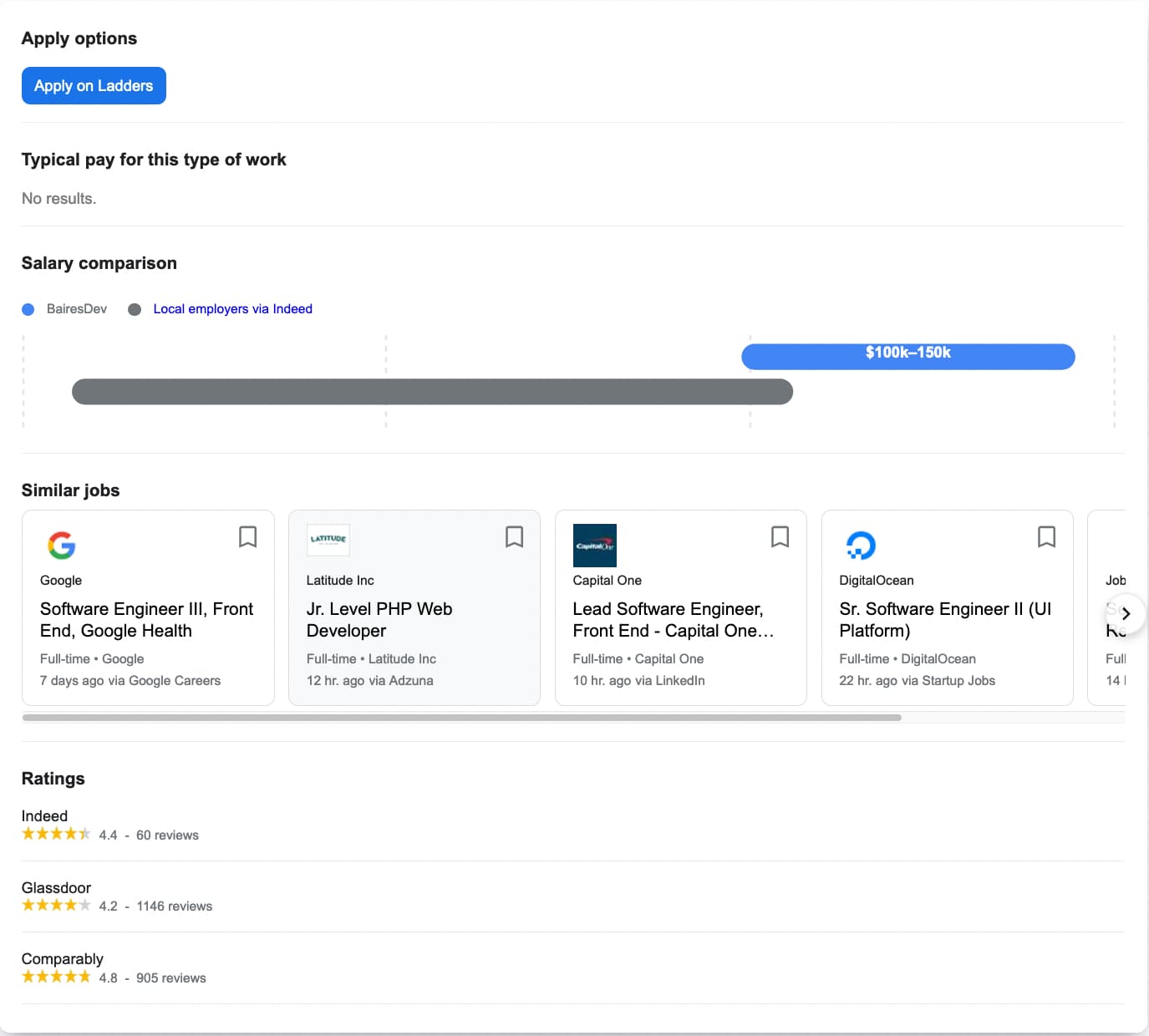 {
  "search_metadata": {
    "id": "63a56e5f944893e9089b6d3f",
    "status": "Success",
    "json_endpoint": "https://serpapi.com/searches/a45d266d22848a74/63a56e5f944893e9089b6d3f.json",
    "created_at": "2022-12-23 09:01:19 UTC",
    "processed_at": "2022-12-23 09:01:19 UTC",
    "google_jobs_listing_url": "https://www.google.com/search?q=Senior+Javascript+Developer+%7CLATAM%7C+-+Remote+Work%3A&ibp=htl;jobs#htidocid=TT_XcgSZOioAAAAAAAAAAA==",
    "raw_html_file": "https://serpapi.com/searches/a45d266d22848a74/63a56e5f944893e9089b6d3f.html",
    "prettify_html_file": "https://serpapi.com/searches/a45d266d22848a74/63a56e5f944893e9089b6d3f.prettify",
    "total_time_taken": 2.62
  },
  "search_parameters": {
    "q": "eyJqb2JfdGl0bGUiOiJTZW5pb3IgSmF2YXNjcmlwdCBEZXZlbG9wZXIgfExBVEFNfCAtIFJlbW90ZSBXb3JrOiIsImh0aWRvY2lkIjoiVFRfWGNnU1pPaW9BQUFBQUFBQUFBQT09IiwiZ2wiOiJ1cyIsImhsIjoiZW4iLCJmYyI6IkVyY0NDdmNCUVVGMFZteGlRVFY2VVVGRFZuWktjWFZZTUVSbVltVlJkMGhsWjJKMlNtaGtRV1pRZDJKRlNXbG5YMDVEVFhSS00wUXlibXd3VW5aR1RsOVhaM1oyTlRoaWVsVjVkbWxqT1c1dk5XcG1NMWQxYjBWRE5sWmFWbnBCVkhGQmR6YzJNM2h5U1RVNVRWQk1Xa2h0V0V4clJrWjFhV1JmTTIxM1kyVmhZWFEzVkhGS1dIQkhUMEpMVTNVeFlqSjFkWHBZZG0xNGFWUTFXbGxDY0V3dFJFOVNURmR6TUZSVmFrVmFkVXN6ZG1kWlVuaDVOVU56VG10cFozWk1OMUJhVGpRemVrWkZibUk0WnpKc2RXbzBOMmxMVlVGbmNqVnpOV1E0ZVZKd1JqVllhaTFFTm1SYU16Z3hUVE5YUVZaVU1rVktPRVJRZVVNeWN4SVhVMGQxYkZrM04wNURjbWx4Y1hSelVHazBUelF3UVhjYUlrRkVWWGxGUjJSSVJERmlNMHBPUlVkdE9HdHlOWGh6YlVOS2RraHhTbmMzZDJjIiwiZmN2IjoiMyIsImZjX2lkIjoiZmNfMyIsImFwcGx5X2xpbmsiOnsidGl0bGUiOiJBcHBseSBvbiBMYWRkZXJzIiwibGluayI6Imh0dHBzOi8vd3d3LnRoZWxhZGRlcnMuY29tL2pvYi9zZW5pb3ItamF2YXNjcmlwdC1kZXZlbG9wZXItbGF0YW0tcmVtb3RlLXdvcmstYmFpcmVzZGV2LXNhbi1mcmFuY2lzY28tY2FfNTc5MDI1MTA/dXRtX2NhbXBhaWduPWdvb2dsZV9qb2JzX2FwcGx5XHUwMDI2dXRtX3NvdXJjZT1nb29nbGVfam9ic19hcHBseVx1MDAyNnV0bV9tZWRpdW09b3JnYW5pYyJ9fQ==",
    "engine": "google_jobs_listing"
  },
  "salaries_comparison": [
    {
      "text": "BairesDev",
      "value": "$100k–150k"
    },
    {
      "link": "https://www.indeed.com/career/javascript-developer/salaries/San-Francisco--CA?utm_campaign=google_jobs_salary&utm_source=google_jobs_salary&utm_medium=organic",
      "text": "Local employers via Indeed"
    }
  ],
  "apply_options": [
    {
      "title": "Apply on Ladders",
      "link": "https://www.theladders.com/job/senior-javascript-developer-latam-remote-work-bairesdev-san-francisco-ca_57902510?utm_campaign=google_jobs_apply&utm_source=google_jobs_apply&utm_medium=organic"
    }
  ],
  "ratings": [
    {
      "link": "https://www.indeed.com/cmp/Bairesdev/reviews?utm_campaign=google_jobs_reviews&utm_source=google_jobs_reviews&utm_medium=organic",
      "source": "Indeed",
      "rating": 4.4,
      "reviews": 60
    },
    {
      "link": "https://www.glassdoor.com/Reviews/BairesDev-Reviews-E864485.htm?utm_campaign=google_jobs_reviews&utm_source=google_jobs_reviews&utm_medium=organic",
      "source": "Glassdoor",
      "rating": 4.2,
      "reviews": 1146
    },
    {
      "link": "https://www.comparably.com/companies/bairesdev/reviews?utm_campaign=google_jobs_reviews&utm_source=google_jobs_reviews&utm_medium=organic",
      "source": "Comparably",
      "rating": 4.8,
      "reviews": 905
    }
  ],
  "similar_jobs": [
    {
      "logo": "https://encrypted-tbn0.gstatic.com/images?q=tbn:ANd9GcRBAmj9g-QE27dZOw9IFx3h-4tCpLXCH_PYE686&s=0",
      "company_name": "Google",
      "title": "Software Engineer III, Front End, Google Health",
      "type": "Full-time",
      "extensions": [
        "Google"
      ],
      "date": "7 days ago",
      "platform": "via Google Careers",
      "link": "https://www.google.com/search?q=Senior+Javascript+Developer+%7CLATAM%7C+-+Remote+Work:&fc=ErcCCvcBQUF0VmxiQTV6UUFDVnZKcXVYMERmYmVRd0hlZ2J2SmhkQWZQd2JFSWlnX05DTXRKM0QybmwwUnZGTl9XZ3Z2NThielV5dmljOW5vNWpmM1d1b0VDNlZaVnpBVHFBdzc2M3hySTU5TVBMWkhtWExrRkZ1aWRfM213Y2VhYXQ3VHFKWHBHT0JLU3UxYjJ1dXpYdm14aVQ1WllCcEwtRE9STFdzMFRVakVadUszdmdZUnh5NUNzTmtpZ3ZMN1BaTjQzekZFbmI4ZzJsdWo0N2lLVUFncjVzNWQ4eVJwRjVYai1ENmRaMzgxTTNXQVZUMkVKOERQeUMycxIXU0d1bFk3N05DcmlxcXRzUGk0TzQwQXcaIkFEVXlFR2RIRDFiM0pORUdtOGtyNXhzbUNKdkhxSnc3d2c&fcv=3&sourceid=chrome&ie=UTF-8&ibp=htl;jobs#fpstate=tldetail&htivrt=jobs&htiq=Senior+Javascript+Developer+%7CLATAM%7C+-+Remote+Work:&htidocid=dtAU5tOkWpkAAAAAAAAAAA%3D%3D",
      "serpapi_link": "https://serpapi.com/search.json?engine=google_jobs_listing&q=eyJqb2JfdGl0bGUiOiJTZW5pb3IgSmF2YXNjcmlwdCBEZXZlbG9wZXIgfExBVEFNfCAtIFJlbW90ZSBXb3JrOiIsImh0aWRvY2lkIjoiZHRBVTV0T2tXcGtBQUFBQUFBQUFBQT09IiwidXVsZSI6bnVsbCwiZ2wiOm51bGwsImhsIjpudWxsLCJmYyI6IkVyY0NDdmNCUVVGMFZteGlRVFY2VVVGRFZuWktjWFZZTUVSbVltVlJkMGhsWjJKMlNtaGtRV1pRZDJKRlNXbG5YMDVEVFhSS00wUXlibXd3VW5aR1RsOVhaM1oyTlRoaWVsVjVkbWxqT1c1dk5XcG1NMWQxYjBWRE5sWmFWbnBCVkhGQmR6YzJNM2h5U1RVNVRWQk1Xa2h0V0V4clJrWjFhV1JmTTIxM1kyVmhZWFEzVkhGS1dIQkhUMEpMVTNVeFlqSjFkWHBZZG0xNGFWUTFXbGxDY0V3dFJFOVNURmR6TUZSVmFrVmFkVXN6ZG1kWlVuaDVOVU56VG10cFozWk1OMUJhVGpRemVrWkZibUk0WnpKc2RXbzBOMmxMVlVGbmNqVnpOV1E0ZVZKd1JqVllhaTFFTm1SYU16Z3hUVE5YUVZaVU1rVktPRVJRZVVNeWN4SVhVMGQxYkZrM04wNURjbWx4Y1hSelVHazBUelF3UVhjYUlrRkVWWGxGUjJSSVJERmlNMHBPUlVkdE9HdHlOWGh6YlVOS2RraHhTbmMzZDJjIiwiZmN2IjoiMyJ9"
    },
    {
      "logo": "https://encrypted-tbn0.gstatic.com/images?q=tbn:ANd9GcR8EgCgab-ibX6Gclk2zCkgEN_GLI5DdAyDjRtk&s=0",
      "company_name": "Latitude Inc",
      "title": "Jr. Level PHP Web Developer",
      "type": "Full-time",
      "extensions": [
        "Latitude Inc"
      ],
      "date": "12 hr. ago",
      "platform": "via Adzuna",
      "link": "https://www.google.com/search?q=Senior+Javascript+Developer+%7CLATAM%7C+-+Remote+Work:&fc=ErcCCvcBQUF0VmxiQTV6UUFDVnZKcXVYMERmYmVRd0hlZ2J2SmhkQWZQd2JFSWlnX05DTXRKM0QybmwwUnZGTl9XZ3Z2NThielV5dmljOW5vNWpmM1d1b0VDNlZaVnpBVHFBdzc2M3hySTU5TVBMWkhtWExrRkZ1aWRfM213Y2VhYXQ3VHFKWHBHT0JLU3UxYjJ1dXpYdm14aVQ1WllCcEwtRE9STFdzMFRVakVadUszdmdZUnh5NUNzTmtpZ3ZMN1BaTjQzekZFbmI4ZzJsdWo0N2lLVUFncjVzNWQ4eVJwRjVYai1ENmRaMzgxTTNXQVZUMkVKOERQeUMycxIXU0d1bFk3N05DcmlxcXRzUGk0TzQwQXcaIkFEVXlFR2RIRDFiM0pORUdtOGtyNXhzbUNKdkhxSnc3d2c&fcv=3&sourceid=chrome&ie=UTF-8&ibp=htl;jobs#fpstate=tldetail&htivrt=jobs&htiq=Senior+Javascript+Developer+%7CLATAM%7C+-+Remote+Work:&htidocid=rzkw0WB9eAcAAAAAAAAAAA%3D%3D",
      "serpapi_link": "https://serpapi.com/search.json?engine=google_jobs_listing&q=eyJqb2JfdGl0bGUiOiJTZW5pb3IgSmF2YXNjcmlwdCBEZXZlbG9wZXIgfExBVEFNfCAtIFJlbW90ZSBXb3JrOiIsImh0aWRvY2lkIjoicnprdzBXQjllQWNBQUFBQUFBQUFBQT09IiwidXVsZSI6bnVsbCwiZ2wiOm51bGwsImhsIjpudWxsLCJmYyI6IkVyY0NDdmNCUVVGMFZteGlRVFY2VVVGRFZuWktjWFZZTUVSbVltVlJkMGhsWjJKMlNtaGtRV1pRZDJKRlNXbG5YMDVEVFhSS00wUXlibXd3VW5aR1RsOVhaM1oyTlRoaWVsVjVkbWxqT1c1dk5XcG1NMWQxYjBWRE5sWmFWbnBCVkhGQmR6YzJNM2h5U1RVNVRWQk1Xa2h0V0V4clJrWjFhV1JmTTIxM1kyVmhZWFEzVkhGS1dIQkhUMEpMVTNVeFlqSjFkWHBZZG0xNGFWUTFXbGxDY0V3dFJFOVNURmR6TUZSVmFrVmFkVXN6ZG1kWlVuaDVOVU56VG10cFozWk1OMUJhVGpRemVrWkZibUk0WnpKc2RXbzBOMmxMVlVGbmNqVnpOV1E0ZVZKd1JqVllhaTFFTm1SYU16Z3hUVE5YUVZaVU1rVktPRVJRZVVNeWN4SVhVMGQxYkZrM04wNURjbWx4Y1hSelVHazBUelF3UVhjYUlrRkVWWGxGUjJSSVJERmlNMHBPUlVkdE9HdHlOWGh6YlVOS2RraHhTbmMzZDJjIiwiZmN2IjoiMyJ9"
    },
    {
      "logo": "https://encrypted-tbn0.gstatic.com/images?q=tbn:ANd9GcScm_jR0k6tNwCGwSRZM947ERdnj8NoqLGTwi3A&s=0",
      "company_name": "Capital One",
      "title": "Lead Software Engineer, Front End - Capital One Shopping (Remote-Eligible)",
      "type": "Full-time",
      "extensions": [
        "Capital One"
      ],
      "date": "10 hr. ago",
      "platform": "via LinkedIn",
      "link": "https://www.google.com/search?q=Senior+Javascript+Developer+%7CLATAM%7C+-+Remote+Work:&fc=ErcCCvcBQUF0VmxiQTV6UUFDVnZKcXVYMERmYmVRd0hlZ2J2SmhkQWZQd2JFSWlnX05DTXRKM0QybmwwUnZGTl9XZ3Z2NThielV5dmljOW5vNWpmM1d1b0VDNlZaVnpBVHFBdzc2M3hySTU5TVBMWkhtWExrRkZ1aWRfM213Y2VhYXQ3VHFKWHBHT0JLU3UxYjJ1dXpYdm14aVQ1WllCcEwtRE9STFdzMFRVakVadUszdmdZUnh5NUNzTmtpZ3ZMN1BaTjQzekZFbmI4ZzJsdWo0N2lLVUFncjVzNWQ4eVJwRjVYai1ENmRaMzgxTTNXQVZUMkVKOERQeUMycxIXU0d1bFk3N05DcmlxcXRzUGk0TzQwQXcaIkFEVXlFR2RIRDFiM0pORUdtOGtyNXhzbUNKdkhxSnc3d2c&fcv=3&sourceid=chrome&ie=UTF-8&ibp=htl;jobs#fpstate=tldetail&htivrt=jobs&htiq=Senior+Javascript+Developer+%7CLATAM%7C+-+Remote+Work:&htidocid=3EQh6ilE8qwAAAAAAAAAAA%3D%3D",
      "serpapi_link": "https://serpapi.com/search.json?engine=google_jobs_listing&q=eyJqb2JfdGl0bGUiOiJTZW5pb3IgSmF2YXNjcmlwdCBEZXZlbG9wZXIgfExBVEFNfCAtIFJlbW90ZSBXb3JrOiIsImh0aWRvY2lkIjoiM0VRaDZpbEU4cXdBQUFBQUFBQUFBQT09IiwidXVsZSI6bnVsbCwiZ2wiOm51bGwsImhsIjpudWxsLCJmYyI6IkVyY0NDdmNCUVVGMFZteGlRVFY2VVVGRFZuWktjWFZZTUVSbVltVlJkMGhsWjJKMlNtaGtRV1pRZDJKRlNXbG5YMDVEVFhSS00wUXlibXd3VW5aR1RsOVhaM1oyTlRoaWVsVjVkbWxqT1c1dk5XcG1NMWQxYjBWRE5sWmFWbnBCVkhGQmR6YzJNM2h5U1RVNVRWQk1Xa2h0V0V4clJrWjFhV1JmTTIxM1kyVmhZWFEzVkhGS1dIQkhUMEpMVTNVeFlqSjFkWHBZZG0xNGFWUTFXbGxDY0V3dFJFOVNURmR6TUZSVmFrVmFkVXN6ZG1kWlVuaDVOVU56VG10cFozWk1OMUJhVGpRemVrWkZibUk0WnpKc2RXbzBOMmxMVlVGbmNqVnpOV1E0ZVZKd1JqVllhaTFFTm1SYU16Z3hUVE5YUVZaVU1rVktPRVJRZVVNeWN4SVhVMGQxYkZrM04wNURjbWx4Y1hSelVHazBUelF3UVhjYUlrRkVWWGxGUjJSSVJERmlNMHBPUlVkdE9HdHlOWGh6YlVOS2RraHhTbmMzZDJjIiwiZmN2IjoiMyJ9"
    },
    ...
  ]
}