Our Google Hotels API allows you to scrape hotel and vacation rental results from Google Hotels. The API is accessed through the following endpoint: /search?engine=google_hotels.

A user may query the following: https://serpapi.com/search?engine=google_hotels utilizing a GET request. Head to the playground for a live and interactive demo.
API Parameters
API Results
JSON Results
JSON output includes structured data for Properties and brands.

A search status is accessible through search_metadata.status. It flows this way: Processing -> Success || Error. If a search has failed, error will contain an error message. search_metadata.id is the search ID inside SerpApi.
HTML Results
This API does not have html response, just a text. search_metadata.prettify_html_file contains prettified version of result. It is displayed in playground.
API Examples
JSON structure overview
{
  "brands": [
    {
      "id": "Integer - ID of the brand",
      "name": "String - Name of the brand",
      // children can be null
      "children": [
        {
          "id": "Integer - ID of the child's brand",
          "name": "String - Name of the child's brand"
        }
      ]
    }
  ],
  "properties": [
    {
      "type": "String - Type of property (e.g. hotel or vacation rental)",
      "name": "String - Name of the property",
      "description": "String - Description of the property",
      "link": "String - URL of the property's website",
      "logo": "String - URL of the property's logo",
      "sponsored": "Boolean - Indicate if the property result is sponsored",
      "eco_certified": "Boolean - Indicate if the property is Eco-certified",
      "gps_coordinates": {
        "latitude": "Float - Latitude of the GPS Coordinates",
        "longitude": "Float - Langitude of the GPS Coordinates"
      },
      "check_in_time": "String - Check-in time of the property (e.g. 3:00 PM)",
      "check_out_time": "String - Check-out time of the property (e.g. 12:00 PM)",
      "rate_per_night": {
        "lowest": "String - Lowest rate per night formatted with currency",
        "extracted_lowest": "Float - Extracted lowest rate per night",
        "highest": "String - Highest rate per night formatted with currency",
        "extracted_highest": "Float - Extracted highest rate per night"
      },
      "total_rate": {
        "lowest": "String - Lowest total rate for the entire trip formatted with currency",
        "extracted_lowest": "Float - Extracted lowest total rate for the entire trip",
        "highest": "String - Highest total rate for the entire trip formatted with currency",
        "extracted_highest": "Float - Extracted highest total rate for the entire trip"
      },
      "prices": [
        {
          "source": "String - Source of the site that list the price",
          "logo": "String - URL of the source's logo",
          "rate_per_night": {
            "lowest": "String - Lowest rate per night formatted with currency",
            "extracted_lowest": "Float - Extracted lowest rate per night",
            "highest": "String - Highest rate per night formatted with currency",
            "extracted_highest": "Float - Extracted highest rate per night"
          }
        }
      ],
      "nearby_places": [
        {
          "name": "String - Name of the place",
          "transportations": [
            {
              "type": "String - Type of transportation (e.g. Taxi, Walking, Public transport)",
              "duration": "String - Travel duration (e.g. 30 min)"
            }
          ]
        }
      ],
      "hotel_class": "String - Hotel class of the property (e.g. 5-star hotel)",
      "extracted_hotel_class": "Integer - Extracted hotel class of the property (e.g. 5)",
      "images": [
        {
          "thumbnail": "String - URL of the thumbnail",
          "original_image": "String - URL of the original image"
        }
      ],
      "overall_rating": "Float - Overall rating for the property",
      "reviews": "Integer - Total reviews for the property",
      "ratings": [
        {
          "stars": "Integer - Number of stars from 1 to 5",
          "count": "Integer - Total number of reviews for given star"
        }
      ],
      "location_rating": "Float - Location rating of the property (e.g. 1.8 is Bad location, 4.8 is excellent location)",
      "reviews_breakdown": [
        {
          "name": "String - Name of the review breakdown category",
          "description": "String - Description of the category",
          "total_mentioned": "Integer - Total mentioned about the category",
          "positive": "Integer - Total amount of positivity",
          "negative": "Integer - Total amount of negativity",
          "neutral": "Integer - Total amount of neutrality"
        }
      ],
      "amenities": "Array - Amenities provided by the property (e.g. Free Wi-Fi, Free parking, Hot tub, Pools, Airport shuttle and many more)",
      "excluded_amenities": "Array - Excluded amenities (e.g. No air conditioning, No airport shuttle, No beach access, Not pet-friendly and many more)",
      // For vacation rental property
      "essential_info": "Array - Essential info of the property (e.g. Entire villa, Sleeps 4, 9 bedrooms, 7 bathrooms"
    }
  ],
  "serpapi_pagination": {
    "current_from": "Integer - Current page start index",
    "current_to": "Integer - Current page end index",
    "next_page_token": "String - Next page token",
    "next": "String - SerpApi's Google Hotels API endpoint for the next page"
  }
}

Example with
q

: Bali Resorts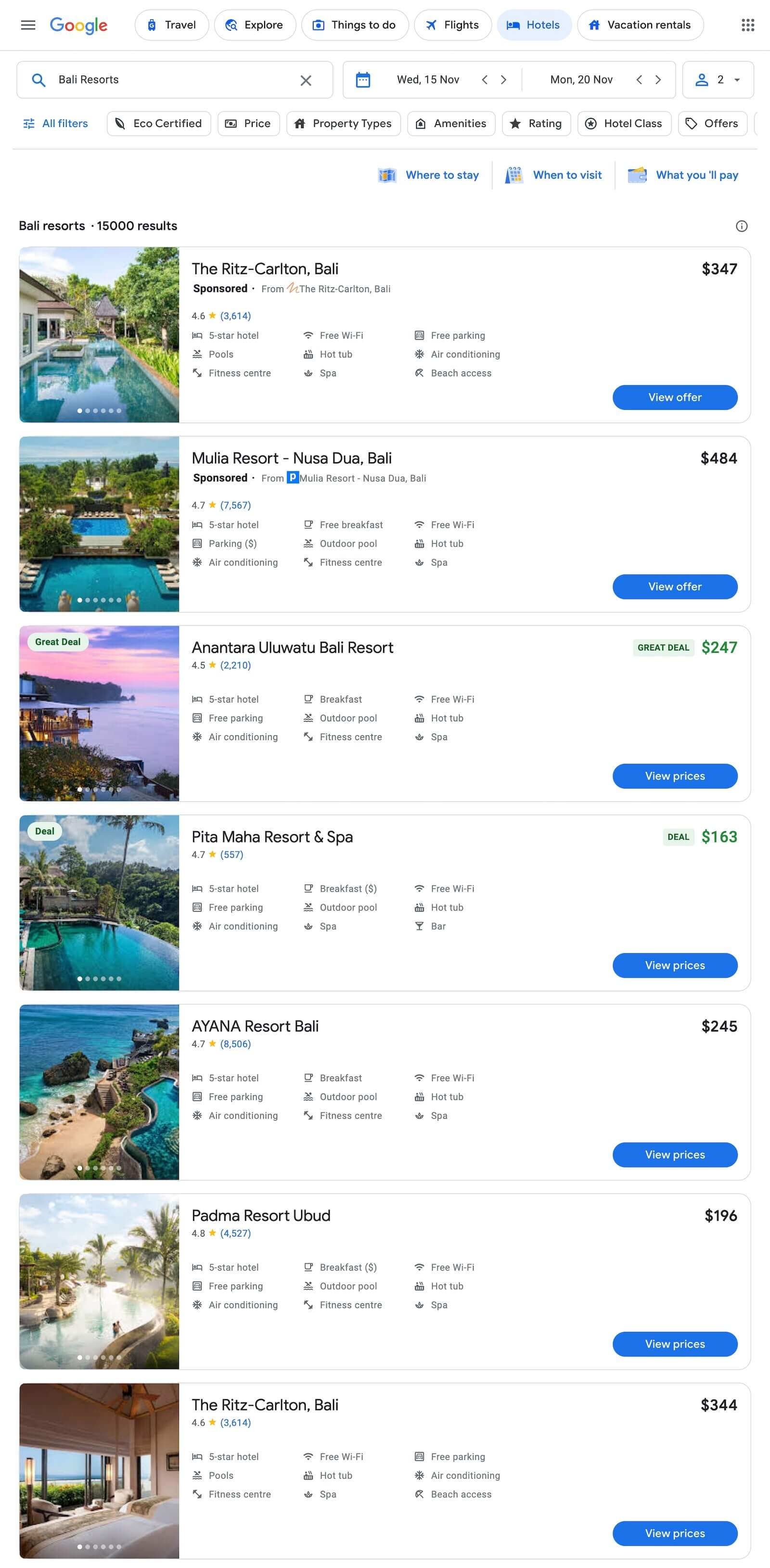 {
  "search_metadata": {
    "id": "65533314b68f8b5cf35732bd",
    "status": "Success",
    "json_endpoint": "https://serpapi.com/searches/7e9e85e70fe7f094/65533314b68f8b5cf35732bd.json",
    "created_at": "2023-11-14 08:43:00 UTC",
    "processed_at": "2023-11-14 08:43:00 UTC",
    "google_hotels_url": "https://www.google.com/_/TravelFrontendUi/data/batchexecute?rpcids=AtySUc&source-path=/travel/search&hl=en&gl=us&rt=c&soc-app=162&soc-platform=1&soc-device=1",
    "raw_html_file": "https://serpapi.com/searches/7e9e85e70fe7f094/65533314b68f8b5cf35732bd.html",
    "prettify_html_file": "https://serpapi.com/searches/7e9e85e70fe7f094/65533314b68f8b5cf35732bd.prettify",
    "total_time_taken": 1.36
  },
  "search_parameters": {
    "engine": "google_hotels",
    "q": "Bali Resorts",
    "gl": "us",
    "hl": "en",
    "currency": "USD",
    "check_in_date": "2023-12-06",
    "check_out_date": "2023-12-07",
    "adults": 2,
    "children": 0
  },
  "search_information": {
    "total_results": 15000
  },
  "brands": [
    {
      "id": 33,
      "name": "Accor Live Limitless",
      "children": [
        {
          "id": 67,
          "name": "Banyan Tree"
        },
        {
          "id": 101,
          "name": "Grand Mercure"
        },
        {
          "id": 21,
          "name": "Ibis"
        },
        ...
      ]
    },
    {
      "id": 229,
      "name": "Aston"
    },
    {
      "id": 18,
      "name": "Best Western International",
      "children": [
        {
          "id": 155,
          "name": "Best Western"
        },
        {
          "id": 105,
          "name": "Best Western Premier"
        }
      ]
    },
    ...
  ],
  "properties": [
    {
      "type": "hotel",
      "name": "The Ritz-Carlton, Bali",
      "description": "Zen-like quarters, some with butler service, in an upscale property offering refined dining & a spa.",
      "logo": "https://www.gstatic.com/travel-hotels/branding/df3424c9-7799-4d27-aeb5-cdcabf8bf950.png",
      "sponsored": true,
      "gps_coordinates": {
        "latitude": -8.830670999999999,
        "longitude": 115.21533099999999
      },
      "check_in_time": "3:00 PM",
      "check_out_time": "12:00 PM",
      "rate_per_night": {
        "lowest": "$287",
        "extracted_lowest": 287,
        "highest": "$347",
        "extracted_highest": 347
      },
      "prices": [
        {
          "source": "The Ritz-Carlton, Bali",
          "logo": "https://www.gstatic.com/travel-hotels/branding/df3424c9-7799-4d27-aeb5-cdcabf8bf950.png",
          "rate_per_night": {
            "lowest": "$287",
            "extracted_lowest": 287,
            "highest": "$347",
            "extracted_highest": 347
          }
        }
      ],
      "nearby_places": [
        {
          "name": "I Gusti Ngurah Rai International Airport",
          "transportations": [
            {
              "type": "Taxi",
              "duration": "29 min"
            }
          ]
        },
        {
          "name": "Bejana, Indonesian Restaurant at The Ritz-Carlton, Bali",
          "transportations": [
            {
              "type": "Walking",
              "duration": "1 min"
            }
          ]
        }
      ],
      "hotel_class": "5-star hotel",
      "extracted_hotel_class": 5,
      "images": [
        {
          "thumbnail": "https://lh3.googleusercontent.com/proxy/3GU0rF7c5y00MbsWRPAkzdY0Mql0YhH7coFNK9nRDE8GwlzsRbc7xHB8lu8ZN6ApPUiuM7GvjB4RWoJaQCcD4kjARaoyDitH27WhWiAdz8dfG4TCY6pafMo52UQH5W76rgH3JESuGN3ohZ20fEwSgBKGmdQZOA=s287-w287-h192-n-k-no-v1",
          "original_image": "https://d2hyz2bfif3cr8.cloudfront.net/imageRepo/7/0/151/470/91/rz-dpssw-private-pool-29237_Classic-Hor_O.jpg"
        },
        {
          "thumbnail": "https://lh5.googleusercontent.com/proxy/IUakfiu-4guLHoPdx1ippkGtRxwdDW9pxf3j8kRq8FtIKOnnCepdr1DBB1vDftDvbY1IDqTCsgzrvgXdzBB6sJU8-z-7yawWRg-tsLlqSy9XI9mbudAurUnJBm9tmF4sJJFZXkuiyUc7zaNMZ6XPZ3MJDhEzWw=s287-w287-h192-n-k-no-v1",
          "original_image": "https://d2hyz2bfif3cr8.cloudfront.net/imageRepo/7/0/147/874/299/dpssw-villa-0105-hor-clsc_O.jpg"
        },
        {
          "thumbnail": "https://lh6.googleusercontent.com/proxy/MWhomwXIPhVXgnq1drMsEuPzTr2FB1f5ePbnpGxtyxwOcB0zr7xKrN34pDzJQVEPRJxFtaSFKfGngytJW4jO2c_9jiVCQuOb6OgRBqn-TEAI172VO2Ptx3G1bx1OpnvBsIcIhTk4ZoNH4EWwUIRxEgVoYQg2EQ=s287-w287-h192-n-k-no-v1",
          "original_image": "https://d2hyz2bfif3cr8.cloudfront.net/imageRepo/7/0/147/874/243/dpssw-villa-0107-hor-clsc_O.jpg"
        },
        ...
      ],
      "overall_rating": 4.6,
      "reviews": 3614,
      "location_rating": 2.8,
      "reviews_breakdown": [
        {
          "name": "Property",
          "description": "Property",
          "total_mentioned": 605,
          "positive": 534,
          "negative": 44,
          "neutral": 27
        },
        {
          "name": "Service",
          "description": "Service",
          "total_mentioned": 599,
          "positive": 507,
          "negative": 74,
          "neutral": 18
        },
        {
          "name": "Nature",
          "description": "Nature and outdoor activities",
          "total_mentioned": 256,
          "positive": 212,
          "negative": 29,
          "neutral": 15
        }
      ],
      "amenities": [
        "Free Wi-Fi",
        "Free parking",
        "Pools",
        "Hot tub",
        "Air conditioning",
        "Fitness centre",
        "Spa",
        "Beach access",
        "Bar",
        "Restaurant",
        "Room service",
        "Kitchen in some rooms",
        "Airport shuttle",
        "Full-service laundry",
        "Accessible",
        "Business centre",
        "Child-friendly",
        "Smoke-free property"
      ]
    },
    {
      "type": "hotel",
      "name": "Mulia Resort - Nusa Dua, Bali",
      "description": "Upmarket rooms & suites in a premium beachfront getaway with 6 restaurants & 4 pools.",
      "logo": "https://www.gstatic.com/travel-hotels/branding/icon_220.png",
      "sponsored": true,
      "gps_coordinates": {
        "latitude": -8.81621,
        "longitude": 115.22117399999999
      },
      "check_in_time": "3:00 PM",
      "check_out_time": "12:00 PM",
      "rate_per_night": {
        "lowest": "$388",
        "extracted_lowest": 388,
        "highest": "$484",
        "extracted_highest": 484
      },
      "prices": [
        {
          "source": "Priceline",
          "logo": "https://www.gstatic.com/travel-hotels/branding/icon_220.png",
          "rate_per_night": {
            "lowest": "$388",
            "extracted_lowest": 388,
            "highest": "$484",
            "extracted_highest": 484
          }
        }
      ],
      "nearby_places": [
        {
          "name": "I Gusti Ngurah Rai International Airport",
          "transportations": [
            {
              "type": "Taxi",
              "duration": "21 min"
            }
          ]
        },
        ...
      ],
      "hotel_class": "5-star hotel",
      "extracted_hotel_class": 5,
      "images": [
        {
          "thumbnail": "https://lh5.googleusercontent.com/p/AF1QipNP9sahhj7GhCqvn_UuJ6E_k6YLxdVXKgj_L1Pe=s287-w287-h192-n-k-no-v1",
          "original_image": "https://lh5.googleusercontent.com/p/AF1QipNP9sahhj7GhCqvn_UuJ6E_k6YLxdVXKgj_L1Pe=s10000"
        },
        ...
      ],
      "overall_rating": 4.7,
      "reviews": 7567,
      "location_rating": 3.5,
      "reviews_breakdown": [
        {
          "name": "Property",
          "description": "Property",
          "total_mentioned": 1088,
          "positive": 971,
          "negative": 58,
          "neutral": 59
        },
        ...
      ],
      "amenities": [
        "Free breakfast",
        "Free Wi-Fi",
        "Parking ($)",
        ...
      ]
    },
    {
      "type": "hotel",
      "name": "Anantara Uluwatu Bali Resort",
      "description": "Chic suites with in-room bars & high-end sound systems, plus restaurants, a spa & an infinity pool.",
      "link": "https://www.anantara.com/uluwatu-bali?utm_source=GoogleMyBusiness&utm_medium=GMB&utm_term=Uluwatu&utm_content=Home&utm_campaign=Google_GMB",
      "gps_coordinates": {
        "latitude": -8.8085355,
        "longitude": 115.107911
      },
      "check_in_time": "3:00 PM",
      "check_out_time": "12:00 PM",
      "rate_per_night": {
        "lowest": "$199",
        "extracted_lowest": 199,
        "highest": "$247",
        "extracted_highest": 247
      },
      "total_rate": {
        "lowest": "$994",
        "extracted_lowest": 994,
        "highest": "$1,233",
        "extracted_highest": 1233
      },
      "deal": "27% less than usual",
      "deal_description": "Great Deal",
      "nearby_places": [
        {
          "name": "Padang Padang Beach",
          "transportations": [
            {
              "type": "Taxi",
              "duration": "10 min"
            }
          ]
        },
        ...
      ],
      "hotel_class": "5-star hotel",
      "extracted_hotel_class": 5,
      "images": [
        {
          "thumbnail": "https://lh5.googleusercontent.com/p/AF1QipOWiZ-Gb1n4TFh_g0UJSqViox2Gt5X30ESdFIg9=s287-w287-h192-n-k-no-v1",
          "original_image": "https://lh5.googleusercontent.com/p/AF1QipOWiZ-Gb1n4TFh_g0UJSqViox2Gt5X30ESdFIg9=s10000"
        },
        ...
      ],
      "overall_rating": 4.5,
      "reviews": 2210,
      "ratings": [
        {
          "stars": 5,
          "count": 1613
        },
        {
          "stars": 4,
          "count": 350
        },
        {
          "stars": 3,
          "count": 118
        },
        {
          "stars": 2,
          "count": 38
        },
        {
          "stars": 1,
          "count": 91
        }
      ],
      "location_rating": 3.6,
      "reviews_breakdown": [
        {
          "name": "Service",
          "description": "Service",
          "total_mentioned": 397,
          "positive": 324,
          "negative": 53,
          "neutral": 20
        },
        ...
      ],
      "amenities": [
        "Breakfast",
        "Free Wi-Fi",
        "Free parking",
        ...
      ]
    },
    ...
  ],
  "serpapi_pagination": {
    "current_from": 1,
    "current_to": 20,
    "next_page_token": "CBI=",
    "next": "https://serpapi.com/search.json?adults=2&check_in_date=2023-12-06&check_out_date=2023-12-07&children=0&currency=USD&engine=google_hotels&gl=us&hl=en&next_page_token=CBI%3D&q=Bali+Resorts"
  }
}

Example Vacation Rentals with
q

: Bali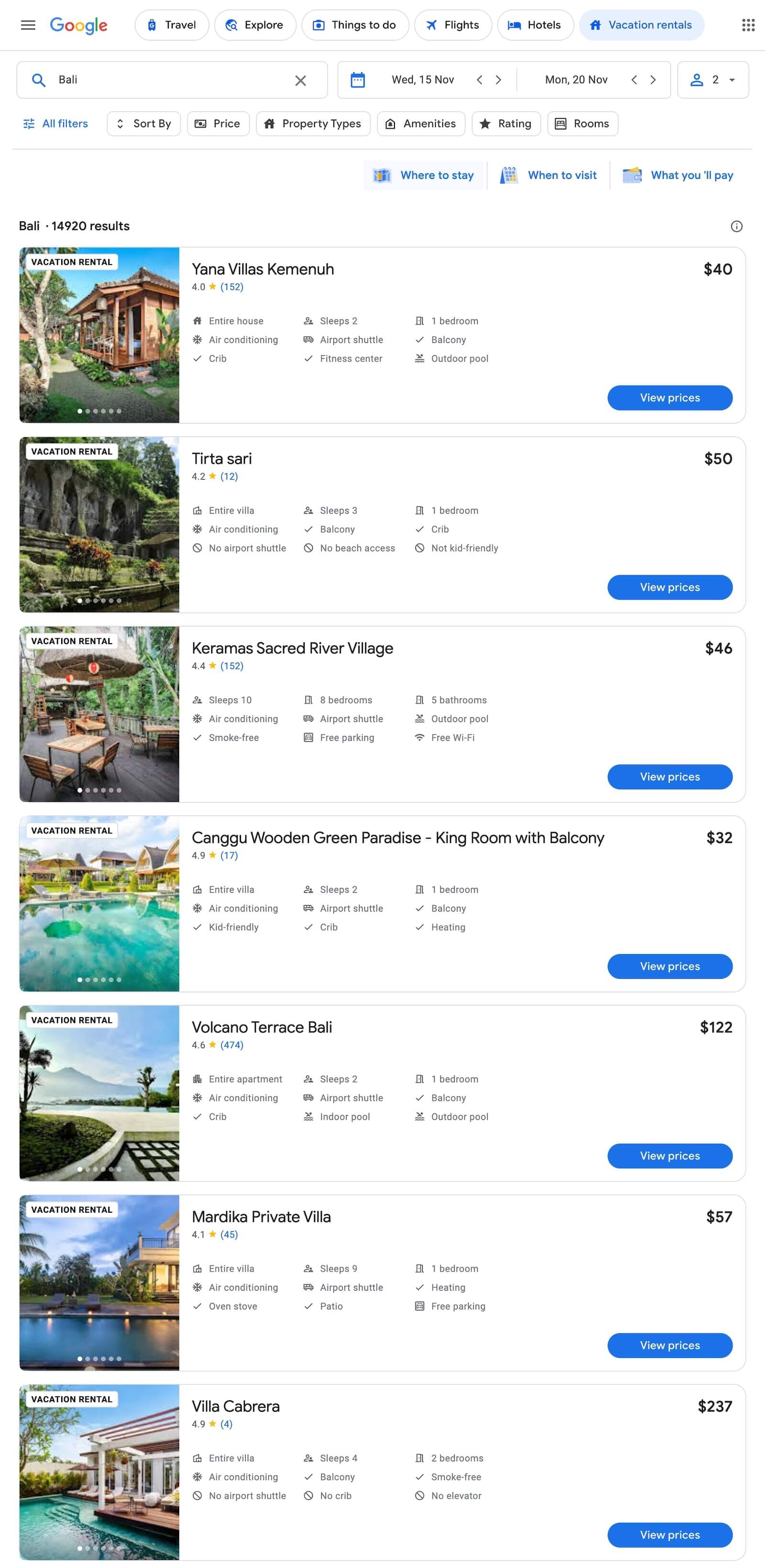 {
  "search_metadata": {
    "id": "655335bab68f8b5cf2b314a3",
    "status": "Success",
    "json_endpoint": "https://serpapi.com/searches/7e9e85e70fe7f094/655335bab68f8b5cf2b314a3.json",
    "created_at": "2023-11-14 08:54:18 UTC",
    "processed_at": "2023-11-14 08:54:18 UTC",
    "google_hotels_url": "https://www.google.com/_/TravelFrontendUi/data/batchexecute?rpcids=AtySUc&source-path=/travel/search&hl=en&gl=us&rt=c&soc-app=162&soc-platform=1&soc-device=1",
    "raw_html_file": "https://serpapi.com/searches/7e9e85e70fe7f094/655335bab68f8b5cf2b314a3.html",
    "prettify_html_file": "https://serpapi.com/searches/7e9e85e70fe7f094/655335bab68f8b5cf2b314a3.prettify",
    "total_time_taken": 3.34
  },
  "search_parameters": {
    "engine": "google_hotels",
    "q": "Bali",
    "gl": "us",
    "hl": "en",
    "currency": "USD",
    "check_in_date": "2023-12-06",
    "check_out_date": "2023-12-07",
    "adults": 2,
    "children": 0,
    "vacation_rentals": true
  },
  "search_information": {
    "total_results": 14920
  },
  "properties": [
    {
      "type": "vacation rental",
      "name": "Yana Villas Kemenuh",
      "gps_coordinates": {
        "latitude": -8.555330276489258,
        "longitude": 115.28772735595703
      },
      "check_in_time": "2:00 PM",
      "check_out_time": "12:00 AM",
      "rate_per_night": {
        "lowest": "$33",
        "extracted_lowest": 33,
        "highest": "$40",
        "extracted_highest": 40
      },
      "total_rate": {
        "lowest": "$167",
        "extracted_lowest": 167,
        "highest": "$202",
        "extracted_highest": 202
      },
      "prices": [
        {
          "source": "Bluepillow.com",
          "logo": "https://www.gstatic.com/travel-hotels/branding/190ff319-d0fd-4c45-bfc8-bad6f5f395f2.png",
          "rate_per_night": {
            "lowest": "$33",
            "extracted_lowest": 33,
            "highest": "$40",
            "extracted_highest": 40
          }
        }
      ],
      "nearby_places": [
        {
          "name": "I Gusti Ngurah Rai International Airport",
          "transportations": [
            {
              "type": "Taxi",
              "duration": "58 min"
            },
            {
              "type": "Public transport",
              "duration": "2 hr 22 min"
            }
          ]
        },
        {
          "name": "Warung Thepaon",
          "transportations": [
            {
              "type": "Taxi",
              "duration": "10 min"
            }
          ]
        }
      ],
      "images": [
        {
          "thumbnail": "https://lh4.googleusercontent.com/proxy/1DpPI6Ipxyb3hCE5eBcnPWRiMvGGSgu-h50VkgCT_1ooT9mIPUIP2PvnfVHtHKpVCMJ6eG5x-lsYZRy4_cVg74cgY5qvDp-toQeT9bhkaSv15tUpFqVz8B0hr4JPdDsb6q-3Y_XJRhZmMuFVvLd0RU5Kg7GDqww=s287-w287-h192-n-k-no-v1",
          "original_image": "https://q-xx.bstatic.com/xdata/images/hotel/max1440x1080/223247563.jpg?k=17e4b19b4710d224007544d313b2e012e33475d53877bdea8cf036d8f6a60c1c&o="
        },
        {
          "thumbnail": "https://lh4.googleusercontent.com/proxy/HDK_ROG3ZEbuBkU5LEh2GIhGoiVm3Eof-1OBgO_50NdTLMh0BJ0W9r4scwbIi2bD53V897tTaTKYLP345Sf397KHtGijMdc2oFJuxdYGyygFwYECxX_88F8M38fjic99TnEJhqpXf1aNt_pV2uXDJD7K-ncqAA=s287-w287-h192-n-k-no-v1",
          "original_image": "https://q-xx.bstatic.com/xdata/images/hotel/max1440x1080/223247466.jpg?k=4bcc896b368c2bf0fc74edf39003f4ae18889e27d7c6df3d8ade34be887986be&o="
        },
        {
          "thumbnail": "https://lh6.googleusercontent.com/proxy/LRDW9oGz8oY9Pzis9Nli9yvOULgbnSqHd8tsg4mwHwLpBvCcm08r8F8xzFl9q5gymyiKlzBNNXdOqXPRR_mmBQndFePSlxDJcI7NSdSXR6wu8o3i-E7-nZiRnPJ2-BSmBpI8EDFMZjDBOkIBbRYcWfYP76b29g=s287-w287-h192-n-k-no-v1",
          "original_image": "https://s-light.tiket.photos/t/01E25EBZS3W0FY9GTG6C42E1SE/t_htl-dskt/tix-hotel/images-web/2020/10/31/9e51d564-cc30-4a2a-ab14-809d6deede87-1604146952201-3950d28982374ab237d1e13478487cd9.jpg"
        },
        ...
      ],
      "overall_rating": 3.994737,
      "reviews": 152,
      "location_rating": 3.3,
      "amenities": [
        "Air conditioning",
        "Airport shuttle",
        "Balcony",
        "Crib",
        "Fitness center",
        "Outdoor pool",
        "Smoke-free",
        "Washer",
        "Free parking",
        "Free Wi-Fi"
      ],
      "excluded_amenities": [
        "No beach access",
        "Not kid-friendly",
        "No elevator",
        "No fireplace",
        "No heating",
        "No hot tub",
        "No indoor pool",
        "No ironing board",
        "No kitchen",
        "No microwave",
        "No outdoor grill",
        "No oven stove",
        "No patio",
        "Not wheelchair accessible"
      ],
      "essential_info": [
        "Entire house",
        "Sleeps 2",
        "1 bedroom",
        "1 bathroom",
        "1 bed",
        "215 sq ft"
      ]
    },
    {
      "type": "vacation rental",
      "name": "Tirta sari",
      "gps_coordinates": {
        "latitude": -8.416190147399902,
        "longitude": 115.2825698852539
      },
      "check_in_time": "1:00 PM",
      "check_out_time": "6:00 AM",
      "rate_per_night": {
        "lowest": "$42",
        "extracted_lowest": 42,
        "highest": "$50",
        "extracted_highest": 50
      },
      "total_rate": {
        "lowest": "$208",
        "extracted_lowest": 208,
        "highest": "$252",
        "extracted_highest": 252
      },
      "prices": [
        {
          "source": "Bluepillow.com",
          "logo": "https://www.gstatic.com/travel-hotels/branding/190ff319-d0fd-4c45-bfc8-bad6f5f395f2.png",
          "rate_per_night": {
            "lowest": "$42",
            "extracted_lowest": 42,
            "highest": "$50",
            "extracted_highest": 50
          }
        }
      ],
      "nearby_places": [
        {
          "name": "I Gusti Ngurah Rai International Airport",
          "transportations": [
            {
              "type": "Taxi",
              "duration": "1 hr 35 min"
            }
          ]
        },
        ...
      ],
      "images": [
        {
          "thumbnail": "https://lh6.googleusercontent.com/proxy/HfsdZpRpkAEHaei8gnPjCRbdwsd_EDHupUGPzYmEC5YrCZFxOGoZS5xaiBb7qlTO-d7GMlmdpBM3U1mXlBZknrNYL1IWGAsDhF7bWaB95A1AW35m0YQSBIBR5rXLYHfL8g-7ymvrV-bNa7FtW5ox1LMdZBdJtwI=s287-w287-h192-n-k-no-v1",
          "original_image": "https://s-light.tiket.photos/t/01E25EBZS3W0FY9GTG6C42E1SE/t_htl-dskt/tix-hotel/images-web/2023/05/17/b14d0a14-388c-4eff-8cfa-71ba9665045c-1684315756338-947f4308781850dc6b18828071a0c6f3.jpg"
        },
        ...
      ],
      "overall_rating": 4.225,
      "reviews": 12,
      "location_rating": 3.6,
      "amenities": [
        "Air conditioning",
        "Balcony",
        "Crib"
      ],
      "excluded_amenities": [
        "No airport shuttle",
        "No beach access",
        "Not kid-friendly",
        ...
      ],
      "essential_info": [
        "Entire villa",
        "Sleeps 3",
        "1 bedroom",
        "1 bathroom",
        "269 sq ft"
      ]
    },
    {
      "type": "vacation rental",
      "name": "Keramas Sacred River Village",
      "link": "https://deals.vio.com?sig=73aca13c7f952d2641c156f3e69125e1eb497c325f122828ee5aa8797168b9a12d32303331333438363233&turl=https%3A%2F%2Fwww.vio.com%2FHotel%2FSearch%3FhotelId%3D5255198%26utm_source%3Dgha-vr%26utm_campaign%3Dstatic%26openHotelDetails%3D1",
      "gps_coordinates": {
        "latitude": -8.586440086364746,
        "longitude": 115.3296127319336
      },
      "check_in_time": "2:00 PM",
      "check_out_time": "12:30 AM",
      "rate_per_night": {
        "lowest": "$38",
        "extracted_lowest": 38,
        "highest": "$46",
        "extracted_highest": 46
      },
      "total_rate": {
        "lowest": "$188",
        "extracted_lowest": 188,
        "highest": "$228",
        "extracted_highest": 228
      },
      "prices": [
        {
          "source": "Vio.com",
          "logo": "https://www.gstatic.com/travel-hotels/branding/7287187d-2586-494f-92ff-726979e94c2a.png",
          "rate_per_night": {
            "lowest": "$38",
            "extracted_lowest": 38,
            "highest": "$46",
            "extracted_highest": 46
          }
        }
      ],
      "nearby_places": [
        {
          "name": "I Gusti Ngurah Rai International Airport",
          "transportations": [
            {
              "type": "Taxi",
              "duration": "52 min"
            }
          ]
        },
        {
          "name": "Warong Legong",
          "transportations": [
            {
              "type": "Taxi",
              "duration": "4 min"
            }
          ]
        }
      ],
      "images": [
        {
          "thumbnail": "https://lh5.googleusercontent.com/proxy/yXB-H-lTQ1MH1bWIMXAU3JRRJCiLC6apOl-dkE2FhpTQLljrYhEayGK0_a5hGaLnJlVpKh072yvLFV2mH-brVIpRGBBftAvu-d3bAbjHK9EKMmjzoARdCsUW_KnuvtIZwvC0r6DAyevg1JL2dDflEB2PBoV8qFE=s287-w287-h192-n-k-no-v1",
          "original_image": "https://p.fih.io/v2/nSr0o-3gbZN8o1xMecXCcG-BkDeQVo3k-wOeVogkTe7ajuFOX7O-WA8aRWhXz1jsToZif_TsA_xCWfhWRa0Z3Ke1vT1z90khCU2Da7x0-xiShVn8GuC9vj7KBaOhg-vgKl4c_rzAKF78OTF4en3ketkYyx1j1dLbUfhlOgkNcIcn9PwNtk_AU2csbUk6dd9sGqAEVmr2qjQMPI095Pdv3pEtFPIxOxxOPC-YWoFEg4yXvCZQ3nG9m-EOZqnW2lodL_hO30Ezy-jlqKVHa0uB_8O59smfYWZisPxpsuKafAZkFxNkAjW1f-Y-DpE9Rgh64AZ_KQd1YCIQC1WVxAG4bqbEaIBWIgb2"
        },
        {
          "thumbnail": "https://lh3.googleusercontent.com/proxy/K3K-ywMEqxZwT8DWkI4v8_qukJDwY01i8mOZDP6ppAlbh9GQcGotrQDWO0NSBo3GW5x_hXnxGGZpvBVCrsNtSfk10DEfSB4qYaybt5TLWvxjwPXrUQCEGqkKEHDdcTpSxGg8MvgmMe-GBrQLO0MjWLxn4XTO7LU=s287-w287-h192-n-k-no-v1",
          "original_image": "https://p.fih.io/v2/nSr0o-3gbZN8o1xMecXCcG-BkDeQVo3k-wOeVogkTe7ajuFOX7O-WA8aRWhXz1jsToZif_TsA_xCWfhWRa0ZrqOuunYD91xgFQ_ea84R1z7jkWbdLumZpU_AM4PivpuFGD9eyu67MlTVFzF4en3ketkYyx1j1dLbUfhlOgkNcIcn9PwNtk_AU2csbUk6dd9sGqAEVmr2qjQMPI095Pdv3pEtFPIxOxxOPC-YWoFEg4yXvCZQ3nG9m-EOZqnW2lodL_hO30Ezy-jlqKVHa0uB_8O59smfYWZisPxpsuKafAZiAxNnXzS1fLw-U5E9Rgh64AZ_KQd1YCKpLdhy5WGXi-CaBHchStHA"
        },
        {
          "thumbnail": "https://lh4.googleusercontent.com/proxy/Rm6W1Ti3m6XIgyV8UE786I_f4EPBIFcFesq8eJbgqc0sgv1G6bBwfzLK8FYO6jmW0idKZsfkL0Ozo43Fr8J0AVaCEAlh71GTZwfBgafPG-craBwN__kAGzd9KukM_HLyxLx1Qf9SQ5NvW9R7P5GwK4fkB8mowuI=s287-w287-h192-n-k-no-v1",
          "original_image": "https://p.fih.io/v2/nSr0o-3gbZN8o1xMecXCcG-BkDeQVo3k-wOeVogkTe7ajuFOX7O-WA8aRWhXz1jsToZif_TsA_xCWfhWRa0ZvcfmhAQK8GZjLRmGdIFV8DvNriDeH-2U-Dz7cr-i_Z-2KgB83r7cGl_FJTF4en3ketkYyx1j1dLbUfhlOgkNcIcn9PwNtk_AU2csbUk6dd9sGqAEVmr2qjQMPI095Pdv3pEtFPIxOxxOPC-YWoFEg4yXvCZQ3nG9m-EOZqnW2lodL_hO30Ezy-jlqKVHa0uB_8O59smfYWZisPxpsuKafAZkFy1rXyCmePQpaZE9Rgh64AZ_KQd1YCJpER13G6kZmqrt3sn5ocKZ"
        },
        ...
      ],
      "overall_rating": 4.35,
      "reviews": 152,
      "location_rating": 2.8,
      "amenities": [
        "Air conditioning",
        "Airport shuttle",
        "Outdoor pool",
        ...
      ],
      "excluded_amenities": [
        "No beach access",
        "No elevator",
        "No fireplace",
        ...
      ],
      "essential_info": [
        "Sleeps 10",
        "8 bedrooms",
        "5 bathrooms"
      ]
    },
    ...
  ],
  "serpapi_pagination": {
    "current_from": 1,
    "current_to": 18,
    "next_page_token": "CBI=",
    "next": "https://serpapi.com/search.json?adults=2&check_in_date=2023-12-06&check_out_date=2023-12-07&children=0&currency=USD&engine=google_hotels&gl=us&hl=en&next_page_token=CBI%3D&q=Bali&vacation_rentals=true"
  }
}