Our Google Trends API allows you to scrape results from the Google Trends search page. The API is accessed through the following endpoint: /search?engine=google_trends.

A user may query the following: https://serpapi.com/search?engine=google_trends utilizing a GET request. Head to the playground for a live and interactive demo.
API Parameters
API Results
HTML Results
HTML output is useful to debug JSON results or support features not supported yet by SerpApi. HTML output gives you the raw HTML results from Google Trends.
This API does not have html response, just a text. search_metadata.prettify_html_file contains prettified version of the result. It is displayed in the playground.
API Examples
Interest over time chart with
q

: coffee,milk,bread,pasta,steak and

data_type

: TIMESERIES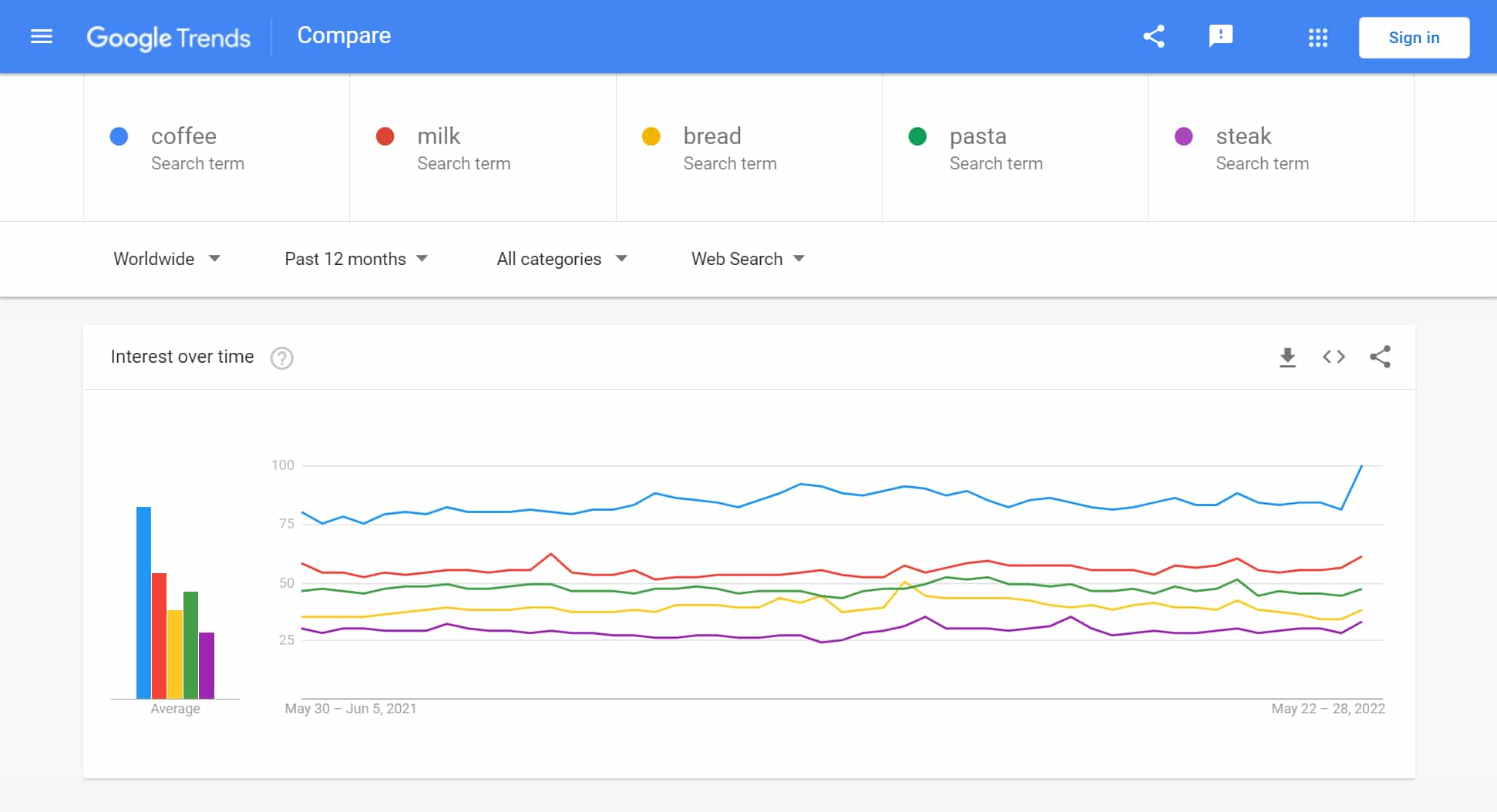 {
  "search_metadata": {
    "id": "628e1083de983400a3b29c2e",
    "status": "Success",
    "json_endpoint": "https://serpapi.com/searches/c1bde9cbd0a44437/628e1083de983400a3b29c2e.json",
    "created_at": "2022-05-25 11:18:27 UTC",
    "processed_at": "2022-05-25 11:18:27 UTC",
    "google_trends_url": "https://trends.google.com/trends/api/explore?tz=420&req=%7B%22comparisonItem%22%3A%5B%7B%22keyword%22%3A%22coffee%22%2C%22geo%22%3A%22%22%2C%22time%22%3A%22today+12-m%22%7D%2C%7B%22keyword%22%3A%22milk%22%2C%22geo%22%3A%22%22%2C%22time%22%3A%22today+12-m%22%7D%2C%7B%22keyword%22%3A%22bread%22%2C%22geo%22%3A%22%22%2C%22time%22%3A%22today+12-m%22%7D%2C%7B%22keyword%22%3A%22pasta%22%2C%22geo%22%3A%22%22%2C%22time%22%3A%22today+12-m%22%7D%2C%7B%22keyword%22%3A%22steak%22%2C%22geo%22%3A%22%22%2C%22time%22%3A%22today+12-m%22%7D%5D%2C%22category%22%3A0%2C%22property%22%3A%22%22%7D",
    "raw_html_file": "https://serpapi.com/searches/c1bde9cbd0a44437/628e1083de983400a3b29c2e.html",
    "prettify_html_file": "https://serpapi.com/searches/c1bde9cbd0a44437/628e1083de983400a3b29c2e.prettify",
    "total_time_taken": 1.89
  },
  "search_parameters": {
    "engine": "google_trends",
    "q": "coffee,milk,bread,pasta,steak",
    "date": "today 12-m",
    "tz": "420",
    "data_type": "TIMESERIES"
  },
  "interest_over_time": {
    "timeline_data": [
      {
        "date": "May 30 – Jun 5, 2021",
        "timestamp": "1622304000",
        "values": [
          {
            "query": "coffee",
            "value": "80",
            "extracted_value": 80
          },
          {
            "query": "milk",
            "value": "58",
            "extracted_value": 58
          },
          {
            "query": "bread",
            "value": "35",
            "extracted_value": 35
          },
          ...
        ]
      },
      {
        "date": "Jun 6 – 12, 2021",
        "timestamp": "1622822400",
        "values": [
          {
            "query": "coffee",
            "value": "75",
            "extracted_value": 75
          },
          {
            "query": "milk",
            "value": "54",
            "extracted_value": 54
          },
          {
            "query": "bread",
            "value": "35",
            "extracted_value": 35
          },
          ...
        ]
      },
      {
        "date": "Jun 13 – 19, 2021",
        "timestamp": "1623513600",
        "values": [
          {
            "query": "coffee",
            "value": "78",
            "extracted_value": 78
          },
          {
            "query": "milk",
            "value": "54",
            "extracted_value": 54
          },
          {
            "query": "bread",
            "value": "35",
            "extracted_value": 35
          },
          ...
        ]
      },
      ...
    ],
    "averages": [
      {
        "query": "coffee",
        "value": 84
      },
      {
        "query": "milk",
        "value": 55
      },
      {
        "query": "bread",
        "value": 39
      },
      ...
    ]
  }
}

Compared breakdown by region chart with
q

: coffee,milk,bread,pasta,steak and

data_type

: GEO_MAP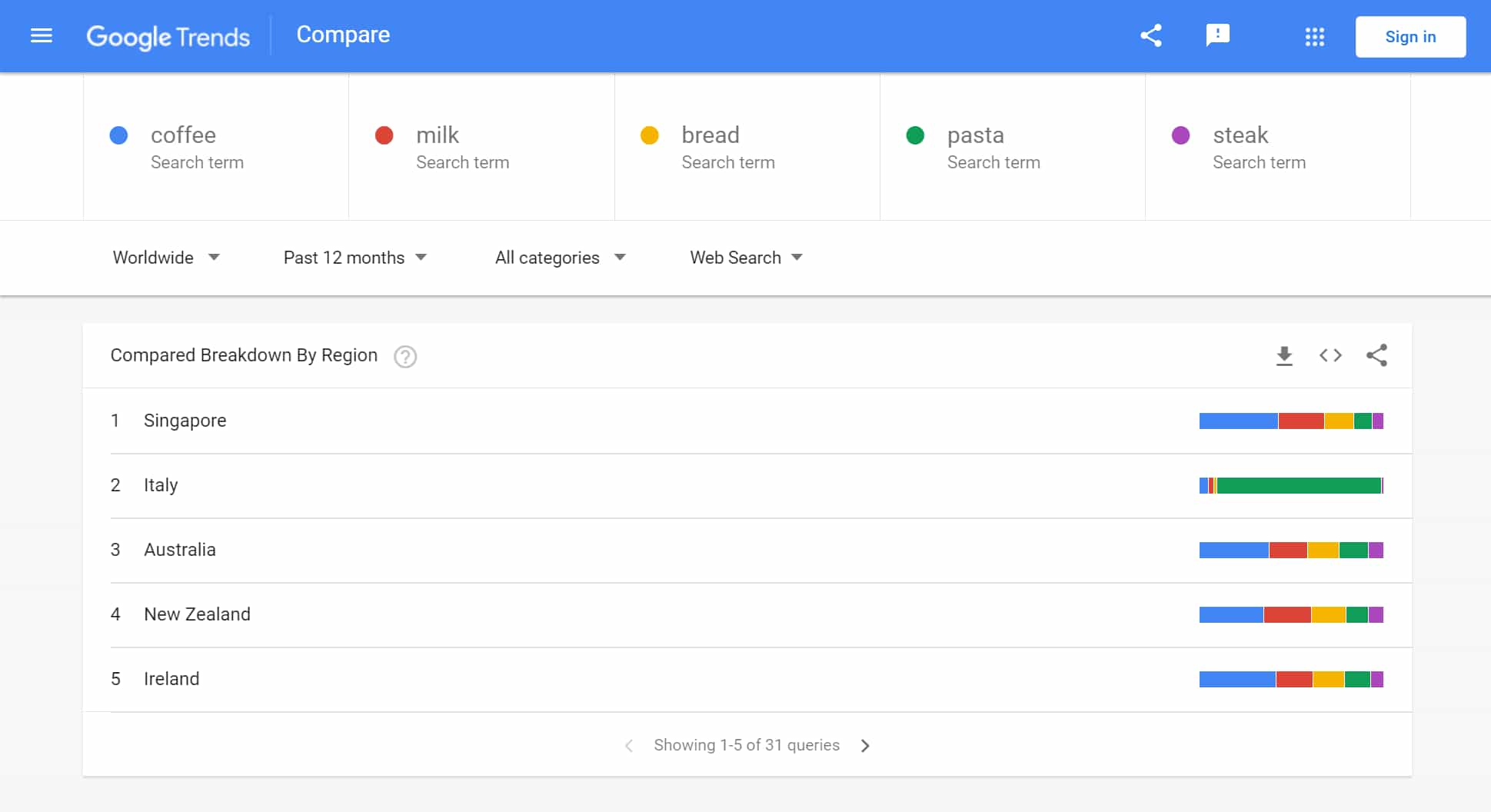 {
  "search_metadata": {
    "id": "628e1291de983400a5961cdc",
    "status": "Success",
    "json_endpoint": "https://serpapi.com/searches/c1bde9cbd0a44437/628e1291de983400a5961cdc.json",
    "created_at": "2022-05-25 11:27:13 UTC",
    "processed_at": "2022-05-25 11:27:14 UTC",
    "google_trends_url": "https://trends.google.com/trends/api/explore?tz=420&req=%7B%22comparisonItem%22%3A%5B%7B%22keyword%22%3A%22coffee%22%2C%22geo%22%3A%22%22%2C%22time%22%3A%22today+12-m%22%7D%2C%7B%22keyword%22%3A%22milk%22%2C%22geo%22%3A%22%22%2C%22time%22%3A%22today+12-m%22%7D%2C%7B%22keyword%22%3A%22bread%22%2C%22geo%22%3A%22%22%2C%22time%22%3A%22today+12-m%22%7D%2C%7B%22keyword%22%3A%22pasta%22%2C%22geo%22%3A%22%22%2C%22time%22%3A%22today+12-m%22%7D%2C%7B%22keyword%22%3A%22steak%22%2C%22geo%22%3A%22%22%2C%22time%22%3A%22today+12-m%22%7D%5D%2C%22category%22%3A0%2C%22property%22%3A%22%22%7D",
    "raw_html_file": "https://serpapi.com/searches/c1bde9cbd0a44437/628e1291de983400a5961cdc.html",
    "prettify_html_file": "https://serpapi.com/searches/c1bde9cbd0a44437/628e1291de983400a5961cdc.prettify",
    "total_time_taken": 1.73
  },
  "search_parameters": {
    "engine": "google_trends",
    "q": "coffee,milk,bread,pasta,steak",
    "date": "today 12-m",
    "tz": "420",
    "data_type": "GEO_MAP"
  },
  "compared_breakdown_by_region": [
    {
      "geo": "SG",
      "location": "Singapore",
      "max_value_index": 0,
      "values": [
        {
          "query": "coffee",
          "value": "43%",
          "extracted_value": 43
        },
        {
          "query": "milk",
          "value": "25%",
          "extracted_value": 25
        },
        {
          "query": "bread",
          "value": "16%",
          "extracted_value": 16
        },
        ...
      ]
    },
    {
      "geo": "IT",
      "location": "Italy",
      "max_value_index": 3,
      "values": [
        {
          "query": "coffee",
          "value": "5%",
          "extracted_value": 5
        },
        {
          "query": "milk",
          "value": "3%",
          "extracted_value": 3
        },
        {
          "query": "bread",
          "value": "2%",
          "extracted_value": 2
        },
        ...
      ]
    },
    {
      "geo": "AU",
      "location": "Australia",
      "max_value_index": 0,
      "values": [
        {
          "query": "coffee",
          "value": "38%",
          "extracted_value": 38
        },
        {
          "query": "milk",
          "value": "21%",
          "extracted_value": 21
        },
        {
          "query": "bread",
          "value": "17%",
          "extracted_value": 17
        },
        ...
      ]
    },
    ...
  ]
}

Interest by region chart with
q

: coffee and

data_type

: GEO_MAP_0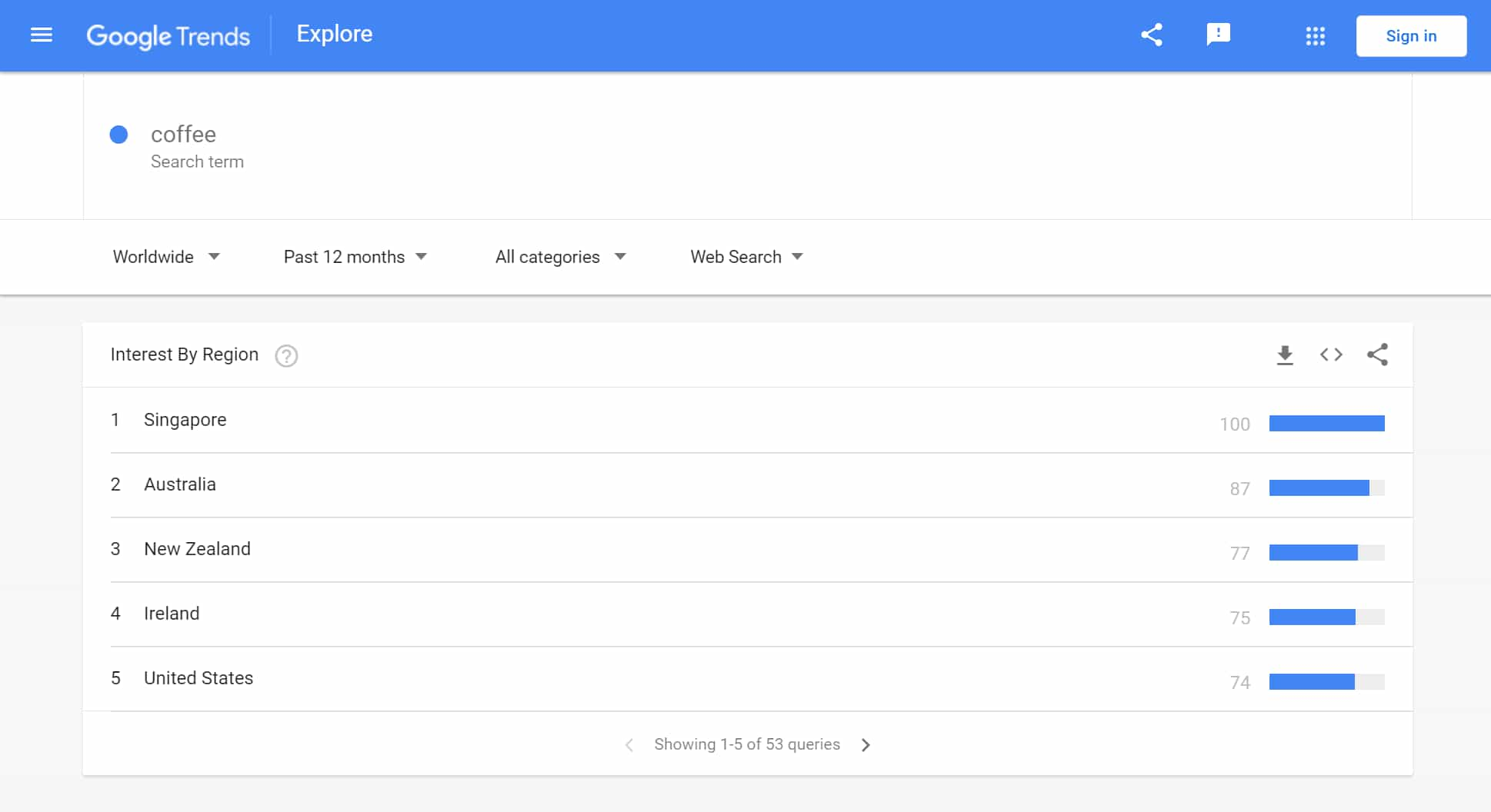 {
  "search_metadata": {
    "id": "628e13d2de983400a5961cdf",
    "status": "Success",
    "json_endpoint": "https://serpapi.com/searches/15f6e17aed843e35/628e13d2de983400a5961cdf.json",
    "created_at": "2022-05-25 11:32:34 UTC",
    "processed_at": "2022-05-25 11:32:34 UTC",
    "google_trends_url": "https://trends.google.com/trends/api/explore?tz=420&req=%7B%22comparisonItem%22%3A%5B%7B%22keyword%22%3A%22coffee%22%2C%22geo%22%3A%22%22%2C%22time%22%3A%22today+12-m%22%7D%5D%2C%22category%22%3A0%2C%22property%22%3A%22%22%7D",
    "raw_html_file": "https://serpapi.com/searches/15f6e17aed843e35/628e13d2de983400a5961cdf.html",
    "prettify_html_file": "https://serpapi.com/searches/15f6e17aed843e35/628e13d2de983400a5961cdf.prettify",
    "total_time_taken": 1.85
  },
  "search_parameters": {
    "engine": "google_trends",
    "q": "coffee",
    "date": "today 12-m",
    "tz": "420",
    "data_type": "GEO_MAP_0"
  },
  "interest_by_region": [
    {
      "geo": "SG",
      "location": "Singapore",
      "max_value_index": 0,
      "value": "100",
      "extracted_value": 100
    },
    {
      "geo": "AU",
      "location": "Australia",
      "max_value_index": 0,
      "value": "87",
      "extracted_value": 87
    },
    {
      "geo": "NZ",
      "location": "New Zealand",
      "max_value_index": 0,
      "value": "77",
      "extracted_value": 77
    },
    ...
  ]
}