Yahoo! Ad Results API
When a Yahoo! search contains advertisements, they are parsed and exist within the ads_results array in the JSON output. Advertisements can optionally contain button and site links (inline or expanded site links).
API Examples
Ads results overview
When SerpApi encounters ads results, we add them to our JSON output as the array ads_results. For each ads result, we are able to extract its position, title, link, displayed_link, snippet.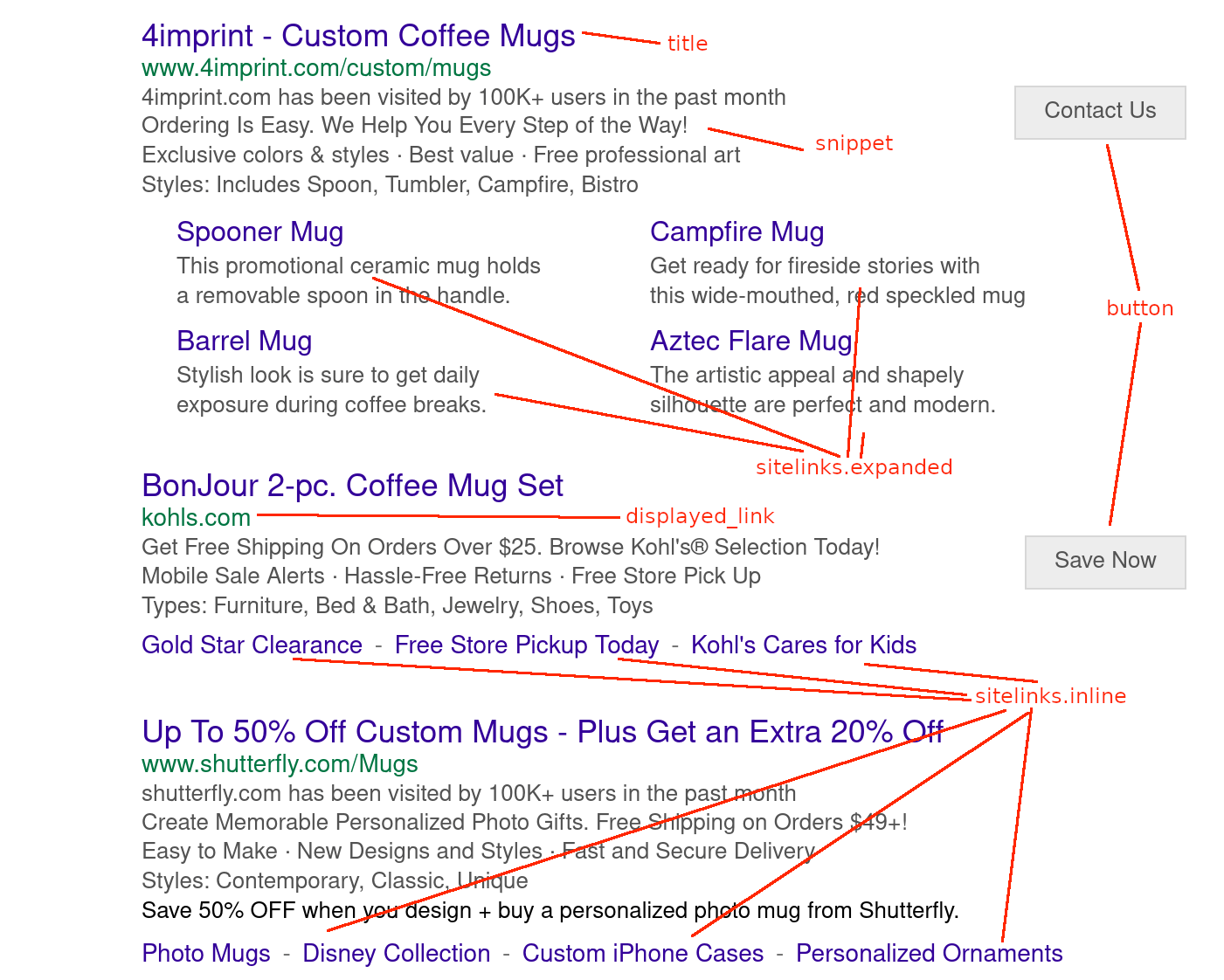 {
  ...
  "ads_results": [
    {
      "position": 8,
      "block_position": "bottom",
      "title": "Personalized Coffee Mugs & Tea Cups at Things Remembered",
      "link": "https://www.bing.com/aclick?ld=e3A3L8cH6D8PkUSc66KOWgLzVUCUxGy5KH2BeX8gKxpcGa8XZHxn4srmsFugIKQqrLCsY4Fs8EY0et5ucbdU4zr1M6-LshfxxIIJkFOJAYuMYJCKVsQmIWdNwmd9uLYefuqrQDz0K6xtkeL06IhQIb04pIbQ4I5fKTM6JnWVku-nIW-V05&u=aHR0cHMlM2ElMmYlMmYxMTMueGc0a2VuLmNvbSUyZnRyayUyZnYxJTNmcHJvZiUzZDczMyUyNmNhbXAlM2Q3ODI5MzYlMjZrY3QlM2Rtc24lMjZrY2hpZCUzZDE1MDMzNDU4MSUyNmNyaXRlcmlhaWQlM2RkYXQtMjMzNDgxMjk0MTYwODQwMSUzYWxvYy05MCUyNmNhbXBhaWduaWQlM2QzNTk3Nzk4MzElMjZsb2NwaHklM2QxNjYzJTI2YWRncm91cGlkJTNkMTMyODIxMDk4MDgyODA0NiUyNmNpZCUzZDgzMDEzMzM1MzczOTM5JTI2a2R2JTNkYyUyNmtleHQlM2QlMjZrcGclM2QlMjZrcGlkJTNkJTI2cXVlcnlTdHIlM2Rjb2ZmZWUlMjUyMG11ZyUyNnVybCUzZGh0dHBzJTNhJTJmJTJmd3d3LnRoaW5nc3JlbWVtYmVyZWQuY29tJTJmcGVyc29uYWxpemVkLWNvZmZlZS1tdWdzLXRlYS1jdXBzJTJmY2F0ZWdvcnklMmZjb2ZmZWUtbXVncy10ZWEtY3VwcyUzZnJtc3JjJTNkMSUyNmZjcmVmJTNkYmluZ3Nob3Bfbm9uJTI2cm1hdHQlM2R0c2lkJTNhMTA5MjU3MyU3Y2NpZCUzYTM1OTc3OTgzMSU3Y2FnaWQlM2ExMzI4MjEwOTgwODI4MDQ2JTdjdGlkJTNhZGF0LTIzMzQ4MTI5NDE2MDg0MDElM2Fsb2MtOTAlN2NwcmQlM2ElN2NjcmlkJTNhODMwMTMzMzUzNzM5MzklN2NudyUzYXNlYXJjaCU3Y2R2YyUzYWMlN2NzdCUzYWNvZmZlZSUyNTIwbXVnJTdjbXQlM2FiYiUyNm1zY2xraWQlM2Q1MWY2NTg1YTFmNWMxZWY1Y2Q4ZTA1OGYwMTE4NTE4Yg&rlid=51f6585a1f5c1ef5cd8e058f0118518b",
      "displayed_link": "thingsremembered.com/Official/BOGO",
      "snippet": "thingsremembered.com has been visited by 10K+ users in the past month. Wonder is Personal. Bring Holiday Magic with Personalized Gifts & Home Décor. Shop Our Limited Time Sale and BOGO 75% Off Custom Gifts Today! Personalization Experts · Timeless Gifts For All"
    }
  ]
  ...
}

Results for: Inline Sitelinks

{
  ...
  "ads_results": [
    {
      "position": 2,
      "block_position": "top",
      "title": "Up to 70% Off Photo Gifts - Custom Photo Gifts",
      "link": "https://www.bing.com/aclick?ld=e3f_XPSInhxHPF1QuUdfKRxTVUCUxagbTWoFkCVfGN6y1vwdEYr6rAHKsMOAQm07VTjn7AJswqmqE5yYijUwc97w0IcdIbR1Z4xShU2nb5k-sH_QVKHr2adQgtC8HZOhtfblpKfMHqScOhDFHRlhXcWv3k2c8okG-XpkBha2eVi4oXfzV0&u=aHR0cCUzYSUyZiUyZmNsaWNrc2VydmUuZGFydHNlYXJjaC5uZXQlMmZsaW5rJTJmY2xpY2slM2ZsaWQlM2Q0MzcwMDA0MTg5MTYyMTg5MiUyNmRzX3Nfa3dnaWQlM2Q1ODcwMDAwNDg2MDYyNTgxOSUyNiUyNmRzX2VfYWRpZCUzZDc1ODY2NDA2MjE5NTkxJTI2ZHNfZV90YXJnZXRfaWQlM2Rrd2QtNzU4NjY1MTk5NDcyNzMlM2Fsb2MtOTAlMjYlMjZkc191cmxfdiUzZDIlMjZkc19kZXN0X3VybCUzZGh0dHBzJTNhJTJmJTJmd3d3LnNuYXBmaXNoLmNvbSUyZnBob3RvLWdpZnRzJTNmQ0lEJTNkdXMlN2NzZW0lN2MlNWIqRW5naW5lQWNjb3VudFR5cGUqJTVkJTdjc2YlN2MlNWIqQ2FtcGFpZ24qJTVkJTdjYWxsJTdjb3RoJTdjJTViKnNlYXJjaHRlcm0qJTVkJTI2bXNjbGtpZCUzZDMxMGMzYmY5MDhjZjFlMjg5ZGM2NjYyYzE2OGI5NjA4&rlid=310c3bf908cf1e289dc6662c168b9608",
      "displayed_link": "www.snapfish.com/Photo/Gift",
      "snippet": "Shop Now. Make Custom Photo Gifts, Mugs, Ornaments & More. Great Prices. Free Shipping $29+. Create the Perfect Gift! View our Favorites & Shop Today. Learn What's New · Free Shipping-Orders $29+ · Make a Beautiful Gift. Types: Photo Mugs, Phone Cases, Photo Blankets, Photo Luggage Tag. The Best Place to Print Photos - Digital Trends",
      "sitelinks": {
        "inline": [
          {
            "title": "Free Shipping Over $29",
            "link": "https://r.search.yahoo.com/cbclk2/dWU9RDgwNkQ4QzM0NjY3NDFDNiZ1dD0xNTc0MjQ4MDAzOTIzJnVvPTc1ODY2NDA2MjE5NTkxJmx0PTImcz0xJmVzPTRNLlZ2b1FHUFM4OGpOWTNkYkVXc082cnRXX3d6X0lsV0E0VkdVRzE1YlJ2NDVURA--/RV=2/RE=1574276804/RO=10/RU=https%3a%2f%2fwww.bing.com%2faclick%3fld%3de359s5zz2nltzMmcU7bOFbujVUCUyVlBPA4TRzxFl7pVqZ5Qv-Zh6aLJKuu3I6dvFK_nNoAvxyIGKLvZaMTiAfFZ6EJaEaXkhJSwxhgPaShCFfjuZRenWRFRendOPLLaetZl2oskYM88NElZmVbDFlLEe4a8qHTntZ7rTfvsvdtNiGraRw%26u%3daHR0cCUzYSUyZiUyZmNsaWNrc2VydmUuZGFydHNlYXJjaC5uZXQlMmZsaW5rJTJmY2xpY2slM2ZsaWQlM2Q0MzcwMDA0MTg5MTYyMTg5MiUyNmRzX3Nfa3dnaWQlM2Q1ODcwMDAwNDg2MDYyNTgxOSUyNmRzX3hfYWR4aWQlM2Q4MzcwMDAwMjIwMzc3MTYwNiUyNmRzX3hfYWR4dHlwZSUzZDElMjZkc19lX2FkaWQlM2Q3NTg2NjQwNjIxOTU5MSUyNmRzX2VfdGFyZ2V0X2lkJTNka3dkLTc1ODY2NTE5OTQ3MjczJTNhbG9jLTkwJTI2JTI2ZHNfdXJsX3YlM2QyJTI2ZHNfZGVzdF91cmwlM2RodHRwcyUzYSUyZiUyZnd3dy5zbmFwZmlzaC5jb20lMmZzbmFwZmlzaC1jb3Vwb25zJTNmY2lkJTNkdXMlN2NzZW0lN2NvdGglN2NibmclN2Nub24tYnJhbmQtY3Jkcy1mcmVlc2hpcC1lbmhuLXNsLXRoeHMlN2N3ZWIlN2Nub24lN2NzaXRlJTI2Q0lEJTNkdXMlN2NzZW0lN2MlNWIqRW5naW5lQWNjb3VudFR5cGUqJTVkJTdjc2YlN2MlNWIqQ2FtcGFpZ24qJTVkJTdjYWxsJTdjb3RoJTdjJTViKnNlYXJjaHRlcm0qJTVkJTI2bXNjbGtpZCUzZGUzYzQ2MDFmY2ZlZTFmZWI1NTQyM2RjYWQxYWE4M2Iy%26rlid%3de3c4601fcfee1feb55423dcad1aa83b2/RK=2/RS=uAlzYiaI7Jjk1V9IHGsN8dUwh0w-%3b_ylc=cnQDMQ--;_ylt=A2KIbMpDHtVd7VQAjV9XNyoA;_ylu=X3oDMTB2cTMwMWo5BGNvbG8DYmYxBHBvcwMyBHZ0aWQDBHNlYwNvdi10b3A-?p=coffee+mug&IG=62886ccaf02b49f0b6000000000f5e7e"
          },
          {
            "title": "Create Your Custom Gift",
            "link": "https://r.search.yahoo.com/cbclk2/dWU9RDgwNkQ4QzM0NjY3NDFDNiZ1dD0xNTc0MjQ4MDAzOTIzJnVvPTc1ODY2NDA2MjE5NTkxJmx0PTImcz0xJmVzPTRNLlZ2b1FHUFM4OGpOWTNkYkVXc082cnRXX3d6X0lsV0E0VkdVRzE1YlJ2NDVURA--/RV=2/RE=1574276804/RO=10/RU=https%3a%2f%2fwww.bing.com%2faclick%3fld%3de3dCqTOJwgfVdl_l-AVtnWXTVUCUyCvNDEKMOvwpIEriDEFekag3FxQVTHJxvU2q7Ay2hF5F1wFDIglSQ4Z8AoVArg3-nUbaL7UrroOE81J26RZ87PYthb8MhV54yts-tBf8AZaBjx3RCUF2pa3r_d8OYymlmVccq2cJ2T3ALKds7SYgsF%26u%3daHR0cCUzYSUyZiUyZmNsaWNrc2VydmUuZGFydHNlYXJjaC5uZXQlMmZsaW5rJTJmY2xpY2slM2ZsaWQlM2Q0MzcwMDA0MTg5MTYyMTg5MiUyNmRzX3Nfa3dnaWQlM2Q1ODcwMDAwNDg2MDYyNTgxOSUyNmRzX3hfYWR4aWQlM2Q4MzcwMDAwMjIwMzc3MTMyNCUyNmRzX3hfYWR4dHlwZSUzZDElMjZkc19lX2FkaWQlM2Q3NTg2NjQwNjIxOTU5MSUyNmRzX2VfdGFyZ2V0X2lkJTNka3dkLTc1ODY2NTE5OTQ3MjczJTNhbG9jLTkwJTI2JTI2ZHNfdXJsX3YlM2QyJTI2ZHNfZGVzdF91cmwlM2RodHRwcyUzYSUyZiUyZnd3dy5zbmFwZmlzaC5jb20lMmZ3YWxsLWNhbGVuZGFyLWRldGFpbHMlM2ZjaWQlM2R1cyU3Y3NlbSU3Y290aCU3Y2JuZyU3Y25vbi1icmFuZC1naWZ0LWVuaG4tc2wtY3JlYXRlJTdjd2ViJTdjbm9uJTdjc2l0ZSUyNkNJRCUzZHVzJTdjc2VtJTdjJTViKkVuZ2luZUFjY291bnRUeXBlKiU1ZCU3Y3NmJTdjJTViKkNhbXBhaWduKiU1ZCU3Y2FsbCU3Y290aCU3YyU1YipzZWFyY2h0ZXJtKiU1ZCUyNm1zY2xraWQlM2RlMzI1MWNhOWE1YzgxZTFiNTFkNjQxN2NiYjhjOTMyMg%26rlid%3de3251ca9a5c81e1b51d6417cbb8c9322/RK=2/RS=eg.RZYyLWgTahw6pLERANogUP9s-%3b_ylc=cnQDMQ--;_ylt=A2KIbMpDHtVd7VQAjl9XNyoA;_ylu=X3oDMTB2cTMwMWo5BGNvbG8DYmYxBHBvcwMyBHZ0aWQDBHNlYwNvdi10b3A-?p=coffee+mug&IG=62886ccaf02b49f0b6000000000f5e7e"
          },
          {
            "title": "Shop Our Best Sellers",
            "link": "https://r.search.yahoo.com/cbclk2/dWU9RDgwNkQ4QzM0NjY3NDFDNiZ1dD0xNTc0MjQ4MDAzOTIzJnVvPTc1ODY2NDA2MjE5NTkxJmx0PTImcz0xJmVzPTRNLlZ2b1FHUFM4OGpOWTNkYkVXc082cnRXX3d6X0lsV0E0VkdVRzE1YlJ2NDVURA--/RV=2/RE=1574276804/RO=10/RU=https%3a%2f%2fwww.bing.com%2faclick%3fld%3de3ddcjkhgOO7PICzR1SuX3NTVUCUwnBTkGpeGZGdNSVc8Yr73ghcw0D6VlIirAyqstVMfLah26Xjmha8HupxLuULTGxyZu--bEH0TVOjTfTjFQOMlZcHK2G-6u00OWHFyT5mRKWbspzFMMXwrUTfQiLiJikkmXE9QW_vSuPJ2H3hEGvQXR%26u%3daHR0cCUzYSUyZiUyZmNsaWNrc2VydmUuZGFydHNlYXJjaC5uZXQlMmZsaW5rJTJmY2xpY2slM2ZsaWQlM2Q0MzcwMDA0MTg5MTYyMTg5MiUyNmRzX3Nfa3dnaWQlM2Q1ODcwMDAwNDg2MDYyNTgxOSUyNmRzX3hfYWR4aWQlM2Q4MzcwMDAwMjIwMzc3MTMxOCUyNmRzX3hfYWR4dHlwZSUzZDElMjZkc19lX2FkaWQlM2Q3NTg2NjQwNjIxOTU5MSUyNmRzX2VfdGFyZ2V0X2lkJTNka3dkLTc1ODY2NTE5OTQ3MjczJTNhbG9jLTkwJTI2JTI2ZHNfdXJsX3YlM2QyJTI2ZHNfZGVzdF91cmwlM2RodHRwcyUzYSUyZiUyZnd3dy5zbmFwZmlzaC5jb20lMmZiZXN0c2VsbGVycyUzZmNpZCUzZHVzJTdjc2VtJTdjb3RoJTdjYm5nJTdjYnJhbmQtZ2lmdC1lbmhuLXNsLWJlc3RzbHIlN2N3ZWIlN2Nub24lN2NzaXRlJTI2Q0lEJTNkdXMlN2NzZW0lN2MlNWIqRW5naW5lQWNjb3VudFR5cGUqJTVkJTdjc2YlN2MlNWIqQ2FtcGFpZ24qJTVkJTdjYWxsJTdjb3RoJTdjJTViKnNlYXJjaHRlcm0qJTVkJTI2bXNjbGtpZCUzZDhlYzliNmIyZjcwNzFlNDQxNmNjZWI2N2U5NDNiZmI1%26rlid%3d8ec9b6b2f7071e4416cceb67e943bfb5/RK=2/RS=vZh0kOY63raqhpjSUgjb0FSIMag-%3b_ylc=cnQDMQ--;_ylt=A2KIbMpDHtVd7VQAj19XNyoA;_ylu=X3oDMTB2cTMwMWo5BGNvbG8DYmYxBHBvcwMyBHZ0aWQDBHNlYwNvdi10b3A-?p=coffee+mug&IG=62886ccaf02b49f0b6000000000f5e7e"
          },
          ...
        ]
      },
      "button": {
        "text": "Shop Now",
        "link": "https://r.search.yahoo.com/cbclk2/dWU9RDgwNkQ4QzM0NjY3NDFDNiZ1dD0xNTc0MjQ4MDAzOTIzJnVvPTc1ODY2NDA2MjE5NTkxJmx0PTImcz0xJmVzPTRNLlZ2b1FHUFM4OGpOWTNkYkVXc082cnRXX3d6X0lsV0E0VkdVRzE1YlJ2NDVURA--/RV=2/RE=1574276804/RO=10/RU=https%3a%2f%2fwww.bing.com%2faclick%3fld%3de3wKpQTwUiWZ1SWePlwj7P0TVUCUzjA606O6QKfjWaNVaaDGnSc5AL_XcuF5e6WlPUQln5SGOqrYa4BMJa3UfgWPOrxDdIgOx9GxC9zkdErunJWxlNf21o7txVY6qlPVBWOozM0tmM6nKG6It-XkenCUN8PRFvPu_ur-yUzI2KWlOMIZrWmTlYU2Gf5rZEZvpPZY_ZjA%26u%3daHR0cCUzYSUyZiUyZmNsaWNrc2VydmUuZGFydHNlYXJjaC5uZXQlMmZsaW5rJTJmY2xpY2slM2ZsaWQlM2Q0MzcwMDA0MTg5MTYyMTg5MiUyNmRzX3Nfa3dnaWQlM2Q1ODcwMDAwNDg2MDYyNTgxOSUyNiUyNmRzX2VfYWRpZCUzZDc1ODY2NDA2MjE5NTkxJTI2ZHNfZV90YXJnZXRfaWQlM2Rrd2QtNzU4NjY1MTk5NDcyNzMlM2Fsb2MtOTAlMjYlMjZkc191cmxfdiUzZDIlMjZkc19kZXN0X3VybCUzZGh0dHBzJTNhJTJmJTJmd3d3LnNuYXBmaXNoLmNvbSUyZnNuYXBmaXNoLWNvdXBvbnMlM2ZjaWQlM2R1cyU3Y3NlbSU3Y290aCU3Y2JuZyU3Y2FjdGlvbmV4dCU3Y3dlYiU3Y25vbiU3Y3NpdGUlMjZDSUQlM2R1cyU3Y3NlbSU3YyU1YipFbmdpbmVBY2NvdW50VHlwZSolNWQlN2NzZiU3YyU1YipDYW1wYWlnbiolNWQlN2NhbGwlN2NvdGglN2MlNWIqc2VhcmNodGVybSolNWQlMjZtc2Nsa2lkJTNkODE1YjkyNjZmYmU0MWU2OTFlZGZjZmIzZTVhMDliMWY%26rlid%3d815b9266fbe41e691edfcfb3e5a09b1f/RK=2/RS=eh9McR4EcneisB9dYN8fluCn55E-%3b_ylc=cnQDMQ--;_ylt=A2KIbMpDHtVd7VQAiF9XNyoA;_ylu=X3oDMTB2cTMwMWo5BGNvbG8DYmYxBHBvcwMyBHZ0aWQDBHNlYwNvdi10b3A-?p=coffee+mug&IG=62886ccaf02b49f0b6000000000f5e7e"
      }
    }
  ]
  ...
}

Results for: Expanded Sitelinks

{
  ...
  "ads_results": [
    {
      "position": 6,
      "block_position": "bottom",
      "title": "Order Promotional Products - Free Samples. Expert Service!",
      "link": "https://www.bing.com/aclick?ld=e3-MtbAlvmT8JqzOEXaDZ5WzVUCUxbRnATuUOdTld1hQPo6HKBV3xssW1JBz3crBjO-W-cZoXD375XS6LIdgrDN6Es_kmLe0LFZM-xUOW16sO4Z3pbbyXvB0buOQedCGfKRZ5bye-yonREJoFUmos1iY-jifEjDCBpDFKO_7J0_63Klqth&u=aHR0cCUzYSUyZiUyZnBpeGVsLmV2ZXJlc3R0ZWNoLm5ldCUyZjQxNjclMmZjcSUzZmV2X3NpZCUzZDEwJTI2ZXZfbHR4JTNkJTI2ZXZfbHglM2Rrd2QtNzMzMjM3NzIzOTE1NzQlM2Fsb2MtOTAlMjZldl9jcnglM2Q3MzMyMzczNzc4Mjc2NCUyNmV2X210JTNkZSUyNmV2X2R2YyUzZGMlMjZldl9waHklM2QxNjYzJTI2ZXZfbG9jJTNkJTI2ZXZfY3glM2Q1MjE2NjE5NiUyNmV2X2F4JTNkMTc3MTQ2NzU2OSUyNmV2X2V4JTNkJTI2dXJsJTNkaHR0cHMlMjUzQSUyNTJGJTI1MkZ3d3cuNGltcHJpbnQuY29tJTI1MkYlMjUzRm1raWQlMjUzRDM0aTNfMDJfMDAxJTI1MjZ1dG1fc291cmNlJTI1M0RiaW5nJTI1MjZ1dG1fbWVkaXVtJTI1M0RjcGMlMjUyNnV0bV90ZXJtJTI1M0RkaXNjb3VudCUyNTI1MjBtdWdzJTI1MjUyMGNvdXBvbiUyNTI1MjBjb2RlJTI1MjZ1dG1fY2FtcGFpZ24lMjUzREdlbl9VU19Db21wZXRpdGlvbiUyYkJpbmclMjUyNnNfa3djaWQlMjUzREFMITQxNjchMTAhNzMzMjM3Mzc3ODI3NjQhNzMzMjM3NzIzOTE1NzQlMjZtc2Nsa2lkJTNkZmExNTVhYjNkODYzMWZkODQzZmQwNzY2YzYyN2E3ZTMlMjZ1dG1fc291cmNlJTNkYmluZyUyNnV0bV9tZWRpdW0lM2RjcGMlMjZ1dG1fY2FtcGFpZ24lM2RHZW5fVVNfQ29tcGV0aXRpb24lMjZ1dG1fdGVybSUzZGRpc2NvdW50JTI1MjBtdWdzJTI1MjBjb3Vwb24lMjUyMGNvZGUlMjZ1dG1fY29udGVudCUzZENvbXBldGl0aW9u&rlid=fa155ab3d8631fd843fd0766c627a7e3",
      "displayed_link": "www.4imprint.com",
      "snippet": "Sale. 4imprint.com has been visited by 100K+ users in the past month. 1000's of Products Printed with Your Logo. Ships On-Time Guaranteed.",
      "sitelinks": {
        "expanded": [
          {
            "title": "Wedding Outside Ideas",
            "link": "https://r.search.yahoo.com/cbclk2/dWU9NTU2MDMzQkMzQjdCNDQ1RSZ1dD0xNjYxMzkzNzQxODUxJnVvPTgzODM3OTgyNzUwOTI4Jmx0PTImcz0xJmVzPVZtV0pVbHdHUFM4MGFvZGRiZ1UyUTNlUHMwVjE5TThTLlZuaWlnV0N3bjEwbE5tVw--/RV=2/RE=1661422542/RO=10/RU=https%3a%2f%2fwww.bing.com%2faclick%3fld%3de8x1KSpiOyNu5YX4WGs-UqPTVUCUxZHb8sjoFVVa8pEBZcM32CqX-lKzYNEeoEOmH1gzH-PG78qso6FIasxnWjPZCFDZbMvFEV2wstg83bWfW4glgq6NRoA7rNdVJmnjBw1_XNYz9JAytlYfKuQoLv7IYtTfT4QIGX4GmXXuZNUidmW01f247pP8TYTFNfmV9y1YkXACWA9dm14qFMslsp0JH8MLY%26u%3daHR0cHMlM2ElMmYlMmZ3d3cuYW1hem9uLmNvbSUyZnMlMmYlM2ZpZSUzZFVURjglMjZrZXl3b3JkcyUzZHdlZGRpbmclMmJvdXRzaWRlJTJiaWRlYXMlMjZpbmRleCUzZGFwcw%26rlid%3d93c908274404188e1dee6b219f4a2274/RK=2/RS=hLtN_fn8elwrdRYAQ1H40QVL7M0-;_ylt=Awr9F7BN2wZjYPwAlwlXNyoA;_ylu=Y29sbwNncTEEcG9zAzEEdnRpZAMEc2VjA292LXRvcA--?IG=0afd17b0978140039d00000000207b5e",
            "snippet": "Get Inspired By Unique Wedding\nOutside Ideas For Your Big Day."
          },
          {
            "title": "Shop Now",
            "link": "https://r.search.yahoo.com/cbclk2/dWU9NTU2MDMzQkMzQjdCNDQ1RSZ1dD0xNjYxMzkzNzQxODUxJnVvPTgzODM3OTgyNzUwOTI4Jmx0PTImcz0xJmVzPVZtV0pVbHdHUFM4MGFvZGRiZ1UyUTNlUHMwVjE5TThTLlZuaWlnV0N3bjEwbE5tVw--/RV=2/RE=1661422542/RO=10/RU=https%3a%2f%2fwww.bing.com%2faclick%3fld%3de8VEL6sG1fAHdMrjxFp_OabzVUCUyejq-tZeAaf-E1KBzocQETR6gYmN4DxO64KVCsCbuUWKzxMoApW_uyGZEJ8OY0TSoWw61sNvhmy6GSgGPlrc8_upZcA00jluKXeDjx-ar5AB_1UjZv9jYrDs_Nj526Vvk3RSmgXTCxnOHzz4_ww5gyu3Ta5MLZLfnt6NiuVx_YDdSipWcxVqMLUI-uzTUNJGQ%26u%3daHR0cHMlM2ElMmYlMmYlMmZhbWF6b24uY29tJTJmc3RvcmVzJTJmcGFnZSUyZkI1RjFDOUEwLUZENDYtNDczMi1CQjkzLUZFMjJDRERCQjUzQg%26rlid%3da46be14ad8d01b2123a7824c039e221d/RK=2/RS=eT64hAnGHnw9mfpYwrp0PX7b35w-;_ylt=Awr9F7BN2wZjYPwAmAlXNyoA;_ylu=Y29sbwNncTEEcG9zAzEEdnRpZAMEc2VjA292LXRvcA--?IG=0afd17b0978140039d00000000207b5e",
            "snippet": "Choose From A Wide Variety Of\nProducts To Suit Your Needs."
          },
          {
            "title": "Guillotine Paper Cutter",
            "link": "https://r.search.yahoo.com/cbclk2/dWU9NTU2MDMzQkMzQjdCNDQ1RSZ1dD0xNjYxMzkzNzQxODUxJnVvPTgzODM3OTgyNzUwOTI4Jmx0PTImcz0xJmVzPVZtV0pVbHdHUFM4MGFvZGRiZ1UyUTNlUHMwVjE5TThTLlZuaWlnV0N3bjEwbE5tVw--/RV=2/RE=1661422542/RO=10/RU=https%3a%2f%2fwww.bing.com%2faclick%3fld%3de8V5Xdfpo8973X0jhgsrHINjVUCUxdqr2bBofbSro84RBP5kfGSWVzJOGDbfWdJs9ZJaWLZaY66essmJ4kjxwrk3OLVy5X-fehXbOtCa9WzFY1VTF-9qpmuPBQLIokEIE2hsUuJ13wLg5qaoDKeXD6DkD6hoAcbsvyh31KNGuFG5aQepHqeOArmu30mJCAuDjTHIXdN1CcHFO5cRbZm3Mld3N3zKw%26u%3daHR0cHMlM2ElMmYlMmZ3d3cuYW1hem9uLmNvbSUyZmJlc3QtZ3VpbGxvdGluZS1wYXBlci1jdXR0ZXIlMmZzJTNmayUzZGJlc3QlMmJndWlsbG90aW5lJTJicGFwZXIlMmJjdXR0ZXI%26rlid%3d4bfa8b36b7721655f4f3e8306c3c9d2a/RK=2/RS=mFhKszXuuApbI8xsxWpYhQiLY5w-;_ylt=Awr9F7BN2wZjYPwAmQlXNyoA;_ylu=Y29sbwNncTEEcG9zAzEEdnRpZAMEc2VjA292LXRvcA--?IG=0afd17b0978140039d00000000207b5e",
            "snippet": "Find Deals on best guillotine paper\ncutter in Office Supplies on ..."
          },
          ...
        ]
      },
      "button": {
        "text": "Sale",
        "link": "https://r.search.yahoo.com/cbclk2/dWU9RDgwNkQ4QzM0NjY3NDFDNiZ1dD0xNTc0MjQ4MDAzOTIzJnVvPTczMzIzNzM3NzgyNzY0Jmx0PTImcz0xJmVzPW9CM2NEQllHUFMuNzFBODRMYkJWSkRWSDBPeGlqLkphZFMzZEIzWDMyUGZLdC44RTdnLS0-/RV=2/RE=1574276804/RO=10/RU=https%3a%2f%2fwww.bing.com%2faclick%3fld%3de3ecrmdPCnq2xMvsixzPfiTjVUCUzn0hLiQcxId-gXXho03wpqfdmxqqtu3fDvi8QMwWpdb72EyxVPqukuYhdK2OPw2OVen-xK_UAfa5psM1B6h3pLOubbtvkWWUuSbsFr_veD9D5igAYNAYGeSFPXza0TZ2SWpzWlP3ohhkcMcrUnA6MmRVKcBfweuUbVboTr0DANEw%26u%3daHR0cCUzYSUyZiUyZnBpeGVsLmV2ZXJlc3R0ZWNoLm5ldCUyZjQxNjclMmZjcSUzZmV2X3NpZCUzZDEwJTI2ZXZfbHR4JTNkJTI2ZXZfbHglM2Rrd2QtNzMzMjM3NzIzOTE1NzQlM2Fsb2MtOTAlMjZldl9jcnglM2Q3MzMyMzczNzc4Mjc2NCUyNmV2X210JTNkZSUyNmV2X2R2YyUzZGMlMjZldl9waHklM2QxNjYzJTI2ZXZfbG9jJTNkJTI2ZXZfY3glM2Q1MjE2NjE5NiUyNmV2X2F4JTNkMTc3MTQ2NzU2OSUyNmV2X2V4JTNkJTI2dXJsJTNkaHR0cHMlMjUzQSUyNTJGJTI1MkZ3d3cuNGltcHJpbnQuY29tJTI1MkZzYWxlJTI1M0Zta2lkJTI1M0QzNGlfQWN0aW9uMDMlMjUyNnV0bV9zb3VyY2UlMjUzRGJpbmclMjUyNnV0bV9tZWRpdW0lMjUzRGNwYyUyNTI2dXRtX3Rlcm0lMjUzRGRpc2NvdW50JTI1MjUyMG11Z3MlMjUyNTIwY291cG9uJTI1MjUyMGNvZGUlMjUyNnV0bV9jYW1wYWlnbiUyNTNENGltcHJpbnQlMjUyNTIwQmluZyUyNTI2c19rd2NpZCUyNTNEQUwhNDE2NyExMCE3MzMyMzczNzc4Mjc2NCE3MzMyMzc3MjM5MTU3NCUyNm1zY2xraWQlM2Q1MjA4M2Q0M2JmOGMxYTIxZTdmODYwOTZhMWM4M2E5OCUyNnV0bV9zb3VyY2UlM2RiaW5nJTI2dXRtX21lZGl1bSUzZGNwYyUyNnV0bV9jYW1wYWlnbiUzZEdlbl9VU19Db21wZXRpdGlvbiUyNnV0bV90ZXJtJTNkZGlzY291bnQlMjUyMG11Z3MlMjUyMGNvdXBvbiUyNTIwY29kZSUyNnV0bV9jb250ZW50JTNkQ29tcGV0aXRpb24%26rlid%3d52083d43bf8c1a21e7f86096a1c83a98/RK=2/RS=PeW.b7JHlUt0wzuPFrt6zuMOjko-%3b_ylc=cnQDMQ--;_ylt=A2KIbMpDHtVd7VQA3F9XNyoA;_ylu=X3oDMTEyaDFtbTljBGNvbG8DYmYxBHBvcwMxBHZ0aWQDBHNlYwNvdi1ib3R0b20-?p=coffee+mug&IG=62886ccaf02b49f0b6000000000f5e7e"
      }
    }
  ]
  ...
}