Ebay Search Engine Results API
/search?engine=ebay API endpoint allows you to scrape the results from the Ebay search engine via our SerpApi service. Head to the playground for a live and interactive demo.
API Parameters
API Results
JSON Results
JSON output includes structured data for organic results and more.

A search status is accessible through search_metadata.status. It flows this way: Processing -> Success || Error. If a search has failed, error will contain an error message. search_metadata.id is the search ID inside SerpApi.
HTML Results
HTML output is useful to debug JSON results or support features not supported yet by SerpApi.
HTML output gives you the raw HTML results from Ebay.
API Examples
Example results for
_nkw

: Coffee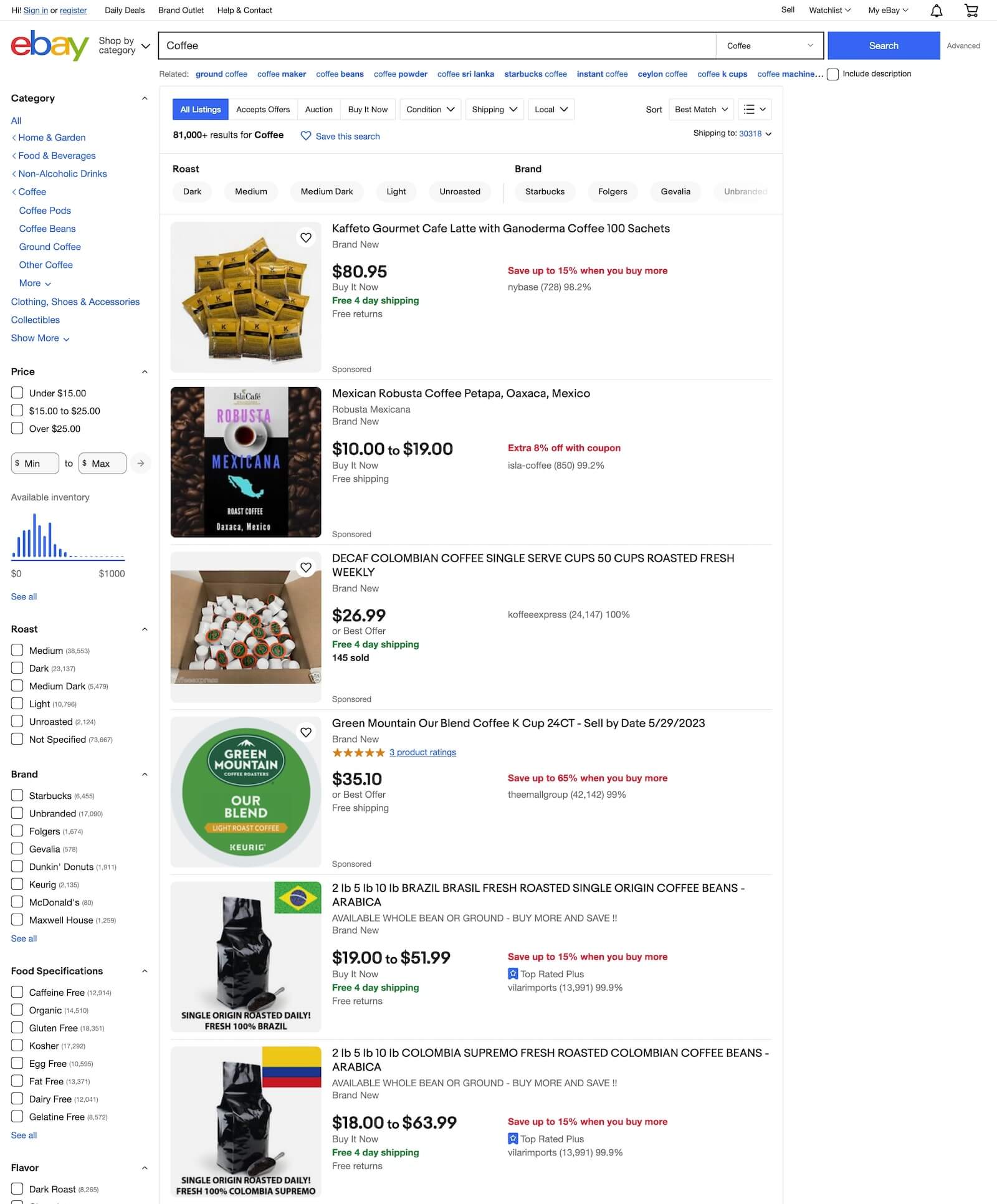 {
  "search_metadata": {
    "id": "643744bc7708441b6723c1fe",
    "status": "Success",
    "json_endpoint": "https://serpapi.com/searches/5cff5733649b98a5/643744bc7708441b6723c1fe.json",
    "created_at": "2023-04-12 23:54:36 UTC",
    "processed_at": "2023-04-12 23:54:36 UTC",
    "ebay_url": "https://www.ebay.com/sch/i.html?_nkw=Coffee",
    "raw_html_file": "https://serpapi.com/searches/5cff5733649b98a5/643744bc7708441b6723c1fe.html",
    "total_time_taken": 2.89
  },
  "search_parameters": {
    "engine": "ebay",
    "_nkw": "Coffee",
    "ebay_domain": "ebay.com"
  },
  "search_information": {
    "organic_results_state": "Results for exact spelling",
    "total_results": 81000,
    "query_displayed": "Coffee"
  },
  "categories": [
    {
      "name": "All"
    },
    {
      "name": "Home & Garden",
      "id": "11700"
    },
    {
      "name": "Food & Beverages",
      "id": "14308"
    },
    {
      "name": "Non-Alcoholic Drinks",
      "id": "185035"
    },
    ...
  ],
  "organic_results": [
    {
      "sponsored": true,
      "title": "Kaffeto Gourmet Cafe Latte with Ganoderma Coffee 100 Sachets",
      "link": "https://www.ebay.com/itm/255997789761?hash=item3b9aa84641:g:dqYAAOSwsJNkI3yO&amdata=enc%3AAQAHAAAAwPFCjHD1MC3Pc8%2Fq06WaEvu%2FWwOgjy5RhbTlph2rcwBQPbErAdTPhaIXQnAr32xRVArMiyEFj1xMUS%2Fb5Ta3%2BowDMj9YHSfx%2BA2k4mw%2F5hQZyuhWZRQ9vl3XM6f2aDFH02YHrv7pZwRZahgG8GhOflM%2BclScIoTXNAn2XpcX3yq8cPTrAeTMwrXza71ZDvXoZmYKuKPz7bNEHEVDchCAsX63HgbHKg2pR3rCPE%2BMdRU69hsEWhIoSs3MnNA5mQ4p9A%3D%3D%7Ctkp%3ABlBMUIqgpP7uYQ",
      "condition": "Brand New",
      "price": {
        "raw": "$80.95",
        "extracted": 80.95
      },
      "shipping": "Free 4 day shipping",
      "returns": "Free returns",
      "thumbnail": "https://i.ebayimg.com/thumbs/images/g/dqYAAOSwsJNkI3yO/s-l225.jpg",
      "promotion": "Save up to 15% when you buy more",
      "seller": {
        "username": "nybase",
        "reviews": 728,
        "positive_feedback_in_percentage": 98.2
      }
    },
    {
      "sponsored": true,
      "title": "Mexican Robusta Coffee Petapa, Oaxaca, Mexico",
      "subtitle": "Robusta Mexicana",
      "link": "https://www.ebay.com/itm/225343936313?var=524332194979&hash=item34778b9739:g:K2YAAOSwhd1jvgW2&amdata=enc%3AAQAHAAAAsO%2BFtqqFhX99xJJpRSTQymqf0rZNHTTsHImCApzZllq7TNESkG%2BkqSHXxj2d838WG8%2Frud6cAjpcDaQCad%2BWBeE5pZhG%2FFZuJ2it9fEW0fNV2wubDzhn9YHOx6H%2FJy3lIzn6YJ2dTMhiE0dlT%2FQ96KlchJCXt8MIyQjZwev7SYL2otQMdLbbzDdeQgfiq%2B3ZmLBSKAz2C0RegFijIv6qlB0EOFKdtkDryOMOCcpm%2Fuul%7Ctkp%3ABlBMUIqgpP7uYQ",
      "condition": "Brand New",
      "price": {
        "from": {
          "raw": "$10.00",
          "extracted": 10
        },
        "to": {
          "raw": "$19.00",
          "extracted": 19
        }
      },
      "shipping": "Free shipping",
      "thumbnail": "https://i.ebayimg.com/thumbs/images/g/K2YAAOSwhd1jvgW2/s-l225.jpg",
      "promotion": "Extra 8% off with coupon",
      "seller": {
        "username": "isla-coffee",
        "reviews": 850,
        "positive_feedback_in_percentage": 99.2
      }
    },
    {
      "sponsored": true,
      "title": "DECAF COLOMBIAN COFFEE SINGLE SERVE CUPS 50 CUPS ROASTED FRESH WEEKLY",
      "link": "https://www.ebay.com/itm/112362444611?hash=item1a2952d743:g:0m0AAOSwImRYUd3g&amdata=enc%3AAQAHAAAAwL0IgrKeaEZYkS0hfm%2BtaJw6%2FDp%2BtrAFzyckbb7ictjqg4XnZYn9SUfb%2BRAH2lqN5KJlIYIQmuX5jN%2FJiTY6riRGP8DvYus4TB21snvrrcnPePWd2JLyArOFcvm4TGlaqPh%2BrzrF0GIGqQC9ckuHwVfZxNbLswhFHKqIzP5cT3tsKJnWJWGtcjOCDkjyX3SvAI77sgAjkwxM0YoXy%2FrsX50EQ%2FBumJ0vNYNdgGtU7V7JKIX%2BiA%2BSRy%2BqvbpfOrxnhA%3D%3D%7Ctkp%3ABlBMUIqgpP7uYQ",
      "condition": "Brand New",
      "price": {
        "raw": "$26.99",
        "extracted": 26.99
      },
      "shipping": "Free 4 day shipping",
      "quantity_sold": "145 sold",
      "extracted_quantity_sold": 145,
      "thumbnail": "https://i.ebayimg.com/thumbs/images/g/0m0AAOSwImRYUd3g/s-l225.jpg",
      "seller": {
        "username": "koffeeexpress",
        "reviews": 24147,
        "positive_feedback_in_percentage": 100
      }
    },
    ...
  ],
  "related_searches": [
    {
      "query": "ground coffee",
      "link": "https://www.ebay.com/sch/i.html?_nkw=ground+coffee&_sop=12"
    },
    {
      "query": "coffee maker",
      "link": "https://www.ebay.com/sch/i.html?_nkw=coffee+maker&_sop=12"
    },
    {
      "query": "coffee beans",
      "link": "https://www.ebay.com/sch/i.html?_nkw=coffee+beans&_sop=12"
    },
    ...
  ],
  "pagination": {
    "current": 1,
    "next": "https://www.ebay.com/sch/i.html?_nkw=Coffee&_pgn=2",
    "other_pages": {
      "1": "https://www.ebay.com/sch/i.html?_nkw=Coffee&_pgn=1",
      "2": "https://www.ebay.com/sch/i.html?_nkw=Coffee&_pgn=2",
      "3": "https://www.ebay.com/sch/i.html?_nkw=Coffee&_pgn=3",
      "4": "https://www.ebay.com/sch/i.html?_nkw=Coffee&_pgn=4",
      "5": "https://www.ebay.com/sch/i.html?_nkw=Coffee&_pgn=5&rt=nc",
      "6": "https://www.ebay.com/sch/i.html?_nkw=Coffee&_pgn=6&rt=nc",
      "7": "https://www.ebay.com/sch/i.html?_nkw=Coffee&_pgn=7&rt=nc",
      "8": "https://www.ebay.com/sch/i.html?_nkw=Coffee&_pgn=8&rt=nc",
      "9": "https://www.ebay.com/sch/i.html?_nkw=Coffee&_pgn=9&rt=nc",
      "10": "https://www.ebay.com/sch/i.html?_nkw=Coffee&_pgn=10&rt=nc"
    }
  },
  "serpapi_pagination": {
    "current": 1,
    "next_link": "https://serpapi.com/search.json?_nkw=Coffee&_pgn=2&ebay_domain=ebay.com&engine=ebay",
    "next": "https://serpapi.com/search.json?_nkw=Coffee&_pgn=2&ebay_domain=ebay.com&engine=ebay",
    "other_pages": [
      "1": "https://serpapi.com/search.json?_nkw=Coffee&_pgn=1&ebay_domain=ebay.com&engine=ebay",
      "2": "https://serpapi.com/search.json?_nkw=Coffee&_pgn=2&ebay_domain=ebay.com&engine=ebay",
      "3": "https://serpapi.com/search.json?_nkw=Coffee&_pgn=3&ebay_domain=ebay.com&engine=ebay",
      "4": "https://serpapi.com/search.json?_nkw=Coffee&_pgn=4&ebay_domain=ebay.com&engine=ebay",
      "5": "https://serpapi.com/search.json?_nkw=Coffee&_pgn=5&ebay_domain=ebay.com&engine=ebay",
      "6": "https://serpapi.com/search.json?_nkw=Coffee&_pgn=6&ebay_domain=ebay.com&engine=ebay",
      "7": "https://serpapi.com/search.json?_nkw=Coffee&_pgn=7&ebay_domain=ebay.com&engine=ebay",
      "8": "https://serpapi.com/search.json?_nkw=Coffee&_pgn=8&ebay_domain=ebay.com&engine=ebay",
      "9": "https://serpapi.com/search.json?_nkw=Coffee&_pgn=9&ebay_domain=ebay.com&engine=ebay",
      "10": "https://serpapi.com/search.json?_nkw=Coffee&_pgn=10&ebay_domain=ebay.com&engine=ebay"
    ]
  }
}