Our DuckDuckGo Maps API allows you to scrape results from the DuckDuckGo Maps search page. The API is accessed through the following endpoint: /search?engine=duckduckgo_maps.

A user may query the following: https://serpapi.com/search?engine=duckduckgo_maps utilizing a GET request. Head to the playground for a live and interactive demo.
API Parameters
API Results
JSON Results
JSON output includes structured data for Local Results and Place results.

A search status is accessible through search_metadata.status. It flows this way: Processing -> Success || Error. If a search has failed, error will contain an error message. search_metadata.id is the search ID inside SerpApi.
HTML Results
This API does not have the HTML response, just a text. search_metadata.prettify_html_file contains prettified version of the result. It is displayed in the playground.
API Examples
Example with
q

: Coffee, and Austin, TX, US as a location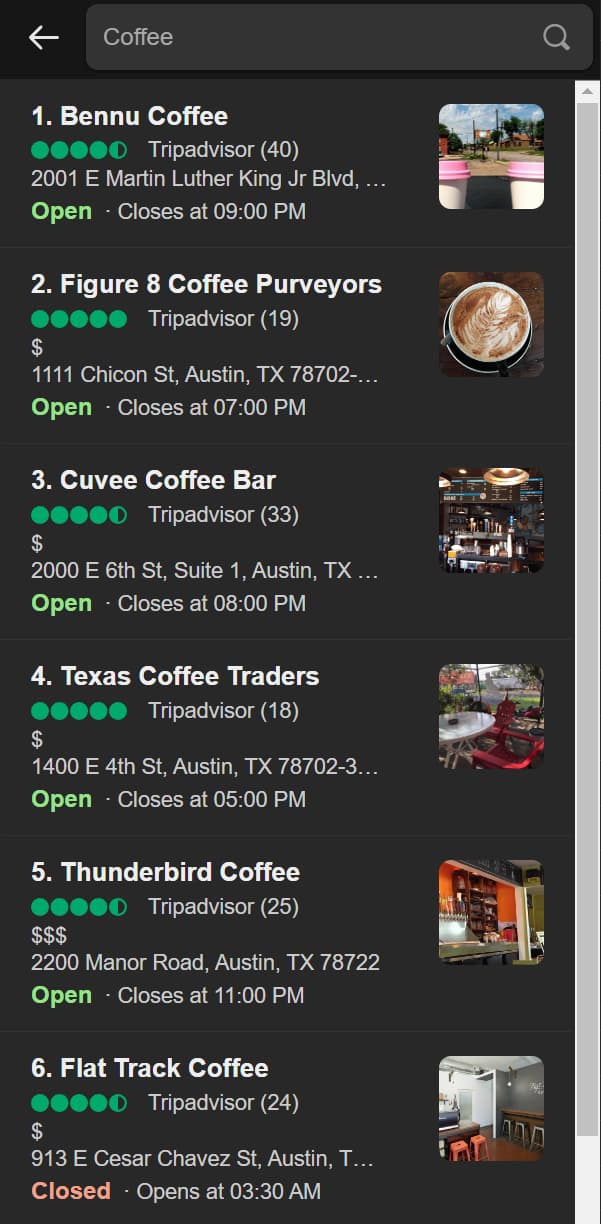 {
  "search_metadata": {
    "id": "64b546efde983403ef34d09e",
    "status": "Success",
    "json_endpoint": "https://serpapi.com/searches/dcb7d03d18fd6bd5/64b546efde983403ef34d09e.json",
    "created_at": "2023-07-17 13:49:35 UTC",
    "processed_at": "2023-07-17 13:49:36 UTC",
    "duckduckgo_maps_url": "https://duckduckgo.com/?q=Coffee&bbox=30.341552964181687,-97.87405344947078,30.16321730812698,-97.50702877159034&iaxm=maps&strict_bbox=1",
    "raw_html_file": "https://serpapi.com/searches/dcb7d03d18fd6bd5/64b546efde983403ef34d09e.html",
    "prettify_html_file": "https://serpapi.com/searches/dcb7d03d18fd6bd5/64b546efde983403ef34d09e.prettify",
    "total_time_taken": 1.54
  },
  "search_parameters": {
    "engine": "duckduckgo_maps",
    "q": "Coffee",
    "bbox": "30.341552964181687,-97.87405344947078,30.16321730812698,-97.50702877159034",
    "strict_bbox": "1"
  },
  "local_results": [
    {
      "position": 1,
      "title": "Bennu Coffee",
      "source": [
        {
          "name": "Apple Maps",
          "place_id": "10991783248908387078"
        },
        {
          "name": "Tripadvisor",
          "place_id": "1788633"
        }
      ],
      "gps_coordinates": {
        "latitude": 30.2798015,
        "longitude": -97.7196563
      },
      "rating": 4.5,
      "reviews": 40,
      "review_details": [
        {
          "snippet": "Great breakfast tacos and the "Big Labrewski" was awesome! The kids made us go back for seconds on the tacos on top of their bagel dogs.",
          "rating": 5,
          "date": "Mar 12, 2023",
          "user": {
            "name": "lteer",
            "thumbnail": "http://media-cdn.tripadvisor.com/media/photo-t/1a/f6/e8/ea/default-avatar-2020-63.jpg"
          }
        },
        {
          "snippet": "This place is conveniently located near my daughter's apartment. The employees are friendly and since it's near a college there's a lot of energy. If you like Mexican hot chocolate then you should try...",
          "rating": 5,
          "date": "Feb 17, 2023",
          "user": {
            "name": "KimmieK72",
            "thumbnail": "http://media-cdn.tripadvisor.com/media/photo-t/1a/f6/ee/68/default-avatar-2020-9.jpg"
          }
        },
        {
          "snippet": "The pecan cold brew was so smooth and delicious. Might be the best cold brew I have ever had. I went to their wholesaler so I could buy a bag of grounds to bring home. Friendly staff and nice coffee s...",
          "rating": 5,
          "date": "Jan 12, 2023",
          "user": {
            "name": "kpbooth3",
            "thumbnail": "http://media-cdn.tripadvisor.com/media/photo-t/19/38/c8/fd/kpbooth3.jpg"
          }
        }
      ],
      "type": "American restaurant",
      "types": [
        "American",
        "Cafe"
      ],
      "address": "2001 E Martin Luther King Jr Blvd, Austin, TX 78702-1339",
      "city": "Austin",
      "timezone": "America/Chicago",
      "hours": "Open · Closes at 09:00 PM",
      "operating_hours": {
        "monday": "06:00 AM – 09:00 PM",
        "tuesday": "06:00 AM – 09:00 PM",
        "wednesday": "06:00 AM – 09:00 PM",
        "thursday": "06:00 AM – 09:00 PM",
        "friday": "06:00 AM – 09:00 PM",
        "saturday": "06:00 AM – 09:00 PM",
        "sunday": "06:00 AM – 09:00 PM"
      },
      "phone": "+15124784700",
      "website": "https://bennucoffee.com",
      "link": "https://www.tripadvisor.com/Restaurant_Review-g30196-d1788633-Reviews-Bennu_Coffee-Austin_Texas.html?m=63959",
      "thumbnail": "http://media-cdn.tripadvisor.com/media/photo-s/09/f4/4e/43/bennu-coffee-llc.jpg",
      "images": [
        "http://media-cdn.tripadvisor.com/media/photo-s/1c/f5/00/f6/check-in-sign-at-bennu.jpg",
        "http://media-cdn.tripadvisor.com/media/photo-s/1c/f5/00/5c/reserved-parking-at-bennu.jpg",
        "http://media-cdn.tripadvisor.com/media/photo-s/1c/f5/00/52/approach-to-bennu-coffee.jpg",
        "http://media-cdn.tripadvisor.com/media/photo-s/1c/f5/01/0b/side-table-outside-bennu.jpg"
      ]
    },
    {
      "position": 2,
      "title": "Figure 8 Coffee Purveyors",
      "source": [
        {
          "name": "Apple Maps",
          "place_id": "15688569746266737652"
        },
        {
          "name": "Tripadvisor",
          "place_id": "7295319"
        }
      ],
      "gps_coordinates": {
        "latitude": 30.2670041,
        "longitude": -97.7198939
      },
      "rating": 5,
      "reviews": 19,
      "review_details": [
        {
          "snippet": "The drip coffee and the cortardos are super tasty and consistent. There is a good vibe generally. Despite being a hip spot it is still cosy and the staff will make you feel welcome and seem like genu...",
          "rating": 5,
          "date": "Dec 1, 2019",
          "user": {
            "name": "xemerald",
            "thumbnail": "http://media-cdn.tripadvisor.com/media/photo-t/1a/f6/f2/59/default-avatar-2020-24.jpg"
          }
        },
        {
          "snippet": "With so many great coffee shops in Austin, it's a high compliment to say that Figure 8 is the best. Excellent coffee, very friendly staff (Yeah to the MN & OH baristas who typify the diversified popul...",
          "rating": 5,
          "date": "Apr 9, 2019",
          "user": {
            "name": "BaliloverNewYork",
            "thumbnail": "http://media-cdn.tripadvisor.com/media/photo-t/1a/f6/ef/9c/default-avatar-2020-14.jpg"
          }
        },
        {
          "snippet": "I can't say I remember much about my coffee but this was a cozy little spot to spend an hour. It has a grungy edge to it, which seems to suit people fine.",
          "rating": 3,
          "date": "Nov 19, 2018",
          "user": {
            "name": "NYCleveland",
            "thumbnail": "http://media-cdn.tripadvisor.com/media/photo-t/01/49/18/bb/nycleveland.jpg"
          }
        }
      ],
      "price": "$",
      "type": "Cafe",
      "types": [
        "Cafe"
      ],
      "address": "1111 Chicon St, Austin, TX 78702-2757",
      "city": "Austin",
      "timezone": "America/Chicago",
      "hours": "Open · Closes at 07:00 PM",
      "operating_hours": {
        "monday": "07:00 AM – 07:00 PM",
        "tuesday": "07:00 AM – 07:00 PM",
        "wednesday": "07:00 AM – 07:00 PM",
        "thursday": "07:00 AM – 07:00 PM",
        "friday": "07:00 AM – 07:00 PM",
        "saturday": "07:00 AM – 07:00 PM",
        "sunday": "07:00 AM – 07:00 PM"
      },
      "website": "https://www.figure8coffeepurveyors.com",
      "link": "https://www.tripadvisor.com/Restaurant_Review-g30196-d7295319-Reviews-Figure_8_Coffee_Purveyors-Austin_Texas.html?m=63959",
      "thumbnail": "http://media-cdn.tripadvisor.com/media/photo-s/0d/da/3c/a2/a-proper-masala-chai.jpg",
      "images": [
        "http://media-cdn.tripadvisor.com/media/photo-s/13/b4/11/d8/20180714-084934-largejpg.jpg",
        "http://media-cdn.tripadvisor.com/media/photo-s/0b/ea/de/0d/warm-relaxed-open-feel.jpg",
        "http://media-cdn.tripadvisor.com/media/photo-s/0e/01/b4/20/a-traveler-s-first-cup.jpg",
        "http://media-cdn.tripadvisor.com/media/photo-s/1a/2f/13/c0/photo0jpg.jpg"
      ]
    },
    {
      "position": 3,
      "title": "Cuvee Coffee Bar",
      "source": [
        {
          "name": "Apple Maps",
          "place_id": "3488905439373389498"
        },
        {
          "name": "Tripadvisor",
          "place_id": "7605538"
        }
      ],
      "gps_coordinates": {
        "latitude": 30.261483933708,
        "longitude": -97.7210567089452
      },
      "rating": 4.5,
      "reviews": 33,
      "review_details": [
        {
          "snippet": "First of all the coffee was overwhelmingly delicious. Secondly I bought coffee, took it home and it was also delicious. But what makes this place smooth and magical is the environment and the staff. H...",
          "rating": 5,
          "date": "Apr 18, 2021",
          "user": {
            "name": "keithl304",
            "thumbnail": "http://media-cdn.tripadvisor.com/media/photo-t/08/2d/32/70/keith-l.jpg"
          }
        },
        {
          "snippet": "Although they didn't have a frappe style blended coffee, you can't go wrong with Cuvee. We especially love the Stella Cometa espresso - ummmm, liquid gold. Cute warehouse looking place. I'm glad we...",
          "rating": 4,
          "date": "Aug 7, 2019",
          "user": {
            "name": "247angs",
            "thumbnail": "http://media-cdn.tripadvisor.com/media/photo-t/06/34/96/1d/ang-s.jpg"
          }
        },
        {
          "snippet": "Sweet coffee bar that also serves pastries. The inside has several tables and barstool areas where you can sit and enjoy your coffee/food, or sit and work/read or whatever your fancy is. All three mor...",
          "rating": 4,
          "date": "Feb 22, 2019",
          "user": {
            "name": "TereseRC",
            "thumbnail": "http://media-cdn.tripadvisor.com/media/photo-t/1a/f6/df/99/default-avatar-2020-40.jpg"
          }
        }
      ],
      "price": "$",
      "type": "Cafe",
      "types": [
        "Cafe"
      ],
      "address": "2000 E 6th St, Suite 1, Austin, TX 78702-3458",
      "city": "Austin",
      "timezone": "America/Chicago",
      "hours": "Open · Closes at 08:00 PM",
      "operating_hours": {
        "monday": "06:30 AM – 08:00 PM",
        "tuesday": "06:30 AM – 08:00 PM",
        "wednesday": "06:30 AM – 08:00 PM",
        "thursday": "06:30 AM – 08:00 PM",
        "friday": "06:30 AM – 08:00 PM",
        "saturday": "07:30 AM – 08:00 PM",
        "sunday": "07:30 AM – 08:00 PM"
      },
      "phone": "+15123685636",
      "website": "https://cuveecoffee.com/pages/about-coffee-bar",
      "link": "https://www.tripadvisor.com/Restaurant_Review-g30196-d7605538-Reviews-Cuvee_Coffee_Bar-Austin_Texas.html?m=63959",
      "thumbnail": "http://media-cdn.tripadvisor.com/media/photo-s/09/04/58/c7/black-brew.jpg",
      "images": [
        "http://media-cdn.tripadvisor.com/media/photo-s/0b/be/23/99/photo3jpg.jpg",
        "http://media-cdn.tripadvisor.com/media/photo-s/15/6e/e3/c0/photo0jpg.jpg",
        "http://media-cdn.tripadvisor.com/media/photo-s/10/9b/88/6e/20161015-120814-largejpg.jpg",
        "http://media-cdn.tripadvisor.com/media/photo-s/10/9b/88/6f/20161015-120802-largejpg.jpg"
      ]
    },
    ...
  ]
}