Google Shopping Nearby Results API
The Google Shopping Results API scrapes the location, link, and image of nearby shopping results map. It also scrapes title, link, address, distance, hours, phone, directions, and delivery_options fields of nearby shopping places, alongside with title, link, price, thumbnail, and extracted_price fields of items in question in these shopping places.

You can set tbs parameter to local_avail:1 to force nearby results. Setting tbs parameter to local_avail:1 will also require setting location, or uule parameter to specify a location for your search.
JSON structure overview
{
  ...
  "nearby_shopping_results_map": {
    "location": "String - Nearby location (Ex: 'near Dallas')",
    "link": "String - Link to Google Maps",
    "image": "String - Link to the map image",
  },
  "nearby_shopping_results": [
    {
      "title": "String - Shopping Place Title or Advertisement Text (Ex: 'Buy Sony playstation 5 online meetup or door steps delivery')",
      "link": "String - Link to Google Search of the Place",
      "serpapi_link": "String - Link to SerpApi Google Search API of the Place's Search",
      "address": "String - Place's Address (Ex: '2920 E 73rd St, Tulsa')",
      "distance": "String - Place's distance from your search location (Ex: '0.2 mi')",
      "hours": "String - Place's operating hours (Ex: 'Today: 10:00 AM - 8:00 PM')",
      "phone": "String - Place's phone number (Ex: '(000) 000-0000')",
      "directions": "String - Place's Google Maps Directions Link",
      "delivery_options": "Array - Place's delivery options (Ex: ['Delivery', 'Pickup'])",
      "items": [
        {
          "title": "String - Item title (Ex: 'Ryan's World Youth Headphones')",
          "link": "String - Link to the item",
          "thumbnail": "String - Link to the item thumbnail",
          "price": "String - Item price (Ex: '$19.99')",
          "extracted_price": "Numeric - Item price extracted as numeral (Ex: 19.99)",
          "stock_information": "String - Item stock information (Ex: 'In stock')"
        },
        ...
      ]
    },
    ...
  ],
  ...
}

API Examples
Nearby Shopping Results for:
q

: PS5,

tbs

: local_avail:1, and

location

: Abilene, Texas, United States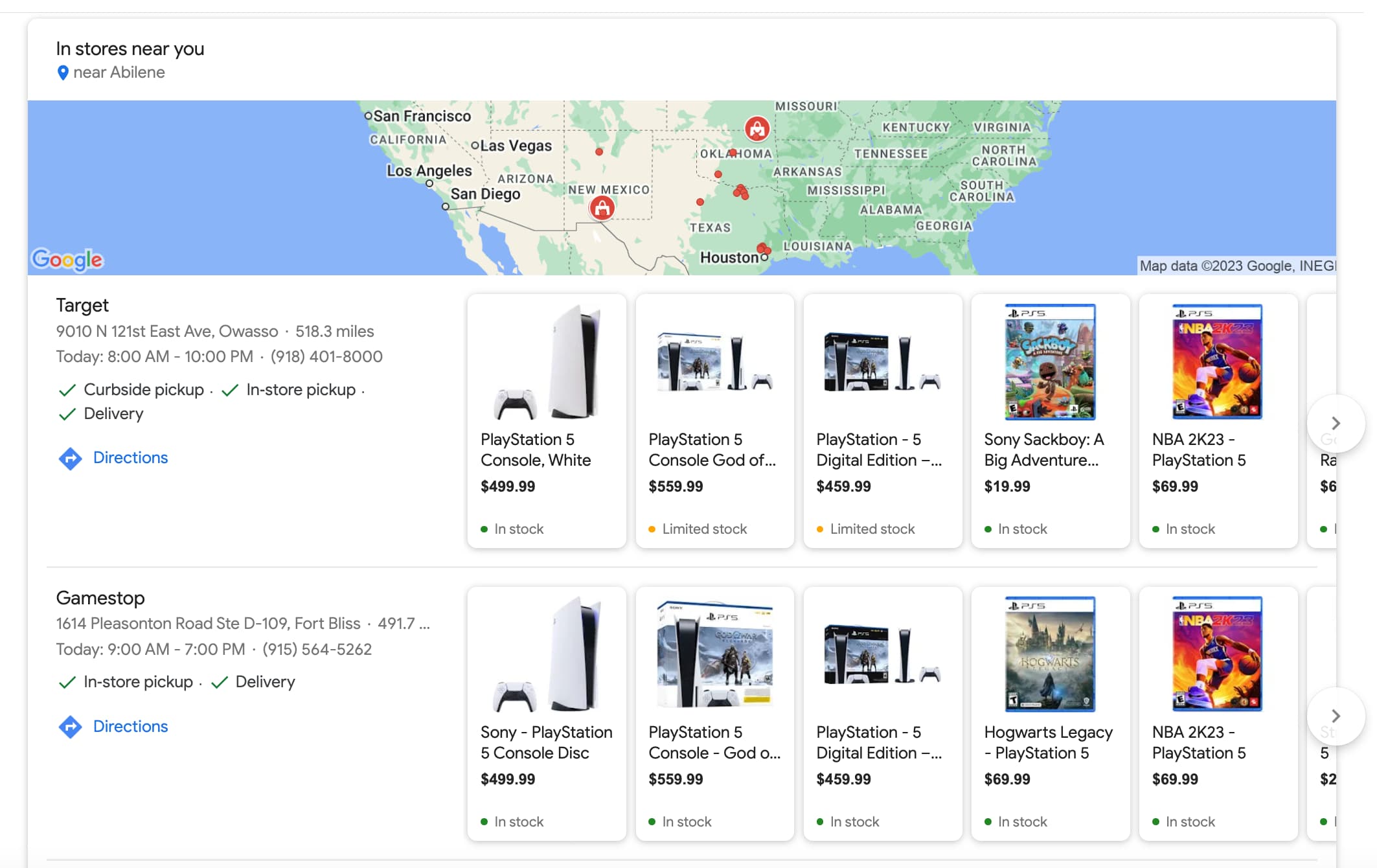 {
  ...
  "nearby_shopping_results_map": {
    "location": "near Abilene",
    "link": "https://www.google.com/maps/search/PS5?hl=en&gl=us&sa=X&ved=0ahUKEwj70eSRpLj9AhVUk2oFHQReCoEQg4kFCIgU",
    "image": "https://maps.google.com/maps/api/staticmap?key=AIzaSyA9uuHR0fCSAoZnQ1Eq4MY3WbKrv1nHDrg&maptype=roadmap&language=en&region=US&ei=P_z9Y7u2A9SmqtsPhLypiAg&scale=2&size=1024x136&markers=icon:http://www.gstatic.com/circulars/shared/lia_store_medium_2x.png%7Cscale:2%7C36.289279,-95.844626%7C31.816617,-106.428226%7C29.543781,-95.139787&markers=icon:http://www.gstatic.com/circulars/shared/lia_dot_small_2x.png%7Cscale:2%7C33.067382,-97.083966%7C35.253120,-106.651420%7C32.410080,-99.777439%7C33.968586,-98.509633%7C31.818169,-106.549997%7C29.488455,-98.710098%7C33.453010,-94.086636%7C36.056557,-95.946709%7C31.777221,-106.384462%7C33.074063,-96.866737%7C29.802671,-95.493750%7C33.228083,-96.984340%7C32.930790,-97.267477%7C30.391606,-97.742312%7C30.187481,-95.450727%7C29.768253,-95.182721%7C32.733903,-96.682410%7C29.724900,-95.466559%7C32.937473,-96.750239&signature=HkGVvVcjmbz_aMMp4X6kzy1G_tw%3D"
  },
  "nearby_shopping_results": [
    {
      "title": "Target",
      "link": "https://www.google.com/search?hl=en&gl=us&q=Target&ludocid=15682582055552125240&gsas=1&ibp=gwp;0,7&lsig=AB86z5X5lKPRCsn7BkeEkLo_RNif&sa=X&ved=0ahUKEwj70eSRpLj9AhVUk2oFHQReCoEQgYkFCIoUKAA",
      "serpapi_link": "https://serpapi.com/search.json?engine=google&gl=us&gsas=1&hl=en&ibp=gwp%3B0%2C7&lsig=AB86z5X5lKPRCsn7BkeEkLo_RNif&ludocid=15682582055552125240&q=Target&sa=X&ved=0ahUKEwj70eSRpLj9AhVUk2oFHQReCoEQgYkFCIoUKAA",
      "address": "9010 N 121st East Ave, Owasso",
      "distance": "518.3 miles",
      "hours": "Today: 8:00 AM - 10:00 PM",
      "phone": "(918) 401-8000",
      "delivery_options": [
        "Curbside Pickup",
        "In-Store Pickup",
        "Delivery"
      ],
      "directions": "https://maps.google.com/maps?uule=w+CAIQICIdQXVzdGluLFRYLFRleGFzLFVuaXRlZCBTdGF0ZXM&hl=en&gl=us&daddr=9010+N+121st+East+Ave,+Owasso,+OK+74055,+United+States",
      "items": [
        {
          "title": "PlayStation 5 Console, White",
          "link": "https://www.target.com/p/playstation-5-console/-/A-87716467?ref=tgt_adv_XS000000&AFID=google_pla_df_free_local&CPNG=Electronics&adgroup=207-43",
          "thumbnail": "https://encrypted-tbn0.gstatic.com/shopping?q=tbn:ANd9GcQT3M4nWnzkti3i6YsxkeU_fnbwdn1tDqWu89JF1wSsDDMguUswABZFwZUW5MXCeIzQs1T2lIe6YIx8GnwfBG564D4JNk5FX9GgqJWP2tV9XsY6JivgJZ5oKw&usqp=CAE",
          "price": "$499.99",
          "extracted_price": 499.99,
          "stock_information": "In Stock"
        },
        {
          "title": "PlayStation 5 Console God of War Ragnarok Bundle, 1000033310",
          "link": "https://www.target.com/p/playstation-5-god-of-war-ragnarok-console-with-wireless-controller/-/A-87800909?ref=tgt_adv_XS000000&AFID=google_pla_df_free_local&CPNG=Electronics&adgroup=207-43",
          "thumbnail": "https://encrypted-tbn1.gstatic.com/shopping?q=tbn:ANd9GcSBJ0RnQZ1CBWqtshp0gfWHTQNEzBBbp5ocz1oH4MpwCCfiP-wvpvJ3r_4h3Sk_ebue7Gqn0Vdz5jTU3a2hScrwb7ddtbyvjSXtVP9jtcWL_h3yTWDH7jN1&usqp=CAE",
          "price": "$559.99",
          "extracted_price": 559.99,
          "stock_information": "Limited Stock"
        },
        {
          "title": "PlayStation - 5 Digital Edition – God of War Ragnarök Bundle",
          "link": "https://www.target.com/p/playstation-5-god-of-war-ragnarok-digital-console-with-wireless-controller/-/A-87800910?ref=tgt_adv_XS000000&AFID=google_pla_df_free_local&CPNG=Electronics&adgroup=207-43",
          "thumbnail": "https://encrypted-tbn2.gstatic.com/shopping?q=tbn:ANd9GcRpeA3kWCV0oDep8CjHRcEwcitwOl4JvC-4naNCC2-wAFDPSCTVg6Qw81QYGTq6Z6YUzraXLM2vqusz_ad3hVGgY-k746Ufcm_Gt5dJqk4&usqp=CAE",
          "price": "$459.99",
          "extracted_price": 459.99,
          "stock_information": "Limited Stock"
        },
        ...
      ]
    },
    {
      "title": "Gamestop",
      "link": "https://www.google.com/search?hl=en&gl=us&q=Gamestop&ludocid=13946206070777534780&gsas=1&ibp=gwp;0,7&lsig=AB86z5Vm-mX4Fduq4LGdeVMjzUMI&sa=X&ved=0ahUKEwj70eSRpLj9AhVUk2oFHQReCoEQgYkFCKQUKAA",
      "serpapi_link": "https://serpapi.com/search.json?engine=google&gl=us&gsas=1&hl=en&ibp=gwp%3B0%2C7&lsig=AB86z5Vm-mX4Fduq4LGdeVMjzUMI&ludocid=13946206070777534780&q=Gamestop&sa=X&ved=0ahUKEwj70eSRpLj9AhVUk2oFHQReCoEQgYkFCKQUKAA",
      "address": "1614 Pleasonton Road Ste D-109, Fort Bliss",
      "distance": "491.7 miles",
      "hours": "Today: 9:00 AM - 7:00 PM",
      "phone": "(915) 564-5262",
      "delivery_options": [
        "In-Store Pickup",
        "Delivery"
      ],
      "directions": "https://maps.google.com/maps?uule=w+CAIQICIdQXVzdGluLFRYLFRleGFzLFVuaXRlZCBTdGF0ZXM&hl=en&gl=us&daddr=1614+Pleasonton+Road+Ste+D-109,+Fort+Bliss,+TX+79906,+United+States",
      "items": [
        {
          "title": "Sony - PlayStation 5 Console Disc",
          "link": "https://www.gamestop.com/consoles-hardware/playstation-5/consoles/products/sony-playstation-5-console/225169.html?utm_source=google&utm_medium=feeds&utm_campaign=unpaid_listings",
          "thumbnail": "https://encrypted-tbn3.gstatic.com/shopping?q=tbn:ANd9GcQPjg8popzr1e4yLH0LaQYOBupmej3HgkKU7a20Zr-HI3RYm4BUNc_XX8_PHcWS37V4dbU8OnFPnQEOAIpWwF_0EovHBFOFb_LXd3KVQS5PMnGJWn_8mOtptg&usqp=CAE",
          "price": "$499.99",
          "extracted_price": 499.99,
          "stock_information": "In Stock"
        },
        {
          "title": "PlayStation 5 Console - God of War Ragnarok Bundle",
          "link": "https://www.gamestop.com/consoles-hardware/playstation-5/consoles/products/sony-playstation-5-console-with-god-of-war-ragnarok-bundle/352643.html?utm_source=google&utm_medium=feeds&utm_campaign=unpaid_listings",
          "thumbnail": "https://encrypted-tbn0.gstatic.com/shopping?q=tbn:ANd9GcSM16J_1YNQk5uCfGN-b0EA8t1rI71JO_ZwVN3eZ9nyZziiMIGJZ3e-JHLjXhsSFB2Lp1SmGpLpMQVb68cCeOXnQRE3hh7apE4fhKXihMRu9hfmzRbCLqQW9A&usqp=CAE",
          "price": "$559.99",
          "extracted_price": 559.99,
          "stock_information": "In Stock"
        },
        {
          "title": "PlayStation - 5 Digital Edition – God of War Ragnarök Bundle",
          "link": "https://www.gamestop.com/consoles-hardware/playstation-5/consoles/products/sony-playstation-5-digital-edition-console-with-god-of-war-ragnarok-digital-edition-bundle/352654.html?utm_source=google&utm_medium=feeds&utm_campaign=unpaid_listings",
          "thumbnail": "https://encrypted-tbn2.gstatic.com/shopping?q=tbn:ANd9GcRpeA3kWCV0oDep8CjHRcEwcitwOl4JvC-4naNCC2-wAFDPSCTVg6Qw81QYGTq6Z6YUzraXLM2vqusz_ad3hVGgY-k746Ufcm_Gt5dJqk4&usqp=CAE",
          "price": "$459.99",
          "extracted_price": 459.99,
          "stock_information": "In Stock"
        },
        ...
      ]
    },
    {
      "title": "Best Buy",
      "link": "https://www.google.com/search?hl=en&gl=us&q=Best+Buy&ludocid=16679304524030941036&gsas=1&ibp=gwp;0,7&lsig=AB86z5WFuDNOUOMGxDte3V1freWp&sa=X&ved=0ahUKEwj70eSRpLj9AhVUk2oFHQReCoEQgYkFCL0UKAA",
      "serpapi_link": "https://serpapi.com/search.json?engine=google&gl=us&gsas=1&hl=en&ibp=gwp%3B0%2C7&lsig=AB86z5WFuDNOUOMGxDte3V1freWp&ludocid=16679304524030941036&q=Best+Buy&sa=X&ved=0ahUKEwj70eSRpLj9AhVUk2oFHQReCoEQgYkFCL0UKAA",
      "address": "19425 Gulf Fwy, Webster",
      "distance": "449.3 miles",
      "hours": "Today: 10:00 AM - 8:00 PM",
      "phone": "(281) 554-3004",
      "delivery_options": [
        "Curbside Pickup",
        "In-Store Pickup"
      ],
      "directions": "https://maps.google.com/maps?uule=w+CAIQICIdQXVzdGluLFRYLFRleGFzLFVuaXRlZCBTdGF0ZXM&hl=en&gl=us&daddr=19425+Gulf+Fwy,+Webster,+TX+77598,+United+States",
      "items": [
        {
          "title": "PlayStation 5 Console - God of War Ragnarok Bundle",
          "link": "https://www.bestbuy.com/site/playstation-5-console-god-of-war-ragnarok-bundle/6523225.p?skuId=6523225&ref=212&loc=1&extStoreId=242",
          "thumbnail": "https://encrypted-tbn0.gstatic.com/shopping?q=tbn:ANd9GcSM16J_1YNQk5uCfGN-b0EA8t1rI71JO_ZwVN3eZ9nyZziiMIGJZ3e-JHLjXhsSFB2Lp1SmGpLpMQVb68cCeOXnQRE3hh7apE4fhKXihMRu9hfmzRbCLqQW9A&usqp=CAE",
          "price": "$559.99",
          "extracted_price": 559.99,
          "stock_information": "In Stock"
        },
        {
          "title": "Ps5/ps4 - God of War Ragnarok Collector's Edition",
          "link": "https://www.bestbuy.com/site/god-of-war-ragnarok-collectors-edition-playstation-4-playstation-5/6513127.p?skuId=6513127&ref=212&loc=1&extStoreId=242",
          "thumbnail": "https://encrypted-tbn1.gstatic.com/shopping?q=tbn:ANd9GcTNDRmdBWYCQiZ9Y2Rc4bRjRAxlDWd27IuiPHLaZfbxoPcTfOakz_-HCrEoB_D05EA-Jib86ZqWatKXaCKJbeXYLUmRqLwP1xY64tcl3xGmF0iMtJ8ahetn&usqp=CAE",
          "price": "$199.99",
          "extracted_price": 199.99,
          "stock_information": "In Stock"
        },
        {
          "title": "Hogwarts Legacy - PlayStation 5",
          "link": "https://www.bestbuy.com/site/hogwarts-legacy-playstation-5/6502569.p?skuId=6502569&ref=212&loc=1&extStoreId=242",
          "thumbnail": "https://encrypted-tbn2.gstatic.com/shopping?q=tbn:ANd9GcTOhbTsdl_RX-A6qWBPbTqm5WxgDMhaDLviKtDlh2EyJESmj2rM8p2wyQ7Kaohkv0pG0V7Baoi9uxNoD1KkCJK_KDqFczutd7n9l2LgY14wi1l5MMcnAtZW&usqp=CAE",
          "price": "$69.99",
          "extracted_price": 69.99,
          "stock_information": "In Stock"
        },
        ...
      ]
    }, 
    ...
  ],
  ...
}