Baidu Organic Results API
Baidu search main results are called organic results. Some results are simple and straightforward. Others include rich data like reviews, thumbnails, and other special snippets. SerpApi is able to scrape, extract, and make sense of both simple and more complex organic results.

When SerpApi encounters organic results, we add them to our JSON output as the array organic_results. For each organic result, we are able to extract its position, title, link, displayed_link, thumbnail, date, snippet, cached_page_link, related_pages_link, sitelinks:inline, sitelinks:expanded, rich_snippet:top, rich_snippet:bottom, extensions, reviews, ratings, related_news, related_videos, related_cctv, tieba, video, and more.
API Examples
Results for: Coffee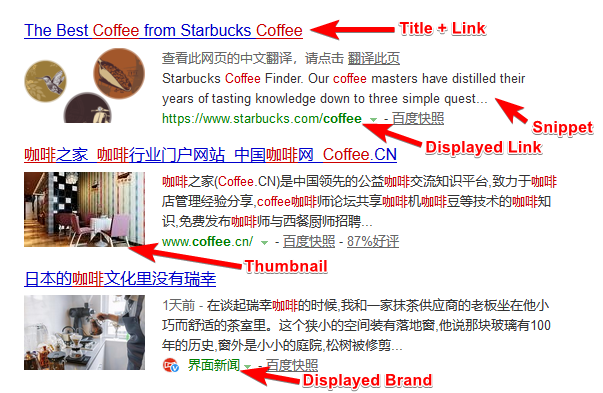 {
  ...
  "organic_results": [
    ...
    {
      "position": 1,
      "title": "The Best Coffee from Starbucks Coffee",
      "link": "http://www.baidu.com/link?url=Fs0T14ky-EBy7YIuRclFwPbMnPM_jtq4vTBZk_KEtmEZNOmPz706-D8eomFsgRiS",
      "thumbnail": "https://dss0.baidu.com/73x1bjeh1BF3odCf/it/u=2834469631,152070490&fm=85&s=CBE08A46CC1396D41B7D653703001042",
      "displayed_link": "https://www.starbucks.com/coffee",
      "snippet": "Starbucks Coffee Finder. Our coffee masters have distilled their years of tasting knowledge down to three simple quest...",
      "cached_page_link": "http://cache.baiducontent.com/c?m=9d78d513d9921cfb0cbac36a4a5689694312c6217dc0d16662c9d60dd6735b360620b0fb7765415d92d27c1050f21641bbad62266054&p=ce71c64ad49b06f60cbd9b7d0749&newp=823ec54ad5c957f70be29636427a92695d0fc20e3bd0d401298ffe0cc4241a1a1a3aecbf2d201b07d9c67e6702a84f56e0f13c783d0034f1f689df08d2ecce7e39d0&user=baidu&fm=sc&query=coffee&qid=c52aab420026c829&p1=3"
    },
    {
      "position": 2,
      "title": "咖啡之家_咖啡行业门户网站_中国咖啡网_Coffee.CN",
      "link": "http://www.baidu.com/link?url=79gTDefU_0qBs-zp8WEEVDFoQ3qnQLTrtGSKeXYY6ay",
      "thumbnail": "https://dss0.baidu.com/73x1bjeh1BF3odCf/it/u=3729886114,650771747&fm=85&s=BC604C872AEA2C929F2465B70300D043",
      "displayed_link": "www.coffee.cn/",
      "snippet": "咖啡之家(Coffee.CN)是中国领先的公益咖啡交流知识平台,致力于咖啡店管理经验分享,coffee咖啡师论坛共享咖啡机咖啡豆等技术的咖啡知识,免费发布咖啡师与西餐厨师招聘...",
      "cached_page_link": "http://cache.baiducontent.com/c?m=9d78d513d9921cfb0cbac36a4a5689694312c6212bd6a3086291d60d84642c101a32b7ec70351073829961&p=8b2a971d829611a05cb3ca245f&newp=8263c54ad28912a05aa98f2c5453d8224216ed6538d1c44324b9d71fd325001c1b69e7b12529130ed0c77c6406a94356ebfa3c78341766dada9fca458ae7c462&user=baidu&fm=sc&query=coffee&qid=c52aab420026c829&p1=4"
    },
    {
      "position": 3,
      "title": "「特写」瑞幸咖啡:资本洪流下的咖啡战事",
      "link": "http://www.baidu.com/link?url=fUPnAWbceOLfG4_cBmdvBjRCgsq9YT6jCll6MdXdJjARAdXh_mK4I-lQdYuzPsGcMFCqcUF_FSDMsTeDoeV3MN-geiX-QjSl29uVftVk8A7",
      "thumbnail": "https://dss2.baidu.com/6ONYsjip0QIZ8tyhnq/it/u=2055104036,229590462&fm=173&app=49&f=JPEG?w=312&h=208&s=714B90546FE48D4954C21A830300F08B",
      "date": "4天前",
      "displayed_brand": "界面新闻",
      "snippet": "【编者按:北京时间2020年4月2日晚,瑞幸咖啡提交了一份内部特别调查委员会出具的报告,称瑞幸在2019年二季度至四季度期间虚增了22亿人民币交易额,相关的费用和支出...",
      "cached_page_link": "http://cache.baiducontent.com/c?m=9f65cb4a8c8507ed19fa950d100b8735420cdb3066848d027fa3c31bc8321c564711b2e6783f5113d2b1273116ae3f5feef4367833092ab69ecd8d49dfbc942c248830347459d20105d26fee891d739660875aedfb44a7adf144d1ffc696821405c502582ed4a7dc&p=aa65cd37c5934eae529fc7710f40&newp=8b2a970d9c8906f008e29574520092695912c10e3dddc44324b9d71fd325001c1b69e3b823281603d4c6786c15e9241dbdb239256b5568fdd18fd7&user=baidu&fm=sc&query=coffee&qid=c52aab420026c829&p1=7"
    },
  ...
}

Mobile results for: Coffee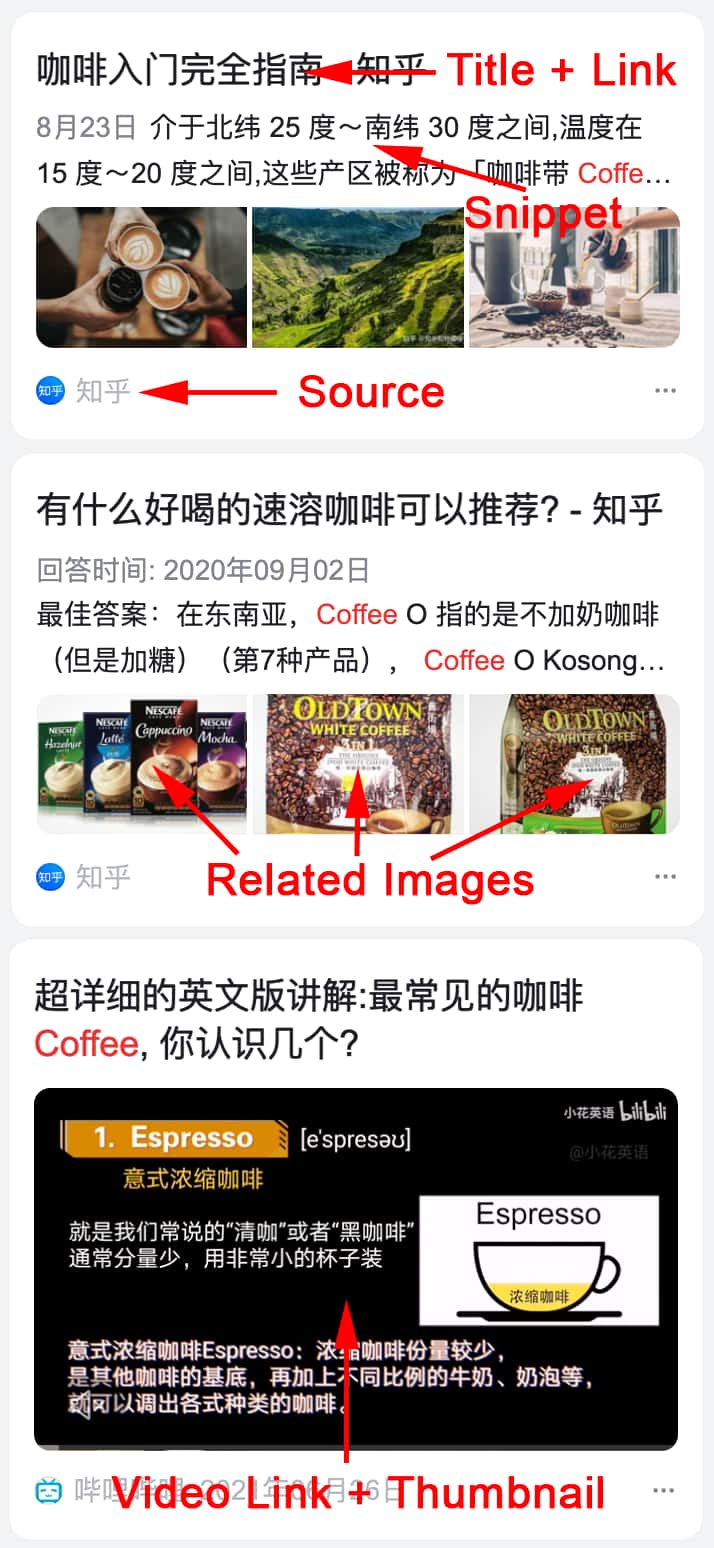 {
  ...
  "organic_results": [
    ...
    {
      "position": 1,
      "link": "https://m.baidu.com/from=0/bd_page_type=1/ssid=0/uid=0/pu=usm%400%2Csz%40320_1001%2Cta%40iphone_2_9.0_24_80.0/baiduid=4E362EEF25B6A47B518F09BFC6EA0160/w=20_10_/t=iphone/l=1/tc?ref=www_iphone&lid=11176508188669245048&order=5&gsflag=4&fm=alop&isAtom=1&waplogo=1&clk_info=%7B%22tplname%22%3A%22www_normal%22%2C%22srcid%22%3A1599%2C%22jumpType%22%3A%22%22%7D&is_baidu=0&tj=www_normal_5_20_10_title&vit=osres&m=8&cltj=normal_title&asres=1&nt=wnor&title=%E5%92%96%E5%95%A1%E4%B9%8B%E5%AE%B6_%E5%92%96%E5%95%A1%E8%A1%8C%E4%B8%9A%E9%97%A8%E6%88%B7%E7%BD%91%E7%AB%99_%E4%B8%AD%E5%9B%BD%E5%92%96%E5%95%A1%E7%BD%91%E6%84%8F%E6%B5%93-Coffee.CN&wd=&eqid=9b1aeefb5edff67810000004633d4c41&w_qd=IlPT2AEptyoA_yiWI5WbHiW&bdver=2&tcplug=1&dict=-1&sec=24489&di=2db32097b05123aa&bdenc=1&nsrc=GIoREbr7yPAz54JPnhPBAFK%2Fg1gcZSUFLItdAxXI2H5NLr%2Bt352O9ZoX%2FHoxZNkFqUnAm1lTr3%2B4%2ByYJA0AgTA%3D%3D",
      "title": "咖啡之家 - 咖啡行业门户网站 - 中国咖啡网意浓 - Coffee.CN",
      "snippet": "咖啡之家(Coffee.CN)是中国领先的公益咖啡交流知识平台,致力于咖啡店管理经验分享,coffee...",
      "related_images": [
        {
          "link": "https://m.baidu.com/from=0/bd_page_type=1/ssid=0/uid=0/pu=usm%400%2Csz%40320_1001%2Cta%40iphone_2_9.0_24_80.0/baiduid=4E362EEF25B6A47B518F09BFC6EA0160/w=20_10_/t=iphone/l=1/tc?ref=www_iphone&lid=11176508188669245048&order=5&gsflag=4&fm=alop&isAtom=1&waplogo=1&clk_info=%7B%22tplname%22%3A%22www_normal%22%2C%22srcid%22%3A1599%2C%22jumpType%22%3A%22%22%7D&is_baidu=0&tj=www_normal_5_20_10_title&vit=osres&m=8&cltj=normal_title&asres=1&nt=wnor&title=%E5%92%96%E5%95%A1%E4%B9%8B%E5%AE%B6_%E5%92%96%E5%95%A1%E8%A1%8C%E4%B8%9A%E9%97%A8%E6%88%B7%E7%BD%91%E7%AB%99_%E4%B8%AD%E5%9B%BD%E5%92%96%E5%95%A1%E7%BD%91%E6%84%8F%E6%B5%93-Coffee.CN&wd=&eqid=9b1aeefb5edff67810000004633d4c41&w_qd=IlPT2AEptyoA_yiWI5WbHiW&bdver=2&tcplug=1&dict=-1&sec=24489&di=2db32097b05123aa&bdenc=1&nsrc=GIoREbr7yPAz54JPnhPBAFK%2Fg1gcZSUFLItdAxXI2H5NLr%2Bt352O9ZoX%2FHoxZNkFqUnAm1lTr3%2B4%2ByYJA0AgTA%3D%3D",
          "image": "https://t9.baidu.com/it/u=1053414142,4105870778&fm=85&app=131&size=r3,2&n=0&g=4n&f=JPEG&fmt=auto&maxorilen2heic=2000000?s=C8964196D4E0F1BBFE9191FA03004035"
        },
        {
          "link": "https://m.baidu.com/from=0/bd_page_type=1/ssid=0/uid=0/pu=usm%400%2Csz%40320_1001%2Cta%40iphone_2_9.0_24_80.0/baiduid=4E362EEF25B6A47B518F09BFC6EA0160/w=20_10_/t=iphone/l=1/tc?ref=www_iphone&lid=11176508188669245048&order=5&gsflag=4&fm=alop&isAtom=1&waplogo=1&clk_info=%7B%22tplname%22%3A%22www_normal%22%2C%22srcid%22%3A1599%2C%22jumpType%22%3A%22%22%7D&is_baidu=0&tj=www_normal_5_20_10_title&vit=osres&m=8&cltj=normal_title&asres=1&nt=wnor&title=%E5%92%96%E5%95%A1%E4%B9%8B%E5%AE%B6_%E5%92%96%E5%95%A1%E8%A1%8C%E4%B8%9A%E9%97%A8%E6%88%B7%E7%BD%91%E7%AB%99_%E4%B8%AD%E5%9B%BD%E5%92%96%E5%95%A1%E7%BD%91%E6%84%8F%E6%B5%93-Coffee.CN&wd=&eqid=9b1aeefb5edff67810000004633d4c41&w_qd=IlPT2AEptyoA_yiWI5WbHiW&bdver=2&tcplug=1&dict=-1&sec=24489&di=2db32097b05123aa&bdenc=1&nsrc=GIoREbr7yPAz54JPnhPBAFK%2Fg1gcZSUFLItdAxXI2H5NLr%2Bt352O9ZoX%2FHoxZNkFqUnAm1lTr3%2B4%2ByYJA0AgTA%3D%3D",
          "image": "https://t9.baidu.com/it/u=1053414142,4105870778&fm=85&app=131&size=r3,2&n=0&g=4n&f=JPEG&fmt=auto&maxorilen2heic=2000000?s=C8964196D4E0F1BBFE9191FA03004035"
        }
      ],
      "source": "中国咖啡网"
    },
    {
      "position": 2,
      "link": "https://m.baidu.com/from=0/bd_page_type=1/ssid=0/uid=0/pu=usm%409%2Csz%40320_1001%2Cta%40iphone_2_9.0_24_80.0/baiduid=7EA4CFAF71598EF51CEFE7BF6961488C/w=0_10_/t=iphone/l=1/tc?ref=www_iphone&lid=10527658760463851239&order=7&gsflag=4&fm=alop&cyc=1&extra=%7B%22loc%22%3A%22http%253A%252F%252Fwww.bilibili.com%252Fvideo%252FBV1Xv411g7YL%252F%22%2C%22log_loc%22%3A%22https%253A%252F%252Fwww.bilibili.com%252Fvideo%252FBV1Xv411g7YL%252F%22%2C%22baijiahao_id%22%3A%22%22%2C%22jsy%22%3A%221%22%2C%22nid%22%3A%2216369732785085930675%22%7D&isAtom=1&clk_info=%7B%22tplname%22%3A%22recommend_video_normal%22%2C%22srcid%22%3A%2248305%22%2C%22jumpType%22%3A%22video_jsy%22%2C%22jumpId%22%3A%22100%22%7D&is_baidu=0&tj=recommend_video_normal_7_0_10_l1&hwj=1580859622074471&wd=&eqid=9219c1dd5dfa1ee710000004633d4cbe&w_qd=IlPT2AEptyoA_yiWI5WbHiW&bdver=2&tcplug=1&dict=-1&sec=24489&di=f419c48b67ca56a7&bdenc=1&nsrc=o34BjaVBU0LDE8gL0XDj30s5wgwdT3IL%2BfldlyhH8lQrGb9TY4FCtY3NwlcNl6mcErM3Sla8G6Ozgam5N6ggo%2FA95ee%2F8f8h6ClDooCtdqcZuPmjN%2Fd9ZS4ES4RhBq%2BmOHVXbdEUJBoPrjLgQnj%2FKpte4IItJ7VjV9sChqd3hp64vcxByCalHhDIdqyRmsBhd2qOjxruK0wekNjs4JJdP5KidKQk2jIpn2bMwHZbK7sNH%2Fsa7ag3ChwSwJBxz8AjGTcTQ0tshZLDTnYiGE3Q3KDSsTo%2F3floqQEmQAFTv%2FVTFlR6K9IkKB7JjsNtp5RnGSNcLIcwJFSCJzhvNsC6v8nEMR56BEj3XaiHHslSG2csMYY9WXhjiwDZz0W6dCgjmSW6HJ3OFhEe6Ujcb%2BusjJ2o2wB5NJE9xt1NQ%2FyeP37mT9JSkWTworlPpVqU63fAjdSGA0kDD3%2F2RqdJgX2WM3XXUjMyzmMRdnH6JOEYfS7hBfd9PPLNCvj1N%2BM3hphff22cdajrq8GiMvBeWSsb8YPurq6tEEenlr5S2JiaCGqmCutsTrI0EVPGsuMYEuDF",
      "thumbnail": "https://t15.baidu.com/it/u=3289830042,3368546716&fm=220&app=103&size=f9999,10000&n=0&f=JPEG&fmt=auto&maxorilen2heic=2000000",
      "video_link": "https://vdse.bdstatic.com//8ded1b009500f35e87ba2ae3a1bceec1.mp4?authorization=bce-auth-v1%2F40f207e648424f47b2e3dfbb1014b1a5%2F2022-10-04T03%3A33%3A01Z%2F-1%2Fhost%2F708ce91c615390e7fb96c622a74311dc46fd0c679017ac947861df65adba3654",
      "title": "咖啡 coffee 这个单词是怎么来的? (单词起源趣谈)",
      "source": "哔哩哔哩2021年10月12日"
    },
  ...
}

Rich Snippet results for: Coffee

{
  ...
  "organic_results": [
    {
      "position": 1,
      "title": "咖啡_百度百科",
      "link": "http://www.baidu.com/link?url=P84juMdtoj-EjuuVpYhvlwygwRofOQl1RfEbKFo_QdhblLIxBVQoKnd30CyBO0H2-klwYvldo_Zdk96fUFetdfmv82VKaFXWAaaGFDyAwMi",
      "thumbnail": "https://dss0.bdstatic.com/6Ox1bjeh1BF3odCf/it/u=1522337557,1810670170&fm=74&app=80&f=JPEG&size=f121,90?sec=1880279984&t=e974f9ffaeed33877ba54cdbb51fa5ac",
      "displayed_link": "https://baike.baidu.com/",
      "rich_snippet": [
        {
          "extensions": [
            "咖啡,是用经过烘焙磨粉的咖啡豆制作出来的饮料。作为世界三大饮料之一,其与可可、茶同为流行于世界的主要饮品。咖啡树是属茜草科多年生常绿灌木或小乔木,日常饮用的咖啡是用..."
          ]
        }
      ],
      "sitelinks": [
        {
          "title": "历史",
          "link": "http://www.baidu.com/link?url=RYW_PEDlqfXXt4-8Z4TCVgZ4EKZ1GGGETXqaHOAWFEM1afP0vXSC6EtfFBrs7HzsDr5d5C_rgAfUS_CgvR0CTi0OZHT4vpdzIzkzxk6w1x_"
        },
        {
          "title": "分类",
          "link": "http://www.baidu.com/link?url=RYW_PEDlqfXXt4-8Z4TCVgZ4EKZ1GGGETXqaHOAWFEM1afP0vXSC6EtfFBrs7HzsDr5d5C_rgAfUS_CgvR0CTa26Lwm2AzKhjmS5UNHv5A7"
        },
        {
          "title": "选购指南",
          "link": "http://www.baidu.com/link?url=RYW_PEDlqfXXt4-8Z4TCVgZ4EKZ1GGGETXqaHOAWFEM1afP0vXSC6EtfFBrs7HzsDr5d5C_rgAfUS_CgvR0CTozUQe0dAdWk6Dsxl62V2TS"
        },
        ...
      ]
    },
  ...
}

Tieba results for: Coffee

{
  ...
  "organic_results": [
    ...
    {
      "position": 8,
      "title": "coffee吧 - 百度贴吧",
      "link": "http://www.baidu.com/link?url=Bg59ujHSPp1TIs1oEKP7R_kHVZ2nAEs5nl4vf15FnU2OpxAxnKodc-RffbdyvoKE765v1pWKJRrhU5Nlbnci_ee8170fklGZj9Y0WRWYwOkqMOvA2XmU7bNVtmxR85XR4wIH2mQ3dYFYeXhWovJ_Yq",
      "tieba": {
        "profile_link": "http://www.baidu.com/link?url=Bg59ujHSPp1TIs1oEKP7R_kHVZ2nAEs5nl4vf15FnU2OpxAxnKodc-RffbdyvoKE765v1pWKJRrhU5Nlbnci_ee8170fklGZj9Y0WRWYwOkqMOvA2XmU7bNVtmxR85XR4wIH2mQ3dYFYeXhWovJ_Yq",
        "image": "https://imgsrc.baidu.com/forum/pic/item/7dd98d1001e9390156d3414877ec54e737d196f7.jpg",
        "heading": "咖啡和茶共饮",
        "profile_stats": {
          "followers": "2395",
          "total_posts": "6406"
        },
        "links": [
          {
            "text": "新手入门",
            "link": "http://www.baidu.com/link?url=NGxc4NWZvL4zPOFiRNLIKhrUnfm-3GuMu8MCyVooU2Lh35pK5WPbKyGPDzkR2Mei9wZhp32e9GcStmBxGnJGHl0OzYHnKfAQIaALIfRt-0C"
          },
          {
            "text": "制作技术",
            "link": "http://www.baidu.com/link?url=NGxc4NWZvL4zPOFiRNLIKhrUnfm-3GuMu8MCyVooU2Lh35pK5WPbKyGPDzkR2Mei9wZhp32e9GcStmBxGnJGHi5jvtJBdL4ISIlCZyYFMT7"
          },
          {
            "text": "拉花艺术",
            "link": "http://www.baidu.com/link?url=NGxc4NWZvL4zPOFiRNLIKhrUnfm-3GuMu8MCyVooU2Lh35pK5WPbKyGPDzkR2Mei9wZhp32e9GcStmBxGnJGHdTiAMzovd0xHDP9Kh99KVu"
          },
          {
            "text": "啡色心情",
            "link": "http://www.baidu.com/link?url=NGxc4NWZvL4zPOFiRNLIKhrUnfm-3GuMu8MCyVooU2Lh35pK5WPbKyGPDzkR2Mei9wZhp32e9GcStmBxGnJGHmuD9lUso1Vff8NzOO4h8W7"
          },
          {
            "text": "豆子烘焙",
            "link": "http://www.baidu.com/link?url=NGxc4NWZvL4zPOFiRNLIKhrUnfm-3GuMu8MCyVooU2Lh35pK5WPbKyGPDzkR2Mei9wZhp32e9GcStmBxGnJGHb4rq7fuitUPD8GWbY6zTs3"
          }
        ],
        "threads": [
          {
            "title": {
              "text": "瑞幸咖啡实现咖啡从"奢饰品"到"日常饮品"的...",
              "link": "http://www.baidu.com/link?url=-qsmOzYde9PpthgEiVaXf8HY-sRbfPwuleL6OwIuxcETrvGNFtK-1WlusIqgy9XKritecuiQtGgd87QiCeMbMiYHFz7P7N2k34602F5Ijxhby7wB-97a5YPPySYOgOxh"
            },
            "thread_replies": "3",
            "total_count": "5082"
          },
          {
            "title": {
              "text": "瑞幸咖啡告诉你:为何喜爱喝咖啡的人更容易有幸...",
              "link": "http://www.baidu.com/link?url=S_5oyCCqb2kmBVwI8ziIfNJdqJrravGGlTRpM4WM5AJ-oTso1XPIJXJBltd8GI9MOvWk0SRocpb4-Rt0QqCRmM-RTP1UefSW7y4wyP_6eHS"
            },
            "thread_replies": "1",
            "total_count": "4"
          },
          {
            "title": {
              "text": "瑞幸咖啡,给消费者带来舌尖上的新体验",
              "link": "http://www.baidu.com/link?url=S_5oyCCqb2kmBVwI8ziIfNJdqJrravGGlTRpM4WM5AHL343w1ZtfrTZvVZLC8uQklo3sFSx8kFDG2iJRLM4lBWurfj9bB1vfL_EVHOyobMy"
            },
            "thread_replies": "2",
            "total_count": "2244"
          }
        ],
        "source": "tieba.baidu.com/"
      }
    },
  ...
  ]
}

Video for: Coffee

{
  ...
  "organic_results": [
    {
      "position": 1,
      "title": "咖啡 - 百度百科",
      "link": "https://baike.baidu.com/item/%E5%92%96%E5%95%A1/29518",
      "displayed_brand": "百度百科",
      "snippet": "咖啡(英语:coffee),是用经过烘焙磨粉的咖啡豆制作出来的饮料。作为世界三大饮料之一,其与可可、茶同为流行于世界的主要饮品。咖啡树是属茜草科多年生常绿灌木或小乔木,日常饮用的咖啡是用咖啡豆配合各种不同的烹煮器具制作出来的,而咖啡豆就是指咖啡树...",
      "thumbnail": "https://gimg3.baidu.com/topone/src=https%3A%2F%2Fbkimg.cdn.bcebos.com%2Fpic%2Faec379310a55b31900e2b16a49a98226cffc1791%3Fx-bce-process%3Dimage%2Fresize%2Cm_pad%2Cw_348%2Ch_348%2Ccolor_ffffff&refer=http%3A%2F%2Fwww.baidu.com&app=2011&size=w931&n=0&g=0n&er=404&q=75&fmt=auto&maxorilen2heic=2000000?sec=1697562000&t=5cf0306e137cb13e5b86fe04160dd005",
      "video": {
        "link": "https://baikevideo.cdn.bcebos.com/media/mda-O0oKHczOmPXU0VoI/100c3a74092397f8abbd03d6a02ef73f.mp4",
        "duration": "04:09",
        "thumbnail": "https://gimg3.baidu.com/topone/src=https%3A%2F%2Fbkimg.cdn.bcebos.com%2Fsmart%2Fa50f4bfbfbedab64034fb71ffb65b8c379310b55b0eb-bkimg-process%2Cv_1%2Crw_16%2Crh_9%2Cmaxl_640%2Cpad_1%3Fx-bce-process%3Dimage%2Fformat%2Cf_auto&refer=http%3A%2F%2Fwww.baidu.com&app=2011&size=w931&n=0&g=0n&er=404&q=75&fmt=auto&maxorilen2heic=2000000?sec=1697562000&t=16fd9c42b602d9bb0bfc14636c94086c"
      },
      "sitelinks": [
        {
          "title": "发展历史",
          "link": "http://www.baidu.com/link?url=aWo8H2X-LvNnJG0Towjm8NjznX6e-8Rg9PrEG70NIwN10DsiY6gYn9KWvBjSEfysVcFVyRbrS1WcsSpgr5fL2ev3MsMwTvO8e2kMY7IlU9i"
        },
        {
          "title": "常见分类",
          "link": "http://www.baidu.com/link?url=aWo8H2X-LvNnJG0Towjm8NjznX6e-8Rg9PrEG70NIwN10DsiY6gYn9KWvBjSEfysVcFVyRbrS1WcsSpgr5fL2aDpMQQRt05ZCzT_spwAgIy"
        },
        {
          "title": "制作方法",
          "link": "http://www.baidu.com/link?url=aWo8H2X-LvNnJG0Towjm8NjznX6e-8Rg9PrEG70NIwN10DsiY6gYn9KWvBjSEfysVcFVyRbrS1WcsSpgr5fL2akJj0KsZxW8QWtCVrXwvMK"
        },
        {
          "title": "饮用选购",
          "link": "http://www.baidu.com/link?url=aWo8H2X-LvNnJG0Towjm8NjznX6e-8Rg9PrEG70NIwN10DsiY6gYn9KWvBjSEfysVcFVyRbrS1WcsSpgr5fL2j_W2XMRbmpYNhggDHL8pWm"
        }
      ]
    },
  ...
  ]
}

Thumbnails for: 昆都仑区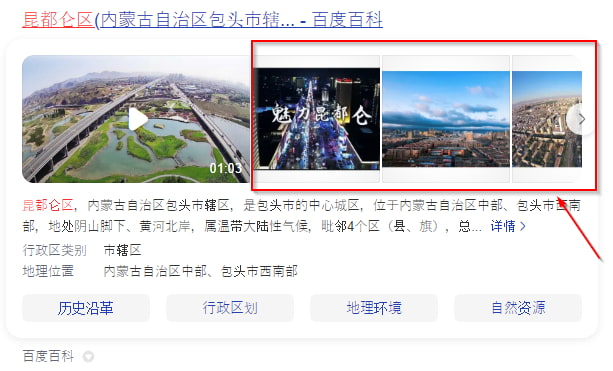 {
  ...
  "organic_results": [
    {
      "position": 1,
      "title": "昆都仑区(内蒙古自治区包头市辖... - 百度百科",
      "link": "https://baike.baidu.com/item/%E6%98%86%E9%83%BD%E4%BB%91%E5%8C%BA/8749884",
      "displayed_brand": "百度百科",
      "snippet": "昆都仑区,内蒙古自治区包头市辖区,是包头市的中心城区,位于内蒙古自治区中部、包头市西南部,地处阴山脚下、黄河北岸,属温带大陆性气候,毗邻4个区(县、旗),总...",
      "rich_snippet": [
        {
          "title": "行政区类别",
          "value": "市辖区"
        },
        {
          "title": "地理位置",
          "value": "内蒙古自治区中部、包头市西南部"
        }
      ],
      "thumbnails": [
        "https://gimg3.baidu.com/topone/src=https%3A%2F%2Fbkimg.cdn.bcebos.com%2Fpic%2Fbf096b63f6246b600c3309c04aae0d4c510fd9f90472%3Fx-bce-process%3Dimage%2Fresize%2Cm_pad%2Cw_348%2Ch_348%2Ccolor_ffffff&refer=http%3A%2F%2Fwww.baidu.com&app=2011&size=w931&n=0&g=0n&er=404&q=75&fmt=auto&maxorilen2heic=2000000?sec=1697562000&t=723cd1bdc3bcfb297e59e65ffc1dfa1b",
        "https://gimg3.baidu.com/topone/src=https%3A%2F%2Fbkimg.cdn.bcebos.com%2Fpic%2F4bed2e738bd4b31c8701c6c5159a307f9e2f07085232%3Fx-bce-process%3Dimage%2Fresize%2Cm_pad%2Cw_348%2Ch_348%2Ccolor_ffffff&refer=http%3A%2F%2Fwww.baidu.com&app=2011&size=w931&n=0&g=0n&er=404&q=75&fmt=auto&maxorilen2heic=2000000?sec=1697562000&t=df1dcd3732c365dfbec1cdad0bd46a63",
        "https://gimg3.baidu.com/topone/src=https%3A%2F%2Fbkimg.cdn.bcebos.com%2Fpic%2F8ad4b31c8701a18b87d613465965100828381f30502d%3Fx-bce-process%3Dimage%2Fresize%2Cm_pad%2Cw_348%2Ch_348%2Ccolor_ffffff&refer=http%3A%2F%2Fwww.baidu.com&app=2011&size=w931&n=0&g=0n&er=404&q=75&fmt=auto&maxorilen2heic=2000000?sec=1697562000&t=cd62e04308bf32368d9b8b527f23ec25",
        "https://gimg3.baidu.com/topone/src=https%3A%2F%2Fbkimg.cdn.bcebos.com%2Fpic%2F3b87e950352ac65c10382b3234a1a5119313b07e1c6c%3Fx-bce-process%3Dimage%2Fresize%2Cm_pad%2Cw_348%2Ch_348%2Ccolor_ffffff&refer=http%3A%2F%2Fwww.baidu.com&app=2011&size=w931&n=0&g=0n&er=404&q=75&fmt=auto&maxorilen2heic=2000000?sec=1697562000&t=0e4f50edb62a138968e213c16502262f",
        "https://gimg3.baidu.com/topone/src=https%3A%2F%2Fbkimg.cdn.bcebos.com%2Fpic%2F4bed2e738bd4b31c8701935a409c307f9e2f060852b5%3Fx-bce-process%3Dimage%2Fresize%2Cm_pad%2Cw_348%2Ch_348%2Ccolor_ffffff&refer=http%3A%2F%2Fwww.baidu.com&app=2011&size=w931&n=0&g=0n&er=404&q=75&fmt=auto&maxorilen2heic=2000000?sec=1697562000&t=8856b71bfa9dbef81d3efbec754c15d9"
      ],
      "video": {
        "link": "https://baikevideo.cdn.bcebos.com/media/mda-XObfgc0fVwWQ4bvN/fff6b234c461894dd8d3ebb5211a4bc0.mp4",
        "duration": "01:03",
        "thumbnail": "https://gimg3.baidu.com/topone/src=https%3A%2F%2Fbkimg.cdn.bcebos.com%2Fsmart%2F314e251f95cad1c83179d28a773e6709c83d5158-bkimg-process%2Cv_1%2Crw_16%2Crh_9%2Cmaxl_640%2Cpad_1%3Fx-bce-process%3Dimage%2Fformat%2Cf_auto&refer=http%3A%2F%2Fwww.baidu.com&app=2011&size=w931&n=0&g=0n&er=404&q=75&fmt=auto&maxorilen2heic=2000000?sec=1697562000&t=d851ced1e0ca4f4c0033cfad8a0d7ebf"
      },
      "sitelinks": [
        {
          "title": "历史沿革",
          "link": "http://www.baidu.com/link?url=SkdMJadbbCJovtkxJdyO9ZQ429d04l_cLWDqPnOTkU4iLJuivsUZuA20-p_QRILfzl9_xOTjC5h9mbn5ikn-5k0910bJn8LvaUMvrsKiYMnMGQ89jh2gvlocA5lQyW6z"
        },
        {
          "title": "行政区划",
          "link": "http://www.baidu.com/link?url=SkdMJadbbCJovtkxJdyO9ZQ429d04l_cLWDqPnOTkU4iLJuivsUZuA20-p_QRILfzl9_xOTjC5h9mbn5ikn-5k0910bJn8LvaUMvrsKiYMoeyqw4tXE2CIXvHsvubqlZ"
        },
        {
          "title": "地理环境",
          "link": "http://www.baidu.com/link?url=SkdMJadbbCJovtkxJdyO9ZQ429d04l_cLWDqPnOTkU4iLJuivsUZuA20-p_QRILfzl9_xOTjC5h9mbn5ikn-5k0910bJn8LvaUMvrsKiYMme0k7uhwifbayz0FJvDFcF"
        },
        {
          "title": "自然资源",
          "link": "http://www.baidu.com/link?url=SkdMJadbbCJovtkxJdyO9ZQ429d04l_cLWDqPnOTkU4iLJuivsUZuA20-p_QRILfzl9_xOTjC5h9mbn5ikn-5k0910bJn8LvaUMvrsKiYMmGkNfhikLDl4IwVssjf_qL"
        }
      ]
    },
  ...
  ]
}